The male-dominated sportscasting space is having its most notable disruption since the dawn of the twenty-first century. More and more women are not only breaking the proverbial ceiling in sports, but they are also at the forefront of reporting and broadcasting it. Among these is the fabulous Lauren Shehadi; an American sportscaster working with the MLB Network. Shehadi's over-ten-year career has seen her at the reins of reporting important sporting events such as the 2018 Winter Olympic Games in PyeongChang, South Korea. And the 2018 American League Championship Series. Sit back as we show you more about this Virginia-born sportscaster and how well she gets paid.
Lauren Shehadi's Bio
Lauren Shehadi was born—Julia Lauren Shehadi—in McLean, Virginia, on May 23, 1983. Although there are no revealed details about her childhood, early education, siblings, parents or what they did for a living, we however know she spent the greater part of her childhood in McLean; where she attended Langley High School. Shehadi's ancestry can be clearly traced to Lebanon where her parents and grandparents originated from. Following her graduation from high school in 2001, Shehadi proceeded to the University of Florida, where she earned her first degree. While there, she served as the host of the school's internet-based web show; Gatorzone. In hindsight, the role framed the very foundations of what would become a promising journalism career.
Career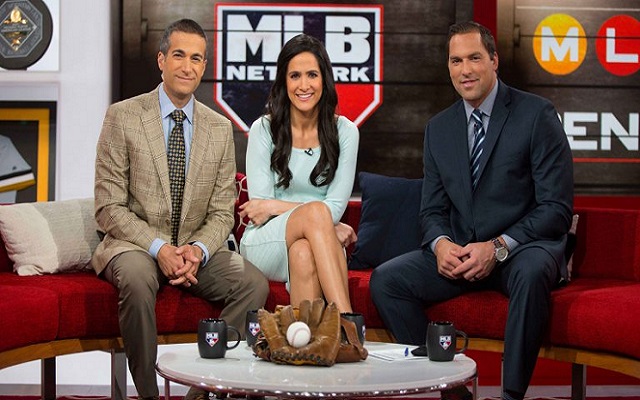 Shehadi returned as an intern at The Best Damn Sports Show Period and around the same time period, served as a sports anchor for KXMC-TV in Minot, North Dakota. She also worked for CBSSports.com and CBS College Sports Network. While hosting several shows on CBSSports.com, Shehadi was also working as the co-host of the SEC Tailgate show and the ALT Games with Jonny Moseley. These shows were all part of the CBS College Sports Network.
As her on-screen time increased, so did her popularity and her signatory beauty. In 2010, the beautiful sportscaster entered as a candidate for Playboy's "Sexiest Sportscaster" contest. She stood off against other beautiful sportscasters like Erin Andrews, Molly Sullivan, Bonnie Bernstein, and Charissa Thompson. We're not sure how it all panned out, but we're sure it earned her even more fame.
Only two years later, Shehadi left CBS as she received a—possibly better offer from—the MLB Network in 2012. Her job at MLB began with hosting the show, The Rundown; together with fellow caster, Matt Yallof. Her work at MLB has since evolved as she now hosts the show, MLB Central, alongside fellow casters, Mark DeRosa and Robert Flores.
Her biggest career project began in January of 2018 when Lauren Shehadi began hosting The Podium; a widely-followed podcast between NBC Sports Group and Vox Media. The Podium centers on athletes and the numerous events at the 2018 Winter Olympic Games in PyeongChang, South Korea. In October of that year, Shehadi became the on-field commentator during TBS's coverage of the 2018 American League Championship Series. Like most sportscasters who went national or global through reporting major events, Shehadi found herself in the middle of the worlds attention; and that spurred her career success, to say the least.
Net Worth and Salary of The Sportscaster
In her over ten years of broadcast journalism, Lauren Shehadi hasn't only earned a name for herself; she has also earned a lot of "bucks" from her passion. As of 2019, sources reveal her net worth to be over $1.1 million. Her expertise and charisma on screen continue to fetch her offers and multiple projects with other TV stations. Although we're not sure how much salary she earns annually, sources reveal that sportscasters in America receive an average annual salary of $76,291.
Height and Body Measurement
Lauren Shehadi is not one to give in to age so fast. She's maintained that graceful figure as she stands 5 feet 10 inches tall (1.68 Kg) and weighs 57kg. She has black Asian hair and dark-brown eyes. Shehadi measures 34-36-38 inches for her bust waist and hips respectively. We have no tabs on her bra, shoe and dress sizes, yet. However, we're sure to put them all out as soon as we get the specifics.
See also: Kay Adams- Biography, Is She Married, Who Is The Husband or Boyfriend? 
Lauren Shehadi's Social Media
Lauren Shehadi is quite active on social media platforms. Especially Twitter and Instagram. She has over 65k followers on Twitter and over 47k followers on Instagram. She has no known Facebook account as yet.