If you live in Hollywood, Los Angeles, there's a good chance you watch KTLA. If so, you have probably seen Liberte Chan, a renowned meteorologist and reporter for the local media outlet. She has been at the station since 2010 when she returned after a seven-year stint working across the country.
But while casual viewers probably only know her as a meteorologist and reporter, Chan is so much more than that. She is also a fashion enthusiast, blogger, and actress. She has equally taken advantage of her proximity to America's filmmaking hub and has appeared in multiple TV shows. These and more are just some of the interesting facts you will learn about the American journalist.
Liberte Chan Hails from an Interracial Family
Liberte Chan was born on July 16, in Los Angeles, California. The year she was born is not currently known. She is an American national who was born to a Caucasian father and a Chinese mother. Chan is the last of three children and she was raised in Los Angeles with her two brothers.
Growing up, Chan had a knack for figure skating and participated in both national and international events. She was so good that she got ranked as one of the best skaters in singles and pairs across the US.
At a young age, Liberte Chan had known she wanted to enter the world of journalism, but she was a shy girl and was terrified of speaking to a crowd. She once remarked that she could easily skate in front of hundreds but would not be able to do it if she had to talk. However, she overcame that fear and began her education with her end goal in sight.
She Graduated from the University of Massachusetts Amherst
Liberte Chan took her education seriously from the beginning. She attended the Marlborough School for Girls— a secondary preparatory school located in Los Angeles, graduating in 1998. From there, Chan moved on to attend the University of Massachusetts Amherst, graduating with a Bachelor of Arts in Journalism. During her last semester at UMA, she studied abroad at the Sorbonne in Paris.
From Mississippi State University, she got her degree in meteorology. The talented journalist also has a degree in broadcast journalism, which she obtained from the University of California, Los Angeles. To top it all, Chan also went to USC's Keck School of Medicine, finishing with a Master's in Public Health Communications.
The Meteorologist Began Her Career at KTLA 5 in 2003
Chan started her career in journalism by joining the CW-affiliated news station, KTLA 5, in 2003. She was a news writer for the channel for the better part of three years before she left. During her time with the station, she worked under LA news legend, Hal Fishman, writing for his one-hour news show, KTLA 5 News at 10.
After leaving KTLA, she worked with KKFX-TV. Chan was a Central Coast reporter for two years from 2006 to 2008. During her time with the channel, she received recognition for her work from then-California Governor, Jerry Brown. The accolade was for her report on the Santa Barbara County Probation Department.
Following her state recognition as a reporter, Liberte Chan sought greener pastures with a move to KMIR-TV, where she began working as a weekday morning news anchor. She spent two years working for the station before she returned to KTLA.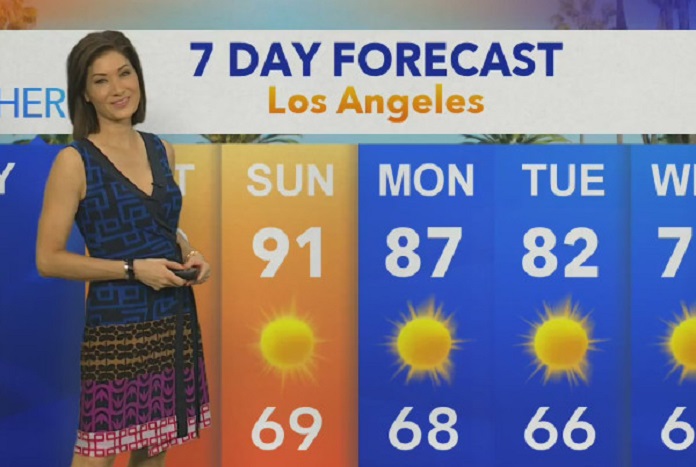 In her return to KTLA 5 in 2010, Liberte Chan began working as a meteorologist for the station. Alongside the role, she also works as a reporter, covering news with local and national implications.
She Has Thrived as a Fashion Blogger and Lifestyle Guru
When it comes to news reporting, fashion is an understated element of the business. While many have overlooked the opportunity, Liberte Chan recognized it. Combined with rising interest from viewers who sought to know what inspires her dressing style, she started a blog called Life of Liberte.
Via the blog, Liberte answers viewer questions about her fashion choices and shares beauty tips. On Life of Liberte, she goes a step further to share lifestyle tips, covering healthy meal and snack options, decoration ideas, as well as fitness and travel tips. The meteorologist is an avid yoga practitioner and regularly spends her time in the gym.
The Journalist Debuted as an Actress in 2014
Liberte Chan is an ever-busy woman. When she is not updating her viewers about the weather, reporting on the latest events, or updating her blog, she is on TV show sets. Although not her primary profession, Chan has added acting to her resume with several appearances across multiple TV shows.
Often playing news reporters, she made her debut appearance in 2014, in an episode of Agents of SHIELD. She made another appearance in the show in 2015, as well as in Bosch and True Detective. In recent years, Chan has been seen in shows like Grey's Anatomy, Brooklyn Nine-Nine, and All American.
She made her film debut in the 2016 comedy, Mike and Dave Need Wedding Dates. Her second film appearance came the following year, in the action-adventure film, Destruction Los Angeles.
Liberte Chan Was Once Married to an American Actor Named Brian Chase
While the journalist has let her professional life shine a big spotlight on her, she has been careful with the information she shares with the public about her private life.
The news anchor got married to American actor Brian Chase in 2012. As of the time, he was the only person Chan was known to have been in a relationship with. The two got married at the Greystone Mansion's garden.
Two years after their marriage, however, they announced their divorce. It was surprising as the couple had looked happy together after the wedding. Liberte Chan did not disclose the reason for the divorce, neither did Brian.
She Has Been in a Couple of Relationships Post-Divorce
Since the divorce, Liberte Chan has been in at least two known relationships. Post-divorce, she went into a relationship with fitness trainer Brett Hoebel. Hoebel is also her business partner. Together, they founded Chan's clothing line, Sweat With Soul.
According to Brett, they met when he held a live workout demo at KTLA5 in January 2016. Their professional relationship quickly evolved into a romantic one but they eventually parted ways.
After the breakup, Liberte went into a relationship with Louis Strohmeier. Louis is a partner and wealth adviser at Octavia Wealth Advisors. He is also an amateur chef, tennis player, and unlike Chan, a father to three children.
We do not know when Chan and Louis' relationship began. However, going by her Instagram posts, they have been together since the latter part of 2019, at the very least.