Launching a reality show must be cool, but having it with your daughter is something worth bragging about. Madam Evodia and her daughter, Mercy Mogase, were part of the cast of the first season of SA's Real Housewives of Johannesburg (RHOJ) series. However, Evodia declined to show up for the second season, only to surface in her own reality TV show entitled Madam and Mercy on Mzansi Magic. The series, which is centered on the RHOJ stars' affluent lifestyle, debuted on the 8th of April 2020 and is fast gaining massive viewership.
Apart from their gigs in reality TV shows, the mother and daughter duo have established themselves in several other fields. For one, Madam Evodia is a businesswoman, a caterer, a vegetation expert, a motivational speaker, a hotelier, and a whole lot more. On the other hand, her daughter is a model, television personality, actress, TV producer, motivational speaker, and businesswoman, to mention but a few. The duo has accumulated a lot of wealth from their several career interests. From what is obvious, they have been lavishing a fortune on a lifestyle that is considered only fit for royalty.
Madam Evodia Came From A Humble Background
Life before fame was far from rosy for Madam Evodia. Born in her home country of South Africa, precisely in Diepkloof, Soweto, the Real Housewives of Johannesburg celebrates her birthday on the 17th of November. Evodia has not deemed it necessary to reveal her year of birth; thus, it is quite difficult to tell exactly how old she is. But going by the predictions of fans, she may well be in her fifties.
The records have revealed that Madam Evodia came from a humble background; her dad who has been identified as Reuben earned a living working as a salesman. In addition to taking care of the home front, Evodia's mother, Louisa, also functioned as a factory worker to support whatever her husband brings home.
In regard to her academics, the reality television star and actress is yet to update us on her early education history but it is obvious that she passed through both primary and secondary school for her to get to the university level. Her higher academic qualification was later accomplished at the University of the North where she graduated with a Bachelor's degree in Education.
Her Career Started As A Classroom Teacher
Armed with a Bachelor's degree in Education, the actress went to look for work in the teaching field and she was rewarded with a position to teach biology in Limpopo. After a year of teaching, Evodia felt she was not challenged enough and so decided to try her hands at business by launching her own company which specializes in catering services. According to the mother of two, she had a lot of assistance from her mum who gave her a start-up in the form of 75 plates bought from the Fordsburg plaza; that she said was the onset of greater things in her life.
From what is obvious, it was the hand of fate that directed Evodia into the catering business as she started achieving remarkable success from inception. Her company has since achieved great feats and is well known in the country. Similar to her catering business, the actress has also diversified into the vegan field, functioning as a dietician and vegetation expert. As her business blossomed, the Soweto native landed several catering contracts in addition to a few cleaning gigs.
She has since taken her catering a notch higher by promoting Herbalife products; a passion which she shares with her daughter Mercy who is also a vegan and neck-deep into Herbalife products. Today, there are a lot of Madam Evodia business outlets in South Africa, including hotels.
Madam Evodia's Exploits As A Vegetation Manager
According to the SA reality TV star, she was busy with her cleaning services when she found a massive gap in vegetation management. It dawned on her that the field was a male-dominated one with only men working at Eskom (South African electricity public utility company) as vegetation experts. She thus decided to equip herself for the job by going back to school to study environmental management. Before long, the mother of two landed on the field, working alongside men. She narrated how skeptical her male colleagues were about a female vegetation expert as most of them wrote her off as someone that won't go far in the field. However, Madam Evodia proved them wrong by working twice as hard.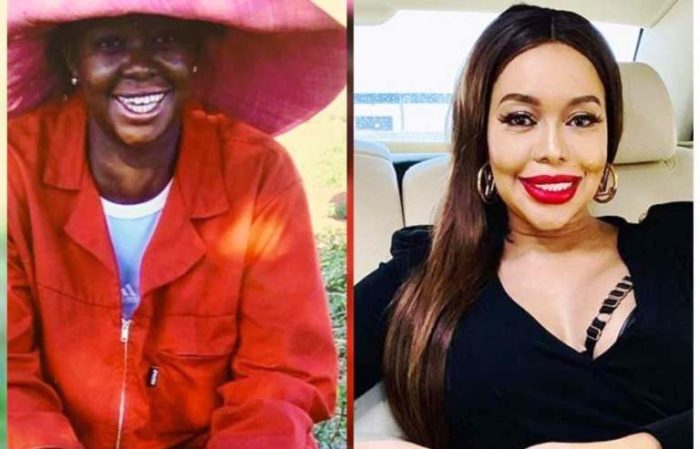 Three decades later and counting, she is still with Eskom and according to the businesswoman, she is very proud to say that Eskom made her. Besides, going by what we have seen so far, the vegetation expert does not joke with her work. Those who have seen Evodia in the busy without her makeup and designer wear working hard to clear vegetation from power lines have attested to how dedicated she is. The mother of two has also mentioned that she wouldn't trade her job for anything.
Even after trying her hands at multiple businesses, the vegetation expert believes she found her forte in the vegetation field. In fact, Eskom has inked a five-year contract with her. More often than not, the vegetation expert floods her social media account with photos where she is spotted with nose to the grindstone. However, it is important to note that she looks noticeably different in those images that you would never dream of associating her with the glitz and glamour of Real Housewives reality TV show.
Her Gig On The Real Housewives of Johannesburg
Real Housewives of Johannesburg is a South African reality television show that brings the behind the scene lives of six fascinating women to the screen. The show deals with all sorts of trivia from their collection of expensive apparel, footwear, and handbags to their VIP parties. Depicting a no-nonsense character in the first season of RWOJ, Madam Evodia shared the screen with Mercy Mogase – her first daughter, Christall Kay – from Durban, Naledi Willers – the wife of Naked DJ, Brinnette Seopela – a spa owner, and Busisiwe "Lendy" Ter Mors – an avid golfer.
It was a battle of wits for the cast of RWOJ who never hesitated to speak their minds, especially Evodia. In fact, it was on set that she earned the nickname "Madam" which she has retained to date. According to the "Madam", she joined the cast of RWOJ to prove to her fellow women that you can still become big without having to depend on a rich man. Even as she seems to have fingers into every business pie, the SA entertainer still harbors dreams of starting her own panel beating business, thanks to her love for automobiles.
Because of it all, it is difficult to tell how rich Madam Evodia was before venturing into the glittering world of showbiz. However, it is obvious that she boosted her brand and value by debuting on the set of the RWOJ. Besides, her experience in RWOJ has motivated the mother of two to reach out and attain greater heights. This is evident in her business life and her gig as a TV personality, producer, and motivational speaker.
Madam Evodia Raised Mercy As a Single Parent
Just like Madam Evodia, Mercy Mogase also seems to prefer to keep her birth details away from the public arena. However, we know she was born in Soweto, Gauteng to Evodia Mogase and her first husband whose name has never been disclosed. According to reports, Mercy's father earned a living through his panel beating company which was situated in Limpopo. Unfortunately, her dad died many years ago, leaving Evodia to raise Mercy as a single parent.
Mercy is not the only child of her mother. After she separated from her husband and his subsequent death, Evodia Mogase gave birth to her second daughter who goes by the name Princess Mogase. The little girl's birth details are not known but according to Madam Evodia, conceiving for the second time was a huge struggle as she had to contend with serious health issues like cyst and fibroid.
Several miscarriages later, she was eventually successful after spending a fortune on medical treatment. Following the birth of Princess, speculations began to run rife that the girl was in fact adopted, however, Princess's father has been identified as a man named Peter who is very much involved in her life.
Mercy is well educated; she is a graduate of Mechanical Engineering who discovered her forte in modeling, motivational speaking, television, and show business alongside her mum. According to the runway queen, her growing-up years were quite interesting as she spent quality time traveling to different cities and islands; this is what formed the basis of her enlightened mind.
The Career Life Of Mercy Mogase
In the same way as her mum, Mercy has a multifaceted career. She works and walks for fashion and cosmetics brands, inspires people through her motivational speeches, graces the screen in reality television shows, and is established as an entrepreneur. Madam Evodia's daughter is also a health/fitness enthusiast. In 2015, she founded Mercy Mogase Herbalife Nutrition where she currently functions as a wellness coach. She spends her time at the nutrition company providing her very rich clientele with health products and tips to assist in improving their overall lifestyle. From 2005 to 2007, she was under the employment of Disney Magic Cruise Ship.
A perusal of her career life will reveal that the television personality has been strategic in establishing her brands which include Mercy Mogase Health – another luxurious health-based company targeted at health-conscious people. The Sandton, Gauteng-based Mercy Mogase Beauty – a sprawling Lifestyle Bar is also part of her business portfolio.
Mercy's career as a TV personality comes with a major focus on women empowerment; this she has achieved through her initiatives for girl child development. Mercy took her knack for success into the world of showbiz by appearing in the Real Housewives of Johannesburg alongside her mum, Madam Evodia. She has since become a TV producer as the mother and daughter duo struck out to launch their own show entitled Madam and Mercy.
The Madam and Mercy Reality TV Show
After the debut season of the Real Housewives of Johannesburg, Madam Evodia announced that she would not be returning for the second season and the reason soon became glaring. The mother of two collaborated with her daughter to launch their own show called Madam and Mercy on Mzansi Magic.
The reality series, which debuted on the 8th of April 2020, is centered on the duo's dynamic relationship as daughter and mother. They showcased their lavish lifestyle and close-knit family values alongside their designer labels. The show's cast consists of all members of the Mogase family, including Madam Evodia, Mercy, her baby sister Princess, and Princess's dad, Peter. Mercy and her mum function as the executive producers among other things.
When the show was launched, it elicited mixed reactions from the South African public but by the time season two was aired, many already concluded it to be a blatant show-off of their affluent lifestyles and socialite status. While some wrote off the show as boring, there are quite a good number of people who came to appreciate their close-knit family values. You can catch up with the show on Netflix, Amazon Prime, Showmax, and DStv.
Are Their Lives As Luxurious As They Claim?
In the words of Madam Evodia, "life is just what you make it." A blind man can certainly see that the multi-talented mother of two has made her life into one of luxury. The former cast member of RHOJ has never hidden her love for money and has confessed to loving loads of the lucre. Evodia also stated that she cannot depend on anybody, rather, she favors putting her nose to the grindstone to sweat for her money. Alongside Mercy, Evodia has established herself as a driving force that SA women can get behind to draw loads and loads of inspiration.
With a net worth that was last estimated to be over $3 million, Madam Evodia and Mercy, whose fortune is fast inching towards the same amount, live an enviable life. Their garage is suffused with all brands of exotic cars. The "Madam" currently splurges around town in a Mercedes-AMG E 63 S which worth is estimated at over R2 million. This particular automobile is said to be a gift from her spouse whom she calls "Babe". The reality television star seems to favor the Mercedes brand as she went ahead to acquire another Mercedes Benz A 250. A Porsche Cayenne has also been spotted among her fleet.
The Mogase family currently resides in the golf estates of Hartbeespoort which is among the opulent settlements in all of South Africa. Their abode is a modern house constructed in the form of a double-story building. Alongside her daughter, Madam Evodia can only be caught wearing the very best in apparel, footwear, and handbag, and we are yet to factor in all the expensive vacations that take them jet setting around the world.
From this, it is obvious that Evodia has seen it all, going from absolute squalor to resounding success.
Madam Talks About Their Rags To Riches Journey
Truth be told, life has not always been all glitz and glamour for Madam Evodia and Mercy Mogase. In fact, the RHOJ star came open to narrate the story of their past, confirming that they went from rags to riches. After she has had Mercy and divorced her husband in 2009, Evodia had to resort to living in a caravan as she didn't border to ask her ex for her share of the panel beating business they built together.
Since going home to her parents was not an option, Evodia was left with nothing but the clothes she was wearing and her daughter. Life according to the RHOJ star was really tough; they are completely unrecognizable from their past photos before fame. For 24 long months, mother and daughter weathered the storm of penury in their caravan home until they struck a pot of gold at the end of the rainbow. Their story has since changed and become one of luxury and affluence.