Ghanaian actress, Martha Ankomah has gained a lot of popularity in the Ghanaian film industry. She is notable for her acting skills which have paved the way for her to feature in many top-ranking Ghollywood films. With this, she has maintained her relevance in the industry for over 20 years now. But beyond acting, this talented lady is also very industrious and has been able to climb both the ladder of success in her career and moneywise.
Summary Of Martha Ankomah's Profile
Name: Martha Ankomah
Date of Birth: October 10, 1985
Age: 35 years old
Birth Place: Accra, Ghana
Horoscope: Libra
Occupation: Actress
Net Worth:
Social Media Accounts: Facebook (@Martha Ankomah), and Instagram (@marthaankomah)
Martha's Humble Background Has Been Her Motivation For Success
Martha Ankomah was born on 10th October 1985 in the city of Accra, Ghana. Growing up with a single mum, she began to support her family financially as she was the first child (and probably the only child of her mum as no siblings have been connected to the actress) of her mum who was a single mother as of then. In spite of all the hardships, Martha was able to complete her elementary education then proceeded to Adabraka Presbyterian Junior High School before gaining admission into Labone Senior High School where she completed her secondary school education.
For her college education, the actress went to Jayee University College where she enrolled in the school's Marketing program and graduated with a BSc in Marketing. However, throughout her years in school, Martha had a strong love for acting and since she began acting in secondary school, she continued to look for more opportunities which surfaced in the coming years to bring her into the spotlight as an actress.
Martha Ankomah's Successful Acting Career Can Be Traced Back The Early 90s
The talented Ghanaian actress has revealed that she decided to take on acting as a profession sometime in 1994 when her cousin introduced her to performing arts at the Ghana National Theatre. However, prior to that, she had gathered some form of experience with her high school's theatre group as she had appeared in several school plays. It was therefore not a difficult task for Martha to get the hang of things when she joined a professional drama group, Harrisco Drama Group. With this group, she was able to feature in many plays across Ghana as well as gracing the stage at Kiddafest and Funworld.
Martha would then switchgear to becoming a TV actress and she began to attend auditions to get movie roles. Still, in pursuit of her dream of being a movie star, she entered into the 2007 edition of the popular reality show, Next Movie Star. Martha's performance on the show was outstanding and she was able to impress both the judges and the audience. By the time the show came to an end, she had been able to gain a lot of attention for her acting prowess, mimicking, and projection which all contributed to her landing 3rd place in the 2007 edition of Next Movie Star.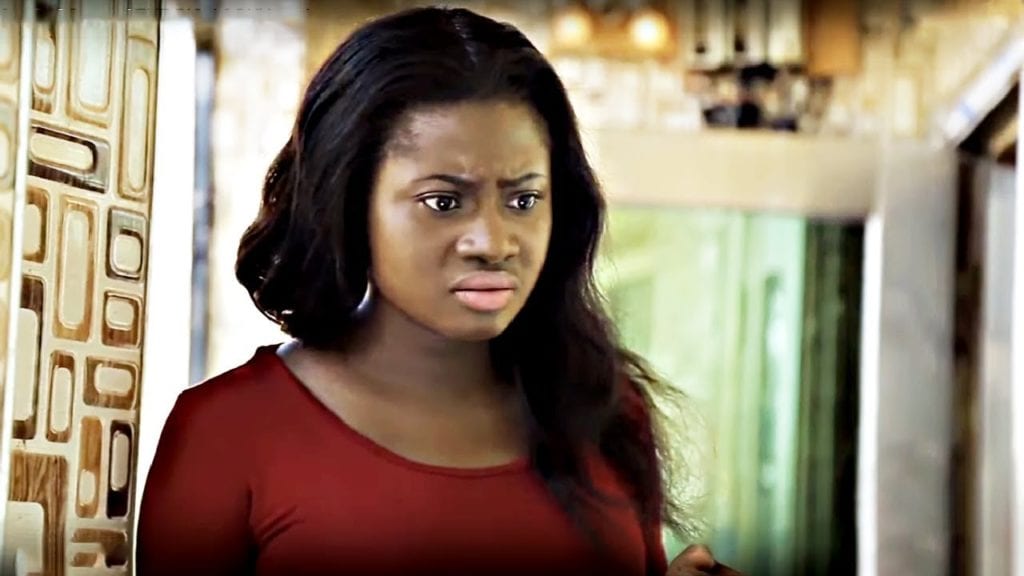 Although many believe that Ankomah's rise to fame in the Ghanaian movie industry was made possible by her appearance on Next Movie Star 2007, the actress does not share the same opinion. She is of the opinion that being on a reality TV show for 30 days cannot make anyone a movie star, you will still have to go for auditions to get roles in films that will be widely acclaimed – this is what actually turns an everyday actor or actress into a star. This is evident in Martha Ankomah's filmography as she has featured in over 200 films and some of her top-notch films include-
Suncity,
St. James Hotel,
All that Glitters,
Shakira,
Heart of Men,
Somewhere in Africa,
Sin of the Soul,
Somewhere in Africa, and
A Trip To Hell.
Is The Stunning Actress More Popular in Nigeria or Ghana?
There is no doubt that Martha Ankomah has garnered a lot of prominence and film appearances which are not just limited to Ghanaian films. She has also been featured in several Nollywood productions. However, with respect to the accolades, she has gathered, the actress seems to be thriving more in her home country.
Here is a list of some prestigious recognitions which has made Ankomah very popular in the  Ghanian movie scene:
Africa Movie Academy Award for Most Promising Actor (2010)
Ghana Movie Awards – Best Actress in a Supporting role (2011)
Ghana Movie Awards – Favourite actress in a movie (2011)
Africa Movie Academy Award for Most Promising Actor (2012)
Ghana Movie Awards – Best Actress in a lead role (2012)
Ghana Movie Awards – Best Actress in a lead role (2015)
Controversies Martha Ankomah Has Courted
Sometime in 2016, Martha revealed that she can only take on film roles that depict good morals and will trigger positive changes in society. Her statement attracted a lot of uproars as fans began to give different interpretations of what she actually meant with many having the perception that she pointed out that she can't act in some roles. However, in September 2018, Martha clarified that she can act in any film role as long as that role will pass on a good message to the audience.
Ankomah has also made headlines on many tabloids back in 2017 when she shared that Ghanaian films are very superficial and suggested that filmmakers in Ghana should actually try to develop films with a different theme. However, her concern was not well received by film directors who felt Martha Ankomah was being disrespectful of Ghananian filmmakers.
How Rich Is Martha Ankomah And What Else Does She Make Money From?
Martha Ankomah has not just managed to rank among popular Ghanaian female celebrities but she has gotten a place among the rich actresses as well. As of now, her endeavors as an actress and entrepreneur have paid off really well as her net worth is estimated to be around $700,000.
Here's a look at how Ankomah accumulated her wealth:
Endorsements Deals
The beautiful dark skin actress has landed endorsement deals with some very top brands over the years. Ankomah signed a very lucrative endorsement deal in 2014 with Vitamilk Viora and a couple of years later in 2017, she was revealed as the new brand Ambassador for the Ghanaian investment bank, Dusk Capital Limited.
In 2018, Martha was announced as the face of the fabric, 'Adepa Dumas'Matha' – which was produced by Ghana Textiles Printers' (GTP). Moreso, within that period, she landed a modeling contract with Vitamilk Viora whom she has been representing since 2014 and went to Thailand to shot a commercial for them.
Martha's Place
As an entrepreneur, Ankomah opened a self-named beauty salon sometime in 2013. Martha's Place as it is called is known for offering facial and body treatments for both males and females. The beauty parlor is also notable for its ultra-modern style and with its location in Tesano Maa Bee Plaza, Accra it offers its services to very affluent people.
She Gives Back To The Community Through Martha Ankomah Foundation
The actress is also the owner of the Martha Ankomah Foundation which she opened in 2016. This foundation was established by Ankomah with the aim of providing different child support systems, creating health awareness, and empowering underprivileged persons and communities.
Through the Martha Ankomah Foundation, the actress has been able to provide schools like Ackrobon located in Awuru Senya District with learning materials as well as other schools in many other deprived communities. More so, Ankomah's foundation works with several Autism Ambassadors to create awareness about the health problem and provide support to autistic children.
Does Martha Ankomah Have A Husband?
The Ghanaian actress is not one who is in a hurry to walk down the aisle anytime soon. Martha Ankomah has pointed on several occasions that she is in no hurry to get hitched despite the fact that a lot of pressure has been coming from people for her to get married. She also cited that many celebrities who had given in to society's pressure to get married end up regretting it.
Moreso, the beautiful actress has not been one who flaunts her relationships online so her dating timeline is not known to the public. However, she took to Instagram sometime in 2020 to show off her 2-year-old son. Martha shared adorable pictures of the boy but no mention has been made about his father's identity.