DD Osama's family consists of his mom, dad, stepdad, brothers, and sisters. DD Osama's father left the family when he was a kid, so his identity is not known. His mother, on the other hand, is Crimsley Martinez. His brothers are Jstar Balla, JayKlickin, and the late Notti Osama. He has just one sister named Melz.
Born David Reyes, DD Osama grew up in a large family and was raised by his mother along with his four siblings. Growing up without his father, DD Osama was exposed to a unique environment that shaped his upbringing and music. His mother, Crimsley Martinez, is believed to have been a strong influence on his life and career, always supporting him and encouraging his passion for music.
Despite the challenges he faced growing up, DD Osama has emerged as a talented rapper, gaining popularity for his unique style and relatable lyrics. With his mother and siblings by his side, DD Osama continues to make waves in the music industry, and fans eagerly await his future releases.
Who is DD Osama's Mom?
Allow us to shed some light on the remarkable woman who raised the talented New York rapper DD Osama. DD Osama's family has a strong matriarch in the person of Crimsley Martinez. Though her identity may remain shrouded in mystery, one thing is clear: she is a force to be reckoned with. As a dedicated and hardworking real estate agent, Crimsley Martinez managed to juggle her professional commitments while raising five children, with Osama being the second youngest in the family.
The challenges she faced as a single parent were not insignificant, as Osama's father left the family when he was just a child. In spite of this, she poured herself into raising Osama and his four siblings, providing them with support and guidance. She later found love again with a caring man who chose to stand beside her to raise her children.
Her sacrifices and unwavering commitment to her son's success are a testament to her strength and love as a mother. Through countless sleepless nights and selfless acts, she nurtured his talent, encouraging him to cultivate his voice and unleash his creativity within the music industry.
Her unwavering belief in her son's abilities has undoubtedly played an instrumental role in propelling him toward triumph and acclaim. Today, the woman who held the fort as a single mother stands proudly as a beacon of inspiration.
Her resilience and determination have not only shaped DD Osama's journey but also embody the unwavering love and dedication that make a mother truly extraordinary. Her story is a reminder that behind every successful artist, there is often an unsung hero—someone whose unconditional love and support provide the foundation upon which dreams are built.
Who are DD Osama's Brothers?
DD Osama's brothers are Jstar Balla, JayKlickin, and Notti Osama. DD Osama's family contributed significantly to his rise in the world of hip-hop. His fame and success were influenced by a number of factors. Chief among them is the influence of his brothers, who also work in the industry.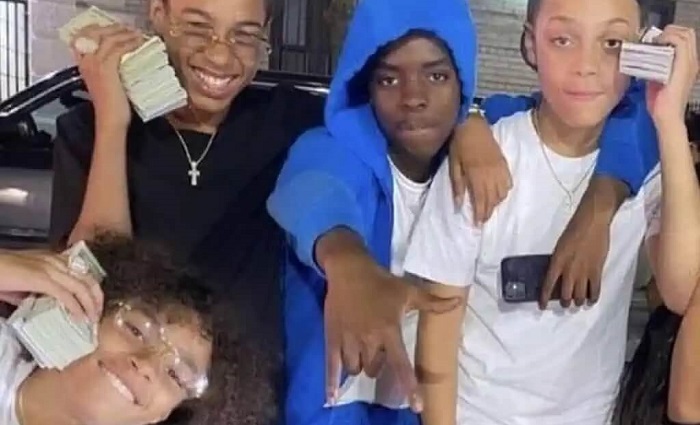 JStar Balla
JStar Balla is DD Osama's eldest brother and an integral part of DD Osama's family. DD Osama revealed the identity of his brother while he was a guest on a podcast. JStar Balla is also a rapper, and he is known for songs such as Like This and Steady. His work in music is not extensive, and he has not had his rap career for a long time, but he is slowly gaining some ground. Talk of the Streets is one of his more popular songs.
JayKlickin
JayKlickin was born Justin Reyes in New York. This is another one of the Reyes boys who, just like his brothers, is also a rapper. He is not as popular as the rest of his brothers, but he also commands a strong social media presence. His most popular songs are PAIN, Get Home and Streetz. He, alongside his brothers, has a song called Da Real Brotherly Love.
Notti Osama
Ethan Reyes can be described as being the sibling who DD Osama had the closest bond with. The two shared the same rap last name and did a number of songs together. Unfortunately, he passed away on July 9, 2022. He was just 14. The cause of his death was a stabbing during an altercation. After his death, DD Osama was tempted to stop rapping, but he decided to keep at it.
Who is DD Osama's Sister?
DD Osama's sister is simply known as Melz. Just like their mother, there is not much known about her. She is the youngest child in DD Osama's family and is still pretty much sheltered from social media or even music.
Melz is the youngest child in the family, and not much is known about her as she is something of a mystery to the public. She keeps a low profile and stays away from the world of social media and music. Unlike her brothers, Melz leads a sheltered life. While not much is known about her specific endeavors, it can be inferred that Melz carries a unique perspective and may possess untapped talent of her own.
DD Osama's Family Has Contributed To His Successful Musical Career
DD Osama is a rising star in the world of music and he comes from New York. Osama is an exceptionally talented rapper who has swiftly garnered attention and popularity for his unique sound and captivating lyrics. Known for his distinct style and dynamic stage presence, DD Osama has captivated audiences with his powerful storytelling skills, addressing personal experiences, social issues, and the realities of life through his music.
With a gift for crafting unforgettable melodies and a knack for delivering thought-provoking verses, DD Osama has been making waves in the music industry, leaving an indelible mark on listeners. As he continues to evolve as an artist, DD Osama is poised to establish himself as a force to be reckoned with, solidifying his place among the most promising talents of today's rap scene.
His success in the world of music has been mostly influenced by the groundwork of his elder brothers, who are also rappers. His mother most likely also supports his endeavors as she might have done for his elder brothers.
In spite of the fact that his brothers have been working in music longer than him, he had gotten more attention than they have. His most popular songs are Without You, Dead Opps, and 40s N 9s. The music video for the song Dead Opps got a lot of attention when Notti Osama passed, adding to his already growing fanbase. He has also had the chance to work with a range of other talented rappers, and his career seems to be gaining growth.