Makenzie Henson is the first daughter of Sarah Jakes Roberts, the motivational speaker and author who is the daughter of the famous Bishop T.D. Jakes. The 14 year-old Makenzie, born on 14 August 2009, is very resourceful for someone her age. She is a photographer and graphic artist while still studying.
Makenzie Henson's parents were married for four years before going their separate ways in 2012 due to infidelity on her father, Robert Henson's part. Her mother and stepfather raised Makenzie alongside her 5 siblings in their large blended family. Makenzie is Sarah Jakes's first biological daughter, and they share a close and unique bond.
Summary of Makenzie Henson's Biography
Full name: Makenzie Henson
Gender: Female
Date of Birth: 14 August 2009
Makenzie Henson's Age: 14 years old
Ethnicity: African American
Nationality: American
Zodiac Sign: Leo
Sexual Orientation: Straight
Religion: Christianity
Marital Status: Unmarried
Siblings: Malachi, Ella, Ren, Teya, and Isaiah
Famous for: Sarah Jakes Roberts' Daughter and T.D Jakes's Granddaughter.
How Old is Makenzie Henson?
Makenzie Henson is 14 years old, as she was born on August 14, 2009, in the United States. She is a budding young lady with a bright future ahead of her.
Her parents are Sarah Jakes and Robert Henson, who worked as a linebacker in the NFL. Mackenzie grew up in a deeply Christian household and is one of the grandchildren of the famous T.D. Jakes. As a result of this, she holds very strong Christian values.
Raised in the United States, Makenzie embodies the spirit of the American Dream. She is empowered to achieve her dreams, and this is seen in her pursuit of Photography as a hobby. There is not a lot of information available on her life, and this is an impressive feat achieved by her parents, considering that they are both well-known celebrities.
Meet Makenzie Henson's Parents
Makenzie Henson's are Sarah Jakes Roberts and Robert Henson. They got married in 2008 in a very lavish wedding ceremony. Sarah, who got pregnant at age 13, already had a son before she married Robert Henson. Sadly, their marriage ended in divorce in 2012 due to extramarital affairs on the part of Robert Henson.
Makenzie Henson's Mother is the Popular Sarah Jakes Roberts
Sarah Jakes Roberts is a celebrated author, motivational speaker, and advocate for women's empowerment. She has followed in the footsteps of her renowned father, Bishop T.D. Jakes. Her works and speeches are known to inspire and uplift women across the globe, with her approaches to tackling life's challenges often leaving a formidable impact on her audiences.
Alongside her professional accomplishments, Sarah is a devoted mother of six, serving as a role model for modern-day motherhood. She is known for her exceptional time management skills and her ability to balance her busy career with her family responsibilities.
Makenzie's Father is Robert Henson
Robert Henson is a former NFL linebacker. He played college football at Texas Christian University and was drafted into the NFL in the 6th round in 2009.
Makenzie's Parents are No Longer Together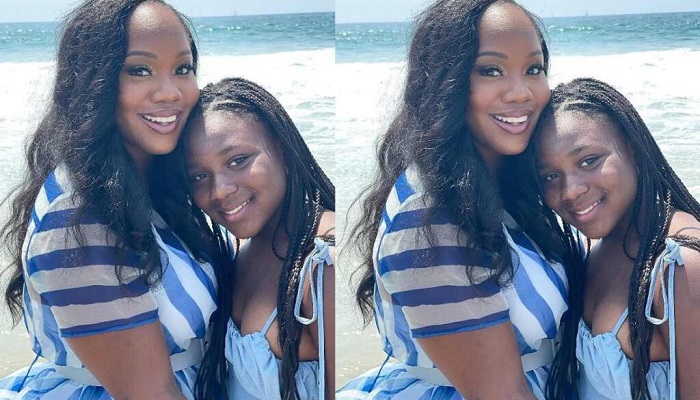 Sarah Jakes Robert got married to Robert Henson in 2008, and during their union, the pair welcomed their daughter Makenzie into the world. But like many marriages, theirs was not meant to be, and they got divorced in 2012, only four years after their wedding.
Despite the brevity of their union, Sarah and Robert's wedding ceremony was a lavish affair, attended by several celebrities close to the Jakes family, including Tyler Perry, Tom Joyner, Emmitt Smith, and Dr. Phil McGraw. Sarah, only 19 years old and already a mother of one, was a sight to behold on her wedding day.
Following their divorce, Sarah announced the news on her website. She stated that the decision to end the marriage was painful but necessary, given many cases of infractions during the union, and to ensure the safety of herself and her children. The decision was also based on biblical demands, and the couple had undergone counseling sessions to explore ways to make the marriage work.
Although Robert Henson may no longer be a part of Makenzie's life, she is still blessed to have a loving and dedicated mother in Sarah Jakes Roberts, who continues to nurture and support her daughter through life's ups and downs.
Makenzie Henson Has Taken a Keen Interest in Photography
Makenzie Henson is still in her formative years of learning, with education taking the primary focus of her daily routine. Despite this, her passion for photography cannot be overlooked. She has a keen eye for detail and a natural ability to capture moments that tell a story through her lens.
As such, photography has become an avenue for her to express her creative talent. Although Makenzie does not currently hold a job, she has taken to photography as an enthusiastic hobby, honing her craft in her free time and experimenting with different styles to develop her skills.
Her love for photography has not gone unnoticed, as it has been noticed by her parents, who seem very supportive of her choices. They have noted her dedication to capturing beautiful moments and her exceptional talent, a testament to her potential in the field of photography.
Makenzie Henson's eagerness to learn more and keep improving further illustrates her commitment to the art, and her passion for photography is set to take her far in her future endeavors. While she still has a long way to go before deciding on her career path, her enthusiasm for photography combined with her natural talent provides a firm foundation for her to build a fulfilling career in the field, should she decide to pursue it in the future.
Does Makenzie Henson Have a Relationship With Her Father?
Makenzie has had no relationship with her biological father, Robert Hanson, as per reports. Following her parents' divorce, Makenzie's mother, Sarah Jakes Roberts, was awarded sole custody of her, and she has lived with her mother ever since.
In 2014, Sarah Jakes Roberts remarried Touré Roberts, a former pastor at her father's church, after dating for two years. Both of them had been through divorce before, but they found love in each other. Together, the couple has six children, two of whom (Makenzie and Malachi) are from Sarah's previous relationship, while the other three – Ren, Teya, and Isiah, are from Touré's previous marriage to Lori Roberts. Their youngest child, Ella, is the only child the couple has together.
Despite the challenges that come with blended families, Sarah and Touré are devoted to creating a loving and inclusive household where their children feel safe, supported, and loved. Makenzie and her siblings are fortunate to have parents willing to go the extra mile to provide a stable and nurturing environment for them to grow and thrive. By providing a good example of what a healthy and functional family should look like, Sarah and Touré are laying a solid foundation for their children's futures.