An American model, actress, and reality TV star, Mehgan James is famous for her appearance on the series, Bad Girls Club. Although known for her voluptuous and tempting looks, viewers of the series remember the model for her dramatic exit after a bitter fight with two co-stars, including Keke Palmer.
Asides that, she also made headlines for her fling with a member of the Kardashian dynasty, Rob Kardashian, who was reportedly in another relationship at the time. Thus, there have been so many speculations about the reality TV stars' career and current relationship status.
Leaving Bad Girls Club Sparked A Far-Reaching Popularity for Mehgan James
After the media sensationalized the fight that heralded her exit from Bad Girls Club, Mehgan James' life was inundated with a lot of publicity and attention. As she was widely regarded as a sexy lady with a tempestuous nature, it roused people's interest to know more about her.
With public interest already whetted, James' appeal and killer curves kicked-in to win her a sizable fan base. Mehgan's limping modeling career took a turn for good and she got to feature in other reality TV series like 50 Cents: The Money and the Power. She emerged as one of the finalists on the series and apart from that, she is an original cast member of Basketball Wives: LA.
Mehgan believes she can accomplish more with her time instead of settling for a regular 9-5 job that comes with less demand. It is said that the model is working towards launching a lingerie brand which would be called Fresh Pear. If all go as planned, Mehgan James is soon going to capture a new market segment.
She Left The Reality-TV Series Following a Bitter Fall-out With Her Housemates
Mehgan James' rise to stardom has been quite spectacular. From what many would call a lesser-known model, she eventually hit the screens with her appearance in the first season of Oxygen's Bad Girls Club.
After her sudden elimination during the first season of the show, James re-appeared in season nine; where she eventually had a bitter fall-out with her housemates and left the show for good. The fall-out revolves around the barbs she traded with two housemates on social media.
It all started when a fellow star, Keke Palmer, tweeted about Mehgan James' seemingly weak role as an opponent on Bad Girls Club. What followed was an avalanche of retaliatory tweets between the stars.
The exchange of insults continued for a number of days before fizzling out. Although brief, the publicity she'd gained was enough to keep her in the public eye. While some viewed her as an even-tempered lady, others began to admire her for being outspoken and standing for what she believes in.
Mehgan James and Kedrick Brown Were Once an Item
Mehgan James dated famous basketball star, Kedrick Brown, who played for Boston Celtics, Cleveland Cavaliers, and Philadelphia 76ers. Her romantic ride with the NBA star gave her a taste of the Basketball Wives experience. According to sources, the relationship ended because Brown cheated on her.
There were also rumors about her being an item with the famous basketball player, Quincy Miller: a claim that James has completely rebuffed. As she revealed in one of her interviews, she has never dated the basketball star.
For now, the actress seems to be single as she has not been romantically linked to anyone.
Fact Check: Did Rob Kardashian Date the Reality-TV Star?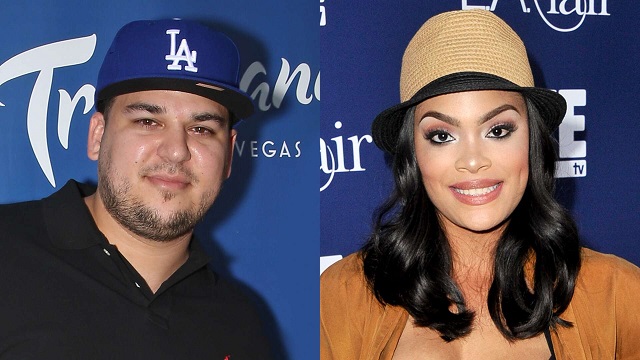 Perhaps her biggest publicity came in 2016 when she was rumored to be dating Rob Kardashian. Rob, who was having a tumultuous time with his love life, a complicated on-and-off relationship with the mother of his child, former stripper Blac Chyna, claimed he didn't know Mehgan James.
It was later alleged that the Meghan-Rob dalliance was a complete phony made up by Mehgan James. It is said that she planted the story in a bid to gain popularity on social media. TMZ allegedly related that the reality television star's team got in contact with several media outlets to plant the story, with the sole aim of spreading the model's name and increasing her following.
Even reputable publications like Us Weekly who got wind of the speculations aided in circulating the rumors, claiming that Rob and his baby mama had come to the realization that they weren't right for each other. The publication also made reference to an insider who told them that Rob and Mehgan decided to hold off going public with their dalliance because it was still new.
Shortly after the story circulated, Mehgan saw her Instagram follower count double to 806,000 within a few days.
Rob's Reaction to the Claims
As the story spread, Rob took to Twitter to debunk the rumor. He asserted that he had had nothing to do with Megan and had not even met or heard of her before.
Wait reading online about some chick I'm dating Megan something. Not true never even met her or heard of her before

— ROBERT KARDASHIAN (@robkardashian) June 2, 2017
Mehgan later confessed to not knowing how the rumor came to be. She implored fans to not rush into defaming her character because of the claims. According to her, she was just as confused as Rob. Nonetheless, a lot of people have held on to the belief that she started the rumor to gain some clout.
Given the foregoing, one can conclude that the model never had anything to do with Rob Kardashian. The only person she's known to have dated is Kedrick Brown.
What You Should Know About Meghan James's Background
Mehgan James was born in Houston, Texas, on February 11, 1990, to a middle-class family. From her physical appearances, it is glaring that the actress cum model is of African-American heritage.
She spent her formative years in her place of birth and from what we gathered, the model was raised alongside six siblings and she is the oldest.
With regards to her academic qualifications and the institutions attended, reports have it that the reality TV star went to a middle school located within her locality – Blocker Middle School – and later proceeded to the University of Houston for further education.