Mihlali Ndamase's father, who worked as a medical doctor, lost his life in 2018 when the physician committed suicide. The South African social media star was estranged from her father after her parent's got divorced; however, she was able to develop a relationship with her father shortly before his demise. Mihlali was just 22 years old when she experienced the family trauma and from what is obvious, the media celebrity still finds it difficult to get over her loss.
Mihlali's love life is equally interesting, although she makes a conscious effort to hide the identity of her beau, fans went to work to unravel the identity of the man whom she claimed to be her fiancée in a Twitter post. Though she denied it when the investigations revealed the man's identity to be Kamo Phasha, fans were not completely convinced.
Mihlali Ndamase Was 22 When She Lost Her Father
Mihlali Ndamase had just turned 22 when she lost her father to the cold hands of death in 2018. According to reports, her father, who earned a living as a medical doctor, moved out of the country to practice his profession after separating from the blogger's mother. After he left, Mihlali has said their relationship became formal, she only got to communicate with her father through emails and phone calls.
However, father and daughter started to get closer by 2018, only for the doctor to take his own life following a protracted spell of suicidal ideations. As expected, Mihlali was really hit hard by the reality of her father's death. Two years down the line in 2020, the beauty blogger is still strongly affected by the loss of her father, often resorting to tears whenever the family tragedy comes to mind.
She Has Revealed That She Still Constantly Dreams About Her Father
On the 9th of July 2020, the beauty blogger took to Twitter to share something incredibly personal. According to the social media star, her late dad had been featuring vividly in her dreams quite often. Being someone who is known for keeping family issues protected, fans deduced that the dream was really too much for Mihlali Ndamase to handle, hence the vocalization.
I've been dreaming a lot lately and they've all been extremely vivid, last nights dream was about my late father. I woke up soaking wet from sweating, and I don't think I've cried that much in a dream before. Chile that was exhausting 😔

— Mihlali Ndamase (@mihlalii_n) July 9, 2020
The influencer gave voice to her worries by describing how she would wake up soaked in her own sweat after dreaming about her father. Ndamase also added that her dreams were becoming too emotionally exhausting, making her afraid.
Tbh all my dreams have been very emotionally exhausting, it's kinda getting scary

— Mihlali Ndamase (@mihlalii_n) July 9, 2020
Her revelations elicited prayers from fans who also advised her to keep the dreams away from the public arena, but should hire the services of a professional who can help her with the trying times.
She Got a Tattoo in Honor of Her Late Father
Though she has not been forthcoming with the mystery surrounding her father's suicide, it is apparent that the social media star still struggles with her father's death. Mihlali opened up in an Instagram post where she brandished her new tattoo inked in her father's honor. The tattoo, which she got a year after her father passed away, is in the form of a semicolon located at the back of the social media influencer's ear.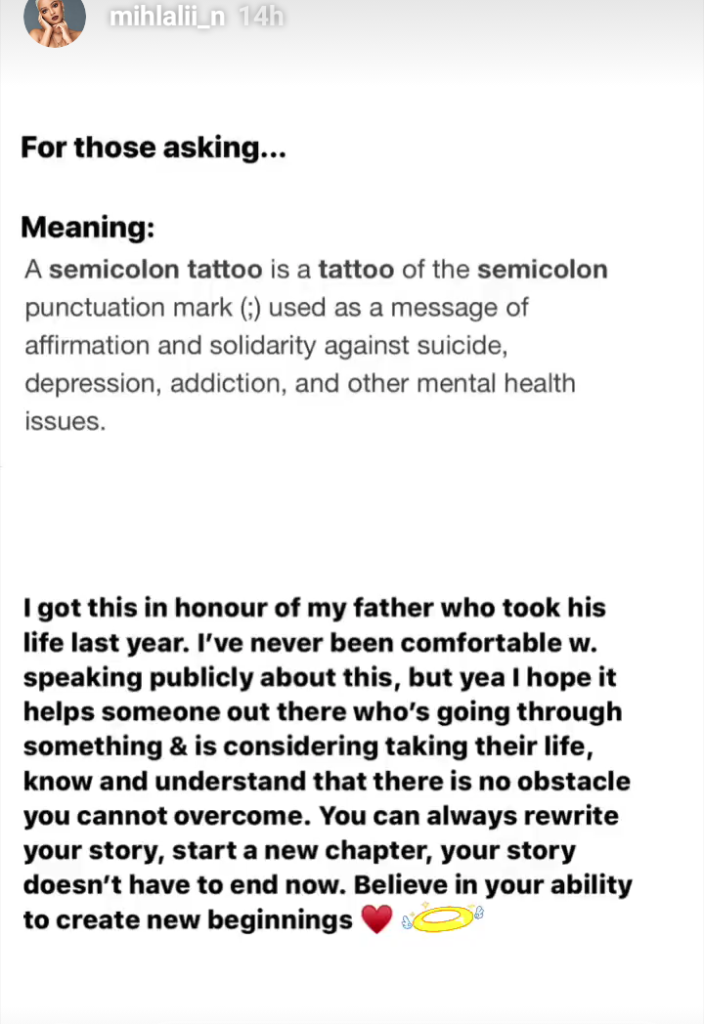 Fans couldn't help but question Mihlali Ndamase about the meaning of the semicolon tattoo and in her reply, she explained how she has been averse to mentioning it in public but she just had speak out. She revealed that she hoped her action would help people passing through the same situation as her dad and are considering ending it all.
She further rendered several pieces of advice to the public, telling them that they can overcome any obstacle and they can always start a brand new chapter and rewrite their story. Important to note, as noted in Mihlali Ndamase's social post, that the punctuation mark shows solidarity against suicide, mental health illnesses, and addiction.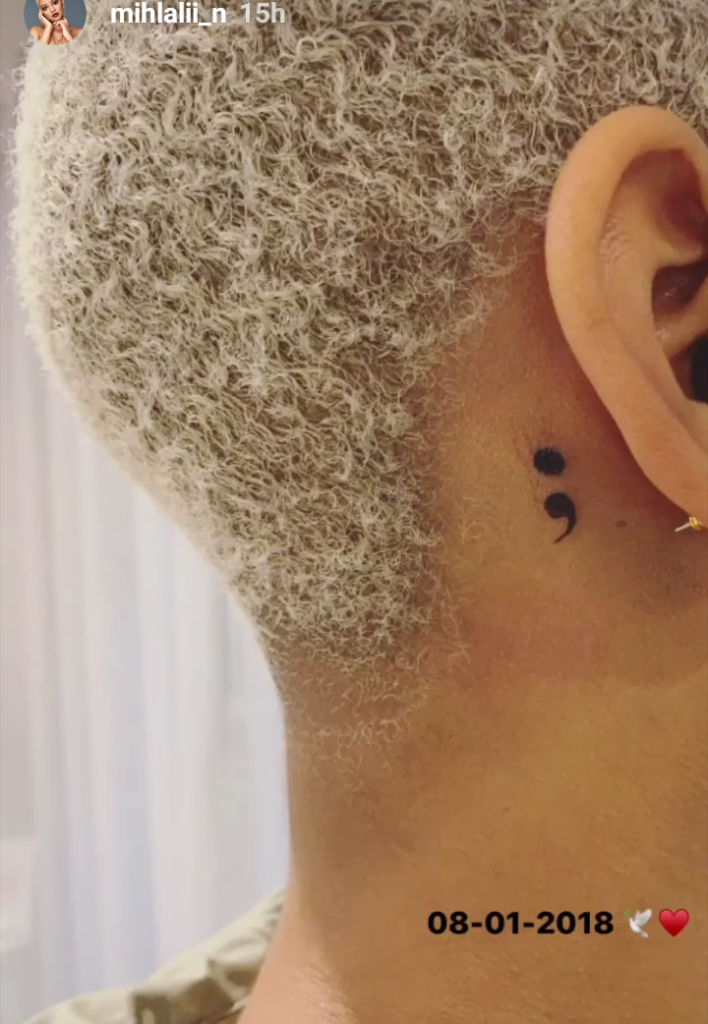 Is Kamo Phasha Mihlali Ndamase's Secret Boyfriend?
Mihlali Ndamase, who had been previously tweeting about how she is enjoying her single-and-ready-to-mingle status, suddenly started tweeting about falling in love and being happy about it. She even took it as far as telling fans to start getting their wedding attires ready as wedding bells were already ringing for her. However, those sentiments didn't seem to last long as she instructed fans to put their materials to good use in sewing face masks, apparently, the wedding bells stopped ringing.
Suddenly, the blogger began sharing posts about men being trash which led fans to ask if the wedding was off. While the social media star didn't provide a direct answer to the question, public curiosity was already sky-high. This set the Twitter FBI's to work, investigating her posts to get to the mystery man's identity. First, Mihlali Ndamase talked about her get-away with her mystery bae in Limpopo, and thereby mistakenly provided fans with a clue to unravel the puzzle. It only took a tattooed hand and a bracelet for the investigators to connect the missing dots and impressively, the man's identity was supposedly revealed to be Kamo Phasha.
With the discovery, fans quickly moved to Instagram to try and find receipts, and were bountifully rewarded for their effort. It happened that Phasha was also in Limpopo on a get-away at a nature reserve that looked similar to Mihlali's location. However, their postings were not from the same part of the reserve. Now, does that mean that the duo were not together? So many questions begging for answers. However, Mihlali, in a tweet, dismissed it as coincidence.
"Wrong me if I'm correct" 🤣😂🤣 pic.twitter.com/knLza2AhpX

— PrincessyakaGweje (@princessyaka) September 12, 2020
The Vlogger Has Chosen Not To Share Private Details In Her Recent Relationships
According to the beauty blogger, she has experienced a lot since she came onto the love scene as a young and impressionable girl. However, Mihlali stated that non of the experiences, including her worst heartbreaks, are regretted since they all contributed into making her the woman she has become today.
When asked what type of woman she is, Ndamase revealed in an interview that she perceives herself as that woman who can never be apologetic about her identity and will always keep her life story to herself while sharing a tiny portion with the world. The vlogger reportedly took the decision to keep her life relationships under wraps after her dalliance and eventual split from one half of the Major League DJ twins, Banele Mbere, was very public.
Mihlali Ndamase also let on that she has come to understand that when people like you, they tend to become attached to whatever is related to you, especially your romantic relationships; as such, when your previous dalliance dose not work out and you move on to the next person, fans may still be attached to your ex. Mihlali said this is always the scenario when a celebrity keeps making everything public and undoubtedly, it gets messy. Thus, she has chosen to keep her love life protected.
Mihlali Ndamase Is Possibly Single At The Moment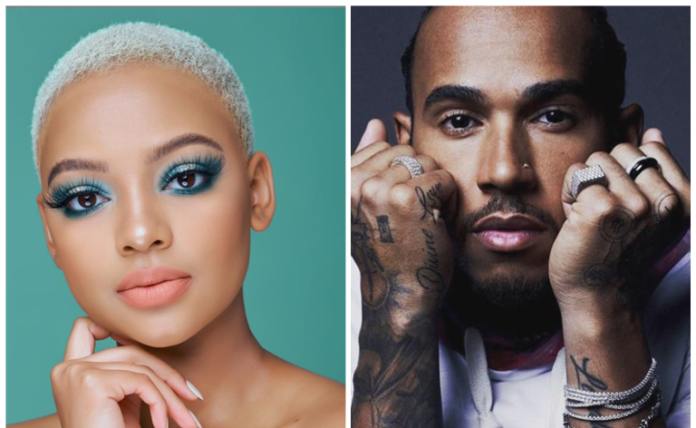 The internet star appears not be dating anyone presently, however, it is not always safe to assume with someone who is known for keeping her romantic entanglements under lock and key. Though, since the Twitter drama of 'weddings and wedding bells', Mihlali has not surfaced with any other posts suggestive of her love life.
On the flip side, the social media personality's past is fraught with tales of relationships and broken hearts. For one, her dalliance with Banele Mbere – one half of Major League DJz – was conducted in the public eye and it ended in heartbreak. It is interesting to note that while they were still an item, Mbere told a news outlet that he presented his girlfriend with a promise ring. Thus, their break up was quite devastating.
Mihlali Ndamase's name was also linked to Lewis Hamilton – the famous Formula One driver. After she witnessed Lewis zoom to victory at the Singapore Grand Prix, she shared some tweets about the driver and the race which sparked assumptions of their possible romantic entanglement. However, the YouTuber dispelled all rumors in an interview where she revealed that there is no relationship between them whatsoever, it was all about having fun and that she just felt like "trolling".