63 year-old celebrated South African media personality Noxolo Grootboom (born: 8th of October 1960) opted to retire from SABC after putting in 37 years of diligent work. The isiXhosa presenter came from a poor background without any prior qualifications in journalism. Despite this, she landed a plum job in the current affairs section of the media outfit as a presenter. Noxolo grew to be one of the best Xhosa anchors SABC ever produced as she amassed thousands of fans in the process.
The news anchor even impacted the present South African president, Cyril Ramophosa, who granted her a concession during her last bulletin by choosing a different time for his scheduled broadcast. This was done in a bid to allow people to witness Grootboom's final bulletin on SABC. The SA native's time with SABC is one that fans and the general public will greatly miss.
Profile Summary Of Noxolo Grootboom
Full Name: Noxolo Grootboom
Date of Birth: 8th of October 1960
Age: 63 years old
Nationality: South African
Education: N/A
Occupation: Media Personality
Net Worth: N/A
Noxolo Grootboom Was Born In The Sixties
Although she has worked for nearly four decades and retired, Noxolo Grootboom is one South African lady that is noted for her evergreen appearance. In fact, she earned the well-deserved alias "SA's most youthful-looking celebrity". Before the public got to know her real date of birth, Noxolo would always call herself "a child of the '60s". It later came to the fore that the exceptional Xhosa news anchor was born on the 8th of October 1960 with her place of birth captured as the Eastern Cape, South Africa. It was in a health facility named Lady Frere Hospital in Cacadu that she was delivered; Noxolo also grew up in that region.
Many call her uMamNoxolo or uMam; the name "Noxolo" was actually given to the presenter by her grandparents and it means 'the mother of peace.' Needless to mention, Grootboom's life radiates the meaning of her first name. The broadcaster, who is of Xhosa ethnicity, is a strong believer in showing love to everyone she comes into contact with and this is exactly what informs her popular mantra. People have always argued that her beauty comes from the fact that she only exudes positive vibes. Even though Noxolo's growing up years saw her in a peace-deprived region, the SA native continues to speak only the language of peace and love, always associating SA with a void of peace.
She Is Married With Children and Grandchildren
Noxolo Grootboom belongs to that class of celebrities that love to keep the details of their personal life under lock and key. Consequently, nothing is known about her love life. However, the records say she is a wife, mother, and grandmother. The beautiful media personality has been married for decades but the identity of her spouse has not made it to the public arena.
In the same vein, absolutely nothing is known about her children but it is obvious that they are married since they have given her grandchildren. The broadcaster is a family-oriented person, sharing love not only to her spouse, children, and grandchildren but to her fans as well.
Other Facts About Noxolo Grootboom
1. The Seasoned Broadcaster Came From An Impoverished Background
Nothing much is known about her family background but fans got a glimpse of the kind of family she comes from through a tale about her early days in Joburg. According to Noxolo Grootboom, circumstances forced her to relocate to Johannesburg upon the completion of her matric. There in Dube, Soweto, she started living with her mother and two brothers. It was obvious that where she was coming from was far better than what she had to put up with at her mum's place and Noxolo swore to take her family out of misery by looking for employment by all means.
In the beginning, she didn't really have any particular choice of career. Noxolo promised herself to do whatever job that comes her way. Talking to her mother, the media personality said, even if all she could secure in Joburg was a street sweeper job, then she will do it diligently until they make her the chief street sweeper or manager of street sweepers. She didn't really come to Johannesburg to work in the media but fate made it possible.
2. Her Journalism Career Took Off in 1983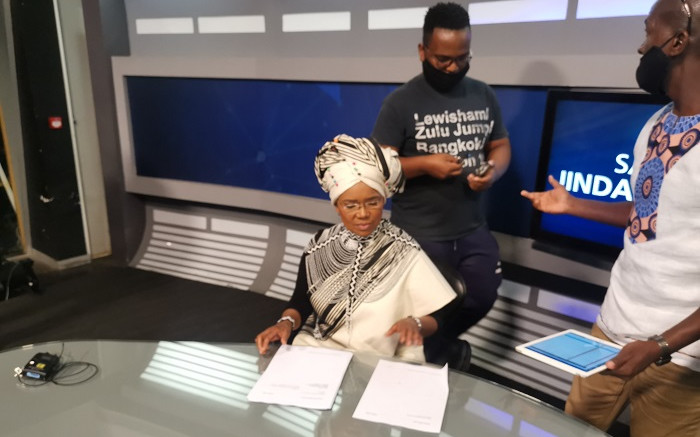 In 1983, SABC employed Noxolo Grootboom as a typist but it was a chanced occurrence that saw her move to the newsroom at the current affairs department of the media outfit. While she was diligent in dispensing her duties as a secretary, several opportunities came her way and she was able to maximize each and every one of them. First, Noxolo stood in as a presenter for a staff that didn't show because he was sick, and soon, they started seeing her as someone to always hold the fort for people that are absent. Before long, the South African native became a regular presenter of programs on isiXhosa, including news.
Secured in her unexpected position as a presenter, Noxolo dug into her innermost reserves and leveraged all her natural ability to distinguish herself from other presenters. A great storyteller, Grootboom became very good at translating which was what was first noted about her. Soon, her sense of humor surfaced, leading to a significant influence on even the viewers who don't understand isiXhosa. What's more, the anchor's beautiful sense of humor takes the credit for lifting the spirits of the viewer. The Eastern Cape native has a knack for using metaphors in both newscasting and commentaries, making her programs more interesting to watch; she referred to it as a way of educating viewers apart from broadcasting.
3. She Moved From An Onscreen Role To One Behind The Camera
During her days as an isiXhosa presenter, Noxolo Grootboom scored several interviews with top personalities in South Africa and her perfect execution of each of them went to prove how great she is at the job. Within SABC's Auckland Park headquarters, Noxolo began the painstaking climb of the cooperate ladder and after she had put in several years as isiXhosa TV news anchor, the broadcaster disappeared from the screen which led many to think her days at the media outfit were over.
However, she was still part and parcel of SABC's News Department in another capacity as an editor. The veteran was working as a gatekeeper in the station, editing the bulletins before they hit the airwaves. This was revealed in SABC's Radio 2000 during an interview session she had with them. Perhaps what people admired most about the anchor was her signature dressing in the traditional Xhosa attire which earned her a lot of kudos.
4. Noxolo Tells a Tale of How She Went From Typist To Presenter
In an interview session, the isiXhosa native narrated how she moved from being a typist to the position of a presenter on SABC. According to Noxolo Grootboom, it all happened in 1983 when she was already settled into her typing work at the broadcasting station. At lunchtime one fateful day, she bumped into another staff of the media outfit, the staff who was currently handling a current affairs show told Noxolo that their department needed a secretary urgently and that marked her big move to the current affairs division of SABC News.
It was while she was engaged as a secretary in the current affairs division that her days of TV news kick-started. The department can only boast of a single presenter for the isiXhosa program and for some reason, the man failed to show up. News later came that the presenter was indisposed but the program must be aired. Thus, in the absence of a qualified presenter, the manager proffered a solution which turned out to be Noxolo. They did not mind that she had no prior training in journalism. When the Eastern Cape native sat on the anchor seat, she performed remarkably well which marked the beginning of better things to come in her professional life.
In the long run, one of the station's major isiXhosa news anchors fell ill and the search for a person to hold fort fell on Noxolo Grootboom, and the rest, as they say, is history.
5. Part of Noxolo Grootboom's Uniqueness Lies In Her Mantra
Talking about her popular signature sign-off, the Xhosa broadcaster told a tale of a fateful day that she was busy writing her close for the news bulletin. She started brainstorming on a statement she can drop to show her appreciation of the way the South African public welcomed her into their homes. It occurred to her to say 'Dinithanda nonke emakhaya' and soon developed it into the full mantra "Nanga ningalala ngobu busuku nembethe ingubo yemvisiswano, uxolo nothando, ndin'thanda nonke emakhaya'.
If you are wondering, the mantra is in isiXhosa and warmed homes all over the country every evening. What's more, the manner in which she would narrate the mantra was what drew fans in their millions.
6. The Celebrated Media Personality Retired From SABC After 37 Years
After working 37 years on the screen as a presenter and behind the screen as an editor, the time finally came for Noxolo Grootboom to bid goodbye to her days as a staff of SABC. The date was set to a Tuesday, the 30th of March 2021, exactly at 19:00 on SABC1; the veteran was expected to air her last bulletin. However, it soon became glaring that the occasion coincided with the South African President's broadcast on the third wave of the Corona Virus pandemic. This happened prior to the commencement of the Easter Holidays.
From what is obvious, even president Cyril Ramophosa showed understanding towards the situation and before long, an announcement surfaced from the presidency that his broadcast has been scheduled to 7:30 pm, their sole reason was to allow fans and the general South African public to witness Grootboom's final bulletin on SABC. When the news got out, it was rather too touching, especially to Noxolo. In a Twitter video, the decorated newscaster was seen displaying disbelief with hands on her mouth, tears glittering in her eyes, and a countenance that spoke more than ever could.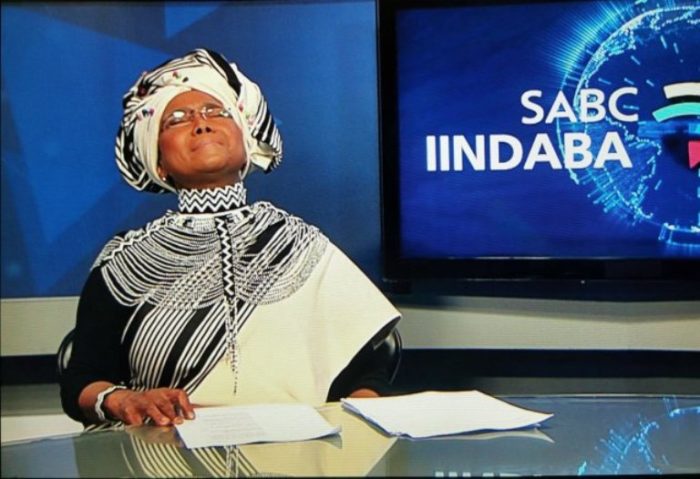 The news about the president's concession sparked a lot of reactions from the citizens of South Africa. Right there in the Twitter video, someone behind her said: "Yes! The country deserves this!" as others made their contribution in admiration of the president's concession to accommodate Noxolo's big day. At the end of it all, it was taken to be a case of "the people spoke and the country's number one citizen obliged!" What more could Noxolo have asked for. The presenter's presence on the screen will be dearly missed by many, especially the lives she has touched over the years.
The announcement of her retirement gave rise to a lot of speculations regarding the real reason she was leaving television. Soon, many came to the conclusion that the former news anchor was sick as that was the only reason she could retire at 61. However, to date, she never disclosed any form of sickness, and neither has she shared the reason behind her retirement. Obviously, the ex-SABC staff is the type that loves to keep her personal life private
7. She Left An Unforgettable Legacy
A while after she retired, a proposal came from Thebekile Mrototo of Highveld Stereo giving Noxolo Grootboom the job of airing the news during the state funeral of Winnie Madikizela-Mandela (the late first lady of South Africa). The request was a welcome development to the retired anchor who accepted and wasted no time in heading back to SABC to do what she knows best.
The ex-first lady's burial is far from being the only state funeral Noxolo broadcasted. The veteran also takes the credit for broadcasting the death of one of the country's influential activists, Chris Hani. To cap it all, she enjoyed the honor and privilege of broadcasting the death of Nelson Mandela. The presenter sure gave the viewing public a taste of what they have missing at Winnie Mandela's funeral.
Grootboom's work with SABC was more than just a passion, in an interview session at her residence, the former anchor reminisced about her media career. She voiced fond memories of educating her colleagues and elaborated on her habit of viewing every single opportunity as valuable. Noxolo also narrated her long journey towards achieving the celeb media personality status she enjoys today. In fact, her work in the media was more than a passion
Noxolo's status today is that of a legend that South Africa is proud of. The way she impacted her viewers with her exceptional style of broadcasting is unprecedented. Another beautiful character trait of the brilliant media personality is her passion for co-existing in a peaceful society. Her vibrant personality and rare beauty probably emanate from the positive vibes she radiates. Fans and the South African public were so connected to Noxolo Grootboom that they follow each and every word that drops from her; this includes her mantra, posts, and a whole lot of other valuable instructions.
Fans and colleagues confessed to never getting bored when the isiXhosa broadcaster is in the studio, thanks to her sense of humor. On her own part, Noxolo said she would miss her children in the office. The children she meant were not only those on the Xhosa desk but the army of children from SABC's newsroom, she said. The retired media expert also said she would miss doing what she loves most; broadcasting.