Death is something that is known to be inevitable, however, it becomes a different matter entirely when a celebrity meets his or her death at the height of fame. In fact, that sort of experience is best described as devastating. While many actors in the entertainment world are thriving, breaking new grounds, and expanding their horizons, there are some who have gone to answer the clarion call and many of these deaths happened in the 21st century. In the case of Ghana, we have seen quite a good number of popular Ghanaian actors and actresses that died at the zenith of their career.
Among these deceased actors of Ghanaian origin, there is quite a good number who died through accidents on the roads. We have seen some that died outside their home country like actor, model, and television host Sam Sarpong whose death occurred in the United States of America. There are still some that died of chronic ailments like renal failure and many whose cause of death has remained shrouded in mystery to date. Whichever may be the case, the fact still remains that their deaths were really painful for their families, their country Ghana, the entertainment industry, and the world at large.
List of Popular Ghanaian Actors Who Died at the Height of Their Fame in the 21st Century
1. Kwame Owusu Ansah
Date of Death – 2nd of May 2008
Age of Death – 39
Cause of Death – Automobile Accident
Kwame Owusu Ansah is one popular Ghanaian actor who met his untimely death at the peak of this career. He was a poet, a radio broadcaster, a teacher turned actor and a public relations consultant. During the course of his career which spanned for several years, the Accra-born actor appeared in over 60 films.
Born on the 9th of December 1967, the son of Victoria Cosmos Gonsalves and Smart Owusu Ansah majorly appeared in Ghanaian films; however, he recorded several successful collaborations with Nigerians. Owusu also worked with a record label and subsidiary called Madhaus Incorporation as its Media Director.
On the 2nd of May 2008, Kwame Owusu Ansah's residence was besieged by a good number of people in the Ghanaian movie industry following his demise that occurred through a road accident. At the accident scene, his Toyota Camry was found to have been mangled beyond recognition. Most of the mourners suspected that their colleague's death was out of the ordinary as it may have been as a result of supernatural means. According to them, Kwame's fame and achievements must have attracted the attention of a diabolical enemy who succeeded in killing him spiritually.
The actor's death was viewed as a big blow to his country's movie industry as several of his colleagues broke into tears upon hearing the news. The actor was loved by fans all over the country and beyond who are of the opinion that the outspoken and energetic actor's name alone was capable of bringing smiles to people's faces.
2. Gyearbuor Asante
Date of Death – 2nd of August 2000
Age of Death – 58
Cause of Death – Natural Causes
Frederick Christopher Kwabena Gyearbuor Asante was born in his home country Ghana on the 4th of November 1941 but moved to the United Kingdom in 1967. While in Britain, he joined the Mountview Academy of Theatre Arts to train as an actor. His most notable role was playing Matthew, a Gambian mature student, in the Channel 4 sitcom entitled Desmond's. Other movie credits by this popular Ghanaian actor include Mind Your Language, The Dogs of War, Space: 1999, The Professionals, Hazell, and Local Hero.
Coming from the royal lineage of Kwahu Tafo, Gyearbuor Asante was destined to one day occupy the throne of his ancestors. Thus, he left the United Kingdom in 1995 to return to his home town where he went ahead to assume the position of a cultural ambassador.
Gyearbuor Asante had not spent up to five years in his home country when he met his demise on the 2nd of August 2000 at the age of 58. The actor's death occurred in Ghana's capital city of Accra, but his funeral ceremony took place in the Eastern Region of Ghana, precisely at his ancestral village of Tafo Kwahu. Upon his demise, A "Gyearbuor Asante Prize for Acting" was instituted in his honor at his alma mater, Mountview Academy of Theatre Arts.
3. Charles Kofi Bucknor
Date of Death – 23rd of May 2017
Age of Death – 64
Cause of Death – Unknown
Named Charles Kofi Babatunde Bucknor at birth, the veteran Ghanaian actor was born in Cape Coast in 1953. His father Kobina Bucknor was a renowned scientist and his mum's name was Dorothy Buckner (Minaa). Kofi spent a better part of his formative years in Ghana, attending Jubilee School Cape Coast before moving to the United States.
The popular Ghanaian actor later returned from America to continue studying at St. Augustine's College, Cape Coast where he discovered his acting talents. He later joined Panel Fritz Patrick School of Accountancy for further academic qualification after which he became a certified auditor. Bucknor then acquired other post-graduate qualifications in the long run.
Joining Target Advertising, Kofi found himself in charge of recruiting people for auditioning and when he couldn't find the right personality to play the lead in the film Heritage Africa, he was asked to take it up which he accepted; marking the beginning of his acting career. Going forward, the actor appeared in other projects like Loved Brewed, Silver Rain, Run Baby Run, African Timber, Elmina, and some music videos.
on a Tuesday, the 23rd of May 2017, the entertainment industry in Ghana was hit by the sad news of his death. The news of Bucknor's death shocked his family, friends, colleagues, and the entire nation of Ghana. It is important to note that the cause of his death has remained shrouded to date.
Bucknor, who died at the age of 64, was survived by his wife Mrs. Sarah Bucknor and three children. Describing her loss, Sarah said she lost a long time friend and husband. She viewed their relationship as one blessed with trust and respect. The widow recalled how her late husband would take her on trips outside Accra so that they can have some quiet time during Valentine. His only daughter, Mrs. Efua Appiah Yeboah, was equally full of praises for her deceased father, citing his life as an example to them. Among all the popular Ghanaian actors that lost their lives in the 21st century, Bucknor's death was really a huge loss as he left a big shoe that has proved difficult to fill.
4. Sam Sarpong
Date of Death – 26th of October 2015
Age of Death – 40
Cause of Death – Jumped Off A Bridge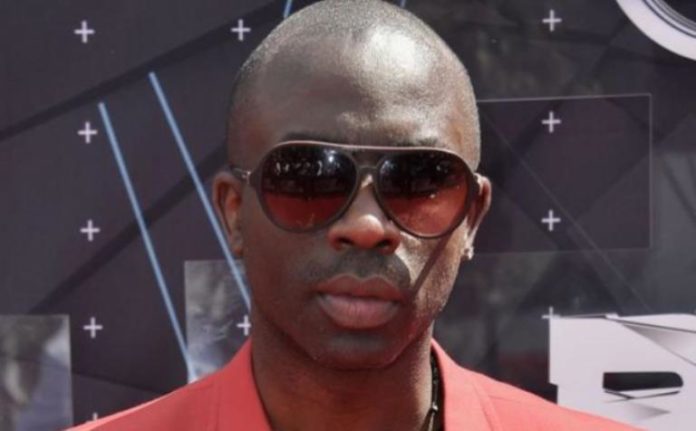 Samuel Osei "Sam" Sarpong Jr. was born on the 19th of December 1974 in London, England. The British supermodel, actor, and musician was the son of Sam Sarpong Sr. who hails from Ghana. Though his place of birth is captured as London, Sam Jr spent his growing up years in the United States, having left London for Los Angeles, California with his father at the age of 11. The British TV presenter June Sarpong is his younger sister.
Arriving in California, Sam became a student of El Camino Real High School in Woodland Hills where he was noted for his outstanding basketball ability. Unsuccessful in his aspirations to move on to college and pursue a career in basketball, the youngster decided to try his hands at modeling and acting.
During the span of his career in the entertainment industry, he appeared in 55 TV shows and 60 feature films, including Love Don't Cost a Thing, Carmen The Hip Hopera, Anchor Baby, Keeping Up with the Steins, as well as No Weapons. For three seasons, he functioned as the host of MTV's Yo Momma and was the face of Tommy Hilfiger for more than six years. He further made an appearance in American Crime Story, albeit posthumously. The actor won several awards in the course of his acting career.
Sarpong was way past the age of 40 when he died on the 26th of October, 2015. The actor, model, and TV host literarily committed suicide after he leaped off the Colorado Street Bridge located in Pasadena, California. Reports from Pasadena Police said that they moved to the Colorado Street Bridge after getting reports of a man positioned on the outer side of the bridge's railings.
On getting to the location, they brought in trained negotiators while trying to get info on the man's previous emotional state from his family. However, the whole process became an effort in futility when the popular Ghanaian actor jumped to his death after seven long hours. Sam's death was a big loss to the entertainment world, to his home country Ghana, and to his family.
5. Sussy Williams
Date of Death – September 2005
Age of Death – 23
Cause of Death – Automobile Accident
People who watched the films Bloody Mary, The Comforter, Calamity, and Mother's Heart are sure to remember the late popular Ghanaian actor Sussy Williams. Sussy launched her acting career on the set of the African hit movie Together Forever which is one of the production credits of Leila Djansi – a popular United States-based Ghanaian screenwriter.
Sussy first came into contact with the performing arts as a student of Tema Secondary School in her home country where she was active in the drama group and was known for singing at entertainment programs. After graduating from secondary school, the emerging star continued to nurture her newfound talent, blossoming into a full-fledged actress in no time at all.
Miss Williams' life was, however, cut short by the time she turned 23 years of age, leaving behind a huge gap that has never been filled to date. The news of her death rent the air in Ghana in September 2005 following an automobile accident. The experience according to Ghanaians was really sad. Her funeral arrangements were undertaken by the Ghana Art Centre which refused to have her body lie in state. Their fear was that the turnout of mourners may be too large and they were ill-equipped to handle a mammoth crowd. Thus, Sussy's funeral was rushed and a memorial fund tagged The Sussy Williams Memorial Fund was set up to aid victims of road accidents.
It goes without saying that the late actress' mum, Madam Cecelia Williams, was the worst hit by the news of her daughter's death as the two shared a rare mother/daughter bond. While the entire county believed that Sussy's death was as a result of complications from the accident, the bereaved mother thought there was more to it. In a recent interview session with Stacy on Restoration's TV program, she claimed that her daughter did not die from the accident but was murdered. Cecelia named her daughter's supposed boyfriend as the culprit, claiming that she never liked the guy from day one. The bereaved mother also alleged that she conducted checks on Sussy's pulse at the hospital and all seemed normal, however, a few minutes after her exit from the room she observed that a syringe was pushed into Sussy's nose after which she died.
On the other hand, the identity of the late actress's dad has remained shrouded to date. At a point in time, rumors started making the rounds on Ghanaweb that ex-Ghanaian president John Rawlings was actually her father but Rawlings was quick to deny the claims. Even his special assistant denied it when confronted with the same question.
The Result of a Post-Mortem on The Actresses' Corpse
According to the report, the popular Ghanaian actor was behind the wheel of a Mitsubishi Pajero with her boyfriend Edwin Eastman as a passenger in the vehicle when tragedy struck. The duo was reportedly on a drinking spree, abusing both drugs and alcohol before setting out on the road. Pathologist, Dr. Lawrence who took charge of her post-mortem said the late actress was highly intoxicated before she met her death.
The lab results later revealed traces of cocaine in Williams' liver and nose, including alcohol in her stomach. The glaring proof that the youngster died of substance and alcohol abuse was a huge disappointment to her fans who had been following her career in the movie scene. Sussy's death held the whole nation in turmoil and grief which is insignificant compared to what her mum and best friend Nana Ama Mcbrown went through.