NSS is the acronym for National Service Scheme, a program established by the Government of Ghana to ensure that all Ghanaian students who have studied and graduated from accredited tertiary institutions anywhere in the world take part in a one-year national service to their country.
The National Service Scheme which is effectively overseen by the National Service Secretariat in Ghana is so important that failure to take part in it attracts appropriate sanctions for all defaulters. This is why it is so important for all eligible students to understand the processes for NSS registration and what the service scheme means for all of them and their nation.
Understand The Process For NSS Registration
Like we have explained, every year, thousands of students in Ghana who have just graduated are made to take part in the National Service Scheme to honor their country. But before they can take part in this scheme, the students first have to register and indicate they are ready to engage in the service to their country.
So, what is the procedure for NSS Registration? Let us take a look.
1. Get Your PIN Code
The first thing to do for all students who are ready to take part in the National Service Scheme is to get a PIN code for enrollment. Without doing this first, it is impossible to proceed to other steps in the NSS registration.
To get the PIN code for enrollment in the National Service Scheme, students need to write an official application and then send that letter to the Executive Director of the NSS.
Ensure To Include Your Certificates
One very important thing to take note of is that while you are writing your application, you need to get your certificates because you will have to send them along with the application. After writing your application letter, copies of your school certificate or transcript must be attached because this will serve as proof that you have indeed graduated from a recognized higher intuition.
In addition to attaching your certificates, you also need to attach an introductory letter from the institution where you finished and send it along. You will need to obtain a valid National ID card as well as that of your school ID which is further proof of where you are coming from.
Now, there are cases where some people already have a PIN code for enrollment but failed to take part in the service for some very important reasons. In this, the affected person needs to also write a letter asking for the reactivation of the PIN code to the Executive Director of NSS.
2. Confirm Your PIN Code
After sending your application for a PIN code, all you need to do is wait for your application to be approved and your PIN sent to you. After a while, you will get a notification via SMS that your PIN code is available. When this happens, you will then be required to go online and confirm the PIN.
All you need to do here is to visit the official website of the National Service Scheme and check for yourself. When you log in, you will see the option 'CHECK & PAY FOR PINCODE on the left-hand side of your computer.
Simply click on it and proceed. After you click on this option, you will be asked to insert your Index Number/School ID Number in a box and then click on the search button. Your PIN code will then be displayed for your to confirm.
3. Proceed To Make Payments
Take note that after getting your PIN code, you will also need to make some payments before you can complete your NSS registration. All graduates trying to take part in the NSS must pay the sum of GHS 40 before they can begin their online registration.
How Do I Pay For NSS Registration?
To pay for your NSS registration, you can use two methods;
Simply pay a visit to any of the branches of Agricultural Development Bank (ADB) to make your payment, or
You can also resort to using the MTN Mobile Money Payment option.
4. Complete Your NSS Registration Online
After making your payment, you will then be set to complete your NSS registration. To do this, just click here to go to the NSS portal and log in using your School Index Number and PIN code.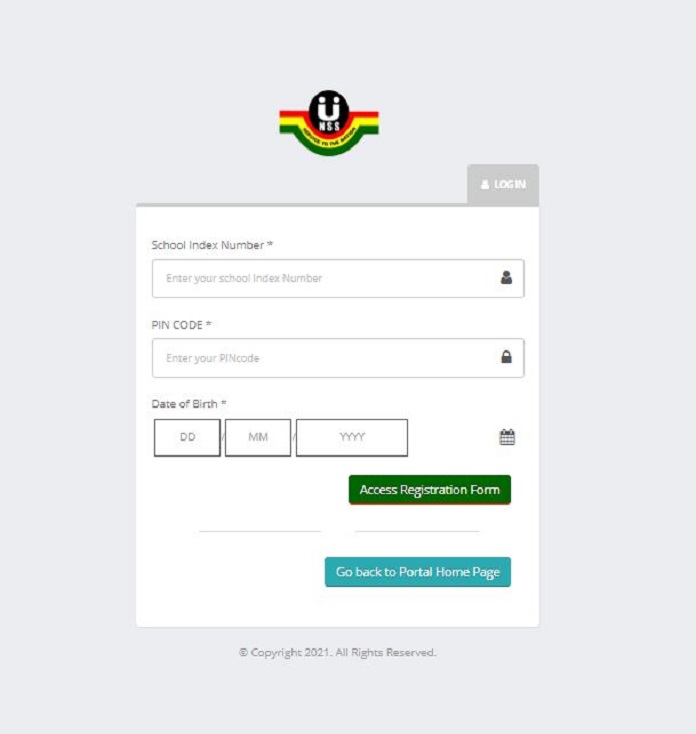 After logging in, you will be given access to the NSS application form which you will be required to fill and submit. After filling this form adequately by correctly providing all the necessary details required for your posting, you will then be asked to click submit and then download the receipt. You can also print this receipt. Take note that this receipt comes with an NSS alphanumeric code which must be kept securely. The alphanumeric code is important because it is needed for identification purposes all through the process.
5. Await Deployment
After finishing your NSS registration online and printing your receipt, all you need to do afterward is wait to be deployed to where you will carry out your national service. Take note that when you get deployed to your place of assignment, you will also be given an appointment letter.
When you eventually get this appointment letter confirming your deployment, just pack your bags and report to your new place of assignment.
How To Sign Into Your Dashboard
If you are confused about how to log into the NSS portal, calm down. We have got you covered. All you need to do to log in after registration is to first visit the website. When the page opens, just check the top green icon and place your cursor on "Sign In".
After placing your cursor on sign in, a list of options will drop down including "Sign in as Intl and local applicant", "Sign in as personnel", and "Sign in as Institution/User agency". Just select the option "Sign In As Personnel".
When you do this, the login page will appear and then you can insert your username (the email you used during registration) and then enter your PIN CODE as your password. After this, click on the green "Login" button and you will be given access to your dashboard.
What Can I Do On The NSS Online Portal?
It is important for you to know that after applying for a PIN code, you also get a dashboard on the NSS website when your PIN code is approved. There are many things you can do on this dashboard. With your NSS dashboard, you can do get and review all the information that is related to your registration or request for services from the NSS.
Some of the things you can do on the NSS dashboard include:
Print NSS Monthly Evaluation Form
Check NSS Posting
Update registration form
Replace lost ID
Request for NSS certificate
Print NSS posting letter
Request changes in name and other details
Regional Registration Verification Appointment.
View Online Registration Form
Place Order for Items (NSS Life Starter Deals)