Are you an explorer and you like comfortable and stunning hotels? Here is good news for you. You no longer need to search further for hotels that would suit your desire because Travel website, Tripadvisor has just made public its 2015 'Travelers' Choice Awards' that ranks the top 10 hotels in regions across the world. Amazingly, Kenya is one of 8 African countries included in the list. So you can now stay in one of the best grand hotels in Kenya which have a feel of the grandeur that is lovely in any town you explore. Of course, in any part of Kenya you decide to explore this year, there will be less stress in choosing a hotel to stay.
The list below compiles the top 10 hotels in Kenya and will act as a guide in choosing a hotel to stay in any town when you visit the country. The rooms of each of the hotels listed are very comfortable and spotlessly clean. Additionally, these hotels provide more than enough good toiletries, the staff are wonderful and they are worth being on the list. It is important to note that the ranking is based on travellers ratings. The winners are chosen by travellers ratings, and here are the top 10 in Kenya.
1. Medina Palms
This spot is situated on Watamu beach. The luxury Medina Palms features unique architecture and a tropical garden, outdoor swimming pool with sun loungers and views of the Indian Ocean. Its reception runs for 24 hours and you'll get access to Free WiFi in public areas. Medina Palms has a place called the à la carte Amandina Restaurant, Star Lounge which offers shisha, cocktails and sunsets views towards the distant Tsavo National Park. They also offer facilities at the resort including a kids' club, fitness centre and the Sakina Spa for an array of treatments and massages. The resort is 25 km from the Malindi Airport and 126 km from the Moi International Airport.
2. Fairmont Mara Safari Club, Narok County
See: Most Ideal And Romantic Places To Take Your Date In Kenya
The Fairmont Mara Safari Club is a luxury tented resort in Kenya. It is bordered by the infamous Masai Mara,referred to as the 'New Wonder of the World '. It features a safari, a restaurant, a spa, Free WiFi, a library, a swimming pool with a bar. Visitors who come to this resort would find peace and serenity in abundance, plus they would be afforded the opportunity to visit the famous Masai Mara wildlife reserves and enjoy the great sight of cheetahs, gazzelles, zebras and even the wildebeests migration.
3. Lantana Galu Beach, Kwale County
Lantana Galu Beach is located on Galu Beach, which is just 5 km south of Diani Beach. The beautiful hotel extends on to the beach and has a brilliant location which overlooks Indian ocean. It consists of a collection of 47 fully furnished and serviced holiday homes including villas, apartments, bungalows and penthouses available for holiday lets on a self-catering basis or on a meal plan basis.
4. Sarova Mara Game Camp, Narok County
The Camp is situated near Sekenani Village is set on an elevation bordered by two streams in Masai Mara, Kenya. It is rarely mapped out over the sprawling grounds including rolling manicured greens, a virtual mini forest of indigenous shrubs and exotic trees, a large pond stocked with fish, mini bird sanctuaries and an authentic Maasai Village adjoining the Camp.
5. Ocean Beach Resort & Spa
Ocean Beach Resort is situated in Malindi. It is connected to the airport, minutes from Malindi Beach, and close to Marine Park. This 5-star hotel is within the region of Watamu Beach and Bio-Ken Snake Farm.
6. Kilili Baharini Resort & Spa
It is also located in Malindi. they offer brilliant beach facilities, spa, and lunch by the pool area. The staff very much helpful and welcoming. it a very nice spot to be. Its environment is quite relaxing and comfortable. A place you should not miss next vacation.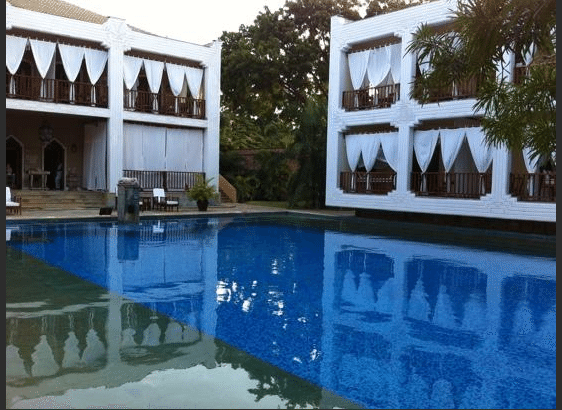 7. Pinewood Beach Resort & Spa
This is an excellent spot located in Ukunda, Kenya. Pinewood Beach Resort s ranked the 7th best hotel in Kenya. It has an amazing beach with perfect pool, and offers services like massage, surfing and snorkelling, etc. The restaurant quality is something beautiful and lodges are spacious and clean. It also offers quality wi-fi and business facilities plus, truly outstanding workers and service. It is in fact a tropical heaven.
8. Fairmont Mount Kenya Safari Club
Here is the eighth best hotel in Kenya based on the latest ranking.  It is located in Nanyuki, Kenya. It is a very stunning place where customer service is a top priority. They have helpful, polite and hardworking staff.  They also make great meals and have a broad variety of beautiful birds and animals like peacocks and monkeys jumping playing from tree to tree.
9. The Baobab – Baobab Beach Resort & Spa
Here is the 9th best hotel in the whole of Kenya. The large resort located Diani Beach, Kenya is beyond beautiful and clean. it was simply amazing. The rooms are neat and well-maintained. There is a broad variety of food to pick from. It's an all-inclusive resort where you could have a glass of juice as you bask by the pool. Definitely worth being on the list.
10. The Boma
Boma Nairobi is located in Nairobi, Kenya. It is very close to the airport in Nairobi. Boma is one of the best hotels in Kenya and ranks the 10th best hotel in Kenya. The staff is excellent, very caring, courteous, gracious, helpful and understanding. The rooms are amazing and the meals are great and delicious. It is definitely worth being on the list.