Toke Makinwa's marriage to her ex-husband, Maje Ayida is one of the most discussed parts of her life. This is mainly because of its rocky nature and the very bitter way it ended, a development that was highly publicized in the media at the time it happened. Toke, one of Nigeria's popular media personalities, is known to love talking about relationships including dishing out relationship advice to the many fans who follow her on social media. This is why her bitter divorce caught attention all over the country.
Toke Makinwa has since gone on to rebuild her life and moved on from her failed marriage to Maje Ayida but the drama she had to endure once had such a profound effect on her that she wrote a book about that dark period in her life and has also made reference to that time a few times since the divorce happened.
Toke Makinwa and Maje Ayida met at a Boat Club
Before all the turbulence that greeted their romance, Toke Makinwa and Maje Ayida were once head over heels in love and could not take their eyes off each other. Reports show that the couple first met at the Lagos Motor Boat Club's Annual New Year's Eve Party. They locked eyes and got very attracted to each other.
The pair soon started dating and, in the beginning, it was a beautiful thing they had together. Maje Ayida, a fitness expert, apparently charmed Toke Makinwa so much that she was completely ready to give everything to make the man happy and make the relationship work.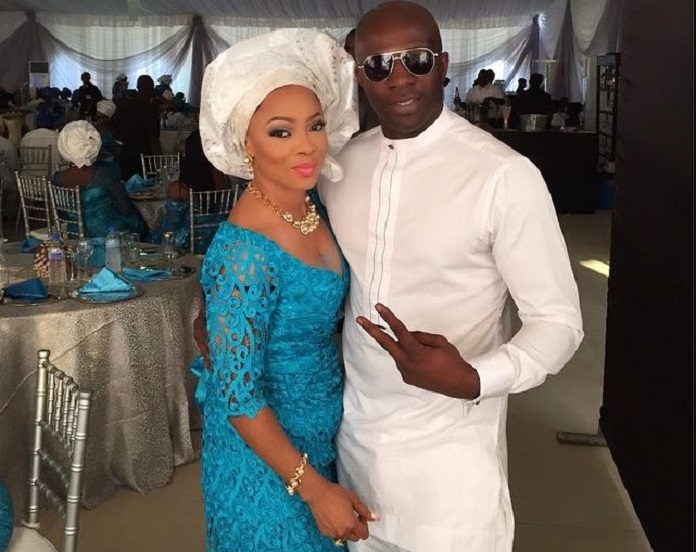 Their Relationship Was Not All Rosy
However, despite the very happy start to their relationship, Toke Makinwa and Maje Ayida's romance was not all rosy. In fact, the pair experienced lots of hurting moments that nearly tore them apart even before they got married.
Toke Makinwa, talking about this, explained that Maje became very distant but she still hoped their romance would work out. According to her, the problems they had made her start having trust issues, and was in constant fear of losing Maje because of the way he acted. Sometimes she felt as if he would walk out the door and never return to her again. She was in a dark place in her relationship.
Finally, she decided that maybe marriage would solve their problems and bring them back to how they were when they first met. Maybe if they got married, their issues would be a thing of the past.
Toke Makinwa's Marriage To Maje Ayida Was Super Private
Eventually, after being together for about 8 years, Toke Makinwa and Maje Ayida got married in Lagos. However, their marriage was a very private affair. This was quite unusual considering how much Toke Makinwa loved sharing details about her life with her many fans. The couple got married on January 15, 2014.
Because it was a very private affair, no one from the general public knew about the couple's wedding ceremony. The event was attended only by their very close friends and some family members. The wedding was so private that Toke was the one who had to announce the marriage to the public on her Instagram page where she shared some pictures from the private ceremony.
The wedding surprised fans who did not have any idea she was planning to get hitched. It was surprising mainly because it did not rhyme with Toke's usual style of talking about important matters in her life.
The Main Reason Why The Wedding Was Private
When it happened, fans initially felt that Toke Makinwa's marriage to Maje Ayida was a private affair because the couple wanted to share that special moment with only the people who are close to them and not put themselves in the spotlight with the general public on what is supposed to be their most happy day. However, it was later revealed that there was more to the whole thing.
Toke Makinwa's marriage to Maje Ayida was private for a very surprising reason. Explaining why it was private, Toke later revealed that it was because she was afraid that Maje Ayida would fail to turn up for the wedding. According to her, Maje had called off their wedding three times already before they actually got hitched and she was afraid it would happen again.
She explained that Maje had disappointed her three times before; they would pick a date to go to the wedding registry and he would just call it off. This made her so afraid to tell anyone about the wedding when it eventually happened because she felt that Maje would disappoint her again. So, she told only her close friends and family members and these were the people who attended the ceremony. This explanation took many people aback as no one saw it coming. Things seemed to be so perfect between the two.
What Went Wrong With Toke Makinwa's Marriage?
After Toke Makinwa's marriage to Maje Ayida held on January 15, 2014, everything seemed to be going well and fans were hoping for the best married life for the couple. However, in reality, things were not so great as the couple was battling serious issues. Eventually, the marriage began to come apart publicly just about a year later in 2015 when rumors of infidelity on the part of Maje started floating around.
On the 14th day of June 2015, popular Nigerian blogger, Stella Dimokokorkus released an exclusive report claiming that Maje Ayida had gotten another woman pregnant. This other woman in question was Anita Solomon, who was Maje's girlfriend. Reports showed that Maje had been in a relationship with Anita while he was married to Toke Makinwa. In fact, he had been in a relationship with Anita for about 8 years up to that point.
When this report came out, it shocked many people thoroughly and caused quite an uproar on social media as many Nigerians wondered what was going on because Toke Makinwa refused to talk about or even acknowledge the rumors. She just ignored the rumors and went on doing the normal things she did online, expressing the fact that she was blessed to be able to do what does for a living.
The rumors eventually turned out to be true. Anita Solomon, who is a lawyer, mediator, and business coach, was actually pregnant and it was Maje Ayida who got her pregnant. It was also later revealed that Maje even paid for Anita's trip to the UK where she had their baby.
Apparently, all these came as a devastating blow to Toke Makinwa. The blow was so severe that Toke and Maje ceased living together on November 8, 2015.
Toke Eventually Filed For Divorce
Toke Makinwa filed for divorce from Maje Ayida. The media personality who had obviously had enough of all the drama evoked by the messy infidelity scandal surrounding her husband's alleged sexual escapade with Anita Solomon, filed for divorce in March 2016, explaining that she could no longer go on with the relationship. Interestingly, they had only been married for about 18 months when she filed for divorce.
Toke Makinwa cited Maje's highly publicized adultery and other irreconcilable differences as the factors that have caused the irretrievable breakdown of their marriage. The divorce lawsuit, just as the Maje's adultery story, caused a serious stir on social media with many fans supporting Toke's move to get on with her life.
The lawsuit lasted several months however the divorce was eventually finalized on Thursday, October 6, 2017, when Toke Makinwa's marriage to Maje Ayoda was dissolved by an Igbosere High Court in Lagos. The court ruled that Toke had proved that Maje did commit adultery and had also tortured her emotionally hence the need to grant her wish to get a divorce.
Toke Makinwa Wrote A Memoir To Spill The Beans
Following the breakdown of her marriage, Toke Makinwa decided to open up and just spill the beans about her life and what really happened between her and Maje Ayida. She decided to write a book, a memoir which she titled 'On Becoming'. When the book was released, it caused hysteria online because of its contents and the kind of revelations she made in it.
There was a scramble to get a hold of the book by the general public who were very eager to understand what really went wrong with the media personality's marriage. Toke Makinwa made some startling revelations in her book that made the public start seeing her in a very different light.
The Revelations She Made In 'On Becoming'
In 'On Becoming', Toke Makinwa spilled the beans in its entirety and did not leave anything out about what went wrong in her marriage. Some of the secrets she revealed are listed below:
Toke revealed that Maje Ayida's sister warned her not to marry the man but she was too much in love to listen
Her own family was not in support of the marriage but she also did not listen to them. It was all about love
She revealed that Maje Ayida had once sought to divorce her and had even written an email asking for the divorce which he was going to send to her, However, he had to delete the email after their pastor intervened.
She revealed that she agreed to make a sex tape with Maje just to make him happy after he asked her to do it.
According to her, Maje never wanted to have children with her and even once told her to her face.
Toke Makinwa revealed that she once contracted a sexually transmitted infection from Maje Ayida and had to treat it urgently.
She revealed that because of her marital woes with Maje, she ended up losing a multi-million naira endorsement deal with a telecommunication company.
According to Toke, Maje Ayida actually has another child with another woman who is not Anita Solomon. She found out about this while going through emails. When she asked Maje, he did not deny being the father of the boy.
These revelations and many more which were made by Toke Makinwa in the book made the memoir very popular among fans wanting to take in everything the media personality had gone through in her marriage. It soon became a bestseller.
Seeing how popular the book had become, Toke decided to go on a book tour to further promote the book. The media personality toured different countries including the U.K., South Africa, the U.S, and parts of East Africa. She also had the book tour in Nigeria as well.
How Maje Ayida Reacted To Toke Makinwa's Memoir
Like everyone else, Maje Ayida also read Toke Makinwa's book. However, unlike everyone else, he decided to drag Toke Makinwa to court and sue her for defamation. Maje actually hired lawyers and filed an N100 million naira lawsuit against Toke Makinwa for defamation of character in February 2017.
In the lawsuit, Maje Ayida claimed the book contained fabrications and lies against his person. He also claimed that Toke's book contained a lot of defamatory words that were completely misleading and had subjected him to public ridicule since it came out. He asked that Toke Makinwa withdraws the book from circulation and also recall all the copies of the book that had been distributed. He also asked that the books be handed over to him for destruction.
What Was The Result of Maje Ayida's Suit Against Toke Makinwa?
When the case got to court, it dragged on for a while and lasted for more than two years. Eventually, Maje Ayida won the court case he had instituted against Toke Makinwa and was awarded damages. On November 12, 2020, reports emerged that a court had ruled in favor of Maje Ayida in the defamatory case against Toke.
The case was decided by a Lagos State High Court at Tafawa Balewa Square presided by Olukayode Ogunjobi. In the court's judgment, Ogunjobi held that the contents of Toke Makinwa's book as seen on page 54 lines 11-16, and page 83, line 1 were defamatory and had tarnished Maje's image. The court ruled that it found the page's contents defamatory after careful consideration of the evidence before it.
Thereafter, the court awarded N1 million in damages to Maje Ayida and that the money had to be paid to any charity organization Maje's choice. The court also prohibited Toke Makinwa from producing any more copies of the book with the defamatory words on pages 54 and 83. Also, Toke was given 30 days from the time of the judgment to completely delete the said defamatory words from the unsold copies of her book in her possession. Failure to do this would attract more sanctions.