Plans to leave your country for another can be a frustrating problem that seems to have no solution. This is especially so for retirees, unemployed, or underemployed people who don't have enough money to travel. But then, the whole process doesn't have to be expensive. Many affordable countries have made it possible for one to attain the life-changing dream of living and working abroad. These countries do not only offer good salaries but also offer visitors quality health care and lower cost of living.
Below are 10 of such countries; the list was derived based on an analysis of GoBankingRates which measured crucial factors like local purchasing power (LPP), rent, groceries, and consumer price (rate of trade and services). These factors are instrumental to the level of financial comfort and welfare of citizens of any given country. Also, we considered the rating by Internationallliving.
Inexpensive Countries to Consider If You Are Planning to Reside Abroad
10. Thailand
Popular Jobs: Tourism, Hospitality jobs, and Teaching English 
Cost of Living: $600 to 1000 per month
Recommended: Teaching the English Language
From fascinating cultures and tasty food to crystal clear waters and amazing beach resorts, Thailand has for long captivated the hearts of travelers around the world.
The country is one of the Asian countries with varieties of treats. Famously described as the "country of smiles", the nation offers a quality life at a low cost. For instance, in places like Chiang, the cost of living can be as low as $600 per month. This includes monthly rent which runs at $150 in a Western-style complex. A meal cost around $1 in street stalls, food courts in malls, and markets. And, transportation on a public bus can be as low as $0.30.
While the cost of living is low, salaries are friendly in Thailand. For a potential ex-pat, the common job that can easily be nabbed is teaching the English language which can fetch around $1000 per month for the employee.
9. Poland
Popular Jobs: Customer Services, Teaching, and Tourism
Cost of living: $1000 per month
Recommended job: Teaching English
Poland is another great place in Europe to live on a budget, and it's mostly recommended for people who love Europe yet want to live at a cheaper cost. While Poland isn't as popular as its neighbor Germany, it offers a lot of professional opportunities with quality salaries.
Teaching English is an option and there is also the availability of customer service jobs. Amazingly, these jobs attract sufficient salaries to sustain employees. Tourism is also starting to boom especially in cities like Warsaw and Krakow which have all the Western amenities you could need.
Living in these cities comes at half the price you'd spend in Germany. A 1-bed apartment goes at around $350, and a meal at a local restaurant is only around $5.
8. Bolivia
Popular jobs: Tourism, Teaching English, and Sales Positions
Recommended Job: Teaching English
Cost of living: $1000 – $1500 per month
Located in South America, Bolivia is one of the cheapest countries to live in the world. The nation offers different lifestyle options at pretty little costs.
Rentals cost around $200 to $400 for houses in good neighborhoods with modern conveniences. There are also job opportunities with decent salaries to make life easy.
In addition to the above, you'll get to experience Bolivia's rich and indigenous culture which will make you feel at home. Its capital Sucre is located at the foothills of the Andes Mountains in Southern Bolivia. The environment is stunning and its UNESCO World Heritage Centre has many historical structures built many years back with tourists in mind.
7. Ecuador
Popular jobs: Tourism and Teaching English 
Recommended Job: Teaching English
Cost of living: $1650 – $1825 per month for a couple
Located in northwestern South America, Ecuador is home to many beautiful towns and the quality of life it offers is hard to beat in most places across the globe.
Living in the nation is quite affordable and no matter what your budget is, there is something for you. You can buy a house on a Pacific Coast Beach or a condo with nice views in the Andes for less than $150,000. If you decide to go for rentals, you will only need about $500 to rent a two-bedroom, two-bathroom condo in downtown Cuenca.
For a couple, it will cost around $1650 to $1,825 per month to live comfortably in Ecuador. Food also comes at a cheap price with fruits and vegetables going at less than $15. Household help is also available at varying low prices ranging from $10 to $20 daily. Transportation is also affordable with bus fare placed around 30 cents for a ride while cabs go for $2 to $5.
6. South Africa
Popular jobs: Teaching English, Tourism Jobs, and Offers from Private International Companies
Cost of living: $600 – $1500
Recommended job: Work on a Humanitarian Photography Project with Roots Interns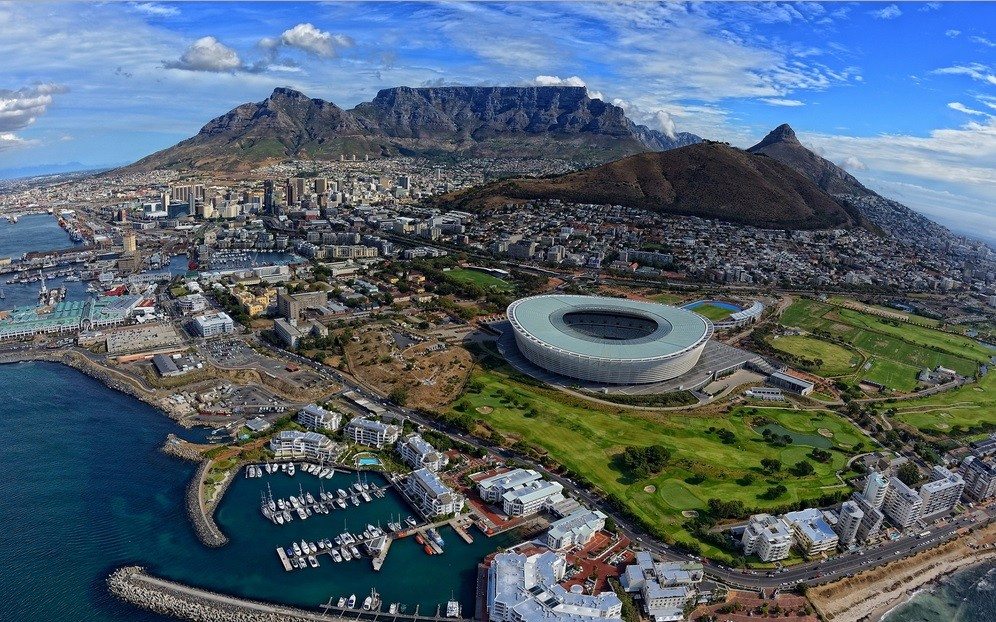 South Africa is one of the African countries with a multiethnic society encompassing a wide variety of cultures, languages, and several religions. A larger percentage of the country's economy is derived from tourism as the country is endowed with numerous gifts of nature. An example is the Tabel Mountain in Cape Town which is believed to be one of the oldest mountains in the world and one of the planet's 12 main energy centers, radiating magnetic, electric, and spiritual energy.
Other places to visit in the country include the Boulders Beach, the meandering 850km road through Cape Winelands, known as the world's longest wine route, the Bloukrans Bridge, Western Cape, and much more.
While the country's official language is English, there are 10 other languages in South Africa. They include isiZulu (the most common), Afrikaans, isiXhosa (2nd most common), siSwati, Sesotho, Xitsonga, Sepedi, isiNdebele, Setswana, and Tshivenda­. These many languages make teaching English very lucrative for ex-pats. There are also job opportunities in private companies that are welcoming to ex-pats.
The cost of living in South Africa is relatively cheap. For rent, you will only have to part with anything from $350 to $500 every month for a one-bedroom apartment. Meal at a local eatery is usually less than $8 while beer cost about $1.70.
5. Mexico
Popular jobs: Tourism, Teaching English, Au Pair, and Sales Positions
Recommended Job: Be an Au Pair in Mexico
Cost of living: $600 – $1000 per month
Also known as the United Mexican States, Mexico is surrounded by beaches like the coastal resort town called the Playa del Carmen and the Cozumel island which makes life fun. Visiting spots like the well-known Ciudad Amarilla (Yellow City) of Izamal, Acapulco, and many more is also one of the many reasons people choose Mexico over anywhere else.
The fascinating thing is that life here doesn't cost much. It only cost about $200 – 500 monthly to live in a one-bedroom apartment. Local food goes as low as $1 per meal and a monthly pass for local transportation starts at $16.
4. Bulgaria
Popular jobs: Teaching English and Tourism Jobs
Cost of living: $800 – 1000
Recommended job: English Teacher
Life in Bulgaria is a lot cheap than most places in Europe. This may come as a surprise but you can actually live like royalty on a budget. For instance, house rent costs only $230 per month, and transportation takes just $1. For feeding, eating in a local restaurant costs about $5.
Other expenses such as utilities, childcare, groceries, and leisure will also not leave you broke. Similar to other countries on the list, the most common jobs available in Bulgaria are teaching and tourism jobs. Salaries are quite high with teachers receiving up to $1000 and $1500.
It is not just about the cost of living and salaries. Bulgaria is also a fun place. Located in Southeast Europe, it is a nation with a rich history and culture. It is one of the ultimate destinations for adventure; the stunning mountains and ski resorts are among the numerous activities that lure visitors to the country. The country's natural honey, fresh fruits, and vegetables are other factors that many find appealing.
3. Cambodia
Popular jobs: Tourism, Teaching English, IT, Construction Manager and Valuation Manager 
Recommended Job: Teaching English
Cost of living: $600 – $1000 per month
Cambodia is located in the southern portion of the Indochina peninsula, in the heart of Southeast Asia. Famously called the Kingdom of Wonder, the nation has experienced economic growth in the past fifteen years which has made life a lot easier for its inhabitants. Its tourism sector is a significant contributor to this with many tourists visiting the popular temples of Angkor Wat. Royal palaces and saffron-robed monks; the beautiful beaches, and undeveloped islands on the southern coast are also of interest to Cambodia visitors.
The cost of living in the country is one that leaves many in shock, a couple can live with as little as $1,080 per month.
Utilities are very affordable with electricity going for anything between $80 to $100 a month. Cable television comes at just $5 and water bills are from $5 to $10 while garbage collection is billed $2 for each household. To hire a cleaner who comes to your house each week, you only need to budget about $30 to $40 a month.
While the cost of living is low, Cambodia offers a quality standard of living which makes it a place where ex-pats and retirees can have an upgraded lifestyle on a budget.
2. Costa Rica
Popular Jobs: Teaching English, Tourism, SCUBA Diving
Cost of living: $1000 – $1500
Recommended job: Become a Diving Teacher or School Teacher
Costa Rica is not just known for its fascinating climate with lush jungles and tropical beaches but also its economy, demographic, and cultural riches. The country is considered to be economically stable with moderate-high growth in GDP which has gone from $61.5 billion in 2017 to $65.179 in 2020.
The country is home to many foreign companies with a focus on manufacturing and services. Agriculture also plays a role in the nation's economy, contributing about 5.5 percent of the GDP. While its unemployment level is relatively high, estimated at 8.2 percent in 2016, Costa Rica remains one of the countries in Central America where citizens enjoy high standards of living.
One of the things that make life easy in the region is the fact that the government provides adequate health care which is accessed at a low cost. Housing also doesn't cost much and its educational system is one of the best in the region with some level being mandatory as well as free.
Popular jobs in the country include teaching English and working in the tourism sector. Food is also inexpensive with a meal in a local restaurant costing around $3 – $6 while rent costs from $300 – 800 monthly. Transporation cost about $0.70 for each trip.
1. Vietnam
Popular Jobs: Teaching English
Cost of Living: $1000 per month
Recommended job: Teach English as a Foreign Language 
Situated in Southern Asia, living in the big cities of Vietnam could only cost from $700 to $1,400. Monthly rent for a western-style 1 bedroom costs about $400, utilities like fast wifi could cost about $70 and transportation takes about $60.
For small cities, rent costs about $250 per month and eating out costs are around $1 – $3 per meal if you stick to local restaurants or street food. For Western-style restaurants, you will get to pay around $10. Transportation is very low as well. What's more interesting is that getting certain types of jobs such as teaching English in Vietnam is quite easy; teachers earn salaries between $1,100 to $1,700.
What You Should Have in Mind While Planning to Relocate
Make a proper financial plan: Although you don't have to break the bank, it is very vital to have some funds that will sustain you once you arrive and throughout the time you'll search for a job.
Know the value of your country's currency: Always bear in mind that if you are coming from a country whose currency has a higher purchasing power, you would have a sense of a cheaper cost of living. In other words, when the purchasing power parity of a country is high, more goods are affordable but when low, fewer goods are obtainable.
Go with what you can afford: We advise looking beyond expensive countries like Italy; this way, you will live better with moderate earning.