Stephen A Smith does not have a wife; however, he has two daughters who are 13 and 14 years old, and was previously engaged to a woman whose name has been withheld. Stephen A Smith's net worth is estimated at $16 million. 
Stephen A Smith is an internationally recognized American sportscaster who is best known as the co-host of the ESPN show, First Take along with Molly Qerim and Max Kellerman. He works as an NBA analyst for many sports shows on ESPN, including NBA broadcasts and NBA Countdown. His career has drawn scrutiny to his personal life, where a lot continues to be a mystery.
It has also made him a lot of money, earned from decades in journalism and on television as a pundit and analyst. The man who has birthed multiple gifs, here is a look into his personal life and the financial impact of his career.
Summary of Stephen A Smith's Biography
Full name: Stephen Anthony Smith
Nickname: Stephen A Smith
Gender: male
Date of birth: October 14, 1967
Place of birth: The Bronx, New York, USA
Stephen A Smith's Age: 55 Years Old

Ethnicity: African American
Nationality: American
Zodiac Sign: Libra
Sexual Orientation: Straight
Marital Status: Unknown
Stephen A Smith's Children: 2
Stephen A Smith's Parents: Janet Smith
Siblings: Four sisters and one brother
Profession: Actor, radio host and sports journalist
Stephen A Smith's Height in Inches: 6 feet 1 inch
Stephen A Smith's Height in Centimetres: 185
Stephen A Smith's Weight: 70 kg
Eye color: Black
Hair color: Black
Stephen A Smith's Net worth: $16 million
Famous for: Being the co-host of the ESPN show, First Take along with Molly Qerim and Max Kellerman.
Stephen A Smith's Instagram: stephenasmith
Is Stephen A Smith Married?
In a rare insight into his personal life during an interview with GQ Magazine, Stephen A Smith admitted he was engaged once. When the interviewer pressed further, he replied in quintessential Stephen A fashion 'none of your business'. Stephen A, as he most often called, also admitted he has two daughters, who as of December 2019, were 10 and 11 years old, respectively.
Stephen A Smith is a man happy to discuss various social and sports issues. But ask him about his personal life, and he has nothing to offer. Since reaching stardom with ESPN, he has managed to keep details of his romantic life out of the media. We do not know if he is married, divorced, or dating. However, we do know that he is a father.
As expected, he withheld their names, and there is still a mystery regarding the circumstances that led to their birth. He confessed his children give him a new lease of life, especially after his mother, Janet, died from colon cancer. Her death is a part of a stream of significant losses in Stephen A Smith's life, which includes his father, and brother, Basil, who died from a car accident.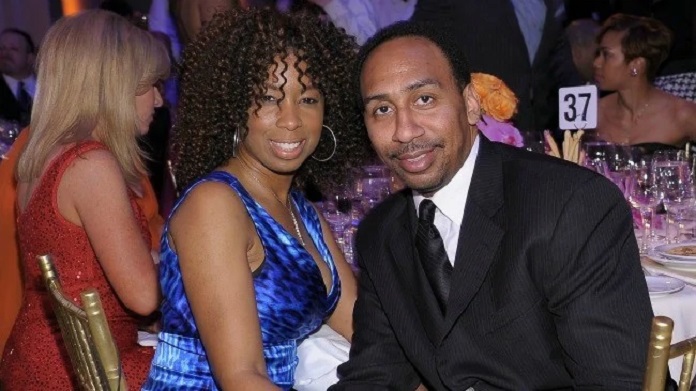 Aside from his daughters and a failed engagement, the closest Stephen has come to a known partner was in 2011. He and a mystery lady attended the Steve Harvey Foundation Annual Gala. The world never saw the woman again, killing any chance of a rumor.
Stephen A Smith's Net Worth is $16 Million
The compounding effect of earning millions per year is considerable net worth. For Stephen A Smith, the effect is $16 million. The figure comes from being one of the highest-paid sportscasters in the world, specifically the second having been bettered by CBS' Tony Romo, who earns a massive $17 million per year.
Being the Highest-Paid ESPN Talent Ever Add To Stephen A Smith's Net Worth
Before 2019, Stephen was earning $5 million per year from ESPN. It made him one of the highest-paid performers for the sports outlet. However, contract negotiation in 2019 took him from a member of the money list to the top of it. He signed a new contract worth a reported minimum of $8 million per year, and an estimated ceiling of $10 million. The deal made him the highest-paid analyst and pundit for the Disney-owned sports company, beating Get Up! 's Mike Greenberg.
Stephen earned the deal after becoming the face of the network. His performance and comments on shows like First Take and The Stephen A Smith Show on ESPN Radio have become huge ratings draws and made him a superstar. His 2019 contract with ESPN has been a continued rise in the perceived value of the sports personality since he began his journey with ESPN in 2005. He worked on radio and television for the media outlet, although not necessarily at the same time.
Stephen A Smith began his ESPN TV career in August 2005 with Quite Frankly with Stephen A. Smith. He hosted the show for two years until January 2007 when it got canceled, and he became an NBA analyst appearing on other shows. Smith left ESPN all together in May 2009 before returning in April 2012 in a permanent deal as an analyst on First Take.
Despite being at the center of a couple of controversial comments, such as when he suggested women provoke domestic abuse, he remained a positive addition to the show for ESPN. In recognition of his contribution, he signed a multi-year deal with ESPN worth $3 million per year in late 2014. He has continued that upward rise, and so has his salary, which as of late 2019, is more than $8 million per year.
But while Stephen can only settle for his ESPN salary, he has added income from other sources, which have boosted his net worth.
He Has a Radio Show
Aside from his television appearances for ESPN, Stephen A Smith also has a radio show. He has a syndicated daily two-hour radio show available on KSPN in Los Angeles, ESPN's Sirius XM, and WEPN in New York. The program reportedly earned Stephen an extra $1 million per year between 2015 and 2019.
Acting Also Contributes To Stephen A Smith's Net Worth
One other source of income for the famous sportscaster is acting. Although it is not the first thing most people associate with him, he has done a fair bit of it, enough to have an IMDb page for it. His first acting appearance came in 2007, in the film, I Think I Love My Wife.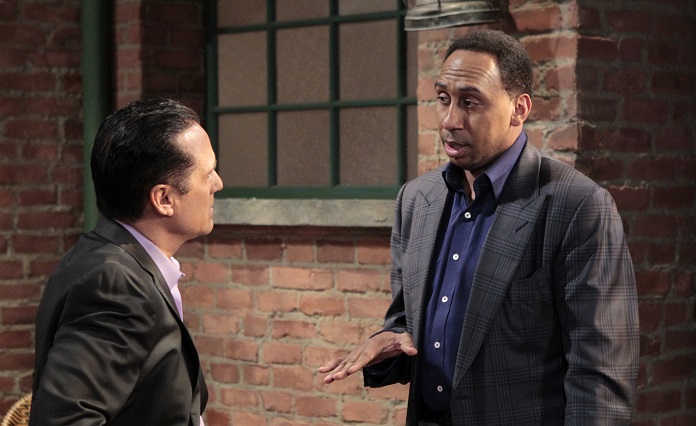 In the same year, he began appearing as Brick, a reporter, on the soap opera, General Hospital. He has appeared in 14 episodes of the show to date. Other appearances include Almost Christmas and a voice acting role in the 2021 film, Rumble.
Endorsements and Public Speaking
Stephen A Smith's $16 million net worth also comes from a steady career as a public speaker. As a man whose voice is revered on television and known for his no-nonsense commentary, he is quite the hot commodity in the public speaking circuit. According to available information, the First Take pundit earns up to $100,000 per gig.
For endorsements, although he typically appears in promos via ESPN, he has appeared in ads for Oberto. He has appeared in a series of commercials for the beef jerky brand since 2014, often appearing alongside other sports figures.
Sadly, if you are wondering how this mega-rich sportscaster spends his money, we still do not know. His militaristic approach to privacy has kept details of his expenses out of public reach. But as one of the busiest men on television, one can only assume the bulk of it goes to his family.