Lisa Vannatta, famously known by her online alias, STPeach is a Canadian video game streamer cum vlogger who has garnered fame through her appearances on different video-sharing/social networking platforms such as Youtube, Instagram, Twitch, Reddit, and Twitter. The beautiful lady got her career to a start in August 2015 when she joined the live streaming video platform, Twitch. She rose to the spotlight through the live streaming of video games such as Counter-Strike: Global Offensive and League of Legends.
In addition, the avid gamer is also a fitness vlogger as well as a dental assistant. She currently has over two million subscribers on her YouTube Channel tagged ST Peach, and several other millions on other platforms. Learn more interesting facts about Stpeach below.
Stpeach Bio and Age)
Lisa, popularly known as STPeach, was born in Calgary, Canada on November 8, 1993, and was also raised there alongside her two older brothers. Although she later relocated to Los Angeles, California, in September 2018, her family still lives in Calgary. The gaming star holds Canadian nationality and is of white ethnic background. There is no much information with regard to her educational background. However, having worked as a dental assistant shows that the charming lady pursued a career in the health sector.
Regarding her career, STPeach started streaming video games on her Twitch channel since 2015 but that was not when her love for video games was born. She began playing video games when she was very young having been influenced by her brothers. According to her, from the time she started playing Maplestory in middle school, she got stuck to video games. Because she was so good at it, so many people suggested that she start streaming but she never gave it a try until about one and a half years later when she started out on Twitch.
At the initial stages of her career, STPeach was juggling between streaming and her part-time job as a dental assistant. When she could no longer deal with the pressure of handling the two, she decided to quit her dental assistant job and focus on her gaming career. Today, she is among the fast-rising gaming stars on Twitch and YouTube. Within a space of three years, she has garnered millions of subscribers on her Twitch and YouTube channels. In addition, she also has millions of fans on other social media platforms including Instagram and Reddit.
She is married to Jay Chae, a North Korean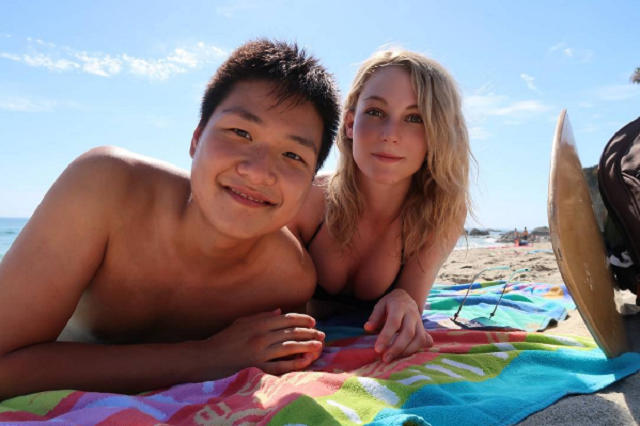 If there is one aspect of STPeach's life that has drawn a lot of attention to her, that should her relationship with her Asian boyfriend, Jay. The lovebirds first met each other via Skype a few years ago. The only thing that brought the couple together was their flair for online gaming. After they connected, it didn't take long for them to become gaming partners. At the time, they were just friends and were in other relationships.
Amazingly, the duo finally met physically in 2016 while attending the yearly Twitch convention known as Twitchcon. From that moment, they decided to ignite their relationship and take it further. However, their relationship obviously does not go down well with some of her fans who feel she went below her league in choosing a boyfriend.
In the wake of the foregoing, the gamer has received strings of hateful and hurtful comments about her relationship with the Asian dude. The couple is, nevertheless, unperturbed about the nasty comments as they are both happy with one another. According to Canadian beauty, they even find it funny that their relationship is a subject of discussion because to them, it feels very normal.
Additionally, the duo got engaged in May 2018 and while sharing the news on Instagram, STPeach posted a picture of themselves with the caption "I get to marry my best friend." She has also revealed that she has started learning how to speak the Korean language because her soon-to-be parents-in-law do not speak English fluently. They eventually got married a year after announcing their engagement
Other Facts About The Twitch Streamer
1. Even though she appears to be tall, Lisa Vannatta is 5 feet 6 inches (170cm) tall, just a few inches taller than an average American woman.
2. She has three pet cats named Alfred, Leo and Korra, which appears occasionally in her videos.
3. In a video she posted on her YouTube channel on Published on Sep 2, 2018, the vlogger revealed that she is a very shy person and has more friends online than she does in real life.
4. She also revealed in the same video that her YouTube and Twitter accounts were deleted sometime in 2018 by someone she met online and became friends with. According to her, not long after they became friends, she trusted him with some sensitive information, including her passwords and he betrayed her trust.