Gaining fame for his legendary moves with video games and illicit behavior, Tyler Steinkamp is acknowledged as ruthless, merciless when it comes to his gaming acts. His constant attacks on others, suicide encouragement and intentional trailing games at the disadvantage of his teammates are one of his attributes as a gamer. With all these, he has faced a few oppositions including been banned for almost two years from gaming competitions, while on the other hand, many have termed these as his signature.
More so, Tyler has gained a number of nicknames like being hailed as the most toxic American player in North America, Loltyler1, as well as tyler1, he never gives a hoot with what anyone thinks. In the bits of these, he knows no slowing down with his gaming career and has gone ahead to stream live on both YouTube and Twitch.
Unarguably, the gamer has gathered interest over the years ranging from his tyrant days to his newly found right behavior. This article contains 7 rare facts about Tyler Steinkamp.
7 Things You Didn't Know About The Streamer Tyler Steinkamp
1. Background, Age, Education
The YouTuber was born and named Tyler Steinkamp on March 6, 1995. Together with his family, they lived in Missouri where he joined the Mark Twain High school for his high school studies. He later advanced to the Central Methodist University in Missouri where he studied Computer Science as a major. While at the university, Tyler was an ardent American footballer who played as a running back.
Many would have expected that he would pursue his football career but Tyler Steinkamp chose to play video games. He began gradually but it was not up until 2014 he treaded professionally with LOL otherwise known as League of Legends. He struggled at the growing phase but has won over millions of loyal subscribers over the years.
Loltyler started a gaming contest in 2017 with an imitation of the famous League of Legends Championship Series (LCS). The winning squad in the game was given $10,000 and a year later, the series rewarded the winning side with $50,000.
2. His Career Accomplishment (13 – 14 Best Solo-Ranked League of Legends in 2014)
In the League of Legends, Draven's character is not really a daring one but tyler1 has taken it far and beyond what we all ordinarily thought it was capable of. He has made good out of Draven by making it rank the 13th player in the game.
3. What Caused His Ban by Riot Games?
Tyler was banned from 2016 to 2018 because of his intolerable conducts of insulting, going physical, making comments that were perceived racist, intentionally losing games even at the disadvantage of his co-players and a list of other illicit behavior. As a result of this, his name was enduringly barred by Riot Games.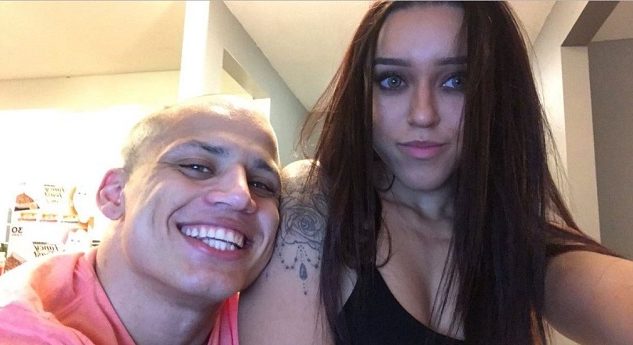 On the other hand, Tyler Steinkamp's girlfriend, Instagram model Macaiyla has been banned twice on Twitter. She got herself banned and also got her boyfriend a one day ban on Twitter as Tyler once accidentally posted nude pictures on the platform.
4. His Foremost Stream Post-Ban Made History on Twitch
Although Steinkamp was banned by Riot Games permanently, his case was later reconsidered and was called to start gaming under probation. While he played his first game after the almost 2 his years ban, Tyler Steinkamp drew attention to himself by making a history of having 386,000 viewers. In the game, he was able to win with a different character other than his usual Draven.
5. Acting
For Tyler Steinkamp, gaming isn't all. He took to acting, appearing in a short movie titled A Day in the Life of Tyler1. Ever since the release of that movie, it looks like Steinkamp has taken a step backward from the movie world.
See Also: Wisteriamoon – All You Need To Know About The YouTuber
6. What is the Net Worth of Tyler Steinkamp?
Well, Tyler Steinkamp has been able to earn thousands of Twitch subscribers including a handful of sponsorship deals as well as negotiations. He has gathered a reasonable amount of wealth from most of his paid videos on all social media platforms. On YouTube, he has about 1.8 million subscribers and not less than 261 million views. On twitch, he enjoys roughly 123 million views as well as over 2 million subscribers. In all of these, his net worth is said to be estimated at $1 million.
7. How Tyler Steinkamp Changed for Good
As a result of the troubles he faced that got him banned, Tyler Steinkamp went through a language etiquette course and later proclaimed his becoming an entirely improved person. After his comeback, his account witnessed an increase of followers from about 5,000 to 92,000.