When it comes to the construction of commercial buildings, there seems to be an unspoken agreement between engineers and technology that says the higher the building, the better. Every country seems to be trying its best at meeting up with this trend and Kenya is certainly not left out. That's why the tallest buildings in Kenya is our focus.
Nairobi is the capital and the largest city of Kenya, it is, therefore, the place where you will find most of the tallest buildings in Kenya. In Nairobi alone, you can find about 10 buildings that are more than 80 meters high (262 ft).
From buildings like The Hilton Nairobi (1969), the NSSF Building (1973), and the Kenyatta International Conference Center (1974), One can say that Kenya does have its share of gigantic towers that should be held in awe. The era of building skyscrapers in Kenya started in late 1960 when the city had its first tower and ever since, this trend has continued so that in Nairobi today, you will find lots of high-rise buildings.
The inclination of erecting high-rise structures in Kenya started with the construction of The Hilton Hotel Nairobi in 1969, but the awe seems to have faded because lots of other high-rise buildings have been erected with some so much higher and finer.
Here is a list of the tallest buildings in Kenya along with the dates of their Construction.
1. UAP Old Mutual Tower, Nairobi, 163 m (2015)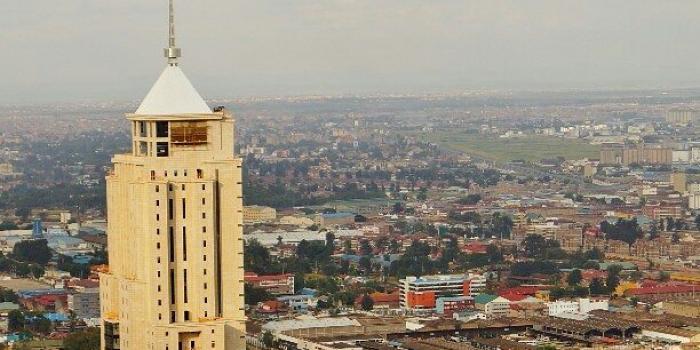 The UAP Old Mutual Tower is currently the tallest building in Kenya. The tower is a 33-storey office complex located in the Upper Hill neighbourhood of Nairobi. The tower displaced Times Tower to become the tallest in the ancient city upon its completion in 2015.
2.Times Tower [New Central Bank Complex] Nairobi 140 m  (1997)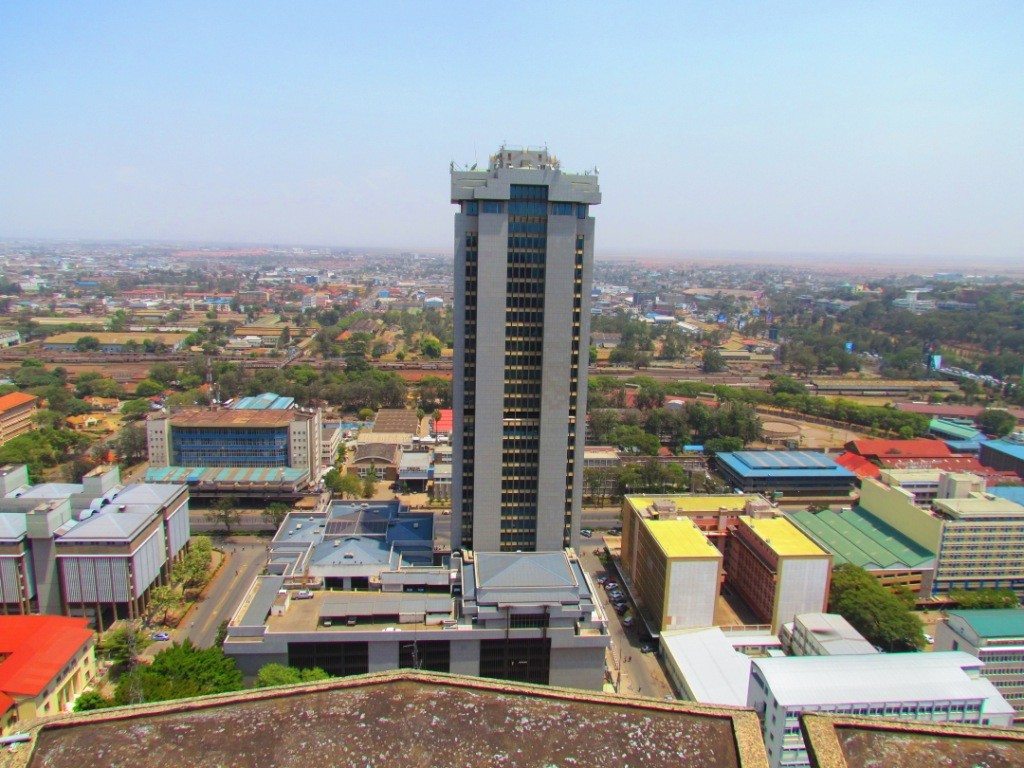 Times Tower, which is also the New Central Bank Tower, is an office tower in Nairobi, Kenya. The 140 meters (459 feet), tall building is second tallest building in Kenya after the UAP building.
See also: Fun Facts About the City of Nairobi Kenya 
3. Kenyatta International Conference Centre, Nairobi 105 m (1974)

The Kenyatta International Convention Centre (KICC), formerly known as Kenyatta International Conference Centre is located in the heart of Nairobi, Kenya and one of the tallest buildings in the country. The 28-story building is an internationally renowned venue for conferences, meetings, exhibitions and special events
4. Social Security House, Nairobi 103 m (1973)

The social security house which was built in 1973 is another very tall building you would find in Kenya measuring 103 m in height.
5. I & M Bank Tower, Nairobi 99 m (2001)

You wouldn't have a comprehensive list of the tallest buildings in Kenya if you have not mentioned the I&M Bank Tower located at Kenyatta Avenue. The coordinates of the building are:1°17'05.0″S, 36°49'12.0″E (Latitude:-1.284714; Longitude:36.819993)
6. KCB Plaza, Nairobi 99 m (2015)

The Kenya Commercial Bank Plaza (KCB Plaza) is another break taking building in Kenya. The skyscraper which was completed in 2015 is 99 m (325 ft) tall.
7. Nyayo House, Nairobi 84 m (1983)

Housing several government departments like the immigration and Nairobi Province, Nyayo House located at the corner of Uhuru Highway and Kenyatta Avenue is another tall building to look out for if visiting Nairobi for the first time. The building which was completed in 1983 is  84 meters high and has 27 floors.
8. Cooperative Bank House, Nairobi 83 m (1981)

Cooperative Bank House is an office building that was completed in 1981. The building is about 83 meters in height.
9. National Bank House, Nairobi 82 m (1976)

This skyscraper belongs to the National Bank of Kenya and one of the oldest buildings you will find in Nairobi. It is about 82 meters.
10. Anniversary Towers, Nairobi 80 m (1992)

Anniversary Towers is a 26-story building located on University Way Nairobi, Kenya.
See also: 30+ Amazing Photos of Nairobi You Would Mistake For London 
11. Lonrho House, Nairobi 80 m (1990)

Lonrho House is located along the standard street. Built almost 28-years ago, the building houses businesses like – National Drought Management Authority – JAB Orengo Advocates – Daalo.
12. Reinsurance Plaza, Nairobi 77 m (1982)

Reinsurance Plaza situated at the heart of the Nairobi CBD close to major Government departments is also one of the earliest tall buildings in Kenya. The 18-storey building comprises of offices on 17 upper floors and shops on the Ground and Mezzanine floors.
13. Uchumi House, Nairobi 71 m (1972)

This 41-year-old building cannot go unmentioned in this list. Uchumi House is a 21-story high-rise building is located in Nairobi, Kenya and is 71 m tall.
14. ICEA Building, Nairobi 69 m (1981)
This iconic 21-storey house built in 1981 was initially owned by the ICEA Lion Group but in 2015 it was acquired Jomo Kenyatta University of Agriculture and Technology (JKUAT).
15. International House, Nairobi 66 m (1971)
The last on our list of tallest buildings in Kenya is the International House, Nairobi which was built in 1966 and is 77 meters tall.