Tony Shalhoub is an award-winning American actor of Lebanese descent who is popularly known for his works as a character actor. He works as both an actor and a voice actor with several voiceovers and acting roles to his credit. His voice has given life to some of the best characters in anime movies, besides, Shalhoub has played several roles in successful productions such as Men in Black, Spy Kids, Cars, The Band's Visi, just to mention a few.
His efforts in the entertainment industry have not gone without rewards as the actor has won a lot of awards in the course of his career and had the privilege of sharing the screen with some of the best actors and actresses considered to be part of the crème-de-la-crème in today's Hollywood.
Tony Shalhoub's Genealogy Is Traceable To Lebanon
Born on October 9, 1953, Tony Shalhoub was named Anthony Marcus Shalhoub at birth. Though his place of birth Green Bay, Wisconsin makes him an American citizen, the young actor has his roots in Lebanon. His father Joe Shalhoub – a Lebanese by birth, had a cause to relocate to the United States of America as an orphan when he was just 8 years old. There, the senior Shalhoub earned his living by pedalling beef via his refrigerated meat delivery truck largely in the Wisconsin area.
Tony's mum Helen Shalhoub (nee Seroogy) is a second-generation American whose family had immigrated to the United States much earlier but she is no different from her husband as her roots are equally traceable to Lebanon.
Tony Spent His Formative Years In A Family Of 12
After their nuptials, Joe and Helen went ahead to have a large family totalling 10 children of which Tony is the ninth. Their family is a deeply religious one as part of the Arabic speaking Maronite Christians – the largest Christian denomination in their native homeland of Lebanon.
Growing up in a large family has its advantages as Tony was surrounded by lots of brothers and sisters. And being among the youngest means that he had a lot of support from the older children who helped guide him towards making the right choices in life which he is grateful for.
Tony Shalhoub's Wife Is Also Part Of The Movie World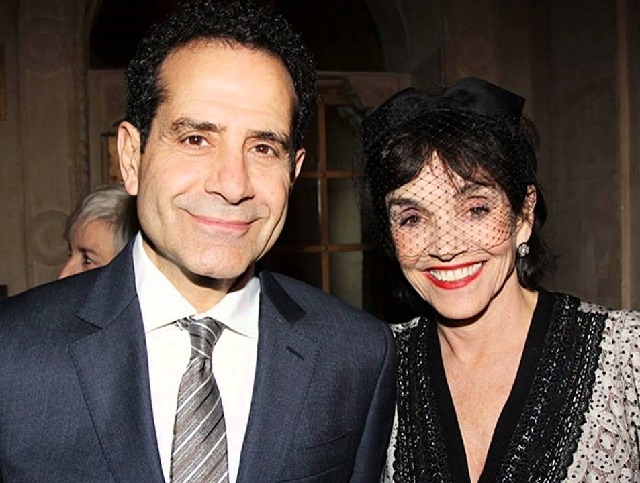 Tony Shalhoub has long left the league of the single guys of Hollywood as the veteran actor exchanged marriage vows with the lovely actress, Brooke Adams in 1992. The duo met in 1989 when they co-starred on Broadway in The Heidi Chronicles after which they became friends. One thing led to the other and their friendship blossomed into a full-blown romantic relationship a year later.
Initially, Brooke was really aversed to the idea of getting married but it didn't take long for Tony to convince her, and three years after they met, the celebrity couple had already pledged their lifelong commitment to each other. One interesting thing to note about the couple's union is that Tony's wife is a few years older than him, but that hasn't affected the love they have for each other. Being in the same profession seems to be a good thing for the duo as they have successfully worked together in several productions both in the theatre and onscreen roles. They appeared on the set of BrainDead and in a single episode.
Adams also made her mark in Monks, appearing as a "Special Guest Star" in five episodes — "Mr. Monk and the Airplane", "Mr. Monk's 100th Case", "Mr. Monk and the Kid", "Mr. Monk Visits a Farm", and "Mr. Monk and the Badge". Their theatre appearances were in 2010 when the couple showed up in Broadway's revival of Lend Me a Tenor and of course in The Heidi Chronicles.
The Couple's Two Children Are Adopted
Though they are parents to two beautiful girls, Tony and Brooke's children are not their biological offsprings. While they were still dating, Brooke adopted a daughter named Josie Lynn in 1990; Josie was born in 1989.
In 1994, while celebrating the second anniversary of their wedding, the celebrity duo decided to adopt another daughter, Sophie, who was born a year earlier. Even though the girls are not of his bloodline, Shalhoub has maintained a good relationship with them. The Shalhoub family of 4 has remained a very happy and vibrant unit for more than 25 years now, and they are regularly seen attending events in Hollywood together as a family.
We heard from the Hollywood couple during the latest Coronavirus pandemic that both he and Brooke tested positive to the virus but were well on their way to recovery after having a few rough weeks.
His Acting Career Started On Stage
Tony Shalhoub accomplished his Broadway debut on the set of The Odd Couple as produced by Rita Moreno/Sally Struthers in 1985. This was after his spell in American Repertory Theater roles in productions like As You Like It, The Berlin Requiem, and The Seven Deadly Sins, Lulu, Has "Washington" Legs? The Marriage of Figaro, Sganarelle- An evening of Molière farces, and many more.
His other roles in the theatre include Conversations with My Father for which he became a Tony Award nominee. The Heidi Chronicles which introduced him to his wife, Waiting For Godot – Classic Stage Company's production, The Boys from Syracuse, Baby with the Bathwater, The School for Scandal, Measure for Measure, and many more.
Here Are Some Of Tony Shalhoub Successful Onscreen Roles
One of his first television roles was in the sitcom Wings where he appeared as a cab driver Antonio Scarpacci in 1991, within that period; Tony Shalhoub landed the lead role of Banton in The X-Files second-season episode "Soft Light as physicist Dr. Chester Ray Banton. His other projects include Barton Fink as an excitable producer, The Man Who Wasn't There as a fast-talking lawyer, Quick Change as a linguistically unidentified cabby, Primary Colors as the character of a Cuban-American businessman, Men in Black as Jack Jeebs, A Civil Action as a sympathetic attorney, Thirteen Ghosts as a widowed father, and Galaxy Quest as a has-been television star.
His other successful on-screen roles were recorded in Big Night, Paulie, The Siege, and Spy Kids. Shalhoub hit a new high when he played the leading role as a Jewish-American math professor named Abe Weissman, in the Emmy-winning, Amazon-produced television comedy series The Marvelous Mrs. Maise. His voice over roles can be seen in the Cars franchise from 2006 to 2017, Teenage Mutant Ninja Turtles in 2014, and the sequel Teenage Mutant Ninja Turtles: Out of the Shadows.
His Role In Monk Made Him An Emmy Award Winner And Nominee Several Times Over
Three years after he seemed to have disappeared from the small screen, Tony Shalhoub surfaced in Monk – a television series airing on the USA Network. In the series, he starred as a detective named Adrian Monk, with obsessive-compulsive disorder. The series took Tony to a quintessential level of fame when he became a nominee for Emmy Awards in the category of Outstanding Lead Actor in a Comedy Series for eight consecutive years from 2003 to 2010. The veteran actor was able to bag the award three times in 2003, 2005, and 2006.
His rewards from Monk did not end with the Emmy Award as Shalhoub's effort was further crowned when he earned the Golden Globe Award in the category of Best Performance by an Actor in a Television Series – Musical or Comedy, in 2003. Monk was chosen among the "At-Home Variety Show" posted on YouTube by NBC's Peacock streaming service during the COVID-19 pandemic in May 2020.