Tony Shalhoub is an award-winning American actor from a Lebanese descent, who is more popularly known for his work as a character actor who has done a lot of voiceovers for some of the very popular animated movies today. His voice has given life to some of the best characters in animated movies in Hollywood. He has featured in very successful movies such as Men in Black, Spy Kids, Cars, Teenage Mutant Ninja Turtles, just to mention a few.
He has won a lot of awards over the years and has worked with some of the best actors and actresses that are the crème-de-la-crème in Hollywood today.
Tony Shalhoub's Biography & Age
Tony Shalhoub was born on October 9, 1953, and was named Anthony Marcus Shalhoub at birth. He grew up in a very large nuclear family and had a lot of siblings ahead of him. Shalhoub attended the Green Bay East High School, where his love for acting was kindled when one of his elder sisters put down his name to take part in a theatrical production organized by the school titled "The King & I". Tony suffered a broken leg in school while he was rehearsing to perform in this play in his final year. He fell off the stage and landed in the pit at the bottom of the stage. He was, however, able to make a miraculous recovery and was fit enough to eventually take part in the play – which was the last one he took part in before completing his studies there. He then proceeded to the University of Wisconsin, Green Bay campus, but unfortunately, he didn't complete his studies there. He got admission into the University of Southern Maine, where he obtained a Bachelor's of Arts degree in Drama from the institution. He went further on to gain admission into Yale School of Drama, where he obtained his Master's degree in Fine Arts graduating in 1980.
Tony Shalhoub's Family And Siblings
His father was Joe Shalhoub – a Lebanese by birth, who relocated to the United States of America as an orphan when he was just 8 years old. He was a livestock merchant, who sold beef via his refrigerated meat delivery truck largely in the Wisconsin area. Tony's mother was Helen Shalhoub (nee Seroogy), who was herself of Lebanese descent, but whose family had emigrated to the United States much earlier than Tony's father did. Tony was born into a deeply religious family, who were Maronite Christians – the largest Christian denomination in their native homeland of Lebanon.
Tony grew up in a very large family, and he was the 9th child out of 10 kids that his parents had given birth to. He has a lot of brothers and sisters, who helped guide him towards making the right choices in life, even at a very tender age.
Wife and Children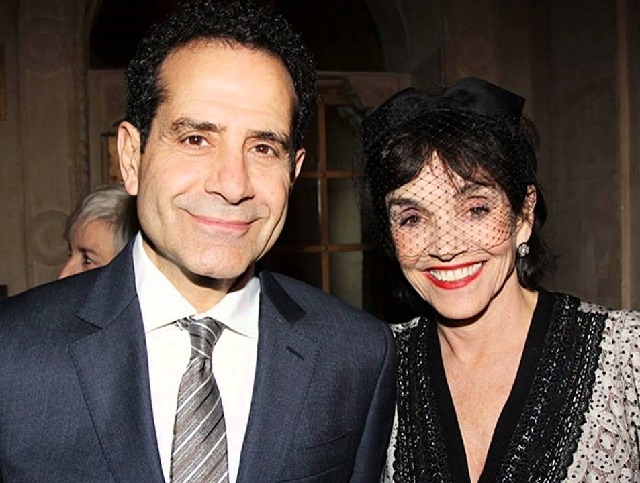 Tony got married to the lovely actress, Brooke Adams in 1992. The couple had worked together on a few plays in the theatre, and reportedly met around 1989 and became friends. Their friendship blossomed into a full-blown relationship a year later, and it progresses further into marriage a few years later – even though Brooke didn't initially want to get married at all.
While they were still dating, Brooke adopted a daughter in 1990 named Josie Lynn, who was born in 1989. After the couple got married in 1992, Tony also adopted Josie as his own daughter. In 1994, while celebrating the second year anniversary of their wedding, Tony and Brooke decided to adopt another daughter, Sophie, who was born a year earlier before adoption. The Shalhoub family of 4 has remained a very happy and vibrant unit for more than 25 years now, and they are regularly seen attending events in Hollywood together as a family.
Tony's wife, Brooke is a few years older than him, but that hasn't affected the love that they have for each other.
Tony Shalhoub's Net Worth
Tony is believed to be worth about $30 million. He has had a very good career both in the film and television show industry, and due to his hard work and impressive depiction of characters he portrays in productions, he has been able to amass a sizable fortune from his efforts. His wife – Brooke, who is an actress, has a net worth of $10 million.
Read Also: Sam Rockwell Wife, Age, Height, Net Worth, Girlfriend, Career As An Actor
Height
Tony Shalhoub's height is currently listed as 5 ft 10 inches. His weight is listed as 72 kg. His hair is naturally black and his eye color, dark brown.