The beautiful and hardworking Toya Washington, who currently serves as an anchor and reporter for WISN-TV, has been praised oftentimes for her hard work. Her journey into broadcasting started as an intern at WCCO-TV. Since then, she has pursued her career with fervent dedication and made a name for herself in the industry.
For her endeavours in her glittering career, Washington has become a local celebrity in the state of Milwaukee. She has also scooped up at least one regional Emmy Award, as well as other accolades. Off the screens, Toya is happily married and plays the role of a mother to two daughters. Juggling such commitments with a full-time career can be quite daunting but Washington is handling it like a champ.
She Fell In Love With Journalism During Her High School Days
Toya Washington was born on the 3rd of August in an unknown year. She was born into an Afro-American family that lived in Minneapolis, the United States of America. As a high school student, Toya was among the bright ones. This helped her to gain an internship in the unique career enrichment program of top-ranked CBS-affiliate, WCCO-TV, Minneapolis.
The program allowed her to get a taste of how exciting the world of broadcast journalism could be. She, therefore, decided to explore it some more and enrolled for a degree in journalism at the University of Wisconsin-Madison. She also pursued a minor in women studies and graduated in good time.
Her First Job Was At WISC-TV, Wisconsin-Madison
Upon graduation, Toya remained in Wisconsin-Madison and landed her first job with one of the area's leading station known as WISC-TV. The station was a CBS-affiliate and she would go on to spend six years with them. During this period, Toya poured all her energies into proving her skills as a talented journalist.
She served as a reporter and covered several scintillating news reports, both on a national and local persuasion. She also got a chance to work as an anchor during the weekends, taking charge of their newscasts, and she performed quite well.
We're on right now! @WISN12News at 5:00 pic.twitter.com/VIBkO9DjZ4

— Toya Washington (@Toya_Washington) April 6, 2017
She Has Been With WISN-TV, Milwaukee, For Nearly Two Decades
After six exciting years in Wisconsin, Toya Washington decided that she was due for fresh career challenges. She, therefore, sought employment opportunities elsewhere and landed one with WISN-TV, an ABC-affiliated station in Milwaukee. This was in December 2002 and she has remained with the station to date. During this time, Toya has exhibited her versatility by working both in the studio and as a live reporter.
She previously co-anchored the 6 pm newscast for quite a while. Toya was then moved to the 5 am to 7 am newscast, known as 12 News This Morning, before her present 5 pm newscast beat.
In her two decades with WISN, Toya Washington has been able to create a home for herself at her workplace. She respects her colleagues and sees them as family, stating that she is quite fortunate to be with them. Such warm feelings have also been returned by her colleagues. Her fellow anchor, Lori Waldon, once rained praises on her for her loyalty and hard work with the news outlet. She also promised that they would continue to work as a team to make their workplace a better place.
Toya Washington Is An Emmy Award Winner
In the course of her glowing career, Toya Washington has interviewed high-ranking public officers such as former Wisconsin governor, Tommy Thompson, and former Wisconsin senator, Herb Kohl. She has also covered several historic events, including the hotly-contested 2004 presidential election between George W. Bush and John Kerry.
All these and more have fetched her several accolades, including about four regional Emmy nominations. She also took the gong home in 2008. This was the Chicago/Midwest Regional Emmy Award for outstanding achievements within a regularly-scheduled news program, spot coverage, and breaking news. The award went to both Toya, as well as other members of the WISN news team, including videographers, editors, and directors, etc.
2008 was indeed a good year for Toya as she also came in second place for the best feature or life story or series category. This was during the annual Milwaukee Press Club Excellence in Journalism Awards.
No time for #selfies for @ppaolantonio pic.twitter.com/8FbSS3Fh4Z

— Toya Washington (@Toya_Washington) March 16, 2017
She Has Experienced Sexism In The Course Of Her Career
Being on the TV screens exposes one to all manner of criticisms and Toya Washington has not escaped this fate. Back in March 2017, she wore a sheer blouse with a black camisole and then, a black v-necked blouse during a newscast. None of these outfits showed cleavage but a viewer still sent her an anonymous letter, accusing her of indecent dressing. The letter writer described the outfits as revealing and unprofessional and accused Toya of wearing them for ratings. She also suggested that the news anchor was "feeling her age".
A courageous Toya reposted the letter on her Facebook page and effectively rebuked these allegations. She stated that she would continue to uphold her high standard of work and would not be changing her style of dressing any time soon.
Toya Was Named The Wisconsin Journalist In Residence By Her Alma Mater In 2015
In March 2015, Washington's alma mater conferred on her the honour of serving as their Wisconsin Journalist in Residence for that year. In this position, she met with faculty, staff, and students in the classroom and informal settings to share her thrilling experiences with them. She also inspected some of its facilities and resources. The residency was a mutually-beneficial program for all involved. Toya got to share her real-world perspective with the students while they gave her insights into newsgathering and distribution for the upcoming generation. There was also a lot of networking and connections which proved to be of great value to all involved.
She Shares Two Adorable Daughters With Her Husband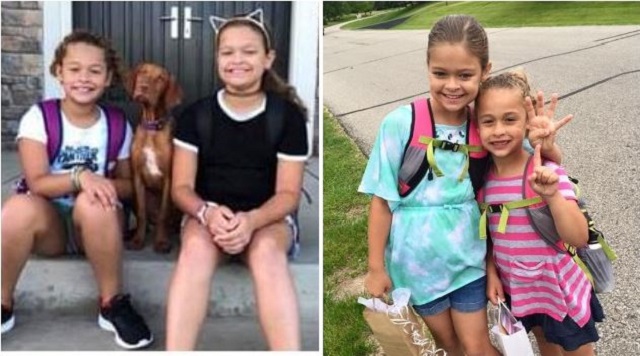 When it comes to love, Toya Washington has certainly won the jackpot. The news anchor/reporter extraordinaire is happily married to a husband who is known as Brian. Together, the couple has two adorable daughters, Alivia (born in December 2006) and Maya (2009). The happy family often embark on trips to several interesting places. Alivia and her sister also lead a very active life, taking part in several school sports such as basketball and soccer.
All these extracurricular activities, however, came to a halt during the corona virus-induced lockdown of 2020. It, therefore, fell on Toya and her husband to keep the kids occupied after their few hours of virtual schooling each day. The couple did their best but it was however not easy. They both still had to put in several hours of work each day from home whilst keeping the girls occupied.