Travis Pastrana has an estimated net worth of $30 million. He is an American professional motorsports competitor and stunt performer.
For more than two decades, Travis Pastrana has stunned the world with various breath-taking antics. The legendary American stuntman has jumped out of a plane without a parachute. He has also back-flipped across the River Thames and has driven his bike off the Grand Canyon.
So, what has Pastrana got to show for all these sensational exploits? What is Travis Pastrana's net worth and how did he make his fortune? All these and more questions about the action-sports aficionado are answered below.
What Is Travis Pastrana's Net Worth?
At the moment, Travis Pastrana's overall net worth stands at $30 million. This is not surprising considering his long and impressive career. He made most of this money from his career as a stuntman and also from his involvement with Nitro Circus, an action-sports collective that is projected to reach a $1 billion valuation in the future.
How Much Has He Made From Nitro Circus?
Nitro Circus TV show
As previously mentioned, Travis Pastrana has a net worth running into millions of dollars and this fortune stems from several sources. So, how did Nitro Circus all start? In the year 2003; Pastrana and some of his action-sports buddies got together and started producing DVDs of their outrageously skillful, but undeniably entertaining, stunts.
These DVDs were eight in number and were packaged under various titles such as Travis & the Nitro Circus, Nitro Circus 3, Nitro Circus: Greatest Hits and Nitro Circus 7: Country Fried. These DVDs sold quickly and before long, Pastrana and his crew got their own TV show on MTV.
The Nitro Circus TV show debuted on MTV in February 2009. It featured Pastrana, as well as other cast members, performing supercharged stunts. The show ran from 2009 to 2010, and the other crew members included Jolene Van Vugt, a motocross racer; Andy Bell, an FMX rider; Jim DeChamp, a mountain bike racer; Erik Roner, an extreme skier; and Tommy – an all-round stuntman.
The Nitro Circus TV Show was thoroughly lapped up by the fans and was shown in about 60 countries. This led to several sponsorship deals and increased earnings for the participants. Travis Pastrana has not disclosed the exact amount that he earned made from Nitro Circus, but there is no doubt that it added significantly to his net worth,  given the show's popularity.
Nitro Circus Live Tours
Another enterprise that has boosted Travis Pastrana's net worth is the Nitro Circus Live Tours. In 2010, Mike Porra, an Australian entrepreneur who has made a career out of running live theatrical action sports shows around the world, bought into Nitro Circus. The company subsequently raised $60 million from the banks and globalized its operations.
Nitro Circus is now a full-fledged media company as well as a global entertainment powerhouse. The brand produces several programs including the Nitro Circus Live Reality Show, a live, touring phenomenon that sees Pastrana and other daredevils travel across the world to stage live action-sports shows. These shows cover the FMX, BMX, skate, scooter and freestyle motocross categories, and athletes perform dangerous stunts in a fully choreographed, action-sports, spectacular.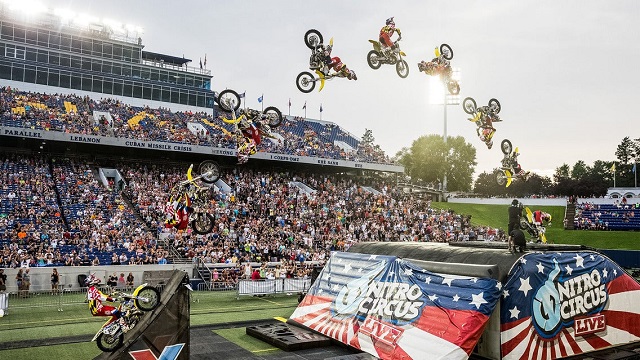 Nitro Circus has so far staged several successful tours in various parts of the world; this includes the 2018 North American tour which took them to places such as Texas, Utah, Nevada, British Columbia, Alberta, Oregon, Idaho, Ontario, Minnesota, Saskatchewan, and Pennsylvania.
There was also the 2019 tour which took them to several American cities including Buffalo, Rhode Island, New York, New Hampshire, Chicago, Sacramento, and California. The thrilling and explosive show has also been held at London's Earls Court and the 02 Arena.
The tickets for Nitro Circus Live don't come cheap. The highest average ticket is $95 while the lowest average ticket is $55. There is also the corporate hospitality treatment which can reach as high as $119 for an individual. Nitro Circus regularly records an income of more than $100 million per annum, and this has also further increased Travis Pastrana's net worth.
Sponsorship Deals And Prize Monies
Asides his earnings from Nitro Circus, Travis Pastrana's net worth has been boosted by endorsement deals as well as prize monies. The Maryland native has won several championships including the American Rally Association (2017), Rally America (2006 – 2009), and AMA Supercross (2000).
He has also won more than 10 gold medals at the Summer X-Games. These championships and gold medals have fetched him hundreds of thousands of dollars in prize money. Pastrana has however forfeited his prize money on some occasions.
The stuntman forfeited the $10,000 that he won during the 1999 X-Games for jumping his bike into the San Francisco bay. The forfeited sum was used to pay off city fines, retrieve his bike and make a donation to the Save The Bay charity.
Travis Pastrana's Income Sources
His motorsports competition career
Stunt career
Prize money
Endorsement deals