Chris Attoh is a Ghanaian actor, on-air personality, movie director, producer, and TV presenter known for depicting the character of Kwame Mensah on the set of the Nigerian soap opera Tinsel. One very interesting aspect of his life is the fact that he has exchanged marriage vows twice with two different women, yet none lasted more than a couple of years. His first attempt at matrimony was with Nigerian actress Damilola Adegbite who was his co-star on the set of Tinsel, but it ended in a divorce.
Far from ending in a divorce, Chris Attoh's second time in marriage ended in a disaster. His 2nd wife Bettie Jenifer who was formerly married to a Baltimore drug baron Kedrick Jenifer lost her life in a Maryland car park after she was shot by a goon. The actor's marriages were both brief and he has since returned to the bachelor's fold and remained single ever since.
Chris Attoh Tied the Nuptial Knot For the First Time In 2015
Since Chris Attoh and Damiola Adegbite were part of the cast of Tinsel, one will not be far from the truth to surmise that their relationship blossomed as the series advanced. While the couple was still at the familiarization stage of their relationship, the Ghanaian movie star revealed that they actually had a lot of things in common and share similar desires. Chris even came out to boast about his luck in finding a beautiful and hot Nigerian woman, revealing that their major attraction is the fact that they are almost birthday mates. While Dami's birthday is on the 18th of May, Chris' own falls the previous day on the 17th of May; merely one day apart.
The duo dated for a while and became officially engaged in August 2014. They seemed to be in a hurry to spend the rest of their lives together because, barely six months after their engagement, the celebrity couple decided to take their relationship to the ultimate stage. Chris Attoh and Damiloloa Adegbite tied the nuptials in February 2015 in the groom's home country of Ghana, Accra to be precise. Their wedding, according to reports, was a private ceremony and their marriage was comparable to a fairytale from the beginning.
A few months into their union, the couple welcomed their only child, a beautiful baby boy named Brian Nii Ayittey Olaferomi Attoh. Chris seems to be very close to his son and has spoken passionately about the little boy.
The Couple Divorced In December 2017
Even with their union being described as a fairytale from the onset, it didn't take long for trouble to surface in paradise. First, we started hearing massive speculations about their intended divorce but when quizzed about the status of their relationship, both Chris Attoh and Dami vehemently denied the rumors.
However, it only took a short while for the real gist to come to the fore as it became public knowledge that the celebrity couple's marriage has hit the rocks. What lent it credibility was the fact that it was Chris himself who revealed their separated state in an interview with Bellanaija. In the interaction session, the Ghanaian movie star categorically stated that his marriage with Dami has ended. Unfortunately, the spark that drew them together quenched so fast. Their divorce became official in 2017.
Events Leading to Chris Attoh and Dami's Divorce
Though the reasons behind their divorce have remained unknown to date, Chris jokingly mentioned in an interview that his marriage to Dami has never had the support of his sister. Of course, there were speculations about infidelity but Chris Attoh was quick to repudiate them, saying he never cheated on Damilola and besides, he never had any reason to cheat.
The reports about their divorce first gained prominence on the 14th of February after Attoh shared photos of Dami on social media, wishing the mother of his son a happy second wedding anniversary but failed to get a response from Damilola.
A few months down the line, The Nigerian actress gave her husband a birthday shout-out, proclaiming her great love for him. Perhaps all that show was to convince people that things were still normal between them when their relationship was already on the brink of collapse. Chris's confirmation settled all the confusion as it became glaring that they were no longer together.
Chris Gave Voice To His Views On Marriage Shortly After His First Divorce-
After it became public knowledge that Chris and Dami were officially separated, the award-winning entertainer went live on radio (Starr FM) where he gave voice to his views on marriage. In what he tagged "Fundamentals of Marriage" Chris expressed that some of the things a man expects from his woman are forgiveness, respect, and submission.
Speaking further, he narrated how a man can be comfortable on his own, but finding a wife means finding a good thing which he described as a plus to the destiny of a man. In his speech, he reiterated how important it is that women trust the captain of the ship; Chris said this must be in place for peace to reign every home.
Stressing further, the on-air-personality said a wife who is not submissive in marriage and does not trust her husband's instincts may not become successful in marriage. His opinion suggested possible reasons his marriage crashed.
Damilola Voiced Out Through Instagram
While the noise about the end of her two-year-old marriage was still very high, Damilola never deemed it necessary to address her abortive marriage directly. However, the actress gave us a glimpse of her side of the story through a statement on Instagram. According to the ex-wife of Chris Attoh, the year 2017 was a tough one for her, perhaps the toughest in her life. She narrated how she had to experience very painful and overwhelming changes after her trust was betrayed in what she described as a heartbreaking manner.
On a positive note, Damilola said she remains eternally grateful even in the midst of her troubles as her real identity became crystal clear to her. Dami made a reference to her two years of marriage when she described how God gave her what she thought she wanted but took it away within a short while as what we want isn't always good for us. On a final note, Dami said she has resolved to stay cheerful and positive, believing in the law of karma to sort everything out in good time.
Chris and Damilola Appears to be in Good Terms Despite Their Divorce
Even though Chris Attoh's marriage to Damilola didn't end well, the Ghanaian movie star and television presenter never misses an opportunity to speak fondly of both his ex and their son Brian. Chris sure treasures the fact that they made a baby together and has been trying his best in co-parenting with Dami.
In an interview session, Chris Attoh spoke passionately about the mother of his son. He actually gave her credit for being a wonderful woman and an amazing mother, saying they will continue to be friends despite their differences. Chris also talked about his son Brian. According to the multi-talented actor, the troubles emanating from their divorce have not stopped them from working together in an effort to devote quality time to raising their child.
With that said, the divorced couple seems to have moved on with their individual lives and actually appear to share a cordial relationship. A confirmation of their affable relation came after their exchanged birthday wishes in May 2018. However, fans didn't waste time in deciphering the tension simmering underneath that supposed good wishes.
Chris" Second Marriage Was To a US-Based Ghana Native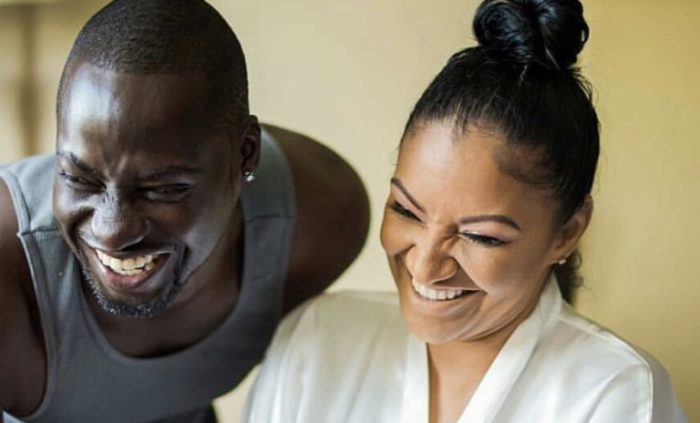 Barely ten months after his separation and ultimate divorce from his first wife and mother of his son, Ghanaian actor Chris Attoh found love again. This time, Chris went outside the shores of the entertainment industry to pitch his tent with a US-based Ghanaian businesswoman named Bettie Jenifer.
Though we were not furnished with information on how and where they met, the duo exchanged marriage vows on Saturday the 6th of October 2018. Their wedding which was done in a traditional way was a private affair, held in their country's capital North Kaneshie, Accra, Ghana.
Bettie Jenifer Was Fatally Shot in the United States
Seven months after her wedding to Chris Attoh, Bettie met her untimely death when she was shot dead in America. The report of her death brought forth several eyewitnesses who attested to the fact that the shooter targeted Bettie. According to reports, Chris Attoh's deceased wife realized the presence of a man with a gun after she gained access to the parking lot. In a bid to save her life, Bettie broke out in a run but the man who was hot on her heels released two bullets that snuffed the life out of her on the spot.
The police report also described how the shooting took place on the 10th of May 2019 at about 5.00 pm in Maryland. Bettie, whom they said wrapped up her day at her office located in 6300 blocks along Ivy Lane, headed to the parking lot where she was killed in cold blood. They described the gunshots as targeted and not random, indicating that the gunman actually came for her.
The police have since launched an investigation into the incident and have been relentless in their effort to apprehend the assailant whom they described as a well-built black male with black hair. On the day of the murder, the goon came wearing dark pants and shirt, and fled the murder scene in an unidentified vehicle after the shooting, said the Greenbelt Police Department.
The news of Bettie's death hit Chris Attoh when the actor was in Los Angeles shooting a movie. The Ghanaian movie star quickly abandoned everything and flew to Maryland to confirm the incident. Since his wife's death, Chris Attoh has not surfaced on the relationship scene again, thus, we cannot say whether he moved on or not.
Chris Attoh's Murdered Wife Was Married To a Drug Baron
Following the incident that claimed the life of Chris Attoh's wife, police investigations by the Greenbelt Police Department office dug up some really interesting facts about the deceased businesswoman's life. According to the police, Bettie was wedded to two different men. The first being Kedrick Jenifer, the kingpin of a drug cartel in Baltimore. Kedrick has been serving a 20-year-prison term in the US for importing cocaine from Texas to Baltimore.
Reports from the United States District Attorney's Office said Kedrick's cartel was held responsible for distributing up to 450 kilograms of cocaine in both Baltimore and Woodbridge, Virginia. During his heydays as the kingpin of the drug distributing organization, Kedrick lived lavishly but is currently in jail for a couple of decades.
Further investigations dug up some facts about Bettie and Kedrick's union. According to the reports, the drug baron was the first to file for a divorce on the 9th of April 2019 while Bettie followed suit six days later.
Bettie's Murder Case is Yet To Be Unraveled
After Bettie was murdered in a Maryland car park, accusing fingers started pointing at Kedrick, even as he was still held in jail. Some really interesting speculations began making the rounds that Bettie never told Chris Attoh that she was still married before exchanging marriage vows with him. After their nuptials, she began receiving threats from Kedrick who got to know what was happening after seeing their wedding photos on the internet.
The rumors also narrated how Bettie who began getting cold shivers down her spine quickly revealed everything to Chris and they tried to solve the problem by deleting all their Instagram photos, creating the impression that their marriage had hit the rocks. There were also speculations that the couple was already having serious marital issues before Bettie's demise and, with this kind of revelation, the speculations may not be far from the truth.
Though nobody accused Chris after Bettie's death, the Ghanaian actor dropped a cryptic post on Twitter which led many to believe that he might have masterminded the whole shooting incident. His tweet read; "when it comes to marriage, remaining faithful is not an option but a priority. Loyalty is ever….".
However, nothing has been proved so far, though Chris has been invited for questioning by authorities who have been casting a wide net to unravel the mystery behind Bettie's death. Some insights came from George Mathews – a Greenbelt Police spokesperson who said that they have been considering a lot of things in the ongoing investigation, Chris Attoh's ambiguous tweets inclusive; the tweets were shared a few hours before the gruesome incident.