Like every other proud African nation, Uganda is rich in culture which are the characteristics that define its people, through religious, spiritual and belief systems, social habits, music and arts, language, marriage, and a million other aspects of Ugandan cultural practices.
Cultural practices refer to the manifestation of these numerous aspects. It existed long before the colonialists came to Africa and have been kept alive from generation to generation as it gets passed on through families lineages.
In other cases, it gets passed on through a master of that practice to a willing student. The master chooses a particular student who shows qualities desired for that practice and teaches the student in a hands-on manner. This way the student is able to absorb the core values and belief systems of the particular aspect of culture. An example could be seen by the existence of the so-called witch doctors. The witch doctors usually keep alive the bizarre cultural practices.
Below, we are taking a look at five bizarre Ugandan cultural practices still happening today.
5 Bizarre Cultural Practices in Uganda
1. Burial Practices
Every cultural tribe has an elaborate way of laying a soul to rest. However, some of the Ugandan cultural tribes have a very unconventional way of doing it. An example is the Baganda people who are known to prepare graves for their members while they are still alive and as if that is not strange enough, a deceased Baganda King is not buried until his jawbone is removed. This process takes a significantly long period of about 6 months in which the body is embalmed. Another king (kabaka) is also enthroned at this time. The removed jawbone is then kept in a special shrine as it is believed that the spirit of the dead king remained with the jawbone.
See Also: 5 Amazing Facts About Ugandan Shilling
The Banyore people also have a similarly bizarre way of laying their dead to rest. In this community, death is not considered a natural occurrence no matter the age or condition of the deceased. For this reason, burials are presided over by witch doctors who consult with the spirits to ascertain the cause of death and to cleanse the rest of the community from the 'bad' spirits. Other communities in Uganda that have quite some strange burial practices are such as the Karamojong who do not bury their dead but throw them away to be scavenged in the wild and the Jopadhola who prohibit bathing less than three days after someone's death.
See Also: 5 Weird Kenyan Cultural Practices
2. Female Circumcision
Amongst many other bizarre Ugandan Cultural Practices, this horrible tradition is still highly applauded in the Sabiny tribe. The circumcision ceremony is carried out several times around the year to women and even girls as young as 6 years old. It is considered a rite of passage for a woman and one cannot be married without going through the practice.The practice involves removal of part or all of the girl's clitoris. This is meant to keep her faithful to her husband. Female circumcision is a dangerous practice and exposes the woman to too many infections not to mention complications at childbirth. According to the World Health Organization, it has no medical/health benefit to girls and women and it is a violation of a human right. Therefore,  female circumcision is one of the cultural practices that should be completely eradicated and the communities educated against.
See Also: Oromo Culture, People, and Language
3. The Ugandan Ankole Wedding Night Practice.
In this community, it is not strange for a groom to bed his wife's aunt on the wedding night before sleeping with his bride. What's not to hate about such a culture? Meanwhile, the brides' aunts wedding gift to her niece is to teach her all the ways of being a good wife and pleasing her husband in the bedroom. It is also considered her duty to confirm the groom's sexual ability. This will be accomplished either through listening in or watching as the bride and groom have sex. Sometimes, she will demonstrate her teachings practically by sharing the groom's bed on the wedding night.
4. Traditional Marriage.
The Baganda traditional marriage which is also the formal introductions of both families is a ceremony you will love and hate almost with the same magnitude. Despite the ceremony being a very colourful one, it is probably one of the longest, demanding and the most tiring time for the newlyweds. The process takes a very long time to be completed and in a case whereby the two lovebirds do not come from the same culture, it takes even much longer. The groom's family is also expected to come up with large amounts of money and gifts, a practice that may affect the quality of the couples of life after the wedding. The negotiations here are like a battle between the spokesmen from both sides where the strongest gets to win. The ceremony is however brought to an end through dance and feasting-probably to ease the pain inflicted on the groom's side.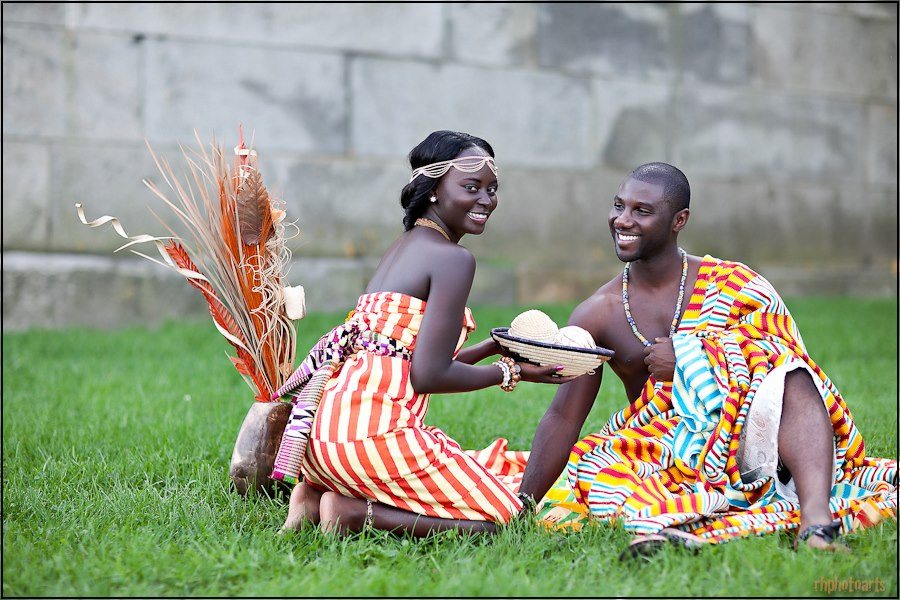 5. Ritual Murders.
This practice is just as bad and bizarre as it sounds. Many Ugandan cultures strongly believe in witchcraft. Misfortunes are not considered a normal occurrence and so many people especially businessmen go to seek the services of traditional witch doctors to remove spells cast on them by their 'competitors or jealous members of the community.' These witch doctors ask for many items associated with the practice, among them are large amounts of money and even strange items like certain body parts. Since capturing of adults to harvest body parts is a demanding task, children then fall victims of the sacrificial murders. Ritual murders have also extended to as far as newborn getting lost in hospitals just after birth and even missing of certain body parts especially the private parts of the deceased in mortuaries. Doctors and other members responsible for keeping safe deceased persons before their families get them for burial have been known to make a buck through harvesting and selling of organs for rituals.
Some of these Ugandan cultural practices are not only strange but scary. Maybe as the years roll by, modernity might face some of them out.