Vusi Thembekwayo (born March 21, 1985) is a South African public speaker, Venture capitalist, elite coach, mentor, keynote speaker, best-selling author, and the Founding CEO of MyGrowthFund and IC Knowledge Bureau. The 38 years old renowned business mogul has a net worth of $600 million. 
For many years, Thembekwayo has stunned thousands of people with his astonishing use of words. He is reported to have spoken in four of the seven continents of the earth to over 350,000 people each year and has raked in a lot of money in the process. He has become one of the most inspiring figures in South Africa. This is because of his doggedness and clear vision, which have set him apart from people his age.
The over-achiever rose from near-obscurity to establish himself as one of the world's most highly sought-after public speakers. He is respected for his charm and accomplishment all over South Africa.
Profile Summary of Frederick Leonard
Full Name: Vusi Thembekwayo
Date of Birth: March 21, 1985
Vusi Thembekwayo's Age: 38 Years Old
Zodiac Sign: Àries
Nationality: South Africa
Sexual Orientation: Straight
Religion: Christian
Education: Gordon Institute of Business Science, Wits Business School
Marital Status: Married
Vusi Thembekwayo's Wife: Palesa Makhetha Thembekwayo
Vusi Thembekwayo's Height in Inches: 5 feet 8
Vusi Thembekwayo's Weight: 105kg
Net Worth: $600 million
Vusi Thembekwayo Was Not Born Rich
Vusi Thembekwayo was born on the 21st day of March 1985 and is now 38 years old. He was born to average income-earning parents in Benoni, Gauteng Province, South Africa, on the East Rand. This was where he was raised.

Growing up, Thembekwayo did not have all the luxuries that other children had. In fact, he actually had to study by candlelight and used to wake up before dawn to prepare for school. The identities of his father and mother are not known. However, Thembekwayo has often talked about his great fondness for his parents in some of his speeches. According to him, his father was his best friend and they went everywhere together. He was also very close to his mother as a child. Vusi Thembekwayo is not the only child of his parents. He had siblings with whom he grew up in South Africa, however, they are not as famous as he now is.
His Father Was Brutally Murdered When He Was 15
Vusi Thembekwayo experienced a very dark time in his childhood when his father died. Years before his death, Thembekwayo's father had started a business using their house as collateral. The business did not succeed and so they lost their house as his father went into debt. He and his siblings with their mother had to relocate because the bank was about to repossess their home due to the whole development.

After being forced out of their home, they started living with relatives. According to him, they stayed in a small backroom together and this was not convenient at all. In fact, they had to wake up very early to make a fire and then make some porridge to eat. It was tough. Eventually, his father was able to resolve the debt situation but this was when the unimaginable tragedy struck.

When Vusi Thembekwayo turned 15, his father was attacked by thieves who fatally shot him nine times and then left him to bleed to death at the roadside. It was one of the darkest moments of his whole life because Thembekwayo was very fond of his father and always went everywhere with the man. The only reason why he didn't go out with his father on the day he died was that his mother was sick and he had to stay back and watch her.
Vusi Thembekwayo Started Public Speaking In High School
After Vusi Thembekwayo's father died, he and his siblings were left to be catered for by their single mother. Things were hard for her so it was not easy for everyone. Things were so hard that when Thembekwayo started high school, he didn't even have a uniform so he had to wear his father's old suit. Because of this, he looked off in a gathering of students who all wore uniforms. According to him, all the kids were looking at him as if he came from another planet because of how he looked. At first, he was embarrassed but then he got used to it.

While in high school, Thembekwayo loved to talk and was often looked at as a talkative person. His teacher was often angered by him because he was quite disruptive to the other pupils. As punishment for his disruptive behavior, his teacher asked him to choose between participating in a public speaking competition or getting detention. At the time, public speaking was quite a dreadful thing for young students. But Thembekwayo hated to get a detention so he chose the option to take part in public speaking.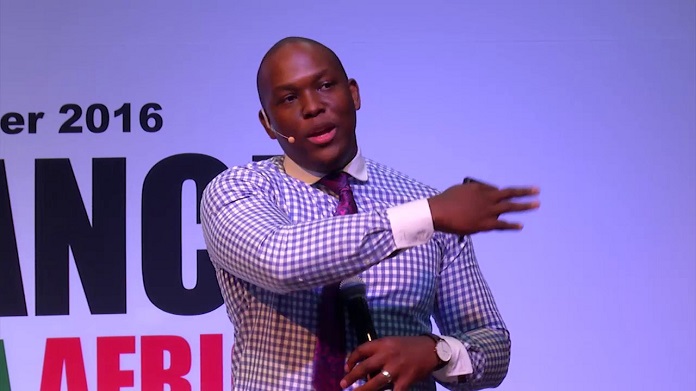 When the time came, Vusi Thembekwayo did very badly in the competition. His performance was so bad that the audience booed him off the stage and threw things at him. This angered him so much that he decided to prove to people that he can speak publicly. He also complained to his teacher about the booing but he was told that he didn't prepare. After this incident, he challenged himself to do better. Even though he was so young, he took it upon himself to learn the art of public speaking and his whole life changed.

Vusi started competing in national speaking events and kept improving his confidence. At the age of 17, he entered a competition in the United Kingdom, beating contestants from all over the world to win the world championship in public speaking. He also set the 5-Minute World record in public speaking. At this time, Thembekwayo knew that he was destined to be a public speaker and he decided that he was going to make the most of his gift. He was still in high school at this time.
He Dropped Out Of University
When Vusi Thembekwayo finished high school, he bagged a scholarship to go study BCom at Wits University. However, as fate would have it, he failed his first year and this led to his scholarship being terminated. He had to withdraw from school because he didn't have enough funding to continue. Thembekwayo would later land a job in IT.

However, even though he was working in an office, he was also pursuing his dream of being a professional public speaker who can change the world with his speeches. He soon began to get invitations to speak at events and began to spread his influence around his region.
The Opportunity That Changed His Life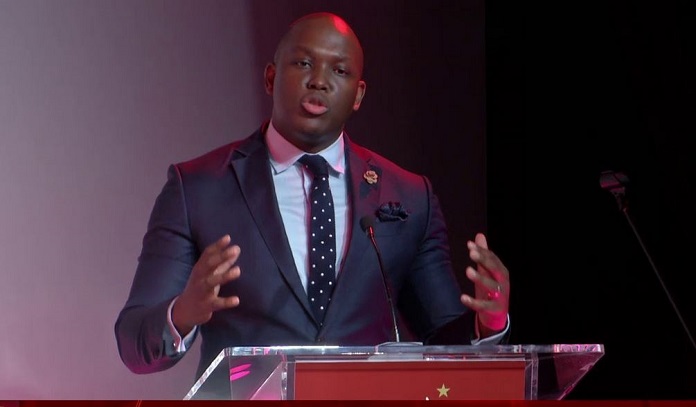 One day, Vusi Thembekwayo managed to get an opportunity to speak about the future of South Africa at a very prestigious event. The event was so high-class that it was actually attended by former South African President, Thabo Mbeki, who gave the keynote address. At the event, Thembekwayo did so well that he got a standing ovation when he was done. Thabo Mbeki was also very impressed with him. After his speech, Mbeki met with Thembekwayo to endorse and encourage him. He also asked other people to get him more speaking jobs. That event gave him wide exposure and also gave him the boost he needed to keep pushing.

Thembekwayo was paid about R35 (less than $3) for speaking at the event. He proceeded to use the money to make phone calls to all the people he met at that event in order to boost his chances of getting more speaking gigs. This paid off and he started getting calls to speak at more events and conferences. At this time, his popularity was also spreading because people were stunned at how he spoke, especially because he was so young. Thembekwayo was just in his early 20s at the time.

As time went on, Vusi Thembekwayo's public speaking style became increasingly analytical because he started getting calls from companies not just to speak at their functions but also to help resolve some of the problems that they were facing. Because of this, Thembekwayo was forced to begin to do a whole lot of research and also read up on a very wide variety of corporate issues so he could provide the solutions his clients were seeking. This made him even smarter and made his speeches a lot more gripping when he spoke at the conventions.
He Ran A Successful Consulting Firm At 21
Because of all the analytical work he was doing, Thembekwayo began to meet with more powerful businessmen and other influential corporate persons. This opened more doors and led him to open his first business – a consulting firm. What happened was that Thembekwayo was invited to speak at an event in South Africa and after that, someone reached out to him and told him his speech was powerful. He then asked if Thembekwayo can do some consultancy projects for his company. Thembekwayo agreed and his experience made him start his consulting firm. He was just 21 years old at the time.

Vusi Thembekwayo's consulting firm was then South Africa's only black-owned Forensic Marketing agency and this made the entire thing even more marvelous considering the fact he was so young and yet was running the business so well. Already, at 21, Thembekwayo had established himself as one of the most enterprising men in the whole of South Africa. To cap it all, he was making a lot more buzz with his public speaking engagements for which he was most well-known.
At 25, He Was The Youngest Director At A Multinational Company

When Vusi Thembekwayo was 22 years old, he was invited to speak at a renowned multinational company, Metcash Group. The company was doing badly at the time, losing market share, and about to go out of business. So, the company invited him to speak and also analytically address what the problem was to proffer solutions. When he got the invitation, Thembekwayo immediately began to research the company and soon found out what the problem was.
So, he went to the company on the day he was billed to speak and delivered a powerful address, telling the CEO and the other staff what the company needed to do to regain its lost position in the market. Thembekwayo stunned everyone in the room, especially because he was just 22 years old yet he was speaking with so much authority and knowledge. When he was done, the CEO of the company was so impressed that he offered Thembekwayo a position in the company. He was placed in a charge of an operational area in the business.
Three years later, when he was just 25 years old, Vusi Thembekwayo had become the youngest director in the company. Also, at 25 years old, he had become the youngest director at the Johannesburg Stock Exchange, a bourse turning over $1.3 billion a year.
Vusi Thembekwayo Is The CEO Of My MyGrowthFund
Vusi Thembekwayo founded a boutique investment and advisory firm called Motiv8 when he was 27 years old. The company was also a specialist consulting and service business that trades internationally. In early 2017, the public speaker sold a majority stake of his company, Motiv8 Advisory, to the United States-based Watermark Advisory LLP and became a lot richer.
After the sale of his majority stake, Thembekwayo used a portion of the sales proceeds to establish MyGrowthFund Venture Capita, a pan-African impact investment company. He is now the CEO of the company. Over the years, he has led the company to great heights. In fact, MyGrowthFund Venture Capita is now a leading venture firm that won the Best Impact Investment Firm 2020 & 2021- Africa at the Worldwide Finance Awards in London, UK.
Thembekwayo has also launched a mentorship program called #Top40 as part of MyGrowthFund. This is an initiative that discovers and nurtures young, talented, and highly motivated black entrepreneurs through funding, incubation, and enterprise development.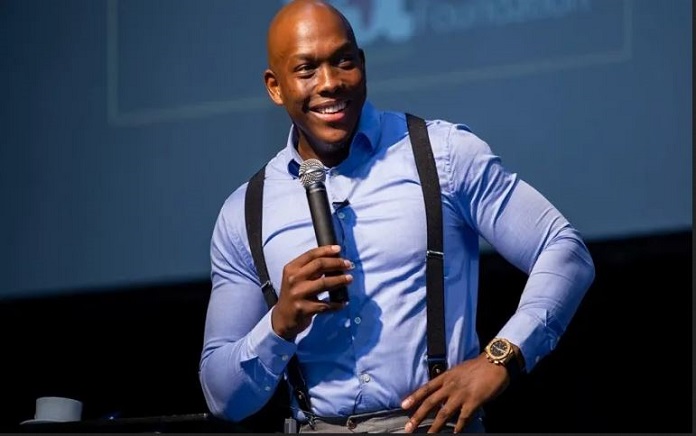 He Is A Well-Read Fellow
Even though Vusi Thembekwayo dropped out of university, he made up for it by bagging a number of qualifications later on. Thembekwayo is reported to have actually completed a Postgraduate Diploma in Business Administration. He also completed a course on advanced valuation techniques with the Gordon Institute of Business Science. Additionally, he completed a Management Acceleration Programme (Cum Laude) with the Wits Business School, all in South Africa.
Vusi Thembekwayo Is Worth $600 Million
There is no doubt whatsoever that Vusi Thembekwayo is a very wealthy man. Considering his exploits in public speaking and in business since he was just a very young boy, it is only safe to say he has become one of the wealthiest young men in South Africa.
At the moment, Vusi's net worth has been estimated to be around $600 million. This figure is really huge but it is justifiable considering what Thembekwayo's exploits have been over the years.
A Recap Of How He Made His Money
Public speaking has fetched Vusi Thembekwayo a lot of money. As you have read, he started speaking in his teenage years and he is actively involved in public speaking. In his early 20s, he was granting public speeches all over South Africa and beyond, charging a good sum each time for his work. At the age of 29, Thembekwayo was reported to have delivered an amazing 214 presentations in 21 countries, charging up to $8,000 a time.
Vusi has also earned a lot of money from his work with different companies. He has worked with multinational companies and with the Johannesburg Stock Exchange. At the age of 30 years, reports show that he pulled in over $300 million in seven companies he holds shares in. Thembekwayo also has his own companies. Today, he is the CEO of MyGrowthFund Venture Capital, a company that apparently rakes in a lot of money for the young entrepreneur. Today at 38 years, he is one of the most accomplished young men in South Africa.
Thembekwayo also makes money as an author. He published a book titled "Vusi: Business & Life Lessons from a Black Dragon" in 2009. The book has sold hundreds of thousands of copies since then, earning him a fortune in the process.
Ran his own consulting firm
He was Director at Metcash Group
He was Director at Johannesburg Stock Exchange
He is CEO of MyGrowthFund Venture Capital
He is the author of Vusi: Business & Life Lessons from a Black Dragon
He is an international public speaker who speaks in 4 of the 7 continents every year