Known colloquially as MoMo, MTN Ghana Mobile Money is the telecommunication company's answer to providing access to quality banking to more Ghanaians. Since MTN started the service, it has quickly become one of the country's top mobile money services, dominating others like Vodafone Cash and AirtelTigo Money.
According to a 2019 report by the World Bank, Ghana has become the fastest-growing mobile money market in Africa. MTN Ghana Mobile Money has been leading the charge, with more than 90% of the country's mobile money transactions by 2019.
MTN Ghana Mobile Money Was Launched in July 2009
At the end of July 2009, MTN Ghana launched its mobile money service. The service allows wallet holders to store funds, make payments, send and receive money, and other forms of transactions. However, instead of traditional bank accounts, it stores funds in a secure electronic account. Users also only need a mobile phone and registered number to access it.
The first few months of its launch recorded more than 20,000 users and over 1,200 mobile money authorized merchants around the country. It was also launched with nine partner banks. About a decade later, the service has more than 13 million users, over ten partner banks, and has launched a dedicated service for merchants, with MoMo pay.
MTN Ghana launched MoMo Pay, its mobile money merchant payment service, in January 2017. It launched the service to increase mobile money use in markets and drive financial inclusion for millions of unbanked citizens in the country.
The Main Uses of MTN Ghana Mobile Money
There are so many benefits to using MTN Ghana Mobile Money, including being open to everyone for use. Everybody and anybody can use the mobile money service, however, the degree of usage you get out of it depends on the kind of user you are.
There are three primary users of MTN Ghana Mobile Money: Personal, Agent, and Merchants.
Personal users
Most people are Personal users, and they can use the service for a range of transactions like:
Send and Receive Money (home and abroad)
Top-up MTN Airtime
Pay Bills (DStv, ECG Postpaid, MTN Postpaid, School fees, and more)
Buy & Pay for Insurance
Buy Airline tickets and treasury bills
Pay employee salaries and other goods and services
Agent Users
Registered agents can also make money with the service. Those who register as agents, i.e., brick and mortar outlets under the service, can earn commission on transactions by personal users.
For cash withdrawals:
Between 1 and 50 GHC, agents make 0.50 GHC on every transaction.
For 50 GHC and more, agents make 1% on every transacted value
For Sending:
GHC 1 – GHC 50, 2.50 GHC per transaction
GHC 50 and more, 5% of the transaction value
Merchant Users
Those who have businesses and services can also use mobile money to make payments easier. Businesses like auto-parts shop, bars, cinemas, clinics/hospitals, boutiques, barbershops, transport vehicles, supermarkets, and many more, can use MTN Ghana Mobile Money to receive payment for goods and services rendered.
Using dedicated QR codes placed at the point-of-sale, customers can transact with merchants, freeing both parties from the risk of cash.
How to Register on MTN Ghana Mobile Money?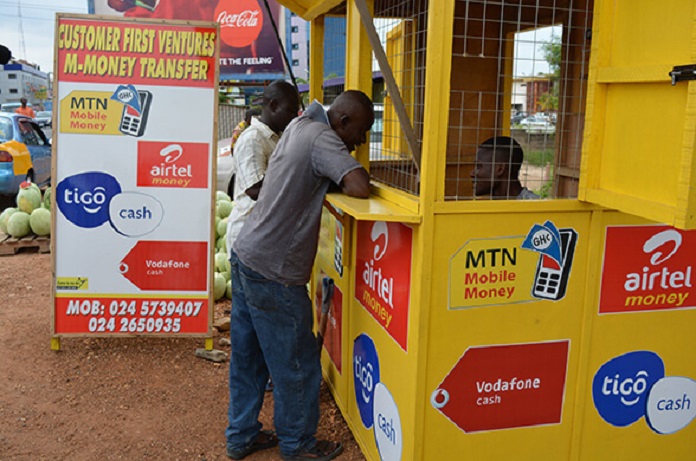 As the goal of the service itself, registering for MTN Ghana's mobile money is easy. However, depending on the user you want to be, there are different requirements and available registration methods.
For Personal Use
There are two available options if you intend to register a mobile money account for personal and regular use. You can register online by visiting the MTN mobile money website or visit an authorized MTN merchant or service centre near you. If you are visiting a merchant, you will need one of these –
National ID Card
Voter ID or Drivers' License
Passport
Once you have this, visit the nearest MTN service centre with a photocopy of your ID and your mobile phone. Then:
Give the photocopy of your ID to the agent to capture your details.
MTN system will generate a one-time code and send it to your phone. The one-time code will be used to login into the account.
After you get access to your account, you will be required to change the one-time code (OTC) sent to your phone into a pin code, which you will use as your security pin.
You can then complete the registration by following the easy final steps.
To Register as an Agent
If you want to be a MoMo agent, you will need a lot more than a valid sim and your photo ID. MoMo agents are required to have a registered Limited company or its equivalent with existing outlets ready for use. As a result, to become an MTN Ghana Mobile Money agent, you will need:
Business Registration Certificate
Permanent or Semi-permanent spot for an Agent outlet (no wooden or umbrella structures)
A valid national photo ID
Startup capital of GHC 4,000
Once you have all of these, you can either visit an MTN service centre to fill the necessary documentation or download it from the website, fill and submit accordingly. The necessary forms are:
Agents Recruitment Form
Agent Account Handler Form
Agent/Merchant Code of Ethics
Agent Agreement
Applications will take approximately 23 working days from the date the application is received. Successful applicants will be notified via email or phone.
To Become a MoMo Merchant
In order to become a MoMo merchant, you should follow the simple steps:
Dial *5051#
Select Register
Select the Region
After you complete the registration, you should receive an SMS with a reference number
Afterwards, an MTN MoMo agent will come over to inspect your location
If you pass the inspection, you must fill the following documents:
Merchant Agreement
Merchant Account Handler Form
Merchant Recruitment Form
After filling the form and your details are verified to be accurate, you wait 72 hours from the time of completion, and your merchant sim should be ready.
How to Fund Your Mobile Money Account
There are a few ways you can use to fund your MTN Ghana Mobile Money account. They are:
Dialling *120*151#
Using your bank card
The MTN Ghana Momo App via your bank account
Through a MoMo agent
Visit any MTN store
You should note that a MoMo agent might charge a commission but funding through electronic payment is free.