Kefilwe Mabote (born April 10, 1989) is a 34-year-old South African fashion blogger, digital media influencer, image consultant, and author known for being one of South Africa's most popular and trusted fashion influencers.
Kefilwe Mabote was already in her twenties when she made her first post on Instagram. Perhaps at that stage, the Soweto native didn't see social media as a viable venture but started earning handsomely from the platform after she began treating it like a business. Today, her brand – Kefi Vogue Styles – on Instagram seems to make a statement to every visitor who lands on the page and the South African damsel leverages the account to sell high-end brands to customers.
Since she became successful as a blogger, Kefiboo started living the kind of glamorous life that is associated with the rich and famous. Consequently, people credited her with being a "Slay Queen" who earns her pay behind closed doors. However, the blogger was quick to dispel those rumors, coming up with details of her sources of income which funds her life of glamour.
Summary of Kefilwe Mabote's Biography
Full name: Kefilwe Mabote
Gender: Female
Date of birth: April 10, 1989
Place of Birth: Soweto, South Africa
Kefilwe Mabote's Age: 34 Years Old

Ethnicity: African
Nationality: South African
Zodiac Sign: Aries
Sexual Orientation: Straight
Marital Status: Divorced
Kefilwe Mabote's Children: 2
Kefilwe Mabote's Parents: Dorathy
Education: University Of South Africa, National School of Arts
Occupation: Fashion Blogger, Digital Media Influencer, Image Consultant, Author
Famous for: Being one of South Africa's most popular and trusted fashion influencers
Kefilwe Mabote's Instagram: kefilwe_mabote
Twitter: @kefilwe__mabote
Born in Soweto, Kefilwe Mabote's Actual Age Has Surprised Many Fans
The sensational South Africa internet personality, Kefilwe Mabote, hails from Soweto, South Africa, where she grew up under the watch of her grandmother and aunt. Even though many have been taken aback by the following fact, the blogger was born on the 10th of April 1989 in her home country. Her name 'Kefilwe' is a Setswana name meaning 'given' and she was so named by her mother who believed that she is a gift from God.
After Kefilwe Mabote finished high school, she proceeded to the University of South Africa to further her studies. She graduated with a Bcom in Accounting Services. The luxury content creator was barely 24 years old in July 2013 when she made her first Instagram post and she has since diversified into other platforms like Twitter and YouTube. Kefiboo's fame has continued growing over the years as she explores the beauty and fashion world. She already celebrated her 31st birthday in 2020 when she released her first book.
Why Does She Look Younger Than Her Age?
It is no mean feat to achieve a younger-looking body when one is long past the age of thirty as many factors will have to come to play in your day to day life. Kefilwe Mabote is one expert on rejuvenating and revitalizing the body. The social media influencer does not just depend on beauty products and elegant apparel but also pampers her skin which she takes care of on regular basis.
Peel and oxygen facial comes in handy every month as she makes regular stops at 27Pinkx Beauty. The internet sensation has also mentioned that she maintains a strict diet as she does not only believe in outer skincare, but also the fact that having a great looking skin has so much to do with what you also consume on a daily basis.
With regards to makeup, Kefilwe Mabote maintains a standard make-up routine which makes her spend less time getting ready. She seems to be averse to heavy makeup, as according to her, the less you use makeup, the better for your facial skin. She believes that make-up shouldn't change someone's entire look but should act as an enhancer. Kefiboo revealed her must-have makeup piece to be lipstick and she favors the non-glossy look she gets from Gerard Cosmetics.
The Luxury Content Creator Has A Unique View on Skincare and Dressing
Kefilwe Mabote advocates the use of serum – the type with hyaluronic acid – on the skin from a young age. She also advises people to always take omega vitamins and zinc – essential elements which people tend to ignore, but which ultimately makes all the difference. The influencer's secret to getting her glowing skin is consuming foods replete with omega like salmon in addition to weekly exfoliation.
Mabote is far from your average lady. The internet star has proved how stylish she is both in casual and formal wear. She said that her mindset while approaching her wardrobe is not to dress to feel powerful as it is only people working in the corporate environment that needs to do that. She supports dressing to make a statement as opposed to dressing to look powerful, but if you are working on a project where 'powerful' is the theme, then you should dress accordingly. Her fans on social media attest to the fact that they have learned several hacks on beauty and of course dressing like a superstar.
Kefilwe Mabote's Major Source of Income is Her Social Media Accounts Which She Handles Like A Business
Kefilwe is one shrewd businesswoman who doesn't do her business in the traditional way. The glamorous and financially fearless Mabote creates wealth from her socials which she treats like a business. On Instagram alone, she has amassed over 1.1 million followers and still counting. The influencer and creative content creator said that the number of followers you amass is dependent on the quality and type of content you have.
Consequently, she strives very hard to make hers as attractive as possible by her collaborations with brands both in her home South Africa and abroad. Kefiboo's over one decade in the influencing business has seen her doing stuff with brands in FMCG and luxury sectors like Jean Paul Gaultier, Witchery Fashion, Diane Paris, Lays South Africa, Rolls Royce, Nescafe, and more. In present-day Africa, Kefilwe is considered among the most successful content creators as she has amassed a fortune from the influencer business.
Apart From Being a Pretty Face, the Internet Sensation is an Author With A Publication to her Name
Kefiiboo of the Kefi Vogue Styles is far from being just a pretty face as the internet star is also credited with having some intellectual capabilities. Kefilwe Mabote became an author on the 21st of April 2020 with the release of her autobiography (e-Book) – Kefilwe M- Influencer De Luxe. The publication talks about how to create and build your own digital media brand profile. No doubt, the e-book will soon turn into a money-spinner for the blogger.
Kefiboo Also Works as an Image Consultant
Being well informed in matters relating to beauty and fashion exposed the social media sensation to several other fields in that sphere. Being an image consultant may not be a popular profession right now, but people like Kefilwe are already exploring it as a career option. According to the internet star, people who need to nurture a professional and updated image hire her services for a fee. Her client base includesindividuals or businesses that require a little help in putting their wardrobe in order.
How Did Kefilwe Mabote Become so Successful and Glamorous?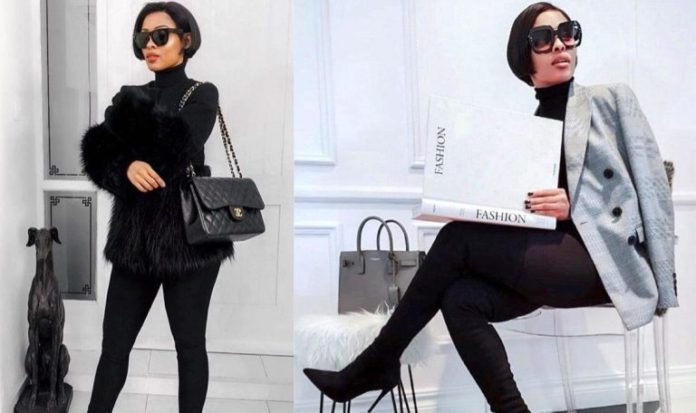 Looking glamorous has always been Kefilwe Mabote's business and the influencer is gunning to leave a universal footprint via her digital and styling business. Kefiboo gained popularity for her Kefi Vogue Styles that aims to promote luxury brands. Her blog revolves around high-end fashion and luxury items with price tags way beyond the reach of many. However, she inspires people to dream as well as focus on that distinguishing look that separates them from the crowd. The glamorous lady has had collaborations with many A-list brands which include Dolce & Gabbana, Christian Louboutin, Mercedes-Benz, Gucci, La Mer, and many more.
Kefilwe Mabote has attributed her successes to hard work and perseverance. According to Mabote, you need to know the right thing to do and do it at the right time. Her advice to people who want to make it in the social media business space is to prioritize relationships – seek to develop a long term relationship with visitors. And when the money eventually begins to come, make a budget and stick to it, save some and invest some.