The South African entertainment scene is on a steady rise with a number of actors and actresses consistently proving their worth and breaking barriers. Amanda Du-Pont is one of such stars in the S.A entertainment industry as she has set herself on a path to success ever since she was launched into the entertainment industry in 2008.
Many other factors have also gone on to contribute to Du-Pont's success, such as her hard work, ability to diversify her skills, and most importantly the relationship she has with her family. At the moment, it seems that with every age milestone, Du-Pont's success escalates even more.
Amanda Du-Pont Knew She Wanted To Be An Actress From A Young Age
There are 16 land-locked countries in Africa, one of those is Eswatini, popularly known as Swaziland. This small country in Southern Africa is where Amanda Du-Pont was born on the 26th of June in 1988. Her childhood was spent in Manzini, Swaziland, where she lived with a cousin until she relocated to South Africa.
When she arrived in South Africa, she lived in Mpumalanga and went to Uplands college where she completed her high school education. She then went on to the South African School of Motion Picture and Live Performance in Johannesburg before heading to the New York Film Academy where she trained to become a professional actress.
Du-Pont's first stint as a professional actress came in 2008 when she was cast to play a very minor role in the 12th episode of the television show, Life is Wild. The show follows the adventures of a New York veterinarian who moves from America to South Africa to work at a game reserve that is managed by the father of his ex-wife. The budding actress played the role of Senna in this series and even though it was a small role it set her on the path to achieving more success in the industry.
By the time she turned 21 in 2009, Du-Pont was given a Lifetime Achievement award by the Department of Arts & Culture in Swaziland. This award was given in recognition of her efforts towards promoting the Swazi language and culture in films
At The Age Of 26, Du-Pont Was Already A Star
Four years after her first role, the actress would get another acting role in 2012. This was a small uncredited role in the web series Lokshin Bioskop: Angilalanga. However, Amanda Du-Pont did not get her big break until 2014 when she was cast in Skeem Saam, a South African educational soap opera. The actress, who joined the show in its 3rd season, plays Nompumelelo "Lelo" Mthiyane and still plays the character to date. That same year, she was seen in the movie, Task Force playing the role of Christelle.
The next year, the South African actress was seen in the dance film, Hear Me Move. At that time, it was ranked as the first Southern Africa 'Sbujwa' dance movie. The movie was released on the 27th of February 2015 and it recorded very positive reception which accounts for why it landed 5 award nominations during the 12th Africa Movie Academy Awards. Within that period, she was also featured in the South African soap opera, Generations.
From 2016 to date, Du-Pont has been appearing in the comedy-drama series, Between Friends where she plays the role of Nisha. The TV series follows the reunion of college friends 7 years after graduation and as expected, it comes with a lot of drama, tension, and secrets. This ongoing South African TV series also accounts for Amanda Du-Pont's popularity as it has garnered massive viewership both at the local and international levels.
In 2017, the actress landed a role in the Nigerian blockbuster, 10 Days In Sun City. She played the role of Kimberley and the movie is notable for its international success recording up to 93% likes by Google users. Du-Pont was also seen in the 2017 film, Taryn and Sharon in which she was featured as Sharon. In 2019, she landed the main role of Ashley in the Netflix series, Shadow.
The Actress Recorded Another Age Milestone In 2018 When She Got Engaged To Her Beau At 31
Amanda Du-Pont's love life has been a roller coaster since she launched into stardom. A number of top celebrities who have been linked with her include, Jub Jub, Cassper, and Slikour. Her dalliance with Jub Jub was highly criticized especially since he was accused and eventually convicted of murder after running over school children while taking part in a drag race.
Her relationship with Cassper Nyovest also ended on a very messy note as he accused her of cheating on him and even went to diss her openly during his performance at the 2015 Metro Awards; it is important to note that the musician has repeatedly stated that he never intended to diss her, even though the public believed the change in the lyrics of the song he performed 'Phumakim' were intended to slight her.
Things eventually started to look bright in her romantic life when she started to date the Brazilian businessman, Shawn Rodriques and unlike her past relationships, this one was kept very private. However, the news was out in 2018 that the lovebirds were engaged. Rodriques reportedly popped the big question when they were on vacation in the Maldives and as expected, it was a very romantic event.
Many fans would have expected a lavish wedding ceremony to follow their romantic engagement but nothing of the such happened. In fact, no one knew that Du-Pont, and Shawn had gotten hitched until sometime in 2020 when the actress mentioned it while sharing a heartfelt post about her grandmother's demise.
She Created Her Beauty Line, Lelive Africa, At The Age Of 32 
Du-Pont is not just an actress, she is a model and television presenter – all roles that require her to look her best all the time. Prior to 2014, the actress had hated her natural hair; she was of the opinion that it was ugly, and the fact that her mother made her straighten her hair every week did not help with her insecurities about her hair. Incidentally for a role in 2014, the makers of the film had seen a very rare sight of Du-Pont with her hair in curls and that is what they decided to go with. She also fell in love with the look and this led to her embracing natural hair while learning what works best for her flowing curls that is now her signature look. This approach to looking natural is something she also applies to her makeup, and she uses Yves Saint Laurent Teint Touche Eclat Foundation to achieve that seamless natural look, which she combines this with a bit of lip gloss, light blush, and mascara.
However, her new fashion and beauty expression did not stop there; in 2020, at the age of 32, the actress announced on Facebook the release of her own skincare line. She would be working under the beauty brand, Lelive Africa, which is her own skincare and beauty line.
Amanda Du-Pont's Fitness Regime Also Accounts For Her Youthful Look
Another aspect of Amanda Du-Pont's life that gets a lot of attention is her fitness. The actress who became the face for the 2015 Adidas campaign, 'I Got This' is known to add images of her working out on her social media pages. Du-Pont has also revealed that she works out 6 days a week. On a very good week, she can take this number to 7 and when she is too busy she settles for 3 times a week. Her go-to exercises are squats, strength training, and weight lifting.
The actress, who is known to chant the popular phrase "Health is wealth", got into fitness to fix a couple of medical issues she was suffering from. On one hand, she struggled with her weight and fitness was the easiest path to fixing that while on the other hand, she suffered from epilepsy; however, when she started to exercise, Du-Pont realized that she no longer had a need for her medication. More so, her steady exercise routine helps her to maintain very healthy skin and spikes her energy level.
Amanda Du-Pont Father's Mixed Heritage Is Quite An Intriguing Blend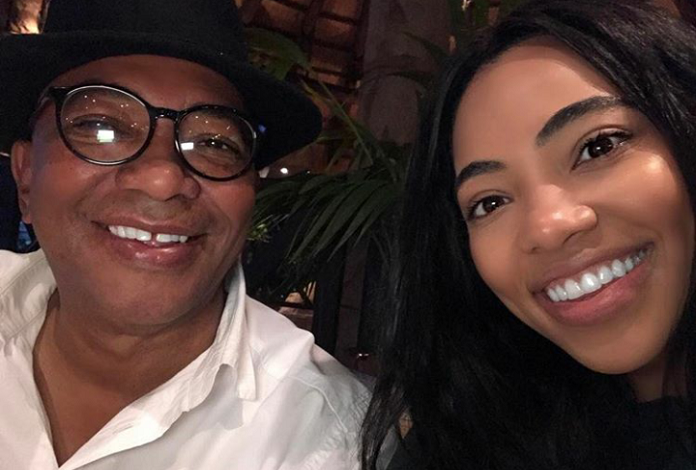 This actress comes from a line of mixed races – French, Chinese, Portuguese, and Swazi. Her father, Henry Du-Pont, is believed to hail from the royal family of Swaziland as he is the son of Princess Ncabille, whose father Prince Mshengu was the brother of former King Sobhuza II. As a result of this Amanda Du-Pont is royalty in a way, although saying this in the past has led to her getting bashed by Princess Simile Dlamini. Dlamini who is a niece of King Mswati III – the current monarch of Swaziland has accused the actress of lying about her royal roots.
However, it is also gathered that Henry Du-Pont has held and still holds high positions in Swaziland establishments. He was the chairman of the Premier League of Swaziland, the highest division of Swaziland's football association; he quit the position in 2010. Apart from that, he was also the president of the Federation of the Swazi Business Community (FESBC). At the moment, Henry Du-Pont is regarded as a top businessman due to the many business ventures he operates and it would appear that the actress has an amicable relationship with her father as no issue of a family crisis has been made public over the years.
Her Mother Is A Former Beauty Queen
Mom and Sis👯‍♂️ pic.twitter.com/GrsbDStpHG

— Amanda du-Pont (@AmandaDupont) June 18, 2018
In the same way Amanda Du-Pont's father is of mixed heritage, so is her mother – Antoinette Fonseca. The actress's maternal grandfather is Chinese-Portuguese while her grandmother is completely Swati. It is very clear who Amanda gets her looks from, especially as her mother is a Former Miss Swaziland beauty queen.
In 2010, Antoinette Fonseca was appointed as the Public Relations officer for the Swaziland Beauty Pageants association. The creation of the committee was something she oversaw and contributed to after the results of an investigation run by a panel which Antoinette was part of revealed that there was a myriad of problems with the way beauty pageants were run in the country.
With regards to her relationship with her daughter, Antoinette maintains a very close mother-daughter bond with Amanda. The actress is known to send out lovely messages about her mother especially on her birthdays.
Amanda Du-Pont Has Lovely Twin Sisters
Sisters came to visit me on set ♥️🎬 pic.twitter.com/6nwrmH3Bo6

— Amanda du-Pont (@AmandaDupont) February 7, 2020
Amanda Du-Pont is not the only child of her parents as she has two younger sisters, both of whom make up a pair of twins. Her sisters have been identified as Adele-Kim and Kayleigh Du Pont.
Adele-Kim Du-Pont Dated Professional Footballer, Dino Ndlovu
Be your own muse 💕 pic.twitter.com/yKRIlP3I4q

— IG: DUPONTKIMA (@Kim_dupont) September 7, 2020
One part of the pair is Adele-Kim; just like her elder sister, Kim wants to excel in whatever she does. She studied Health and Beauty at Camelot International College South Africa while pursuing a degree in Communications and Marketing. She considers Amanda as a source of inspiration. In 2012, she revealed that her dream was to live abroad and pursue a career in Make-up Artistry, and today, she currently lives in Dublin.
Adele-Kim also gained significant attention for being in a relationship with Dino Ndlovu, a professional footballer. Although the couple lived on separate continents, they still found ways to let their relationship thrive and be romantic. They were particularly notable for their public displays of affection on social media which has garnered a lot of attention towards the young make up artist. However, the couple have since gone their separate ways.
Kayleigh Du-Pont Lives In Australia
Amanda's second sister is Kayleigh and she is notable for being very supportive of her sister's LeLive brand. She even posted a video on YouTube of her skincare routine in support of her sister's brand. She also runs a YouTube Channel where she talks about her life, make-up, fitness, and beauty routines. However, the platforms which have gone on to establish her popularity are the social media platforms Tik-Tok and Instagram. As of now, she lives in Australia where she works and studies.