The formidable Mount Kilimanjaro is known to have its highest peak as 5,895 meters high and though it proved a bit hard initially to conquer, it was surmounted eventually in 1889 by the trio of German geologist Hans Meyer, Austrian climber Ludwig Purtscheller, and Yohani Kinyala Lauwo, a Tanzanian mountain guide.
Today thousands of mountain climbers have reached Kilimanjaro's peak. Nonetheless, this does not mean that the place has lost its sense of adventure as it still ranks as one of the widely sought places for climbers who love to test their resolve and commitment.
Mount Kilimanjaro Ranks Topmost On The List Of Largest Free-Standing Mountains In The World
Mount Kilimanjaro is located in the Kilimanjaro region which lies North East in the beautiful country of Tanzania. The coordinates of this impressive mountain are given as 03 04' 33″ S 37 21′ 12″ E, and they can't be missed from Satellite mounted telescopes. According to the World Wide Fund for nature and other credible sources, Mount Kilimanjaro is currently the largest free mountain rise in the whole world with its highest peak standing at 5,895 meters. It is not part of any other mountain range in its region hence the reason why it holds this honor to the pride of Africa.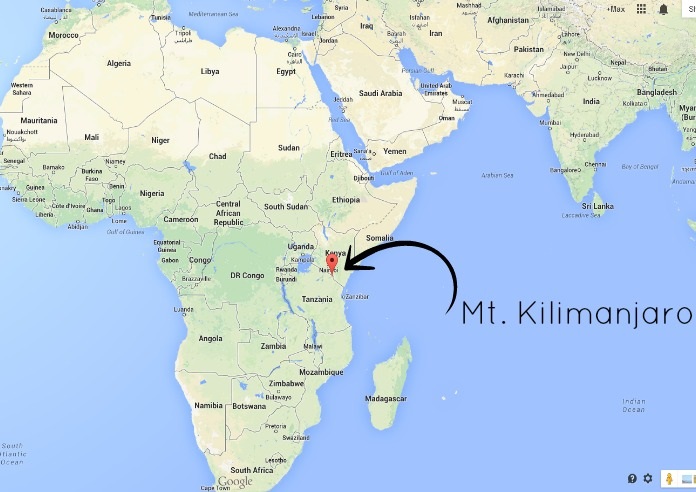 Kilimanjaro, as the largest free mountain zone in the world, is unique as it has 5 distinct climate zones, each different from the other and posing its own unique challenges. The peak of the mountain above 5,000 meters is the Arctic Zone, while the Alpine Desert Zone is prevalent between 4,000 to 5,000 meters, followed by the Moorland/Heather Zone which occurs between 2,800 to 4,000 meters, next is the Rainforest Zone occurring between 1,800 to 2,800 meters with is heights below 1,800 meters is classified as the Bushland zone.
More so, because of the weather conditions prevalent around the area, animal life exists mostly in the lower parts of the mountains, and animals like the Cape/African buffaloes, Bushwick, elephants, warthog, mongoose, and chameleons are easily seen. On the Shira plateau, animals such as Zebras, Hyenas, and Leopards have been spotted.
The Formation Of Mount Kilimanjaro 
The spectacular mountain was formed by several factors that occurred over the centuries. Some of these factors came about as a result of rifting of continental lithosphere, volcanic activities, erosion, and other geological activities that have taken place over a million years ago. The actual process commenced with the bursting of molten lava through cracks created from the continual thinning of the lithosphere.
The lava which was produced had low density, however over time, the continual eruptions came with highly dense lava which would eventually form 3 volcanic cones which are Kibo, Mawenzi, and Shira. The age of the rocks dates back to about a million years ago, and both Mawenzi and Shira cones are extinct volcanoes, while Kibo is a dormant volcano that could become active some time in the future. It has also been gathered that the highest cone on this mountain is Kibo – with its point called the Uhuru peak standing at 5, 895 meters; the Mawenzi cone is the second-highest point of the mountain standing at 5,149 meters and Shira, being the lowest of the 3 cones, stands at 4,005 meters.
The location of the mountain also makes it possible for easy water drainage as several streams and rivers flows around it. Notably, the rivers, Lumi and Pangani are known to drain Kilimanjaro towards the eastern and southern ends of the mountain. Besides, the network of rivers, water consumption by humans around the mountain also reduces the flow of water in the mountain.
How Long Will It Take To Climb This Iconic Mountain?
The highest peak on Mount Kilimanjaro stands at about 5,895 meters – to put this in a more relatable perspective, this is equivalent to about 1,965 floors in a high rise building, so it is quite a feat to get to its peak. Although various estimations have been given to climb the mount, the journey to the top of this mountain has been estimated to fall between 5 to 10 days, depending on your adaptability to high altitudes and ability to utilize lower oxygen levels as the tour climb progresses.
For experienced mountaineers and hikers, it will take them not more than 5 days to easily get to the peak of the mountain but it will usually take longer for newbies and this explains the estimated range. It has also been revealed by several tour guides and operators that the secret of successfully reaching the top of the mountain is to pace yourself and acclimatize to the high altitudes gradually as you go along.
What Are The Essential Climbing Gear Every Mountain Climber Needs To Climb Mount Kilimanjaro?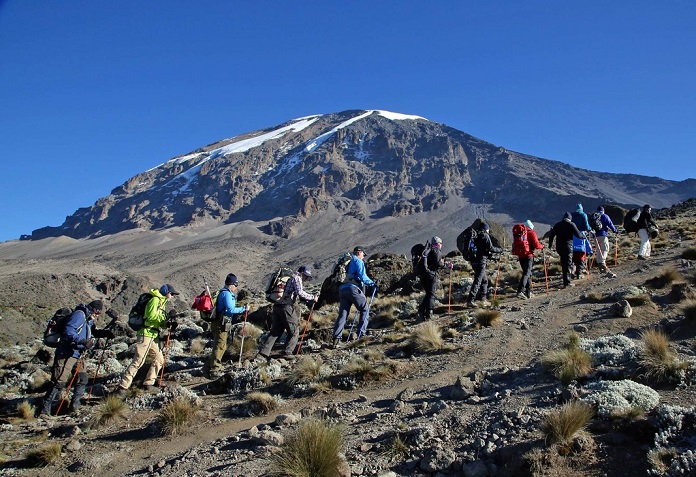 Below is an exhaustive list of the items you need to successfully climb the mountain. However, it's always advisable to consult your local tour guide on what's best to come along with depending on the season, what's available on the mountain route and other factors affecting the climb which aren't constant.
Basic gears
Daypack
Headlamp
Waterproof duffle bag
Sleeping bag or tent
Trekking poles
Water bottles
Toothbrush and toothpaste
Wet wipes and hand sanitizer
Camera and spare batteries
Clothing gears
Sunglasses
Warm beanie style hat
Neck gaiter or scarf
Sun hat
Thermal base layer
Short sleeved shirt
Long sleeve shirt
Fleece or soft shell jacket
Insulated jacket
Hard shell outer jacket
Poncho
Leggings
Trekking trousers
Hard shell trousers
Lightweight Gloves
Warm gloves or mittens
Trekking boots
Training shoes
Socks
Gaiters
Micro-spikes
Mount Kilimanjaro is the 4th highest peak in the world and according to sources, it is not a very difficult mountain to climb. One does not need any technical mountain climbing experience at all to scale its heights, and no professional climbing or mountaineering equipment is needed. As long as one follows any of the standard 7 climbing routes to the peak of the mountain and has the stamina for it, success is almost assured.
However, despite no technicalities are involved in climbing Mount Kilimanjaro, it has been stated that in order to increase one's chances of reaching the height of the mountain you only need to get a few things in place such as preparing yourself to handle the low oxygen levels at high altitudes (which can be rehearsed with breathing exercises). You would also need to pack warm clothing and hand warmers to handle the cold nights. More so, ensure to take things very easy on your ascent up to the mountain, stay properly hydrated, and not be afraid to ask for help if and when you feel out of breath.
These 7 official routes to climb the mountain are Marangu, Machame, Umbwe, Shira, Lemosho, Rogaine, and the Nothern Circuit. However, it is known that an additional route named Nweka is reserved strictly for descent from the mountain which means irrespective of the route climbers use to get to the top of the mountain, only one route takes them back to the ground and that is the Nweka route. Although it takes 5 to 10 days to climb the mountain, descending takes between 1 to 3 days.
How Many People Have Conquered Mount Kilimanjaro?
The very first attempt to reach the peak of the mountain was made in 1861 when a team of explores lead by Carl Claus von der Decken and Richard Thornton tried to climb the mountain. However, their attempt was futile as the weather conditions they faced had to force them to retreat upon getting to 8,200-feet. Nonetheless, the explorers made some very notable discoveries about the mountain's height as well as its being volcanic.
The feat of getting to Mount Kilimanjaro's peak was eventually achieved about 28 years later in October 1889. This was done by a group of 3 climbers who made it to the summit of the mountain and etched their name in gold for achieving the feat and their names are Hans Meyer, a German Geologist, Ludwig Purtscheller, an Austrian mountain climber and teacher, alongside a local guide Yohani Kinyala Lauwo from one of the tribes settled at the base of the mountain.
Since these brave and all-conquering trio broke the deadlock of surmounting the mountain, very many more have attempted the climb to the summit and have prevailed over the years – running possibly into several hundreds of thousands. Statistics available about visitors to the mountain state that about 35,000 individuals from various countries attempt to climb the mountain on an annual basis with about 40% (that is, 14,000) of them doing so successfully. Though the mountain is not the most challenging to climb in the world, its unique climatic conditions and terrain do offer some challenges that not all who attempt to can successfully overcome.
What Are The Dangers Of Climbing Mount Kilimanjaro?
Climbing the mountain itself is not really a dangerous thing to do if you observe all the necessary precautions and undergo the required acclimatization needed for a successful climb up the summit Unfortunately, even with the best thought and laid out acclimatization schedule and careful route planning, surmounting Mount Kilimanjaro does still claims between 5 to 15 lives on a yearly basis.
Although one might think the cause of this death will be from falling off the mountain, that is far from the truth as many climbers die from other reasons not related to falling off Mount Kilimanjaro. According to reports, the cause of these deaths is largely due to the individual's physical condition and rushing too quickly to conquer the mountain. Most deaths have been caused by factors such as:
Acute Mountain Sickness (a condition caused by lower oxygen levels at high altitudes),
Hypothermia ( which is a shock in the body caused by rapidly dropping temperatures), and/or
Cerebral or Pulmonary edema ( which is usually caused by fluid seeping into the brain and lungs as the body tries to adapt to high altitudes).
So, being physically fit or being an athlete doesn't even guarantee a successful climb up the mountain as several top athletes have failed in the past. However, if a climber would decide to take things slow and easy as well as properly acclimatizing to high altitudes, he/ she will be able to conquer the formidable Mount Kilimanjaro and join the thousands of people who have chosen this safe and sure way.
The Popularity Of Mount Kilimanjor Led To The Establishment Of Kilimanjaro National Park 
As Mount Kilimanjaro began to experience and welcome more tourists to its majestic splendor and experience, the government of Tanzania in 1973 decided to establish a management structure to oversee the affairs of the mountain. The structure that was created was the Kilimanjaro National Park (KNP) – which is overseen by the Tanzanian National Park Authority. It is located near the Moshi region in the country and covers an expensive area of about 652 square miles (about 1,688 square kilometers).
The park was officially opened for public access in 1977 and about 10 years later the United Nations Educational, Scientific and Cultural Organization (UNESCO) declared the Park and mountain as a World Heritage site, which it remains till this day. It is believed that the Park welcomes more than 50,000 visitors to the mountain every year.
The Kilimanjaro National Park also has several functions as created by the government and backed by law. Since it attracts thousands of visitors annually, the establishment is one of the avenues of generating revenue (in foreign currencies) for the government of Tanzania.  The park also oversees preserving the flora and fauna on the mountain, protecting the natural and visual integrity of the mountain, as well as hiring and supervising ranger for surveillance purposes on the mountain.
More so, all tour guides and operators in the region of Mount Kilimanjaro report to the park where their activities are registered and managed. This is done in order to ensure a smooth flow of activities between the Park and local communities.
5 Other Highest Mountain Peaks In The African Continent
Africa as a continent is blessed with very many things and resources and she is not left out of having several mountain ranges that both please the eyes and offer a challenge for mountaineers and others that love such challenges offered by these beautiful high rise mountains. Here is a list of the top 5 tallest mountains in Africa after the famous Mount Kilimanjaro:
Mount Kenya
Highest Peak: Batian peak at 17,057 feet
Coordinates: 00°09′07″S 37°18′30″E
Mount Kenya, from which the country Kenya is said to have derived its name, is the tallest mountain in Africa after Mount Kilimanjaro. It has a few peaks with Batian as its highest peak standing at 17,057 feet or 5,199 meters with an Alps climate.
2. Ngaliema/Mount Stanley
Highest Peak: Margherita Peak at 16,763 feet
Coordinates: 00°23′08″N 29°52′21″E
This mountain is located between Uganda and DR Congo. Among its peaks, Margherita peak is its highest summit and stands at 5,109 meters or 16,763 feet.
3. Duwoni/Mount Speke
Highest Peak: Vittoria Emanuele at 16,040 feet
Coordinates: 00°23′53″N 29°53′33″E
This impressive mountain range is located in Uganda and has Vittoro Emanuele as its highest peak standing at 4,890 meters or 16,040 feet.
4. Mount Emin
Highest Peak: Umberto Peak at 15,741 feet
Coordinates: 00°25′42″N 29°54′00″E
This mountain range is located in DR Congo and has the Umberto Peak as its highest summit standing at 4,798 meters or at 15,741 feet.
5. Mount Gessi
Highest Peak: Iolanda Peak at 15,325 feet
Coordinates: 00°25′19″N 29°55′06″E
This spectacular mountain is located in Uganda and it has Iolanda peak as its highest summit at 4,715 meters or 15,325 feet.