Contrary to what we read from reports, co-parents Brynn Cameron and Blake Griffin seem to have settled their raging custody battle. According to the duo, the financial details we read of concerning their child support agreement were far from the truth. Both Blake and Brynn made this clear in their joint statement to People. Their settlement appears to have been amicable and they are co-parenting effortlessly. The fine lines of the agreement concerning Blake Griffin's kids with Brynn were treated in a confidential manner, thus, the couple was not willing to release any further details on the issue.
However, it has come to public notice that the ex-lovers came to this amicable agreement at some confidential negotiations which took place a few hours before they were due to make an appearance in court concerning the issue. According to reports, the couple's final settlement outlined such things as custody rights and child support payments. It's important to note that Brynn and Blake were reportedly preparing for a wedding which was set for the 28th of July 2017, but Brynn decided to postpone the nuptials after Blake came up with a prenuptial agreement just a month to their wedding date.
Who are Blake Griffin Kids from Brynn Cameron
Blake Griffin's kids are not Brynn Cameron's only children. The beautiful businesswoman and ex-basketball player has one child from a previous relationship. She was formerly the girlfriend of Matt Leniart, an ex-football quarterback who was only 19 years old at the time. The couple's relationship commenced in 2004 and lasted barely one year before they decided to call it quits. However, Brynn discovered that she was expecting Matt's baby after their split and a few months later, her baby boy Cole Cameron was born.
Being dumped once did not deter Brynn from testing the turbulent waters of another romantic relationship, but this time, it was with American basketball star Blake Griffin. Though they met in 2009, the couple had to wait four long years before commencing an official relationship. Their first child – a son named Ford Wilson Cameron-Griffin was born on the 1st of August 2013; Ford soon became a brother to Finley Elaine Griffin their daughter who they had three years later in September of 2016.
History repeated itself a second time when she Brynne got the boot from Blake. Reportedly, their split had something to do with a prenuptial agreement that Brynn refused to sign. However, the fine details of the agreements were never made public, thus we cannot say how favorable or unfavorable they would have seemed to the mother of Blake Griffin's kids.
After eight long years of romance with Blake Griffin, Brynn found herself single again with three children to cater for. Fans have expressed curiosity regarding her new relationship status, but from what is obvious, the mother of Blake Griffin's kids wants to take a break from it all.
On his own part, Blake Griffin wasted no time in getting busy with Kendall Jenner. According to Brynn, Blake left her high and dry to embark on a high-profile dalliance with the model with whom he was spotted with a few months later as they were jet setting to the Hamptons. From what is perceivable, the Blake-Kendall romance lasted just for a few months as Blake was soon linked to Francesca Aiello, a Malibu-based fashion designer.
Read Also: Orlando Bloom and Miranda Kerr: The Untold Story of Their Failed Marriage
Where are They Now?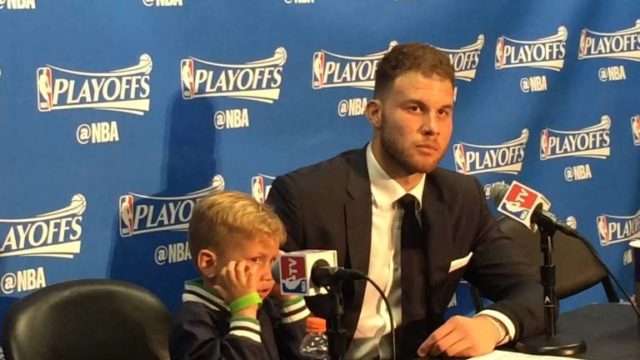 At the time when Blake Griffin and Brynn's relationship packed up, their two kids and Brynn's kid with Leniart have all been living with their mother pending the outcome of the custody agreement between the two since Blake made it clear that he had no intention of continuing to cohabit with her and their kids. According to reports, a part of the agreement they came to stipulated that Blake secures a five-bedroom house for Brynn and the kids. The house which is located in Manhattan Beach in a South Bay community in CA will form part of the settlement from Blake to Brynn.
Apart from the house, the ex-lovers have long settled issues regarding financial settlement and child support. Reports alleged that Brynn will also receive a monthly payment of $258,000 which will culminate into over $3 million on an annual basis. However, this claim has long been debunked by the duo who have decided to keep the details of their settlements under lock and key.