Ahmed Bola Tinubu is married to Oluremi Tinubu, and the pair have three children together, putting the total number of Tinubu's kids to six.
Before Bola married Remi, the Nigerian politician fondly called the Asiwaju of Lagos had three children with different women. His first three children are Jide Tinubu, Seyi Tinubu, and Shade Tinubu, while his kids with Remi are Zainab Abisola Tinubu, Habibat Tinubu, and Olayinka Tinubu.
Bola Tinubu Has Been Married To Oluremi Tinubu For Over Three Decades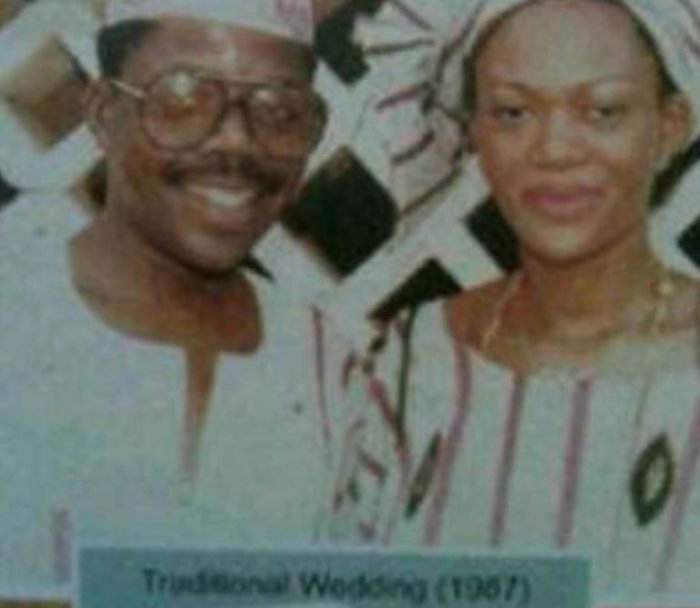 Bola Tinubu and Oluremi Tinubu have been married since 1987 and though their union has experienced some hitches in the past, they have recorded more success stories than failures. Tinubu was a nobody when he met Oluremi through her sister. The fact that they were from different religious backgrounds didn't stop love from blossoming between them and according to Remi, her dad made Bola promise never to stop her from practicing her religion and he lived up to his word. They respect each other's religion, thus, no conflict has ever come from that angle.
Oluremi described her husband as a liberal person with respect to religion, he even allowed her to raise their children as Christians though they bear muslin names. Remi equally shows respect to her husband's faith in donning the hijab when the occasion calls for it but her faith still remains intact. Today, she is an ordained pastor of the Redeemed Christian Church with the full support of her husband.
While celebrating her 60th birthday, Senator Oluremi was hailed by her husband for her endurance, perseverance, and independent character. Describing Remi at his Bourdillon, Lagos residence, Bola Tinubu called her a loving wife, a good mother, an excellent listener, a friend, a supporter, a good homemaker, and an ally.
In response, Remi described her husband as a lion in politics, who becomes a lamb in marriage, a partner at home but a master of deliberation when the need arises, a faithful servant of the most high God, and a man of testimony. If their eulogies are anything to go by, we would be safe to say that the couple is indeed enjoying marital bliss.
All Of Bola Tinubu's Children
Not all of Bola Tinubu's children came from his marriage to Senator Oluremi Tinubu. The first three; Jide Tinubu, Seyi Tinubu, and Shade Tinubu were all born before the two even met and got married in 1987. The first child of Remi and Bola Tinubu is Zainab Abisola Tinubu followed by Habibat Tinubu, and the last Olayinka Tinubu. Thus, the Asiwaju of Lagos is blessed with six children and although one is already late, the surviving five are all successful.
1. Kazeem Jide Tinubu (Deceased)
Full Name: Kazeem Olajide Babajide Tinubu
Date of Birth: October 12, 1980
Age: 43 years old
Nationality: Nigeria
Education: University of Liverpool, England; University of London, England
Occupation: Lawyer
Years Active: 2000 till his demise
Net Worth: N/A
Born on the 12th of October 1980, Jide is the first among Bola Tinubu's children. He studied law at the University of Liverpool in the United Kingdom. He proceeded to the University of London, England to acquire a Master's in Maritime Law and was called to the bar in Nigeria in 1999.
Jide's career path was clearly influenced by his father as he started working with Mobil's legal department – a company where Bola Tinubu worked as a director for several years. The deceased son of the Jagaban of Borgu Kingdon stayed with Mobil for a year, from 2000 to 2001, following which he worked with other oil firms like Ocean and Oil Services Ltd and Cargo Maritime, Paris, France. Till his demise, Jide never made any move to join his father in politics despite being his first child.
Jide Was Married with Three Children
Most of Jide Tinubu's life was spent abroad, thus very little is known about him. However, he was a married man and was several years into his marriage before death struck. The identity of his wife was never revealed but reports said they shared three children.
He Died In 2017
Jide Tinubu was just 43 years old on the 1st of November 2017 when he was confirmed dead in a London hospital. In a press statement released by the Asiuwaju of Lagos three days later on the 3rd of November 2017, Jide was reported to have died of cardiac arrest. Following the news of his son's death, the Lion of Bourdilon left for London with his wife Oluremi Tinubu to be with Jide's widow and children.
While their father was away, Chief Mrs. Folashade Tinubu-Ojo (the first daughter of the family) went ahead to host a three-day fidau prayer for her brother on behalf of the family. The ceremony, which was held at the Tinubu's residence at Alausa, Ikeja, was graced by many dignitaries. Also, scores of sympathizers thronged Jagabans Bourdilon residence to pay their condolence.
The Identity of Jide's Mom Was Revealed After His Death
Barely one year after the demise of the Asiwaju's first son, a strange headline surfaced reading "The National Leader of APC, Asiwaju Ahmed Bola Tinubu, Loses Ex-wife". Though the powers that be tried to shroud everything in secrecy, it was gathered that the woman died three and half weeks before the news went public; her death occurred after she complained of severe head and chest pain. Further digging revealed her to be the real mother of Bola Tinubu's first son, Jide Tinubu. It was reported that she was a resident of Abraham Adesanya Estate, Ajah, Lagos until her demise.
2. Chief Folashade Tinubu-Ojo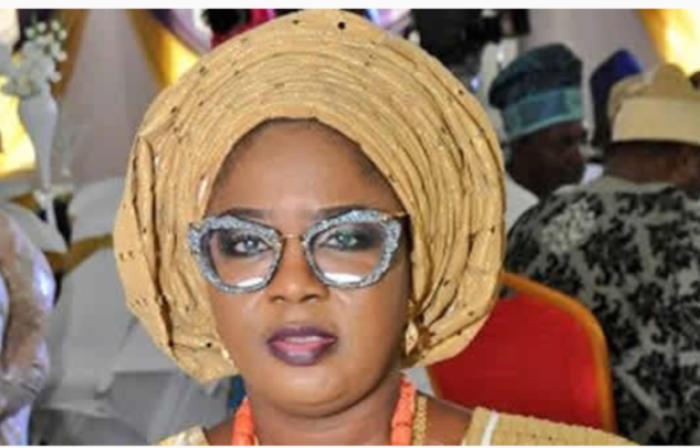 Full Name: Chief Folashade Tinubu-Ojo
Date of Birth: N/A
Nationality: Nigeria
Education: Federal College of Education (Special) Oyo; Middlesex University, London; America Intercontinental University
Chieftaincy Title: Iyaloja of Lagos
Years Active: 29 October 2013 – present
Net Worth: N/A
Folashade is the second child and first daughter of Bola Tinubu. Her birth details are not in the public arena but Shade is well educated. The first daughter of the Asiwaju of Lagos is an alum of the Federal College of Education (special) in Oyo State where she graduated from the Department of Home Economics. Leaving the shores of Nigeria for London, she joined Middlesex University for her first degree in Business Administration. She later mover to the United States to acquire a Master's at the America Intercontinental University.
Folashade Succeeded Her Grandmother As The Iyaloja General
Following the death of her grandmother, the great Abibatu Mogaji who served as the Iyaloja General of Lagos, Shade was chosen as her successor. Subsequently, she was crowned as the new Iyaloja (mother of the Market) on the 29th of October 2013 by the incumbent Oba of Lagos. The coronation ceremony was a grand affair with a lot of dignitaries in attendance, including her parents and the presiding Oba – His Royal Majesty Oba Rilwan Akiolu AKA the Eleko of Eko. The Alake of Egbaland was also present at the ceremony.
As the Iyaloja, Shade imposed leaders on each of the markets across Lagos, and the leaders, in turn, imposed levies on the traders which were collected on a daily basis with heavy returns made to the Iyaloja.
Shade is The Wife Of Hon. Oyetunde Ojo
Shade is the wife of former House of Rep Member, Hon. Oyetunde Ojo who represented Ekiti State. However, she does not seem to be doing well at the home front as the Iyaloja of Nigeria has long left her marriage which was childless. Her husband, reports said has even gone on to father a child outside marriage and doesn't seem to care about what Shade does with her life.
Controversies
Since Shade was crowned as the Iyaloja General, Bola Tinubu's first daughter has been harvesting controversies from all corners. Some of her most discussed controversies are outlined below;
1. Her Emergence as Iyaloja Was Highly Controversial
Shade's coronation as the Iyaloja General gave rise to a spate of unpleasant occurrences that were rather too controversial and nearly tore the union of market women and men apart. It came to light that the majority of the incumbent market leaders kicked against her emergence, especially since the last Iyaloja was her grandmother. It was beginning to look like they were going to make it a family succession.
As the protests intensified, the Jagaban himself had to intervene to settle the burning issues. The opposing market women later agreed to calm down and give Shade a chance to reign as the Iyaloja but only after Tinubu's timely intervention.
2. Levy Collection Controversy
According to reports, Shade and her market leaders imposed heavy levies on traders to the extent that the Association of Computer Village cried out, suing both the Iyaloja and her market leaders. While the case was in court, the traders engaged in a series of demonstrations and protests against Shade, and at the end of the court case, the Association of traders emerged victorious which gave rise to jubilations across the market.
The judgment, which was delivered by Justice Yetunde Pinheiro, declared the imposition of levies on traders as illegal and banned Shade and her leaders from collecting such levies from the Computer Village Market. Other leaders banned from imposing such levies include Mr. Adeniyi Olasoji, Mrs. Bisola Azeez, Tony Ikani, Nofiu Akinsanya, and the Lagos State Commissioner of Police.
3. Shade's Cheating Saga Against Market Leaders
Even though Shade was not readily welcomed by the Lagos market leaders upon her ascension as the Iyaloja General, Tinubu's first daughter still went ahead to cheat them of their rights. During the last general elections in Nigeria, Shade received huge sums of money from political heavyweights who were seeking plum political posts in the country. The funds were said to be meant for onward delivery to the different market leaders to solicit their votes during the elections but the Iyaloja chose to pocket the money without delivering a dime.
Consequently, all the market leaders under Folashade, including politicians, felt cheated and betrayed by this disdainful act which turned into a hotly contested issue. The issue would later get to the ears of Bola Tinubu who felt very bad about the whole thing. However, the Jagaban was able to settle it with his political might and wisdom and even though it didn't go down well with the market leaders, the regard and respect they have for the Asiwaju of Lagos prevailed in the end as they grudgingly accepted.
4. Her Romance With Babaloja of Oshodi was An Object of Grave Controversy
Some of Bola Tinubu's children have sparked controversies in the past but from what is obvious, Shade takes the cake. Perhaps the most popular among Folashade Tinubu's controversy was her extramarital affair of many years with Alhaji Abdullahi Sanni, the Babaloja of Oshodi also known as Provida. According to reports, since Shade assumed her married but single status, Provida often passes the night in her Alausa residence. Provida, who is an American returnee, is a rich property merchant that has been in love with Shade even before she became the Iyaloja General. He constantly spoils her with expensive gifts, with the latest being a brand new Toyota Tundra Truck that adorns her garage.
The grapevine said that Shade's affair with Provida started as far back as when her grandmother Abibatu Mogaji still held sway as the Iyaloja General. It was Mogaji who named Abdullahi Sanni as the Babaloja of Oshodi – a decision which was believed to be greatly influenced by Shade. The most interesting part of their relationship is that both Provida and Folashade are legally married to other people, yet have no qualms about conducting an affair in the public eye.
3. Seyi Tinubu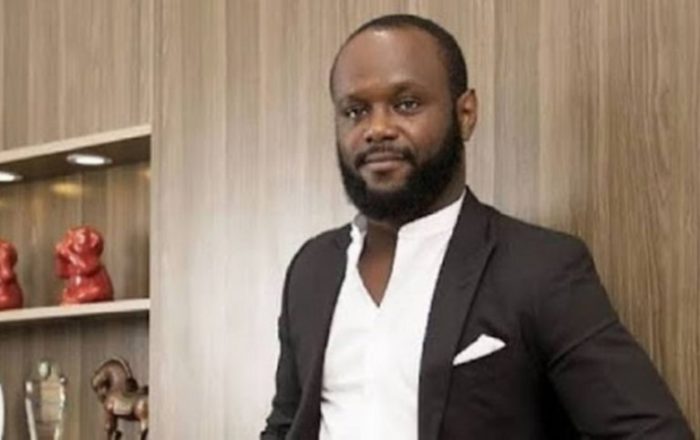 Full Name: Oluwaseyi Tinubu
Date of Birth: 13th of October 1985
Age: 38 years old
Nationality: Nigeria
Education: Holmewood House School, Milton Abbey, Lincoln University; The University of Maryland, Baltimore County; The University of Buckingham, and Nigeria Law School
Mother: Bunmi Oshonike
Occupation: Businessman, Politician
Net Worth: N/A
Seyi Tinubu may not be the first of Bola Tinubu's children but the death of his older brother Jide has made him Ashiwaju's first surviving son. He was born to Bola Tinubu on the 13th of October 1985. He is the result of a romantic relationship between Bola and Bunmi Oshonike. Bunmi was a former air hostess and a prophetess who currently worships at the Calvary Parish of the white garment church known as the Celestial Church of Christ located in Ogba, Lagos. Seyi spent a better part of his growing-up years in both the United Kingdom and the United States.
Reports said that Bumi gave up her son to be raised by Oluremi which led many to believe that Seyi is her biological son. However, Oluwaseyi is well aware of the identity of his mother, but out of respect to Bola Tinubu and the exalted position he holds in Nigeria, Seyi cannot publicly proclaim his mum. Even at the lawyer's wedding ceremony to his Nigerian-Japanese bride, Bunmi was not seen anywhere close to the venue. Though, rumors soon surfaced claiming that she actually graced the occasion but had to maintain a low-key presence while Oluremi played the role of the mother of the groom.
His Academic Pursuit Took Him From America To The United Kingdom
Though his formal education started at St. Saviour's School, Lagos State, Seyi soon traveled out of the country for further studies. After completing primary school at Holmewood House School, he son joined Milton Abbey for his A-levels. His days at Milton were quite eventful as he was a sport stand out, participating in athletics, rugby, and field hockey. His participation in high school sports peaked when he emerged as Milton's captain for the 2004 season.
Seyi's quest for higher academic qualification took him to Lincoln University and later to the University of Maryland, Baltimore County. After four years well spent from 2004 – 2008, he was rewarded with a Bachelor of Arts Degree. Before the end of 2008, Seyi became a student of the University of Buckingham in the United Kingdom where he studied for an LLB, graduating in 2010. He joined his counterparts at the Nigerian Law school where he encountered a bit of a setback. According to Oluwaseyi, his call to the bar was delayed till 2013 because he failed his first attempt at bar exams. However, he later emerged successful after re-sitting for the exams.
While a student of the Nigerian Law School, Seyi did his internship with Oando Plc for three months. He returned to the University of Buckingham for a Master's in corporate and commercial law.
Seyi Followed a Career Path in Media Advertising
Being one of Bola Tinubu's children, people naturally expected Seyi to immediately tag along with his father in the Nigerian political scene where the Jagaban of Borgu Kingdom reigned supreme. However, the legal practitioner surprised many when he decided to chart his own course in life. According to Seyi, he didn't want to go looking for paid employment neither did he want to work under his dad whose respect he vowed to earn by creating a niche for himself in the business world.
Alongside his friend and business partner, Adenrele Olusoga, Seyi went to the drawing table to scrutinize different opportunities for possible exploration. Their brainstorming birthed several ideas, including the likes of online digital movie platforms such as Netflix but all had to be discarded. The two friends soon discovered that their passion lied in creating unique and innovative pieces, and before long, they dabbled into digital advertising which proved to be their forte.
Loatsad Promomedia
Their brainstorming was what took Seyi into his current career as a media practitioner and in their bid to bring about changes in the narrative of advertising and positively boost the economy of Nigeria, Loatsad Promomedia was birthed. Loatsad is licensed as an advertising firm that specializes in placing world-class billboards for its clientele. The company, which engages in both outdoor and digital advertising, emphasizes ambiance and beauty to maximize consumer engagement via targeted messages placed at the right spot and time.
With their hard work and innovations, Loatsad soon emerged as one of Nigeria's most prominent as well as its most sought-after advertising agencies. Today, it has several of Nigeria's leading multinational and blue-chip companies on its clientele list. Even though he was averse to riding on his father's wings to fame, Bola Ahmed Tinubu's influence and clout have continuously paved the way for Seyi in the advertising world and today, a lion's share of his income comes from that vast business empire.
Oluwaseyi is currently the substantial Chairman cum Chief Executive Officer of Loatsad Promomedia and has been steadfast in his work of developing tailor-made ad solutions for highly successful brands. He is equally the Executive Director of Loatsad Global Services LTD. Thanks to his commonsense approach and sound legal experience, Tinubu's son is listed as one of the most sought-after media practitioners in the country. Six years after Loatsad Promomedia was launched, it completed over 1000 advertising transactions which amount to billions in transaction value. The ad firm has since acquired other leading advertising companies like E-motion Advertising Ltd and is still going strong.
Noella Foundation
Oluseyi appears to be the most popular among Bola Tinubu's children. He is not only known as a self-made entrepreneur, but he also has the milk of human kindness running in his veins. In 2018, his zeal and passion for nation-building led the CEO of Loatsad to found Noella Foundation – the major focus of the outfit is improving Nigeria's economic situation through entrepreneurship, sustainable ideas, innovation, and action plans.
Noella Foundation became the umbrella body of STEP (Seyi Tinubu Empowerment Project) aimed at bettering Nigerians through job creation. STEP achieves this feat by offering support to new tech startups in the form of seed funding and skills development. STEP also provides new tech startups with networking opportunities and business mentorship, presenting them with the opportunity of accessing a community of like-minded pioneers within the tech space.
Teld NGO
Oluwaseyi Tinubu's volunteer experience led the young CEO into co-founding Teld NGO in June 2005. The NGO which was launched to provide the underprivileged children and youths with a better standard of living currently has Seyi as its executive member. To achieve its aim, Teld provides the youths and children with tuition fees, including other necessities for attending mentoring programs and boarding school.
Bola Tinubu Foundation
Even with his busy schedule at Loatsad Promomedia and Loatsad Global Services LTD, Seyi still finds the time to assist in his father's foundation – Bola Tinubu Foundation which was founded in 2012. The foundation's major aim is poverty alleviation, education, and training. The CEO of Loatsad currently functions as the foundation's coordinator, organizing and leading its outreach programs. A good instance is their 2013 program that saw the distribution of 3,000 bags of rice and vegetable oil.
Youth Musical Fiesta
Apart from helping out in his father's foundation, Seyi also extends a helping hand to his step-mum, Oluremi Tinubu. In June 2012, Oluremi started a program tagged as the Youth Musical Fiesta which focuses on conveying youths of various musical groups and churches together. The program, which holds annually, looks out for youths between ages seven and 18. Seyi is the fiesta's coordinator.
Seyi's Political Ambitions
Since he came of age, people have been expecting Seyi as one of Bola Tinubu's children to join the political train but for long, the UK bred lawyer was not seen anywhere near politics until recently. According to the records, he is the current emergency financial consultant to all Lagos State local governments and parastatals. Oluwaseyi's convoy they say rivals that of the sitting governor.
It would appear that Seyi has come into the Nigerian political realm to stay as rumors have already started flying around about his father's bid to make him the next governor of Lagos State come 2023. The same time that Bola Ahmed Tinubu is expected to become the number one citizen of Nigeria as he prepares to take over from President Muhammadu Buhari.
The News That Seyi is Next In Line to Become The Next Lagos State Governor Triggered A Lot of Controversies
The rumors that the Asiwaju of Lagos is preparing his son Seyi to take over the gubernatorial seat of Lagos sparked a lot of controversies from the opposition party, some aggrieved members of the APC, and Lagos State citizens.
This spate of speculations was spearheaded by a group known as the Free Lagos Movement which boldly came out to accuse the Jagaban of converting Lagos State into his personal cottage. Tinubu, according to them, achieved this by filling all the key positions with his relatives – his wife Oluremi Tinubu is a serving senator, Mrs. Lola Akande, his sister-in-law, is the Commissioner for Women Affair, his nephew, Hon. Sunkanmi, is a member of the Lagos State House and many other relatives in key positions in Lagos State.
Since these speculations have been making the rounds, no response has come from the Jagaban and Seyi Tinubu has not responded either, but come 2023, the true situation is sure to come out.
Seyi Was Ropped Into The Lekki Toll Gate Saga
Seyi was roped into the Lekki tollgate saga alongside his father Bola Tinubu during the #EndSARS riots of 2020 that took Lagos and the whole of Nigeria by storm. After it was perceived that the Jagaban was involved in the deployment of soldiers who claimed several lives at the Lekki Toll Gate, resentment started to grow against Tinubu in Lagos which led to his escape to London by private Jet.
The same resentment was extended to Seyi who upon perceiving his life to be in danger, had to disguise himself on the way to board the family's private jet for fear of being recognized by the angry mob on all major roads in Lagos. When Bola Tinubu and his family were nowhere to be found, the rioting crowd got really inflamed and resorted to burning all the family's properties in Lagos, including Television Continental Station and Oriental hotels.
Upon their return to Lagos after the riots died down, the Tinubu family was quick in denying their involvement in deploying the trigger-happy soldiers and to date, have not said much about the lives that were lost at the Lekki Toll Gate.
Seyi Has Been Married For Years
Most of Bola Tinubu's children have made the Lion of Bourdillon a grandfather several times over, including Oluwaseyi. The first surviving son of the former Lagos State governor got married in 2016 to Layal Holm Chinwe. The details of their wedding are not in the public arena but the couple's marriage is blessed with two children – a son, Tinubu Bolatito Ayyan Jidenna who was born during the peak of the COVID 19 Pandemic in London, and a daughter called Noella.
4. Zainab Abisola Tinubu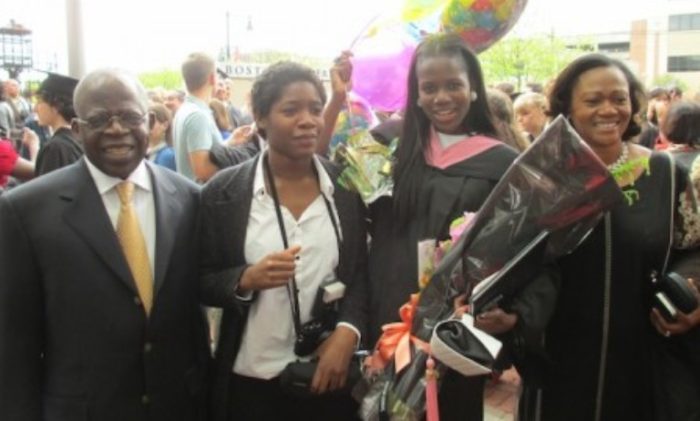 Full Name: Zainab Abisola Tinubu
Date of Birth: N/A
Nationality: Nigerian
Education: N/A
Mother: Oluremi Tinubu
Occupation: N/A
The details of Zainab Abisola Tinubu's life have never been mentioned in the public space but it is common knowledge that she is the first child born to the Ashiwaju of Lagos and his wife Senator Oluremi Tinubu. Obviously, the older three children of the APC chieftain came from his previous relationships.
5. Habibat Tinubu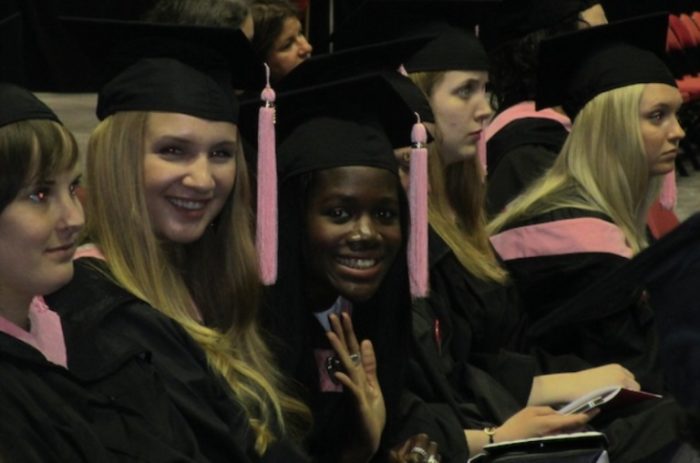 Full Name: Habibat Tinubu
Date of Birth: N/A
Nationality: Nigeria
Education: Berklee College of Music, Boston, Massachusetts
Mother: Oluremi Tinubu
The youngest daughter of Bola Tinubu is Habibat Tinubu. Just like her older sister, Zainab Abisola Tinubu, nothing much is known about Habibat. However, the youngest girl among Tinubu's children is already a graduate. She studied music at the Berklee College of Music, Boston, Massachusetts, graduating in 2013. The graduation ceremony which was held on the 11th of May was attended by both Oluremi Tinubu and the Lion of Bourdillon himself. Habibat's older sister, Zainab was also in attendance
6. Olayinka Tinubu
Full Name: Olayinka Tinubu
Date of Birth: N/A
Nationality: Nigeria
Education: N/A
Mother: Oluremi Tinubu
Olayinka Tinubu is the last child of Ashiwaju Bola Ahmed Tinubu and his wife Senator Oluremi Tinubu. From what is obvious, the senator is doing a very good job of shielding her children from the prying eyes of the public as practically nothing is known about any of them, most especially Olayinka.