Dumisani Dlamini (Born 23rd October 1963) is a legendary South African actor who has starred in and produced many well-known movies. The 59-year-old is best known for his role as Crocodile in the 1992 movie Sarafina.
Dlamini has been very active as an entertainer for over three decades. More recently, however, he gained all the public attention his acting career never gave him when his daughter Doja Cat rose to fame as a rapper in the US. While it seems he is finally well known, it also came with a good dose of drama, especially considering that their father-daughter relationship is far from what it should be.
Summary of Dumisani Dlamini's Biography
Full Name

: Dumisani Dlamini Tamil

Gender

: Male

Date of Birth

: 23rd October

1963
Dumisani Dlamini's Age

: 59 years old

Ethnicity

: Zulu

Nationality

: South African

Zodiac Sign

: Scorpio

Sexual Orientation

: Straight

Religion

: Christian

Marital Status

: Divorced

Dumisani Dlamini's Ex-Wife

: Elizabeth Deborah Sawyer

Children

: Doja Cat and 8 others 

Dumisani Dlamini's Height in Inches

:

5 feet 10 inches 

Height in Centimeters

: 178 cm 

Dumisani Dlamini's Weight

: 70 kg

Body Measurements in Inches:

40 inches, 30 inches, and 35 inches

Famous for

: Being Crocodile in Sarafina and being DoJa Cat's Father

Dumisani Dlamini's Instagram:

official_dumisanidlamini

Twitter: @DumisaniZA
Doja Cat's Father Dumisani Dlamini is a Zulu Man
Dumisani Dlamini Tamil was born on the 23rd of December 1963, in Durban, South Africa. He is of Zulu descent but lived out his early childhood days in Durban and also received his basic elementary and secondary school education school there. After high school, he got the opportunity to move to Los Angeles in the United States where he furthered his education. While there are no details as regards what he studied at the time, it is believed that he received training as an actor.
From what has been gathered about his early life, Dlamini did not have an easy time growing up. Besides the fact that it was the time of apartheid, his parents' marriage was also a very troubled one. He has not revealed much about those early days, but it is said that his mother was killed by his father even though there is no specific timeline about when this incident took place.
Dumisani Has Been Acting Since 1992
There is no specific timeline for when the veteran actor's career kicked off but his first known role was that of Crocodile in the 1992 musical drama Sarafina. The success of the movie, which received a standing ovation at the 1992 Cannes Film Festival, was a win for Dlamini. His role in the movie stood out in South Africa because it was relatable. He also got to work with Hollywood bigwig Whoopi Goldberg.
Dumisani Dlamini has since then remained very active in the South African entertainment scene in varying capacities. His next acting credit came in 2008 when he starred as Zorro in Entabeni. It is assumed that the hiatus he took between 1992 and 2008 was when he traveled to the US to further his studies and hone his acting skills. It was also speculated that he made several attempts at getting roles in the US but could not which ultimately led to his eventual return to South Africa where his skills were well sought after. 
In 2009, he starred as a merchant in The Seven of Daran: The Battle of Pareo Rock. He then appeared as a priest in the 2010 movie Project Morning Star. Next was a minor passerby role in the 2016 production 21th Street, and as Bra Sol in Love and Kwaito in 2017.
Dumisani Dlamini's Movie Appearance List
Sarafina – 1992
Entabeni – 2008
The Seven of Daran: The Battle of Pareo Rock – 2008
Project Morning Star – 2009
21th Street  – 2010
Love and Kwaito – 2016
iNumber Number – 2017
Dlamini Has Also Appeared in Several TV Series 
Besides making appearances in the movies listed above, the veteran actor has made his presence felt in the South African film industry by staring in some series that was well-loved by his audience. He starred in Mbodla and was present in six of the seven seasons it aired. His introduction in the second season of the series was well-loved by its audience which explains why he lasted till the seventh season.
Other television characters that Dumisani Dlamini has played are Chester in the second season of Yizo Yizo, Louis in 4Play: Sex Tips for Girls season one, Isibaya, and a whole lot more.
List of His Roles on TV
Entabeni
4Play: Sex Tips for Girls
Uzalo
EHostela
Muvhango
Mzansi
Yizo Yizo
Nomzamo
EKasi: Our Stories
Sokhulu and Partners
Usindiso
Zero Tolerance
Zone 14
Dlamini Has Produced Some Series
To make himself an even more prominent name, Dlamini took his career to a new height when he ventured into production. He has three major works to his name as a producer and they were well received. From 1992 when he started out as an actor till now, Dumisani Dlamini has been active for 30 years.
Works He Has Produced
Drum – 2004
Homecoming – 2004
Of Journey, Home, and Treasure – 2008
Doja Cat's Father Has a Strained Relationship With His Daughter
During his stay in the United States of America where he settled after the musical drama tour of Sarafina, Dumisani Dlamini had two kids with then-wife Elizabeth Sawyer, an American of Jewish descent. His daughter, Amala Ratna Zandile Dlamini, who now popularly goes by the nickname Doja Cat, is one of the two children the couple had.
When it came to light that Doja was related to Dumisani, many expected a lot but all that has since died down since it became apparent that the father and daughter were not getting along. In a chat with Whoopi Goldberg, who was her father's co-star in Sarafina, Doja Cat stated that she had never met Dumisani even though he is her father. Her comment hinted at the very strained relationship between them.
According to Dumisani, even though he had a family and kids in the US, he felt homesick after having been there for 15 years and decided to return back to South Africa to pursue his acting career which apparently was not doing so well at the time. He left his kids in the care of his wife Elizabeth because he had tried to go with them but could not because it involved a lengthy process that was not working.
Elizabeth took up the responsibility of the kids, and she raised them as a single mum which meant that Dumisani Dlamini became a stranger to them. This according to revelations both parties have made, is what we gathered to be the root of the bad blood between them.
The Father and Daughter Duo Have Differing Opinions
Speaking about the efforts he made at smoothing things over between himself and his estranged daughter, Dlamini said he has been trying to get her attention by commenting on her Instagram posts. He also promotes her songs and tells anyone who cares to listen how proud he is of her.
Doja Cat, on her own part, claims that before she became this famous and popular, she had made several attempts to meet with her father Dumisani Dlamini. She insists that even when he came for a tour in the USA, they only met briefly and he was off again because he was very busy at the time. Now that she is more popular, she finds it weird how a man she has barely met or knows comments consistently on her page.
After her comments to Whoopi Goldberg went viral, Dumisani Dlamini denied the claims and said she cooked it up for clout. He insists he has a good relationship with his daughter which has only been hampered by her management team who keep trying to block him from seeing her for the fear of losing her.
After his response to Doja Cat's claims which he said were exaggerated, Dumisani Dlamini and his daughter have reached out to each other via their social media platforms. Stating this in an interview, Doja Cat clarified that she is very much open to meeting up with him physically and exploring a better father-daughter relationship.
Why Did Dumisani Leave Doja Cat's Mother?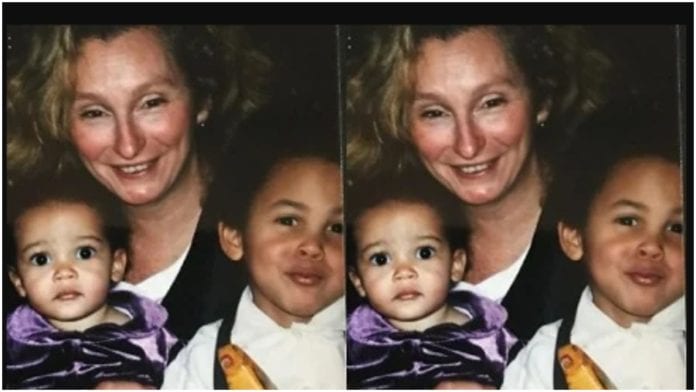 Dumisani has never given clear details of how he met and married Deborah Elizabeth Sawyer beyond the known fact that they met when he went on the Sarafina tour. Sawyer was born in 1967 and is only four years younger than Dlamini. She is a painter by profession.
Neither Elizabeth Sawyer nor Dumisani Dlamini has clearly stated the reason why they went their separate ways. However, going by his admissions of being homesick while in the US, it is assumed everything came to an end when he left. Before then, however, they had apparently been having some issues that led to a separation after being together for about 15 years.
While the separation in itself did not end the union, his return to South Africa on the claims of being homesick put the final nail in the coffin of the marriage. Their marriage was subsequently dissolved at a Registry in the US. Despite the fact that their separation was very much consented to by both parties, it is apparent that Elizabeth Sawyer shouldered the responsibility of raising both of their kids alone without much help from Dlamini even though he seemed to be doing well after he went home to South Africa.
Did Dumisani Dlamini Remarry After Leaving DoJa Cat's Mother?
Dumisani Dlamini is a very private person and as such does not often talk about his personal life or even share details on social media. This, notwithstanding, there have been a few speculations about what he is up to. To his credit, he has neither denied nor accepted any allegation of romantic involvement and the number of kids he has had apart from the ones he has with ex-wife Elizabeth Sawyer.
The actor has not remarried since the dissolution of his marriage from Deborah Elizabeth Sawyer. Regardless, let's walk through his relationships. Dumisani has been connected to different ladies at different times, some of who he had made failed attempts at marrying.
First on the list is an accountant who goes by the name of Nhlengethwa. They two were said to have dated for a few years and he went as far as going to see her parents to begin the marriage rites. However, things went south when he was unable to meet the demands from her family because according to him, they were outrageous and exorbitant. That ended things between them and he moved on.
Soon after, he started dating Nandi Ndlovu who he had intentions of marrying. Again, his plans failed because singer and music writer Lebo M beat him to it when he married Ndlovu. To date, the actor is still single and has not made any other declarations about his intention to marry.
He Has Allegedly Fathered Seven Children Since His Return to South Africa
Beyond the allegation that Dumisani Dlamini has been in several relationships is the speculation that he has seven other children outside those he had with Elizabeth Sawyer. This still remains speculation because there are no details regarding who these women are that he had the said children with. In his typical fashion, he has remained quiet and chosen not to confirm or deny the rumors.
To his credit, however, there has been no drama with any woman claiming to be his baby mama or anybody openly claiming him as their father. So for now it all remains a rumor.
Where Is Dumisani Dlamini Now?
Currently, the veteran actor is still doing his thing in the entertainment scene as an actor and a producer with Isibaya being his most recent top-most-watched show on Mzansi magic. Beyond acting, however, some of the other ways he has stayed relevant are with gigs for celebrity guest appearances, being a TV host, and hosting other events.
On his Instagram handle @official_dumisanidlamini, you'll often see him posting fliers to events he will attend or host and inviting the public to join him there. It can be anything from a club night to a yard sale. No doubt Dumisani Dlamini is still living his best life while working out his relationship with his daughter Doja Cat.