Thobeka Majozi (born October 2, 1992) is a social media influencer, event planner, and hotelier better known as the girlfriend and baby mama of rapper Cassper Nyovest. Since she emerged as the famous musician's love interest, 31-year-old Thobeka Majozi has garnered much media attention.
Thobeka, who was also born and bred in Mahikeng, North-West Province, South Africa, like the rapper, is an alum of the Durban University of Technology in KwaZulu-Natal. She followed in her mother's footsteps in the hospitality business before establishing herself as a social media star.
No one knows exactly when her relationship with the famous rapper and songwriter started. However, a confirmation of their relationship came from Nyovest himself after he shared a picture of a pregnant Thobeka on her birthday in 2020 with him on bended knees wishing her a happy birthday. The duo has since enlarged their small circle with the birth of their son, Khotso Izwe Simba Phoolo, who arrived the same year.
Profile Summary Of Thobeka Majozi
Full Name: Thobeka Majozi
Date of Birth: October 2, 1992
Age: 31
Nationality: South African
Education: Durban University of Technology KwaZulu-Natal
Parents: Ntombimpela Majozi
Height: 5 feet 3 inches
Occupation: Social media influencer, event planner, hotelier
Years Active: 2015 to date
Net Worth: $1 to $5 million
Thobeka Majozi Was Born In The North-West Province Of South Africa
Thobeka Majozi's date of birth reads the 2nd of October 1992; the 31 year-old SA lady was born in Mahikeng which is the headquarters of the North-West Province South Africa. She spent the better part of her growing-up years in the place of her birth. It has been revealed that Thobeka comes from an affluent family background that didn't have to struggle to put food on the table as her mum has been identified as Ntombimpela Majozi who owns and runs Nto's Catering.
Ntombimpela Majozi is a shrewd businesswoman with diversified interests. Apart from Nto's Catering which is a thriving business, the mother of two is neck-deep into hotel management. She is excellent in event planning with interests in a few other businesses. Thobeka looks a lot like her mum who still appears to be very young at her age. In fact, looking at both of them, one would be forgiven for thinking they are sisters rather than mother and daughter. Even the social media star agrees that Nto is a beauty queen.
Thobeka's father, on the other hand, is simply referred to as Mr. Majozi and is not in the public eye, but reports claim he is somewhat reserved and loves to stay well away from the prying eye of the public. Far from being the only child of her parents, Thobeka Majozi shared her childhood with a sister who is younger than her by a few years. However, her name has never been mentioned in the public space. Reports also have it that the Majozi family shares a close bond.
The Social Media Star Is An Alum Of Durban University of Technology
Though the details of her basic academic qualifications are not in the public arena, reports claim Thobeka must have completed both primary and secondary school in her place of birth, Mahikeng. Upon the completion of her secondary education, she proceeded to the Durban University of Technology in KwaZulu-Natal for further studies. Her course of study at DUT has never been mentioned but Thobeka graduated in March 2016.
From what is perceivable, Thobeka Majozi appears to be passionate about education as she did not rest on her laurels with just a first degree. The social media sensation soon went in search of further academic qualifications by registering for some post-graduate courses to complement her first degree from DUT.
Thobeka Majozi is a Social Media Influencer Among Other Things
Thobeka Majozi obviously joined her mum in the hospitality business, thus, she is credited as a hotelier and an event planner but that is not her only profession. The savvy star is also known as a social media influencer with the verified Instagram account @bexxdoesitbetter.
From what is obvious, Thobeka only established a presence on the picture-sharing platform as she is nowhere to be found on both Facebook and Twitter. The lady's first IG image on her official handle went live on the 15th of March 2015 when she was photographed at Cape Town's Seelan Bistro and Bar.
Today, Thobeka is listed among the richest internet stars in South Africa as her following keeps growing in leaps and bounds. As of September 2021, the number of fans on her official handle came up to 249,000. For reasons best known to her, the Instagram star deleted all the previous posts on her page, leaving only a shot of her baby's ultrasound shared on the 22nd of June 2020. She coined the caption of the post from a famous line in the legendary cartoon, The Lion King said by Mufasa to Simba; the post earned comments in hundreds and over 55,000 likes. she would henceforth post only images of herself and back views of her child.
We must also acknowledge the fact that Thobeka Majozi is a fashionista. The influencer has a taste for expensive brands and her Insta Stories is a testament to this. She has been spotted donned out in A-list brands like Gucci and Louis Vuitton.
Majozi and Cassper Allegedly Became an Item After His Fallout With Lizelle Tabane in 2017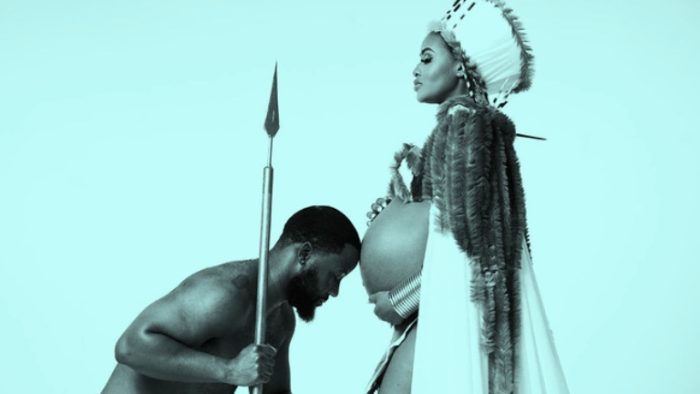 Cassper Nyovest is one South African artist whose past experience with women has been well reported. However, of late, the renowned rapper started shrouding his romantic entanglements in secrecy leaving the job of connecting the missing dots to fans and the general public. Thus, it has not been easy to ascertain when he started dating Thobeka Majozi. But going by the reports put out by sources close to him, the duo started dating after the breakup of Cassper's last relationship with Lizelle Tabane which occurred sometime in 2017.
People began spotting the duo together around 2018 and by 2019; Cassper was found to be constantly leaving comments on Thobeka's IG pictures. This triggered speculations that the duo has become an item. Soon people started following posts on both their social media accounts and by putting two and two together, it was revealed that the rapper took his lady love away on what was tagged a special birthday.
Everything finally came to light on October 2nd, 2020 when the South African rapper shared a shot of a pregnant Thobeka with him on bended knees while wishing the internet star a happy birthday. When he was asked why he chose to shroud his current relationship in secrecy, Thobeka Majozi's baby daddy said ladies appreciate a man that is averse to flaunting his private life in the public arena.
Thobeka Majozi and Cassper Nyovest Are Parents To A Son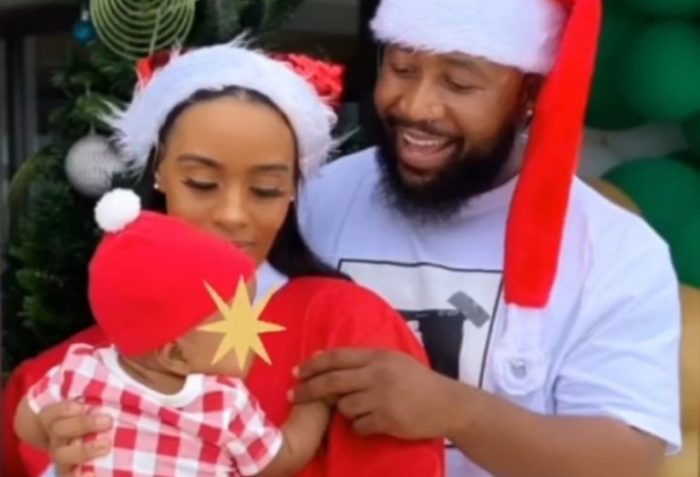 Before Nyovest even revealed the identity of the woman in his life on the 2nd of October 2020, the South African rapper already started giving out feelers that he would soon become a father. Five months earlier in June 2020, he posted a shot of his unborn baby's ultrasound, giving the baby credit as the inspiration behind his latest album entitled Any Minute Now. Barely a month after he unveiled Thobeka Majozi as the mother of his child, the celebrity couple welcomed a beautiful baby boy on the 13th of September 2020.
Earlier on that fateful day, Cassper already shared a shot of himself in scrubs, waiting and ready to welcome their bundle of joy named Khotso Izwe Simba Phoolo to the world. Cassper and Thobeka had earlier hosted a Simba-themed baby shower at Nto's Boutique Hotel located in La Lucia. After the birth of Khotso, reports started making the rounds that the couple had a set of twins (a boy and a girl). However, it all turned out to be mere speculations.
The Celeb Duo Have Been The Subject Of Several Discussions About Marriage
Since their relationship came to public notice, there has been a lot of talk about Cassper and Thobeka Majozi especially regarding their future plans and marriage. This notwithstanding, a lot of things about the couple have remained tucked away in the clouds of speculation. A good instance was when rumors ran rife that the South African rapper had paid lobola on Theobeka's head. While there is no real proof to back the rumors, Cassper had earlier in 2019, expressed his reservations about going into a marriage. But from what is obvious, fatherhood seemed to have changed his point of view as the rapper has let on that he is now open to the institution of marriage, children, and having a family.
Even without the security of a wedding ring, Thobeka Majozi is certainly having the time of her life bonding with her son and baby daddy. Cassper on his part seems to be a caring partner who doesn't miss an opportunity to make the mother of his son feel special. On her very first mother's day, Nyovest took to social media to shower commendations on Thobeka for the love and dedication she lavishes on their son.
Going further, he gushed over the way she has dedicated quality time to raising their king. On a final note, Cassper said he has nothing but respect for Thobeka professing his undying love for the mother of his child.
Even though she hardly shares bits about their relationship on social media, Thobeka has made it clear she is already taken and has gushed about Cassper being a great dad. Recently, we saw a gif of the social media star with the title "wonder who's luckier between Refiloe or Khotso"? in response, a smote Cassper wrote, "Definitely me, ha ke tlo go utlwa ka daai laatie mo lefatseng!"
Cassper Nyovest Opened Up About His Journey With Thobeka Majozi on YFM
It was on the set of Banques And Venom show on YFM that the South African rapper gave voice to his deepest feelings for the mother of his child. For the first time since the news of their dalliance hit the airwaves, the SA artist came out in the open to gush about the love and respect he has for Thobeka Majozi. According to Nyovest, he is so lucky to be blessed with Thaobeka whom he called "such a real one", all the bullsh*t of the entertainment industry notwithstanding.
Going further, the rapper narrated how his family had to get accustomed to some of the sh*t just for his sake, his lifestyle, and what he does for a living which has brought a lot of public interest into his new family. Cassper also acknowledged the fact that people "don't like to see people happy"
The rapper added that even though his baby mama has assumed the role of a full-time parent, he is happy she doesn't expect the same from him. Describing their relationship as something that people don't know and don't understand, the South African rapper said because they don't post much about their life together, no one knows much about them, they just see when the going is good. Thobeka Majozi's baby daddy agreed that they are not perfect but they are good and strong. Majozi he said, was able to earn his respect because the mother of one goes through a lot for his sake. From the looks of things, the celeb duo looks like they are going to make it far into the future, but only time will tell.
Cassper Is not the Only Prominent South African Thobeka Has Dated
In recent times, Thobeka Majozi's life has been revolving around Cassper Nyovest, but it must be acknowledged that he is not the only famous man she has dated. The social media influencer is one South African woman that has recorded quite a few high-profile relationships with some of the top celebs that SA has to offer. Although she made a conscious effort to lock up her past, the facts were soon laid bare.
Cassper Nyovest's immediate predecessor is another South African rapper who performs under the moniker, Maggz. Prior to that, the mother of one was romantically linked to the defender of the Kaiser Chiefs Football Club, Siyanda Zulu. It is worthy of note that all her previous relationships were conducted discretely but with a musician of Cassper's caliber, the facts couldn't be shrouded in secrecy for long.