Rob McElhenney has a net worth estimated at around $50 million. He is an American actor, producer, writer, businessman, and podcaster.
The actor, who gained huge fame following his role as Mac on the hit FX sitcom series, It's Always Sunny in Philadelphia, first ventured into showbiz in 1997. A career that began with acting soon branched out into various streams that have given him the various hats he wears today and the huge net worth he has.
What is Rob Mcelhenney's Net Worth?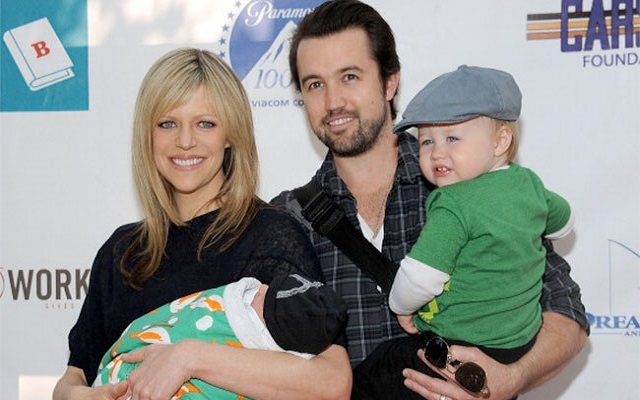 As of 2019, sources put Rob McElhenney's net worth at $50 million. As one would expect, much of that came from his career as an actor, director, and producer, including the several businesses he co-owns with his wife, Kaitlin Olson. One of which is Skinner's bar at 226 Market Street in Philadelphia. It has since been renamed Mac's Tavern.
The couple lived in a brand new 4-bedroom gated home in Sherman Oaks, California, reported to be worth $2.1 million. They later sold the home for $2.5 million in November 2018.
List of His Income Sources
Acting Career
Production
Writer
Businessman
Podcaster
Rob McElhenney Net Worth Growth
| | |
| --- | --- |
| Net Worth in 2023 | $50 Million |
| Net Worth in 2022 | $45 Million |
| Net Worth in 2021 | $42 Million |
| Net Worth in 2020 | $41 Million |
| Net Worth in 2019 | $37 Million |
| Net Worth in 2018 | $34 Million |
Why Is Rob Mcelhenney Famous?

To get a full picture of the origins of his fame, let's give you some heads up about his professional history. How he started and why he grew to be the guy we know today. Career-wise, McElhenney started in 1997 when he was cast in The Devil's Own.
In the years that followed, he made brief appearances in A Civil Action (1998), Wonder Boys (2000), Thirteen Conversations About One Thing (2001), Latter Days (2003) and The Tollbooth (2004). Although McElhenney's performances on these projects were commendable, it hardly won him any major recognition.
His journey into the spotlight began when he took the initiative to write his comedy show; a project he later titled It's Always Sunny in Philadelphia. It was 2004, two years since his relocation from New York City to Los Angeles. At the time, McElhenney was moonlighting as a waiter for an LA-based restaurant while he took up acting gigs as they came.
Earlier that year, he had spoken about his idea to Glenn Howerton whom he met through his agent. On a budget of barely $200, McElhenney shot his video pitch for a sitcom that would star him, Glenn Howerton and Charlie Day, and sent it to several cable networks.
As the offers poured in from many TV stations, McElhenney was careful to go where his creativity would not be stifled. And so he signed up with FX. At FX, McElhenney was the showrunner for It's Always Sunny in Philadelphia while Howerton and Day became executive producers.
As the groundworks for the show continued, McElhenney took up a role in the third season of Lost, in the episode Not in Portland. He also reappeared in the sixth season of the series. In 2017, McElhenney guest-appeared in the much-applauded episode The Law of Non-Contradiction of the series Fargo. Most of those who saw his performance could tell McElhenny was good; not only on his show It's Always Sunny in Philadelphia.
It's Always Sunny in Philadelphia Was One of His Popular Works
Although he's taken up leading, minor and cameo roles on several TV series and films, Rob McElhenney is doubtlessly famous for his role in the FXX sitcom, It's Always Sunny in Philadelphia. Since it premiered on FX on August 4, 2005, and was shifted to FXX at the start of its ninth season in 2013, the show has run for fourteen seasons and 150 episodes.
More than being a widely-followed series, IASP also holds a place in American TV history. The series made history on April 1, 2016, when it was renewed for a thirteenth and fourteenth season. By that margin, it tallied with the hit series The Adventures of Ozzie and Harriet; as the longest-running live-action sitcom in American TV history. The fourteenth season kicked off on September 25, 2019.