Since the advent of the internet, the world has witnessed a great change, particularly in the area of human social life, such as making new friends, dating, and building better relationships and love affairs. These days, there are many dating apps that allow singles to mingle for dating, and find better love partners for lasting and promising relationships in South Africa and anywhere around the globe. Here we've got some of the best dating apps in South Africa to hook up with singles and find better relationships.
Free Dating Apps in South Africa
Free dating apps both in and outside of South Africa are one of the most popular categories of dating apps. The reason for their popularity stems from the fact that any mature person can use them without having to pay a sign-up fee which is what mainly distinguishes them from paid dating apps. The best free dating apps you can use in South Africa are listed below;
1. AfroIntroductions
Sign up Fee: Free
Usage Rank: Over 4.5 million users
Features: Notifications, instant messaging, video chat,
AfroIntroductions is a big fish when it comes to the popularity of dating apps in South Africa. It is undoubtedly one of the most credible and recommended dating apps among South Africans in connecting single African globally. It is without a doubt one of the widest used African dating apps, with over 4.5 million active members. With the dating app's simple mechanism of operation and wide connection coverage, you are sure to find your perfect match, whether you are looking for South African love locally or internationally.
Afrointroductions mobile app gives you the opportunity to create a new account in no time without any sign-up fee, and start your journey of love search immediately. With a simple and straightforward registration procedure, and the provision of basic information like name, age, gender, and the characteristics of your type of match, you are good to go in exploring the app and making your choice.
The app doesn't consume much storage space and the interface is so smooth and easy to navigate for an amazing user experience. It is available for download on Google Playstore for android phone and tablet users and also the iOS store for Apple users. Upon installation of the app, the Afrointroductions app enables you to carry out a lot more.
What You Can Do on the AfroIntroductions App
Sign up or log into your Afrointroductions app at anytime
Upload beautiful photos of yourself
Create, update and edit your profile instantly
Search from the app's database for African singles for dating and hookups
Reach out to your search result by communicating through the app's advanced messaging features.
Get instant notifications from the app
Step up your game by upgrading your membership
The app's effectiveness in making perfect matches for reliable and lasting relationships is embedded in its features like match preferences such as body type, zodiac sign, height, distance, smoker or non-smoker, and many more, during the search. With the app's three different membership levels (standard, gold, and platinum), additional features and advantages are unlocked on the app for a better and more effective way of finding a perfect match.
2. Bumble
Bumble is one of the most popular dating apps in South Africa, and it has got lots of positive reviews and ratings by users in being an effective dating app. This app has proven to be one of the fastest-growing dating apps launched in recent times. It is still very young but has grown its downloads on the Google Playstore to over 10 million – this alone is proof of the fact that the app is highly effective in bringing singles together for successful matchmaking and lasting relationships.
Bumble app is downloadable on the Google Playstore and iOS. The app has an amazing and clean interface that enables easy navigation for an excellent user experience. Signing up on the app is free, and its features (both free and paid), coupled with the positive reviews and testimonies from its users, have brought about new singles signing up on a daily basis.
As earlier mentioned, the Bumble app's amazing features are part of its success secrets, and the app is loaded with lots of features for you to choose from in tailoring your search criteria and choice.
Some of These Features Include the Following;
Meeting people, making video calls, and discovering an excellent date, or chatting with new friends on the free dating app
Unlimited chats to find the right match
Unlimited Swipe: By swiping left and right as much as you can and as much as you like, you will meet as many people as you want.
You get to know more about your matches by engaging them in video chats.
Link your Instagram and Spotify accounts to share your interest with your potential friends and dates.
Send your videos and pictures across while you're chatting
Hide your profile anytime you feel like with snooze mode (All your matches will still be intact)
Bumble Premium Features

Get to see everyone that swiped you right
Get your matches extended by 24 hours
Get rematched with discontinued connections to have a second date opportunity
3. Badoo
Sign up Fee: Free
Usage Rank: Over 100 million users
Features: Internal messaging tool, people nearby search, video chat, verified profile
Badoo dating app has been around for over many years now and has undoubtedly built a large community of singles looking for new and genuine love not only in South Africa but the world over. The app currently has over 100 million downloads on Google Playstore, it has proven to be an effective dating app to its users over the years in hooking them up with a perfect match for dating.
It has an easy-to-navigate interface due to its well-laid-out menu buttons, and because of this, the user experience is great. The app boasts a huge download on Android and iOS and a large number of positive reviews and ratings from the users. Ultimately, it is also very popular in South Africa as one of the best dating apps of choice to many people.
Badoo app gives its users the flexibility of choice and preference to narrow down their search criteria to what is specifically needed. Apart from this, the Badoo app also has rich features for its members to have a smooth experience and establish better connections and good relationships.
Unique Features of the Badoo App
Encounters: Straight forward swiping
Verified profiles: One can choose to only communicate or interact with other verified profiles and make friends
People Nearby: Meet honest singles around you and start instant dating
Video Chat: You can keep having fun by connecting directly with your matches via a face to face video calling.
Clips: You can even express your personality by answering fun and easy questions in a recording format.
You can get more matches by getting huge attention from everyone on the app via some separate tools and features:
You can multiply match opportunities by appearing more when users are swiping.
You can move to the TOP and get noticed by more people around you.
You can triple your popularity by getting all the PRO dating features available and save credits.
Badoo Premium Features
If you intend to take your love search to a greater level, then the premium package can be activated. With this, you will have endless access to all the unique and thrilling features that will aid in getting the best out of the dating app:
You can see who like your profile
You can meet new singles before anyone else does
You can find out who included you in their favorites and meet singles around you
You can get your messages to be read first, by this you are 7 times more likely to get a reply and start dating early.
You can check out others' profiles without revealing your identity by going invisible.
4. Evermatch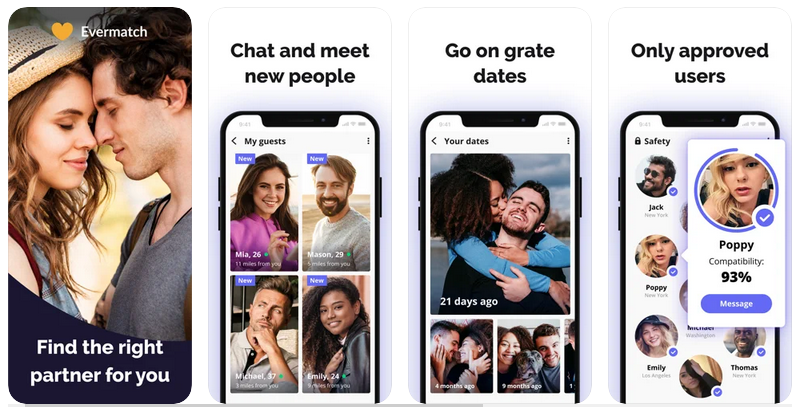 Sign up Fee: Free
Usage Rank: Over 10 million users
Features: Special portraits designed for users
Evermatch is one of the newest free dating apps that was released to the market in 2019 and has since then been doing fine in matching singles for dating. Since its launch, the app has got over 10 million users and its download on various mobile app stores keeps growing on a daily basis as more users, especially South Africans, flock to join the growing community of Evermatch users.
The app has got a lot to offer and there is a good chance of having a perfect match in no time as a result of the app's features and its large membership that guarantee matches at the end of the search. With a detailed profile fully set up, the app's search algorithm will do the perfect job of deep search and selection based on your profile and preference and then deliver the right, perfect and exact match that fits your criteria.
Evermatch has got a fine interface for an excellent user experience and it is one of those few dating apps that don't end up consuming a lot of space on the phone. It is available on both the Playstore and iOS and the download links have been provided above.
What Makes Evermatch Special?
Only genuine profiles with a sophisticated, individualized approach in assigning the perfect match.
Detailed information about every member to aid in creating a strong relationship.
Chat only with those who are a perfect match for you.
Exact portraits are generated for every member.
5. OKCupid
Sign up Fee: Free
Usage Rank: Over 1.79 million users
Features: Instant messaging, chats, photo sharing
OkCupid is another popular dating app in South Africa. The app has been around since 2010 and has since then been active and gaining daily membership. The app currently has over 10 million downloads on Google and iOS combined and has got good ratings from its users ever since it launched. But, it is more than a dating app, it helps you meet new singles, connect, chat or engage in deep conversation through the app's superb messaging system.
The app boasts a fine interface, and the ease of navigation within the app is top-notch. The app has unique features to enable you to meet your ideal date in South Africa no matter what your preferences may be. Even when you are not interested in long-term dating, you can still find singles and potential dates who have the same relationship interest as you do.
6. Tinder
Sign up Fee: Free
Usage Rank: #2 in lifestyle, over 100 million downloads
Features: Chat, Swipe right and left, Super likes, Passport, Rewind
Tinder is one of the most famous and populous apps for South African singles seeking to find true and genuine love online that will result in a lasting relationship. It is a place to meet new people, get your social network broadened, meet locals when traveling, or live in the now, just name it.
The app has proven to be highly effective in match-making singles around South Africa for dating and serious relationships. It has also been highly rated by its users and has gathered lots of positive reviews and testimonies over the years.
Tinder was released on September 12, 2012, on iOS and on July 15, 2013, on Android. Since then, it has been growing its membership database. The app has got over 100 million downloads and still counting. As a free dating app of choice in South Africa, Tinder has got many numerous unique features that set it apart from other alternatives.
Unique Features of Tinder
Tinder app has a detailed internal communication feature that makes chatting on the app easier and ensures a successful match for you.

Swipe right and left – This incredible feature lets you swipe to the right to like someone and swipe left to pass.
Tinder Premium Features
Upgrading to Tinder plus will give you access to premium features like unlimited likes
One free boost per month to be on top of profiles in your area for 30 minutes
Super likes – lets you stand out from the crowd
Passport – This feature is to allow you to chat with singles anywhere around the globe
Rewind – The feature lets you give someone a second chance
7. Tagged
Sign up Fee: Free
Usage Rank: Over 10 million users
Features: Chats, Games, Live streams
Tagged is one of the dating apps that has been around for a while now. It was launched in January 2011 and has since then been growing its membership and number of daily downloads on Google Playstore and Apple Appstore. The app currently has over 10 million downloads on the Google Playstore, and it is one of the top dating apps in South Africa where singles can link up with new people, make friends, play games, hook up with perfect matches for dating, and many more.
With the free app, you will surely find that perfect match for you, no matter how stringent your preference and choice may be. The app has some great elements and tools that make your search for a perfect love match simple and stress-free, check out some of the tools;
Unique Features of Tagged
Watch live streams or start your own live streams
Strong algorithm to link you up with people that match your preference and profile
Compete in games.
Quick connections to meet up with ladies and guys in your area.
Chat with new friends using the app's in-built instant messaging system.
8. Meet4U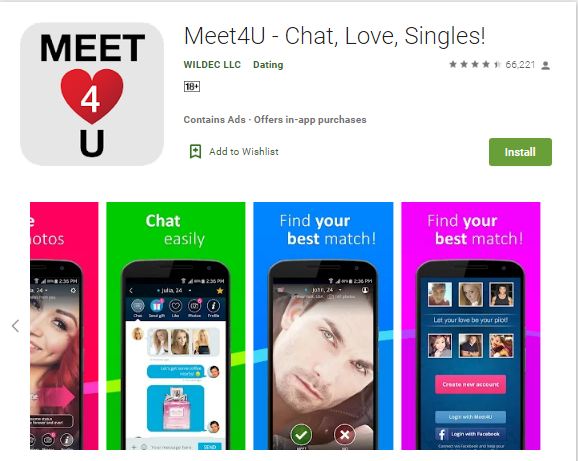 Sign up Fee: Free
Usage Rank: Over 5 million downloads
Features:
Download: Android
Meet4U is another dating app to try out as a South African seeking to find a date with a new individual online. This app is popular and has good credibility. It also has good reviews by the users. The app's downloads on the Google Playstore keeps growing by the day since its release in May 2015, and it currently has over 5 million downloads on the Google play store. The App is perfectly suited for youngsters who are single and seeking a perfect match, friends, and new love that will last.
The app is free, fast, and convenient to use with an interface that provides easy access to navigate through it in no time and without stress. The does not consume much space on any device it.
Notable Unique Features
Enjoy playing a simple game encounter
Chat and meet with new individuals nearby for free
You can send emojis, photos, videos, and voice messages to those you're interested in.
Fast and convenient messaging for sending out your text messages freely to lonely men and women
Check out and see the last time your match visited the app
Check out and see who peeped into your profile, who likes you, and who included you to favorite list
Check out when your message was read
9. XDate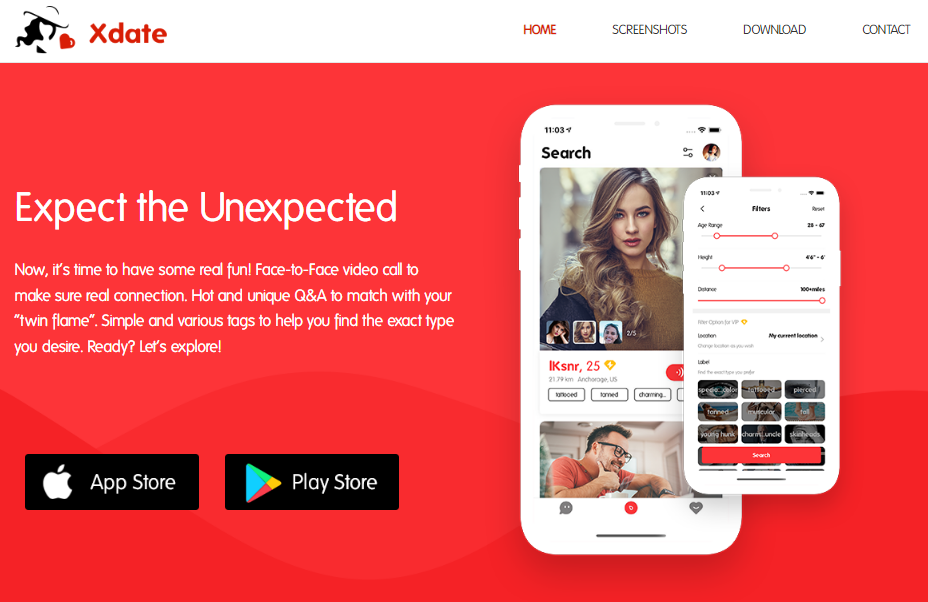 Sign up Fee: Free
Usage Rank: Over 100k downloads
Features: Video chat, no ads,
Xdate is a new dating app that was released on August 13, 2021. But as new as it is, its effectiveness in match-making and fixing singles up for a date is fantastic and incredible. Though its popularity is still low compared to some other dating apps that have been around for many years now, its positive ratings and reviews from its users are really outstanding.
The ideology behind the app's establishment is a little different from other dating apps, as it concentrates on quick hookups, which means the established connections can be of any kind. Hookup finder takes a small portion of the phone's storage capacity and has a satisfactory interface that enhances ease of navigation around the app for a pleasant user experience.
The Dating & Hookup Finder App for Adult Friend: Xdate is built with a complex algorithm to enable users of the app to find their match easily by selecting tags that best describe their ideal date. This feature is also consolidated with a question and answer addition that will enable a user to finally narrow down to the best possible match. The app boasts great features for finding that perfect match and even advanced features which comes with a price for an incredible user experience.
Dating & Hookup Finder App for Adult Friend: Xdate Premium Features
Online date
Hookup online in Cam chat
Free chats with anonymous and strangers
Meet new platonic friends online or in real life
Chat with Instant messaging system
Christian Dating Apps in South Africa
When it comes to dating apps in South Africa, Christian dating apps are usually very few to find, though some of the normal dating apps have features to enable religious-minded persons to find an ideal match. However, when it comes to a dating app built wholly for people of faith, very few apps are devoted to this. Below are the best Christian dating apps that comes highly recommended in South Africa.
10. CROSSPATHS
Sign up Fee: Free
Usage Rank: Over 100k downloads
Features: Explore tab, Passport, Read receipt in chats, Optimize your photos, Swipe note, Super swipe
CROSSPATHS is an amazing Christian dating app that's unique in its own form, in that it carved out its own niche and targets Christian singles not only in South Africa but other regions of the world for matchmaking and dating. The app is created with robust technology that can enable users to assess thousands of other user profiles in its database and provide the best matches.
Since its release, the app has had over 100 thousand downloads on Android and iOS app stores with positive reviews bearing testament to how useful the app has been to Christian desirous of finding dates of the same faith. All these were made possible as a result of the unique features the app was built around. And aside from the basic features it offers, CROSSPATHS has some excellent features that will make you stick to the app all day long, enjoying the beautiful stuff it's got to offer.
Basic / Free Features on CROSSPATHS
Filter based on Christian values and beliefs, location, age, and many more.
Most Eligible tab – Use the "most eligible tab" to experience new and thrilling ways to discover Christian matches which gives a list of the most popular profiles on CROSSPATHS.
Explore tab –  use explore tab to browse profiles outside your search preferences, you never know who you will meet that will be your perfect match.
The CROSSPATHS Premium Features
Passport – You can swipe anywhere around the globe by changing your location to increase your Christian matches
Read receipts in chats – to check out if your messages have been received and read
Optimize your photo – To test which of your photos is getting the most matches for you and select the best one for true Christian love
Boost my profile – Stand out your profile from the ground with this feature and be seen more often
Swipe Note – Use this feature to  send a personalized note along with your picture to start a conversation
Super Swipe – Use this feature to send a strong note to that special someone to let them know that you super like them.
11. Your Christian Date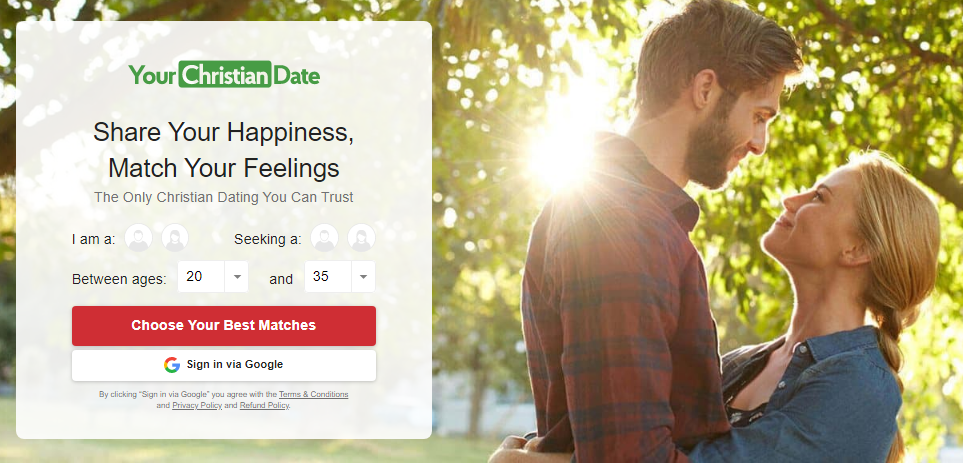 Sign up Fee: Free
Usage Rank: Over 500k downloads
Features: Personalized search, Verified profiles, Notifications
Download: Android
This app is an exclusive online community built for singles looking for a perfect date within the Christian faith. It provides an avenue for Christian singles to find a serious and long-lasting relationship based on shared beliefs and values using a wide spectrum of communication features. With this app, you can easily scan through the membership database to discover who has just joined and read about them. Once members are interested in each other, they can launch communication by using the direct message system and live chat.
Yourchristiandate app has grown its membership since its release in 2017 and has got over a teeming number of active users already. It has a nice interface and easy navigation instructions to get any new user familiar with the app quickly. The app is also integrated with the Google profile, so if you already have a Google account, you can easily register on the app or its website with your Gmail account without having to feel in the registration form.
Features of Your Christian Date
Personalized Search – You can get introduced to other users based on your choices or preferences using this feature.
Instant chats and offline messages – You can make use of this feature to talk in real-time and stay in touch at all times.
Verified Profiles – This feature is a 24/7 customer support check that verifies all members, so you can make use of it to personally verify members
Receive notifications if any member looked at your profile or like you
Discover that perfect match for you in a couple of clicks.
Afrikaans Dating App
For South Africans who might be uninterested in finding a date in the conventional dating apps or even a religious-minded dating app, but will instead prefer to meet a date they have a strong cultural affinity with, Afrikaans dating is the direction they should be looking and we have picked the very best app here.
12. Koer
Sign up Fee: Free
Usage Rank: Over 50k downloads
Features: Chat, Unlimited photo uploads
Koer is a popular Afrikaans dating app for all speakers of Afrikaans and indeed people from all over the world that admire the culture. It allows users the opportunity to have direct access to a large pool of singles (that are potential matches) in their native language. The dating app is one of the apps developed for Afrikaans, and it is a platform that gives you full control in dictating your preferences and tailoring your search in the right direction to find the perfect match.
Koer app was released on June 10, 2020, and was designed with more than the peculiarities of the Afrikaans culture in mind. Koer has an expressive interface for ease of navigation so that even a first-time user will not be at loss on joining the platform. Since its release, the app has been growing in membership and gaining the needed attention among South African users due to its many rich features.
Being a dating app specifically designed for South Africans with a particular cultural and language preference, it should be noted that people who are not too conversant with Afrikaans might struggle using the app. However, this does not mean that the app outrightly discriminates against non-Afrikaans, it instead tries to promote the Afrikaans culture and language in ways that other dating apps in South Africa overlook.
Unique Features of Koer Afrikaans Dating App
Easy means of registration via email, Apple ID, or Facebook.
Writing a short bio and uploading a profile picture is all you need to get a profile running.
Ability to upload an unlimited amount of photos.
Choosing your interest by easy click of options that best describe you. This saves you the stress of writing long stories about yourself.
Is It Possible to Find True Love Online in South Africa?
This is no doubt a question that will roll in the mind of anyone new to online dating platforms, and the basic answer is YES. For many reasons, online dating has become so popular among singles all over the world, as it has created better opportunities to meet with new people from different walks of life for casual dates, and has proven its effectiveness in finding real love for healthy relationships.
Meeting singles physically and engaging them in open conversations for dates has become a little hard these days due to the pandemic which has limited the opportunity to meet people at social events, get together, and parties. However, dating apps are bridging this gap and getting the job done for singles on a daily basis.
Over the years, there have been lots of testimonies and positive feedback from people who have used online dating platforms to their advantage to search for and hook up with singles. Many of these online dates have resulted in healthy relationships, and have eventually led to successful marriages. The dating apps in South Africa listed here will help anyone seeking love online to find their perfect match. You only need to go through the various apps categories and pick the one that is most suitable for you.