Some news anchors have been stealing eyes every time they appear on-screen. Most of us hardly concentrate on the programme they present as our entire focus is usually on their striking physique and beautiful faces.
It is common knowledge that Kenyan women are amazingly beautiful. From the celebrities to the everyday woman, they are all in a league of their own. With that in mind, it is understandable why it would be hard to choose just one as the sexiest in any career field. However, we conducted a poll to find the top 10 sexiest and hottest news anchors on-screen using 250 respondents. And amazingly, most respondents preferred Victoria Rubadiri's natural beauty over others. She beat the rest taking 50% of the entire votes to win the title 'Sexiest News Anchor in Kenya'. View the full result below:
6. Karimi Knaust – 4%
The dazzling K24's screen siren Karen Knaust Karimi is one of the sexiest news anchors on TV hosting prime-time news on K24, owned by the Kenyatta Family. She has a Diploma in Business Administration from KeMU. She never misses an opportunity to look stunning for a second on the screen. The eye-catching anchor is named Kenya's fifth sexiest news anchor of 2015 alongside Kamene.
5. Kamene Goro – 4%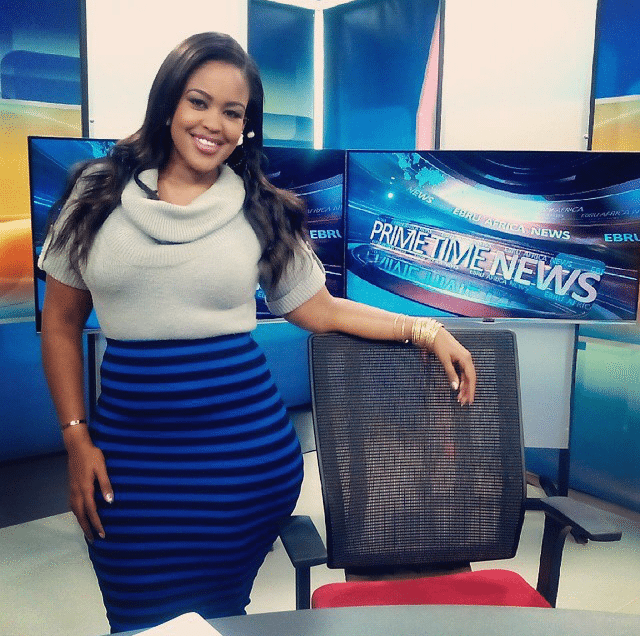 Kamene Goro is among the prettiest news anchors in Kenya and also among the straight talkers. She is one of the most beautiful and glowing faces ever to grace Kenyan screens anchoring the news. Kamene Goro, who always anchors into the hearts of the country's viewers with her wondrous beauty, is named among the sexiest. Of course, it's not such a heavy surprise to see her on the list – especially considering her talent, her professionalism, and her curves. It's not every day you get an awesome combination like that.
4. Janet Mbugua – 7%
Citizen TV's anchor Janet Mbugua is another news anchor voted by our respondents. The Citizen TV's Janet Mbugua is said to be the fourth sexiest news anchor of 2015. It is completely understandable why Janet Mbugua would be on this list. The news anchor is beloved by many and her beauty, charisma, and talent have people tuning in to watch her tell the news.
The news anchor, who was born in 1984, has a twin brother. She grew up in Mombasa before attending Brookhouse High School and United States International University for her tertiary education. She also later received a degree in Mass Communication from the Limkokwing University of Creative Technology of Malaysia and her MBA in Global Business Management from the Swiss Management Academy which is located in Nairobi, Kenya.
It can be seen why she is such a force to be reckoned with; beauty and brains makes a lady.
3. Betty Kyallo – 10%
The KTN TV lovely, beautiful and jovial anchor, Betty Kyalo is famous and loved for her Friday news show Friday Briefing where she hosts celebrities from different fields as guest anchors. The pretty lady is ranked the third sexiest news anchor by our respondent with 10% rating.
Read Also: 5 Female Celebrities Who We Can't Resist Their Bikini Bodies
Lilian is among the beautiful and hot female news anchors in Kenya who make news both on and off the screen. The controversial news anchor is the second sexiest news anchor picked by our respondents with 25% rating. Many tag her beautiful, sexy and every man's dream woman while some call her flawless, magnificent jaw-slacking for her physique.
This talented star is not one to shy away from controversy. She will always speak her mind when something smells afoul and this bold attitude helps her do her job to the best of her ability. That is to say, she does it excellently.
The reverend daughter, Victoria is one of the leading news anchors in Kenya currently working with NTV. Judging by what we see on set, no doubt that Vicky is one humble lady who often dresses modestly.
She is really cute and above all places God first in everything she does. In fact, she does not hide that she is a born again and shares about her transformation through talking to young people and offering talks on different platforms. Many of our respondents insisted that her mannerism, beauty, dress sense, and decency made her even prettier.
She is crowned the sexiest news anchor in 2015. Vicky has managed to strip off the title from KTN's Betty Kyallo, Citizen TV's Janet Mbugua, ex Ebru TV's Kamene Goro, K24's Karimi Knaust and Citizen TV's Lillian Muli, to become the number 1 sexiest, winning 50% of the votes.