Footballers are known to spend huge sums of money to buy classy cars, which are perhaps their most expensive and glamorous purchases and African footballers are no exceptions. They are never afraid to splash heavy amounts on some elegant rides that match their class if you may like.
7. Sulley Muntari of Ghana: Lamborghini Gallardo
Estimated Price: R1.89 million

Sulley Muntari is a central midfielder who played for Inter Milan as well as his country Ghana. Muntari was also part of the Portsmouth squad that lifted the FA cup during the two consecutive seasons of 2008/9 and 2009/10. He drives a sweet Lamborghini Gallardo with an estimated worth of about £135,000. He loves cars so much that he also runs a car pimping business.
6. Mikel Obi of Nigeria: Bentley Continental GT
Estimated Price: R2.4 million
Mikel Obi's form and quality when at Chelsea didn't go down quite well with many of his fans but that in no way affected the balance on his account statement. The story is also different when it comes to the kind of car this African footballer drives. Mikel rides a 2008 model of the Bentley Continental GT among other top of the range cars. The high performance 2008 Bentley Continental GT features an equally high performance 12 cylinder engine, luxury interior and exterior details and standard 20" wheels. The cost is a whole £145,000.
5. Emmanuel Adebayor of Togo: Aston Martin DBS V12
Estimated Price: R3 million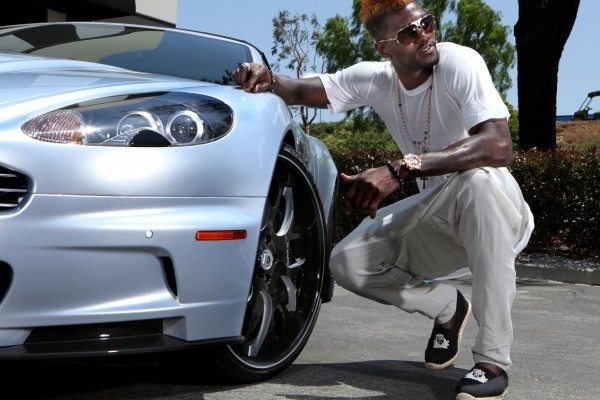 Emmanuel Adebayor owns a fleet of pricey luxury cars among them a Porsche Carrera, a Bentley, a Mercedes G-Class and a Fisker Karma. But his Aston Martin DBS (Volante) is the most expensive car in his fleet and probably the loveliest of all.
4. Didier Drogba of Ivory Coast: Mercedes SL65
Estimated Price: R6 million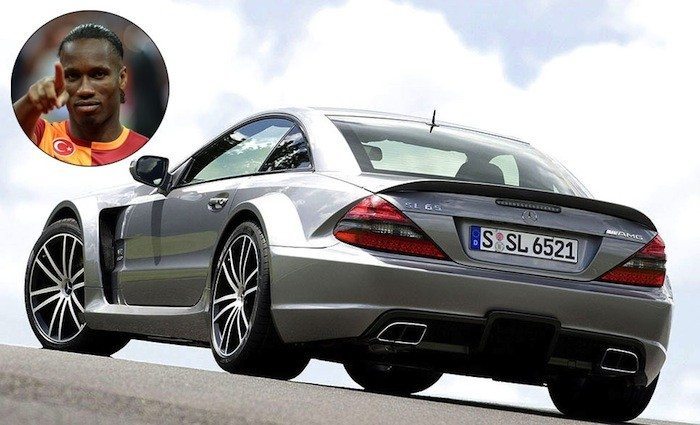 Didier Drogba is a football legend who made his name at Chelsea Football Club. He is well-known for his remarkable scoring abilities and passion for the game. Chelsea fans voted him in 2012 as the club's greatest player ever. A true hero of football, Drogba has a nice Mercedes SL65 to match his status. The car is sufficiently classy to equal the stature of a man who has inspired and entertained millions of fans around the world.
3. Obafemi Martins of Nigeria: Mercedes-Benz SLR McLaren (Convertible)
Estimated Price: R6.4 million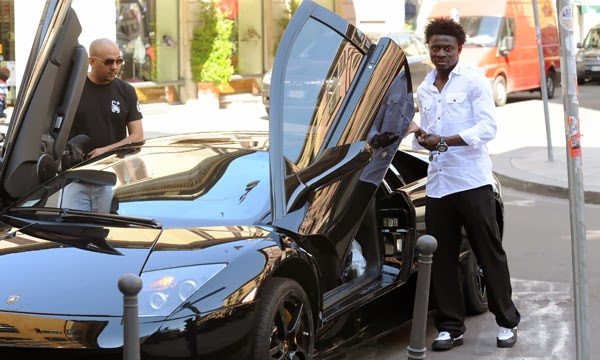 Obafemi Martins plays for Seattle Sounders as well as his national team back in Nigeria. He owns a classy convertible Mercedes McLaren that is estimated to cost no less than £335,000. He loves the car so much, no wonder he was spotted showing it off some time back.
2. El Hadj Diouf of Senegal: Mercedes McLaren SLR
Estimate Price: R7.3 million
El Hadj Diouf is a very popular footballer in Africa where he has also emerged twice as the winner of the continent's footballer of the year. The star owns an elegant Mercedes McLaren SLR that is estimated to be worth about £400,000. He has had stints at big clubs including Sunderland, Liverpool, Leeds United, Blackburn Rovers and Bolton Wanderers. He is now a free agent, though you will agree that with such class of cars it may not really matter which club he plays for.
1. Samuel Eto'o of Cameroon: Bugatti Veyron
Estimated Price: R18 million
Former Chelsea striker Samuel Eto'o wins the number one spot to lead this expensive list of cars driven by African footballers. While Eto'o owns an expensive fleet of cars that is approximately worth around £4 million, it is his Bugatti Veyron that stands out as the coolest and most expensive. For those who may not be aware, Bugatti Veyron holds the enviable position of the most expensive and fastest car in the world. And this man Samuel Eto'o is the only footballer of African descent who owns a Bugatti Veyron. He is a fan of good cars and is known to own a wide range of rides including a Maybach Xenatec worth around £750,000 and a Martin One-77 valued at £1.25 million.
These African players are no doubt having it nice if indeed the cars they are driving is anything to go by. The choice of cars is definitely motivated by their love for good rides and why not. After all, they can afford it because they have worked so hard and earned good money from their assignments in their respective clubs.