Mr. P, better known to the world as P-Square member Peter Okoye, is happily married to Lola Omotayo. The couple got married in 2013 after an 8-year relationship.
A lot of things stood in the path of the union that has now lasted for 9 years, including their age difference and ethnicity. They have, however, silenced naysayers as they continue to live happily together with two beautiful children; Cameron and Aliona.
Mr. P and Lola Started Dating When He Had Nothing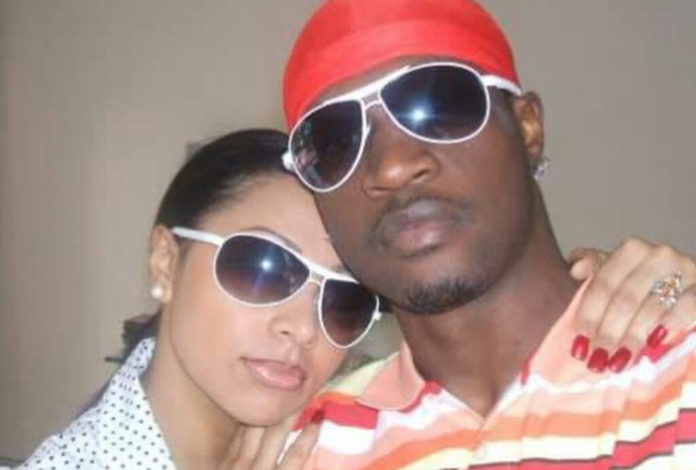 The love story between the former P-Square member and his wife, Lola Omotayo-Okoye stretches back close to 20 years ago. The singer and dancer stated that at the time, he had nothing. Contrary to the speculations of some that Lola might be a gold-digger, the singer revealed that if there was a gold-digger, he would be the one because she was doing better than him.
Not only was he broke then, but he also said he was not as good looking as he may be right not. It is with Lola's help that he now looks handsome. He is also looking younger with each day that passes thanks to the peace of mind that he gets with her.
On how they met, Lola revealed that she was working for an advertising company known as FKG2. The company was handling a promotion campaign for British American Tobacco (BAT), and P Square was a part of the campaign. It was on a road trip for the campaign that she met Peter. He was only trying to build himself at the time, and she fell in love with him. She was also proud of all he was doing at the time.
The Couple Has Been Married For Close To A Decade
From the time they met, Peter and Lola dated for a total of 7 to 8 years before they came to the agreement to get married in 2013. They brought together A-List celebrities on November 17, 2013, when they had their traditional wedding ceremony at the Ark Event Centre in Lekki, Lagos.
Many of the biggest names in the country's entertainment environment were at the ceremony which was supposed to be chaired by Billionaire Mike Adenuga, Globacom Telcoms chairman. Even though he was surprisingly absent and represented by Mohamed Jameel, the COO of the company, it did not take away the colors from the ceremony. Big names that were also present at the wedding included Alhaji Aliko Dangote and Mrs. Folorunsho Alakija as well as Dr. Sid, Don Jazzy, Timaya, Sasha P, Genevieve Nnaji, Funke Akindele, Rukky Sanda, Toke Makinwa, and Tiwa Savage among many other celebs.
One of the main reasons why their marriage has held on for many years is that they have been supportive of each other in their separate careers. Rather than be intimidated by the success of his wife, Mr. P has always supported and encouraged Lola in her career, and she has done the same for him.
In all their years together, they have avoided controversies but one, when Tanzanian singer, Diamond Platnumz accused Peter of sleeping with his wife Zari, thereby contributing to why they broke up. Both Zari and Mr. P described the allegations as simply "stupid".
How Old Is Mr. P Compared to His Wife Lola Omotayo?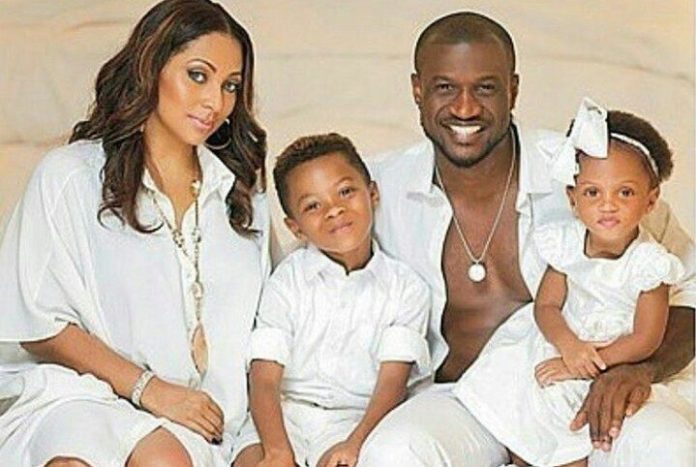 Before the path of Lola Okoye and her husband crossed, she was not famous, neither did she ever set her eyes on it. Because of this, some of her personal information such as her age still remain unknown.
Nonetheless, it has been claimed that when the two first met, Peter was 23 years old while Lola was in her early 30s. This will suggest that she is 7 years or more, older than her husband. There are other sources that claim she is only six years older than her husband. There is still no confirmation in that regard.
In spite of the age difference between the two, they still manage to keep their relationship going and strong for many years. Lola revealed that what first attracted her to her husband is the fact that he is not intimidated by anyone. Not even the age of her wife.
Mr. P and Lola Have 2 Kids
More than the love that they have shared in their many years together, Lola and Peter are blessed with two beautiful kids; a son Cameron Jayden Okoye and a daughter Aliona-Marie.
Cameron who seems to be more interested in football than music was born even before his parents got married in 2008. The kid is an aspiring footballer and he plays for a youth team, FC Bescola Academy. In 2016, he was certified the top scorer for his team and was given a medal. He hopes to play for FC Barcelona one day.
Aliona-Marie Okoye is the second child and only daughter of the beautiful couple. She was born in the United States in 2013, the same year that her parents tied the knot. She is still a little girl and so the career path that she might be interested in later following is still not clear.
The former P-Square member and his wife are super proud of their young kids. They do not hide this on their social media pages where they are always eager to praise and celebrate their kids and all their achievements.
Mr. P Chose His Wife Over His Brothers
In 2016, the hearts of many fans of P-square were left in shatters after rumors emerged that the brothers were quitting on each other. It later turned out to be true. Among the reasons given for the end of the duo, it was said that Peter was not given as much chance in the group as Paul Okoye, whose songs are selected more.
After the twin brothers ended their music group, they separated from the house that they once shared and their business ventures were also shared between them. In all, the brothers went their separate ways not just in music, but in almost everything.
Fans had reasons to believe the breakup of the twin brothers was not just because of music. It was reported that Lola was responsible in some way for the breakup of the group. She was said to have wanted to push the P-Square brand forward with her professional experience in promotion and her husband was taking her ideas which went contrary to that of their brother, Jude Okoye.
Peter wanted Jude to step aside but Paul was very much in support of the older Okoye, creating two camps; Peter/Lola on one side and Paul/Jude on the other. According to sources, it was this friction that later swallowed the group. All those involved in the drama had come out to make statements publicly except for Lola who continues to maintain her silence.
Lola Was Also Brought Up In A Multicultural Family
For those who really know who Lola is, on a more personal level, it will not be surprising that as a Yoruba woman, she has decided to get married to an Igbo man. This is because she was also raised and brought up in a family that was even more diverse culturally.
She was born to a father who is a Nigerian (a Yoruba man), and a mother who is Russian. Even though her parents were of different cultural backgrounds, they made it a point to ensure their children understand and speak both Yoruba and Russian at home.
In addition to that, she got some part of her education in the United States where she attended San Francisco University for a while. This also exposed her to yet another culture altogether. Her exposure to different cultures and the tolerance that it has forced on her made it possible for Lola to maintain a multicultural marriage with Mr. P.