Being a celebrity comes with many positives as the fame and adulation from fans do great things for an artist's status. However, stars like Tiwa Savage will be quick to tell you of its numerous downsides, one of which is how the media and the fans over examine your personal life. Tiwa Savage felt this first hand with her much-publicized relationship, marriage, and eventual separation from Tunji Balogun, popularly known as Tee Billz. To date, fans continue to wonder how a seemingly loving relationship ended so acrimoniously. What went wrong for Tiwa Savage and Tee Billz, the father of her child?
Their Relationship Began as a Business Arrangement
Be it a successful or failed one, every relationship has an origin. It all began for Tiwa Savage and Tee Billz at a Timaya's concert in Los Angeles, California. Tiwa had decided to transition to Nigerian music and was in the market for a competent A&R (Artists and Repertoire) guy that could smoothen the transition. Someone on her team recommended Tunji Balogun, a.k.a. Tee Billz, as A&R personnel.
Tiwa sent him her CV but failed to get a callback. Eventually, their paths crossed for the first time in person at the aforementioned Timaya's concert. After accusing him of not calling her back and subsequently introducing herself, she got a call the next day. Tee Billz informed her he liked her vocals and advised her to relocate to Nigeria. Thus began a business relationship between both that eventually transitioned into a whole lot more.
Spending a Lot of Time Together Led to a Romantic Relationship Blossoming
What began with a manager-artist relationship would eventually take a more personal path and cruise into a romantic affiliation. Tiwa was initially Tee's driver as she dropped him off at the homes of the numerous women he was involved with, and she would tease him about this lifestyle.
As they spent a lot of time together, they grew closer and became good friends. The press began to speculate that they were dating. Still, according to Tiwa Savage, a relationship had not kicked off at the time. Eventually, things became more heated as he began offering her many compliments about her looks. She also began taking extra care with herself to earn more of those compliments from him. It was then she suspected that he liked her, and their friendship took another shape. Thus began the love affair between Tiwa Savage and Tee Billz.
Tiwa Savage and Tee Billz had Traditional and White Wedding Ceremonies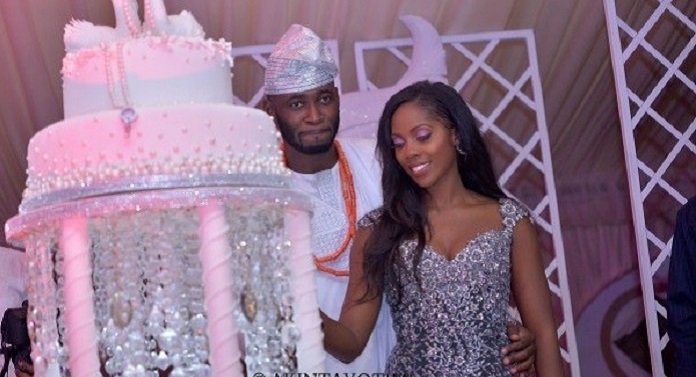 The couple generated a lot of press when they transitioned officially from a business relationship to a romantic one. Given their respective popularity, it was no surprise that they became one of Nigeria's celebrity couples and enjoyed huge media attention. The couple was spotted together at numerous public events and never shied away from expressing affection and commitment to each other via social media posts.
Tiwa Savage and Tee Billz further solidified when they decided to walk down the aisle and become a legally married couple. As part of their conviction, they went all out with the ceremony, opting for separate wedding ceremonies for their traditional and white wedding.
The traditional marriage ceremony came up first on Saturday, November 23rd, 2013. The venue for this grand event was the Ark Vicinity in Lekki. The traditional marriage was an invite-only event, and guests were the crème de la crème of the Nigerian entertainment industry. Friends, colleagues, business partners, and family members graced the memorable event. They watched on as Tiwa Savage and Tee Billz officially became the latest married couple in town.
The white wedding did not occur in the same year as the traditional wedding, nor did it happen in Nigeria. The couple made it an international event, choosing Dubai as the venue of their union. The white wedding took place at the Armani Hotel in Dubai on April 26th, 2014. As with the traditional wedding, this was also a strictly by invitation affair and had celebrity guests in attendance.
The ceremony looked like the beginning of forever for the two lovebirds. Unfortunately, it turned out to be the start of a difficult period in each other's lives.
Tee Billz Accused Tiwa Savage's Mother of Witchcraft and Tried to Commit Suicide
The Nigerian populace and fans of the couple hoped that their marriage would be one of the few celebrity marriages to stand the test of time and survive. Everything seemed to be going to plan until things came to a shocking and public head in 2016.
There had been hints that things were not all rosy with the couple as within five months of marriage, rumors swirled that Tiwa Savage had sacked Tee Billz as her manager. He stopped accompanying her to shows, and there were reports she had gotten a new manager. Despite these rumors, fans were not prepared for what was unleashed on them on April 28th, 2016, by Tee Billz.
In a long-winded rant on Instagram, Tee Billz accused his wife of infidelity and declared that his marriage to her was over. He also accused her mother of witchcraft, claiming she had ensured his career stalled because of her. According to him, she had cursed him and was determined to wreck him as she had wreck Tiwa Savage's dad. He urged Tiwa to get a confession from her mother to ascertain the truth. He then proceeded to drop what looked like a suicide note by pleading with Tiwa Savage to take care of their son while also asking his children to forgive him.
Later, we learned that Tee Billz attempted to commit suicide by jumping off a bridge at Lekki. He did not go through with his plan, thankfully, and he remains alive to date. This episode marked the beginning of the end of the marriage between Tiwa Savage and Tee Billz. Within two years, everything had come crashing down.
Tiwa Savage Responded by Claiming Tee Billz was a Drug Addict, a Serial Cheat and Filed for Divorce
To respond to the unsubstantiated claims on Instagram, Tiwa Savage decided to have a 'tell it all' interview on April 29th, 2016. The interview, which lasted for 45-mins, saw the singer tell her side of the story and clear up accusations made against her and her mother.
She revealed that Tee was a serial cheat and had a child in Nigeria conceived during their relationship. He also stole from her while he was her manager. According to her, she fired him as her manager to give their marriage a fighting chance. It did not work, though, as he continued to abuse alcohol and drugs like cocaine. He also claimed he was the reason for her success.
Having covered up a host of issues for a long time, including paying his debts, she declared that the marriage was over and she would be focusing on her son. It marked an unfortunate end to a union that promised so much.
In March 2018, Tiwa Savage officially filed for divorce from her husband, Tee Billz. She cited 'unsolvable issues' as grounds for the divorce. It came after several efforts were made to reconcile the couple and get them back to where they were at the beginning. Unfortunately, this was not achievable, and Tiwa Savage decided to end the union legally.
The Ex-Couple Remain Cordial for the Sake of Their Son
Although the marriage between Tiwa Savage and Tee Billz ended on a bitter note, it seems they are both in better places as individuals and collectively. The ex-couple have made an effort to remain cordial and civil with one another as they share a son.
Their son, Jamil Balogun, is primarily in the care of Tiwa Savage, but Tee Billz spends time with him. For this to go smoothly, the couple has a semblance of friendship. While they will probably never be the best of friends anymore, it is still impressive that they have put the past behind and have made their son their primary focus.
In December 2020, Tee Billz decided to surprise his son by paying him a visit in Dubai as he was with his mother. The moment between father and son was captured by Tiwa Savage, who thanked Tee Billz for giving their son the best Christmas gift. So it seems it is not all doom and gloom with the ex-couple.
Jamil Balogun is the Only Child Shared by Tiwa Savage and Tee Billz
The year 2015 started on an excellent and joyful note for Tiwa Savage, Tee Billz, and their fans. On January 1st, the couple announced on Instagram that there would be a new addition to the family. Cradling her baby bump, Tiwa Savage made it known to the public that she and her husband would become parents later in the year.
The news was met with much fanfare from friends and fans alike. Their baby boy came into the world on July 22nd, 2015, in New Jersey, USA. He was promptly named Jamil, and he remains the only child from the union between Tiwa Savage and Tee Billz.
After his parents separated, Jamil Balogun went under his mother's primary care. While his father has visitation rights and spends time with him, it is very evident that he lives with and shares a much stronger bond with his mother.
Jamil Balogun has his own Instagram Account and is frequently in the Public Space
Despite being just five years old, Jamil Balogun is already a public figure. Having famous parents has ensured that he is never far away from public discourse or view. The young fella even has his own personal Instagram account, operated by his mother, and it has numerous followers. He also frequently appears on social media posts made by his mother. The bond between mother and son is very apparent in these posts, and it tells the story of a well-loved boy.
Although he is usually in the limelight, the name of the school he attends is unknown. However, we know that he attends the same school as Imade Adeleke, the daughter of Nigerian megastar David Adeleke, a.k.a. Davido. They both graduated from Kindergarten in 2018 and spend a lot of time together.
Jamil Balogun is Already a Brand Ambassador
Perhaps it was clear that Jamil Balogun would venture into the entertainment industry, given his parents' status in the industry. He was only a few months old when he appeared in an advertisement for pampers. He appeared alongside his mother, Tiwa Savage, who is a brand ambassador for the diaper brand.
However, he has gone one step further by becoming a brand ambassador with his mother for Twisco Nigeria, manufacturers of a chocolate drink available in five flavors. Tiwa Savage announced this in October 2020, and it represents a significant milestone for a boy that is still so young.
If this is anything to go by, Jamil Balogun might have a future in the entertainment industry. It will not be surprising to see him star in several ads or even make the transition to acting. Whatever he chooses to do, it is clear he will have his parents' support and guidance.