Lebohang Morake, better known as Lebo M, has been married six times to four different women. He has also been engaged twice to two different women. The "Lion King" producer has chosen to find love against all odds and after different failed marriages with three women, he is currently married to his fourth wife named Pretty Samuels. Lebo M's family is quite interesting, and we will be exploring all you need to know about its members in this article.
Lebo M's First Wife was Viveca Gibson
Position: 1st Wife
Year of Marriage: 1980s
Children: Zakiya and Nthabiseng
Lebo M's family started with Viveca Gibson, Lebohang Morake's first wife whom he married when he had not become famous yet. Because their meeting and the subsequent marriage took place when the producer was not in the spotlight, there are no details about their meeting, dating, and marriage. Nonetheless, some sources believe that the former couple tied the knot in the late 1980s when Lebo was in his 20s.
The duo was married for up to five years before they decided to get a divorce and go their separate ways. Within their five years together, they had two daughters; Zakiya and Nthabiseng. These were the first members of Lebo M's family. Since their marriage ended, Viveca has stayed away from the spotlight. Her profession before, during, and after their marriage is unknown and so are other details about her.
Lebo M Married His Second Wife in 1992
Position: 2nd Wife
Marriage Duration: 1992-2008
Children: Refilwe, Tshepiso, and Thembalethu
Occupation: Singer and Actress
The producer's second wife, Nandi Ndlovu is a singer and an actress. She was a cast member in the Sarafina musical drama. Also, she has featured in a number of songs including "Call Me Naughty", "Music da Terra", "Vida", "Daniel", etc. She released most of her songs alongside other musical artists like Batuk Winnie and Lebon.
Lebohang met Nandi during the period when they shot the "Sarafina" musical.  He had come into town and was about to return when his friend, the creator of the film, Mbongeni Ngemna requested that he stay back and participate in the production of the film. He agreed and it was during this time that he met a cast member that will later become his second wife.
The duo met in 1990 and two years later, in 1992, they were joined in holy matrimony. It was a grand event and their marriage afterward lasted for over a decade, but could not stretch beyond that. The former couple stayed together for eleven years and in 2007, they got divorced. While they were married, they were blessed with three children; Refilwe, Tshepiso, and Thembalethu. Unfortunately, Lebo M's family lost Thembalethu in 2003 when he was only fourteen months old.
Lebo Accused Nandi of Cheating On Him With His Female Employee
A year after the death of their son, Nandi traveled to the US and filed for a divorce. This is according to Morake's revelation to "Sunday World". He claimed that she had cheated on him with his female employee. Apparently, he was inferring that Nandi has turned into a lesbian being that she was previously married to him, a man.
Lebo M further mentioned that while they were separated, Nandi who was living in Los Angeles, USA with the kids at the time was having an affair with the husband of their children's dentist. He pointed to her that it was morally wrong to do so, especially because their kids were somehow involved. It was wrong for the children who saw the man as their dentist's husband to see him sneaking into their home at night.
The Former Couple Divorced in 2008
After their separation, the couple tried to give their marriage another chance, but it did not work out. They even still maintained a romantic relationship after their divorce. However, everything came crashing for good in 2008 after Lebo M found out that Nandi was still sending emails to her lover. This was the limit to what he could bear and he thought it best to move on.
Following their divorce, the renowned composer bought a house for his ex-wife in Feinridge while he lived in Dainfern. Later in 2021, it was reported that the Supreme Court of the United States in California ruled against Morake. He was asked to comply with the 2018 ruling by the Superior court which demanded that he pays the money he owed to Ndlovu since 2007. This includes 40% of his monthly gross earnings from his work, including "The Lion King", and arrears of R5 million.
In her own account, Nandi refuted Lebo's claims that she cheated on him with his employees. She claimed that there was an attempt to push her off the road in 2009 while she was in the United States. She believed her ex-husband was behind the incident, but Lebo had debunked the accusation.
Angela Ngani-Casara is Lebo M's Third Wife
Position: 3rd Wife
Marriage Duration: 2008-2013; 2017-2018; 2020-2021
Children: Mthunzi, Ketso, and Letti
Occupation: Entrepreneur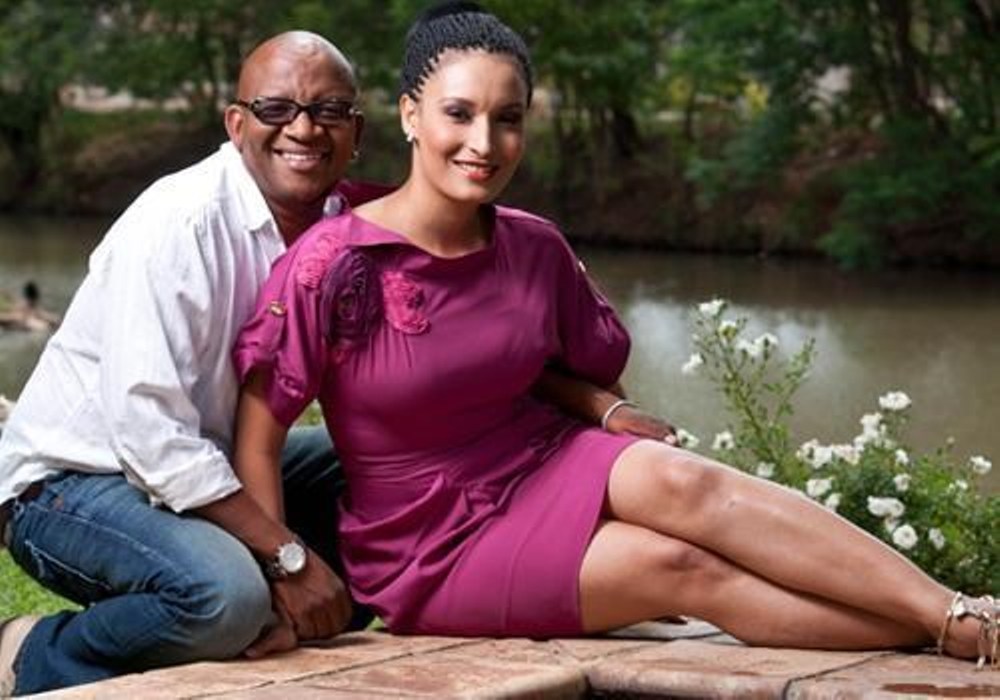 After his divorce from Nandi, Lebo M walked down the aisle with Angela in 2008. With every divorce, the producer wastes no time moving on to another woman. There is no telling if he meets his next wife while in a relationship with the former, but he has not been accused of infidelity by the women. The reasons for his divorce are usually other matters but that.
His third wife Angela Ngani-Casara is an entrepreneur and even though she has three children, he shares only one of them with her. Nonetheless, he has a good relationship with all of them. There is no detail regarding how the two of them met. We are only aware of the fact that he got married to her just immediately after his divorce from his second wife in 2008.
Before their marriage, Angela had two kids, Mthunzi, and Ketso whom he adopted after their wedding. There is no information about the father of her children. During her marriage to the producer, she had a daughter with him named Letti.
Lebo M'S Marriage to Angela Crashed Due to Alleged Violence on Angela's Side
Again, Lebohang's marriage did not last for long as he got divorced from Angela barely five years after their wedding. The divorce happened in 2013 and it was rumored that the event was triggered by arguments about house ownership.
The story was that Angela believed that Lebo had bought their house in Johannesburg in full, only to discover that it was leased. The result was confrontations and arguments that could not be resolved.
The news further said that the celebrity had thrown his wife out of his house with only a plastic bag containing her clothes. Lebohang later cleared the air and stated that their divorce was a result of the violence he suffered at the hands of Angela. He made this revelation after his stepson, Mthunzi was called out for harassing his mother.
Lebo M Defended Himself Against the Accusations of Violence
Lebo M revealed that Mthunzi's actions were a result of the violence he saw and suffered at the hands of his mother as a child. The Lion King producer further stated that he had to put up with his ex-wife's violent acts for the sake of the children of the Lebo M's family, but after a particularly violent incident that his little daughter was made to witness, he decided to call the marriage off.
He also mentioned that contrary to the news, he did not throw Angela out without anything. He supported her business which she failed a number of times so that she could have a source of income to take care of herself and the kids. He also revealed that during the family live show, Lebo M: Coming Home, his ex-wife had pretended to be all calm on camera while causing problems behind the scenes.
Lebo M Got Married to Angela Again for the Second Time
After their divorce in 2013, Lebo met another woman named Zoe and they got engaged. Zoe eventually got pregnant but due to a prenuptial agreement, they called off the engagement.
After calling off his engagement to Zoe in 2016, Lebo reunited with Angela and they started to spend time together. After enjoying each other's company for some time, the duo decided that they wanted to give their love a second chance.
In the same year, 2016, the love birds had a blissful wedding near the Pyramid of Giza in Cairo,  Egypt. It was a small wedding graced by friends and family. One would think that this time, the couple had known themselves better and were ready to make things work, but it turned out that their second marriage did not last half as long as the first.
This time, the marriage did not survive for up to a year. In 2017, the couple divorced a second time. This time, there were no clear reasons given for the divorce.
Lebo and Angela Decided to Give Their Love a Third Chance
As though in a bid to try their best and take all the chances to make their marriage work, Lebo and Angela decided to remarry for the third time. In 2020, the couple exchanged their vows again and moved into a new apartment with the kids. As with the second time they remarried, this third one did not last a year.
In 2021, the couple decided that they had tried everything they could, but their relationship was not just working. They revealed that they were proud of their joint effort to make things work, but since it all turned out the opposite, they had to go their separate ways and continue with their lives. So their third and apparently last marriage together ended.
Pretty Samuels is Lebo M's Fourth and Current Wife
Position: 4th Wife
Marriage Duration: 2021-Present
Occupation: Businesswoman
In October 2021, the same year after his separation from Angela, the celebrity went out again in search of love. This time, he found it in a businesswoman named Pretty Samuels. Sources say that they met through a mutual friend and Lebo fell in love with her at first sight. She is described as smart and beautiful and shares an interest in business with Lebo among other things.
A Summary List of Lebo M's Wives
Viveca Gibson
Nandi Ndlovu
Angela Ngani-Casara
Pretty Samuels
Lebo M Has Nine Children – Meet Them
From his marriages and relationships, the renowned composer has fathered nine children. Seven of them are biological and two are adopted. Lebo loves all his children and treats them all with love regardless of whether or not he is their biological father.
According to him, he would have loved to have up to fifteen children, but he has nine for now. Perhaps in the future, his wishes may come true if we see more children born into Lebo M's family.
Zakiya Morake is Lebohang's First Child
Lebo had Zakiya Morake with his first wife Viveca. She was born on the 11th of September 1987 and stayed with her father after her parents divorced. She grew up in the United States and was believed to be the one that will follow in her father's creativity.
However, she is currently 36 years old and lives a very private life. We do not know what she is up to currently
Nthabiseng Morake is Both His Second Child and Second Daughter
Nthabiseng, known fondly as Nthabi, was born in 1989 to Leo and Viveca. The second child of Leo M's family was also raised in Los Angeles, the United States alongside her older sister. Like her sister, she maintains a low profile.
Lebo's Third Child Refilwe Morake Has Boldly Followed in His Path
Refile who was born between 1994 and 1995 is the third daughter of Lebo, but the first child of his second wife, Nandi. She equally spent a better part of her life in the US, but she is not as private as her siblings. She considers herself a singer, songwriter, and reality TV star.
In 2017, she joined her father on stage for Hans Zimmer Live. She also brings drama to their daily reality TV show.
Lebo's Fourth Child Tshepiso Morake Doesn't See Eye to Eye With Him
Like his father, Tshepios is a composer. He was born between 1997 and 1998 to his second wife, Nandi. The young lad and his father do not have a good relationship and all efforts by his sister, Refilwe to make them reconcile have proven futile. Their fights have caused Tshepiso to question Lebo M's role as a father, and this further annoyed the producer.
Another issue fueling the feud between Tshepiso and his father is his baby mama, Ayanda, who Lebo does not like. The celebrity composer does not like Ayande, also called Barbie, because she is disrespectful. He also mentioned that he doesn't trust her and her family after they almost made him pay a whopping R200,000 electricity bill they incurred as part of the damages caused by his son who got Ayande pregnant.
Ayande and Tshepiso are parents to King, their son, and Lebo M's grandchild, but apparently, the child is not enough to restore their broken relationship.
Thembalethu Morake Died Tragically in a Pool
Thembalethu was Lebo's third child with Nandi who died at only fourteen months old. The news broke the internet in 2003 after it was discovered that the child not only drowned but had been exposed to a series of sexual abuse before his death. Their helper who was with him at the time the incident happened was arrested for negligence but was later released after paying an R3,000 fine.
Mthunzi Is Lebo's Stepson From Angela
Mthunzi who is over twenty years old has a great relationship with Lebo despite not being his biological son. He was also on Lebo M's family reality show. Aside from his stepson Mthunzi, Tshepio is the only son the Lebohang has since he lost his second son, Thembalethu. Not much is known about Mthunzi.
Ketso is Lebo's Stepdaughter From Angela
Like her brother, Ketso has a great relationship with her stepfather, although we cannot tell if his divorce from Angela has caused any friction in their relationship. The young girl has an interest in music which has helped to strengthen her relationship with her stepfather.
Letti Is the Daughter He Shares With Angela
During his first marriage to Angela, the couple had a daughter. Letti Morake was born on the 19th of January 2011 and she is currently 12 years old. she is the eighth of all nine children and she has no defined career path yet.
Lulonke Morake Is Lebo's Last Child
Lulonke, fondly called Lulo, was born on the 24th of July, 2015 to Lobe and his then-fiancé, a popular South African actress. They never got married, but they had a child, Lulo, together. The little girl is currently 8 years old and has no defined career path yet.
A Summary List of All Lebo M's Children
Zakiya Morake
Nthabiseng Morake
Refilwe Morake
Tshepiso Morake
Thembalethu Morake (deceased)
 Mthunzi (stepson)
Ketso (stepdaughter)
Letti Morake
Lulonke Morake
Lebo M was Engaged at Least Twice to Different Women
If things had played out differently, the celebrity would have had a fifth and perhaps a sixth wife. Aside from the four women he got married to, Morake dated and got engaged to two more women, but the relationships did not live to see their wedding morning.
His Relationship With Zoe Ended Due to a Prenuptial Agreement
Zoe Mthiyane is a popular South African actress, best known for her role in "Generations", a TV drama in which she acted as Zitha. Zoe met with Lebo for the first time in 2007, but it was on a professional note and that was the year his marriage to his second wife Nandi crashed.
Seven years later, the duo met again at the opening of Lion King Melbourne. This time, he was divorced from Angela for the first time, so he started a romantic relationship with the actress.
Due to their age difference, their relationship raised eyebrows, but they went ahead to do what made them happy. Zoe who is 39 years old is nineteen years younger than the producer, but the duo was unbothered. In 2014, Zoe got pregnant with their daughter Lulo and she delivered her in July 2015.
Later, in December of the same year, Lebo made up his mind to spend the rest of his life with Zoe, so he proposed to her during a vacation in Cape Town. Sadly, their wedding never happened as the couple called off the engagement five months later. Lebohang confirmed the development stating that it was due to a disagreement relating to a prenuptial agreement.
His Second Engagement Failed Due to Alleged Infidelity
Lebo found love again with Malefu "Mel" Ntsala after he separated from Angela the second time. They were all over each other and he couldn't get his hands off her. Their relationship was all over the media so when he proposed to her, it was expected. However, things took a different turn in early 2020 as the love birds called off the wedding.
Reports say that the reason for the separation was because the producer was cheating on Mel with his ex-wife, Angela Ngani-Casara. However, Mel revealed that the reason for their break up was because they grew tired of each other. She stated that Lebo is a good man and was a good partner, but their relationship just didn't work. She added that there is no bad blood between them.
Lebo M Had a Third Unconfirmed Engagement
There were speculations that the producer had paid lobola for the hand of a dentist in marriage. The dentist was identified as Matseke Naka. The relationship did not work out as well and the marriage never happened.
Lebo M's Family is a Large and Interesting One
Some people are determined to find love at all costs and one of such people is Lebohang Morake. His determination has caused him to marry four women and openly engage two other women.
His entire relationship has yielded nine children whom he fathers without discrimination. The Lebo M's family is made up of different interesting personalities and the "Lion King" producer is the father, grandfather, and husband to them all.