Africa is the second-biggest continent in the world with beautiful natural features. Though the countries in it are ravaged by wars, conflicts and poverty mostly as a result of bad governance and corruption, the wildlife, the beautiful landscape, traditions, the people and culture have all made it one of the best travel destinations in the world. It remains a unique continent with plenty of magic. Learn more about the countries and capitals in this awesome continent.
What Does A Country's Capital Mean?
State capitals are administrative regions of a country where the highest seats of government are located. For instance, the president of any state directs the affairs of the nation from the capital.
A capital which is often used as an alternative name of a country by the media is significant for its life-blood characteristics, in the sense that the decision-making of any country solely depends on it.
Facts You Need To Know About The African Continent
Before African countries and capitals came to be, Africa was a continent without strict and well outlined political and economic boundaries. There was practically no such thing as heads of States, Governors and legislators. People were merely living in villages and hamlets in small clans within the confines of what could be regarded as more traditional boundaries. Boundary disputes were not on a national level as there was none rather it was between neighbouring villages.
Recommended: Is Africa A Country?
Africa fell victim to the Europeans dominating powers in the 19th century. It was at this time that Europeans started arriving at the vast, rich but unexplored black continent to establish dominance, authority as well as carve out territories for themselves.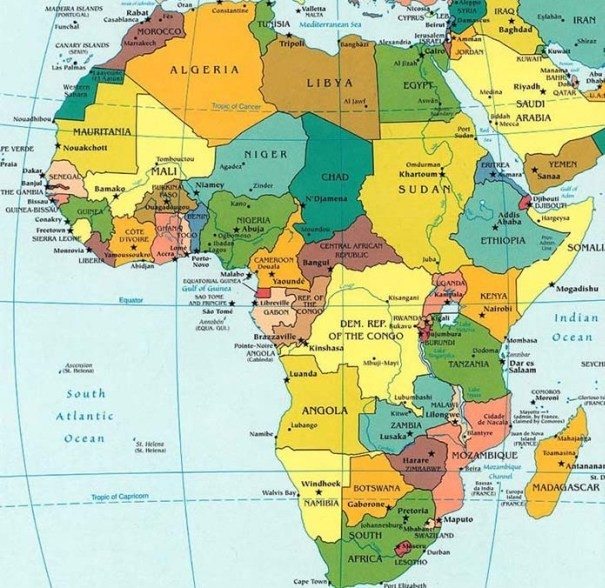 During the so-called "scramble for Africa", the continent was divided among these colonial powers among which the most favoured were Britain, France and Portugal. Other countries that were fortunate enough to grab a slice of Africa include Italy, Germany, Belgium and Spain.
With this, the entire Africa was split and shared among these countries except for Ethiopia and Liberia which are presumed to never have been colonized (this fact has been disputed by some scholars who state that Liberia was a colony for just about 17 years prior to a partial independence that was achieved by April 4, 1839, declaration of Commonwealth and subsequently, absolute independence declared on 26 July 1847 which was eight years later).
The splitting gave rise to definitions of correct boundaries from Europe with Mediterrain sea separating it from Europe in the north and Suez Canal setting a clear boundary in the northeast from Asia and farther by the Red Sea. Additionally, the division also birthed African countries and capitals with utterly accurate borders and well-defined boundaries separating each country from the other.
Africa now comprises 54 independent countries with the Republic of Seychelles assumed to be the smallest country in the continent measuring 451km. It has 115 Islands and only 92, 000 people living it. As expected, it has the biggest GDP per capita in Africa and gets most of its resources from tourism. With over 193 million inhabitants, Nigeria is said to be the most populous while Algeria is the largest by land area.
List of African Countries and Capitals
Tunisia- Tunis
Lesotho- Maseru
Swaziland- Mbabane
Madagascar- Antananarivo
Seychelles- Victoria
Comoros- Moroni
Mauritius- Port Louis
Djibouti- Djibouti
Somalia- Mogadishu
Ethiopia- Addis Ababa
Uganda- Kampala
Kenya- Nairobi
Rwanda- Kigali
Burundi- Bujumbura
Zambia- Lusaka
Tanzania- Dar es Salaam
Malawi- Lilongwe
Mozambique- Maputo
Algeria- Algiers
Morocco- Rabat
Western Sahara- Undisputed
Senegal- Dakar
Benin- Porto-Novo
Sao Tome and Principe- Sao Tome
Nigeria- Abuja
Burkina Faso- Ouagadougou
Niger- Niamey
Chad- N'Djamena
Cameroon- Yaounde
Equatorial Guinea- Malabo
Gabon- Libreville
Democratic Republic of Congo- Kinshasa
Republic of Congo- Brazzaville
Central African Republic- Bangui
Sudan- Khartoum
Libya- Tripoli
Egypt- Cairo
Eritrea- Asmara
Zimbabwe- Harare
Botswana- Gaborone
Namibia- Windhoek
Angola- Luanda
South Africa- Pretoria
The Gambia- Banjul
Mauritania- Nouakchott
Mali- Bamako
Guinea- Conakry
Guinea Bissau- Bissau
Cape Verde- Praia
Sierra Leone- Freetown
Liberia- Monrovia
Ivory Coast- Yamoussoukro
Ghana- Accra
Togo- Lome
Other Facts About African Countries and Their Capitals:
In addition to these 54 African Countries and their capitals, are partially recognized and unrecognized states. Sahrawi Arab Democratic Republic (El Aaiún) is a partially recognized state while Somaliland (Hargeisa) is an unrecognized state in Africa.
Western Sahara which is very close to Morocco, is an occupied and disputed territory with the southern region considered Moroccan territory. It is not recognized by some countries but has El Aaiún as its official capital.
Many often regard Madagascar as not part of Africa, but the country indeed is part of Africa and as mentioned above, has Antananarivo as its capital.
It is worthy of note that South Africa has three officially recognized capitals – Pretoria, Cape Town and Bloemfontein. Pretoria is the executive capital, Cape Town is the legislative capital while Bloemfontein is the judicial capital.