Al Roker is, without doubt, one of the most famous weather forecasters in America. In an illustrious career spanning four decades, the television personality has reliably delivered the weather outlook to millions of viewers each morning. He has received numerous awards and holds the world record for the longest uninterrupted live weather report. Additionally, Roker is also a bestselling author and has made cameo appearances on several popular TV shows. Want to know more about "America's favorite meteorologist"? You're in the right place.
Al Roker's Bio (Age)
Albert Lincoln Roker Jr was born on the 20th of August 1954 in Queens, New York City. His father, Roker Sr, was originally from the Bahamas while his mother, Isabel, was of Jamaican descent. The media personality also has four sisters, one of whom is named Alisa Smith, and a brother named Christopher Roker. Al Roker grew up in Queens and attended Xavier High School Manhattan.
As a young boy, he loved cartoons and aspired to be a cartoonist. He, therefore, became an active member of his school's cartooning and illustration club. After high school, Al Roker proceeded to the State University of New York, Oswego where he studied Communications. He received his Bachelors of Art Degree in the year 1976. Roker would later receive an honorary Ph.D. from New York College of Health Professionals in 2006.
Career
Al Roker commenced his career in 1974; working as a weather anchor for WTVH-TV in Syracuse, New York. The job lasted for two years after which he took other weather casting positions in Washington D.C. (WTTG) and Cleveland (WYKC-TV). Roker spent five years at the NBC-affiliated WKYC-TV during which the head honchos took notice of his charisma and endearing personality. They, therefore, promoted him to WNBC, New York, in 1983. Since joining WNBC, Roker has progressed from weekend weatherman to the weeknight slot. He is also the standby forecaster for the popular NBC show, Today. Roker has also gone on to become an official co-host of a segment of the Today show known as Third Hour Today.
Family – Wife, And Sons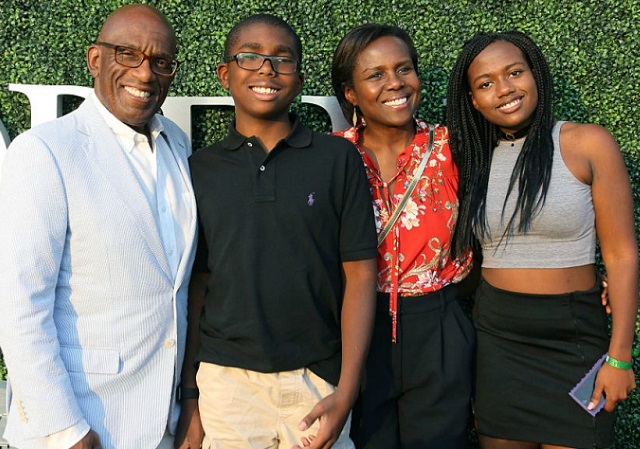 Al Roker is happily married to seasoned TV reporter – Deborah Roberts. The two first met in 1990 when Roberts joined NBC as a general assignment reporter. They became fast friends and kept in touch even after she was transferred out of New York. The pair eventually reconnected when Roberts came back to the Big Apple in 1992. They later commenced a romantic relationship and got engaged on New Year's Day 1994. The couple, thereafter, tied the knot at the St Thomas Episcopal Church, New York, on the 16th of September 1995.
Since tying the knot, Roker and his wife have maintained an enviable married life. Even though their interests vastly differ, the couple has been able to make their union work due to the love and mutual respect they have for each other.
It must be noted that this is not Roker's first marriage. The meteorologist was previously married to a fellow journalist, Alice Bell, from 1984 to 1994. With regards to kids, Al Rocker has a total of three children. His first child is his daughter, Courtney (b. 1987) from his first marriage. He and current wife, Roberts, also have two kids together – a daughter named Leila (b. 1998), and a son, Nicholas Albert (b. 2002). Nicholas has special needs and therefore requires professional help. He has a long-time occupational therapist, Lori Rothman, whom Roker has described as a godsend.
Al Roker's Net Worth
Roker has a net worth estimated at $30 million. His significant fortune is not surprising given the diversity of his professional pursuits. Asides weather forecasting, the Queens native has authored no less than three bestselling books. They include Been There, Done That: Family Wisdom for Modern Times, a joint effort with his wife. Roker is also the founder of a thriving multimedia company known as Al Roker Production Inc. The company has produced several successful projects including the acclaimed PBS special, Savage Skies.
See Also:  Kristen Van Dyke – Bio, Facts, and Profile of The Famous Meteorologist
Height & Weight
Al Roker is 5 feet 8 inches tall and his weight is given as 86kg. The meteorologist has had a well-documented struggle with weight issues for most of his life. As a child, Roker grew up on a middle-income diet that was heavy on carbs and soon developed a portly body. He continued his unhealthy eating habits into adulthood and at one point, weighed 154kg.
His weight nearly caused problems in his marriage as his wife often encouraged him to exercise, but all to no avail. Roker finally decided to turn his life around after a deathbed promise he made to his dad in 2001. He, consequently, underwent a gastric bypass surgery in 2002 and lost more than 45kg. Since then, the TV personality has maintained his weight through a heathy diet consisting of whole unprocessed foods that are high in protein and low in carbs. He also embarks on regular exercises and utilizes a high-intensity exercise routine known as 'The High-Low Method.' Roker has chronicled his weight loss journey in a bestselling book titled Never Goin' Back: Winning the Weight Loss Battle for Good.