The fierceness of delivery of the right-hand speedy punches on every opponent he went up against has certainly rubbed off nicely on Amir Khan's net worth and earned him widespread fame in the boxing world.
Amir may have been birthed and groomed in Bolton, the United Kingdom, but his bloodline that has produced warriors (clans of Janjua Rajput) way back in Pakistan still cruises through his veins. As such, it is not surprising he chose to make his living out of fighting. Amir Khan's net worth has been well impacted by his outstanding and glaring streak of wins in the boxing bouts he has engaged in for many years. The graduate of Bolton Community College is part of an athletic family – as a matter of fact, his younger brother is equally a boxer. Amir had a good grasp of other sports like football, cricket, basketball before he fully settled into boxing during his elementary school days.
No wonder, the focused young man, by the age of eleven, had won numerous titles and honors. He made a mark in the arena, as the youngest Briton to have won a medal (silver) in the summer Olympics in Athens 2004. A feat he achieved at seventeen years old.
Amir Khan, for his bravery in sucking in punches and delivering same, was a recipient of ABA and so many other titles. Top on the list of his wins is a gold medal during his outing at the Junior Olympics in 2003 and two more gold medals in 2004 from the European Student and the World Junior Championships.
The king, as he is dubbed professionally, has won over thirty-four bouts out of thirty-nine registered and accepted fights. His Orthodox method of fighting has endeared him to many fans globally and also made him one of the millionaires in the sports.
How Much Money Does The Boxer Make?
How much Amir Khan earns per fight varies largely on the persons he goes up against and the day view per pay. This means that yearly, his incomes vary depending on big fight challenges he picks up and signs on.
In the past, some of his fights helped boost his net worth to what it is today. Top on the list is his debut fight in 2008 with Michael Gomez, as well as bouts against Devon, Breidis Prescott, Canelo Saul Alvarez, Terence Crawford among others.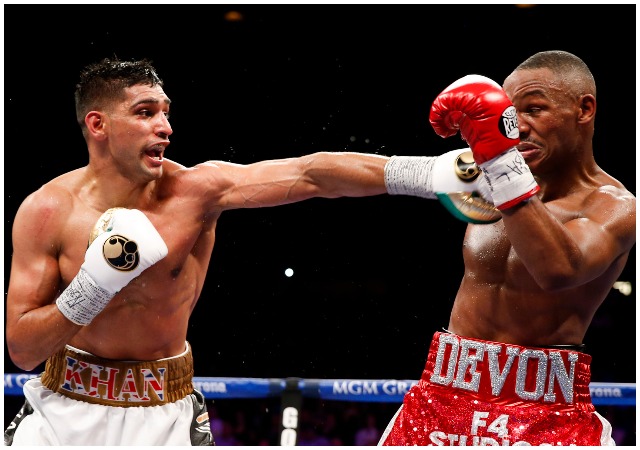 Khan boxed his way into his career high income of about $10,000,000 to $15,000,000 by going against the Mexican Canelo Saul Alvarez sometime in May 2016.
In April 2019, he and Terence Allan Crawford, an American super light welter fighter slugged it out at the Madison Square Garden in New York. Although he bowed out of his tenth world title bout after a low blow foul he received, he still went home with the sum of $5,000,000 (3.85 million pounds) for his efforts in the fight. Plus his share of the profit from pay per view day.
No doubt, Khan transferred the vexation of his April 2019 loss to Crawford to his next fight in July 2019 with Billy Dib, the Australian two-time former professional boxing champion.
He mercilessly unleashed his right-hand speed punches which battered his opponent without mercy, earning him the deserving $8.6 million which when translated into British currency is 7 million pounds. This sum was not inclusive of the pay per views, generated income he got after the fight.
The 5 feet 9 inches tall athlete has competed for titles under the lightweight, light welterweight, welterweight, and even the middleweight, winning thirty-four (34) of his fights with twenty-one of them decided by technical knockouts while he had lost five (5) of his fights since he began competing professionally in 2004.
Boxing is not the only way Amir Khan has made his money. He also earns from television shows. King was a part of ITV aired show, I'm a Celebrity. He was one of the highest-paid stars in the reality television show, reportedly earning about 400,000 pounds.
Again, he worked as an MMA (mixed martial arts event promoter and even used his own boxing outfit which he founded in 2017 to launch Indian first team-based mixed martial league. His hard work fueled the increment of the $23 million quoted as of 2018 to be his net worth.
See Also: Mike Tyson – Bio, Wife, Children, Age, Height, Weight, Net Worth, Brother
What Is Amir Khan Net Worth?
The English professional boxer has no doubt dug a well of fortune by throwing punches at his opponents in the ring. Amir Khan's net worth is now pegged at $30 million by authority sources.
If he continues picking on challenges that are highly-prized, Amir Khan's net worth is bound to make a more upward climb. He is already eyeing a possibility of fighting the renowned Manny Pacquiao whom he missed fighting with him in 2017. If his dreams come through, perhaps his earning in the fight would be way more than $30 million he had initially negotiated for the fight in 2017.