Bakhar Nabieva lives her life as a bodybuilder and successful model. A career she built as a result of bullying from her high school peers. Today, she is not only mistaken to be an alien but is respected by most fitness enthusiasts around the globe. Interestingly, the lady tutored herself through each phase of her exercise routine and is currently an expert with her crafts. Here is everything you need to know about her.
Bakhar Nabieva Biography
The 8th day in the month of April 1994 saw to the birth of the renowned fitness model, Bakhar Nabieva. She was born and raised in Baku, Azerbaijan. Ironically, despite that Bakhar has been quite famous for a long while, she has never related to the public the details of her immediate family.
As regarding her educational pursuit, Bakhar Nabieva wasn't born into a wealthy home, so she only got the privilege to attend a local school in her place of birth. While at the local school, little Barka experienced all kinds of humiliation especially as regarding her physique. She was extremely slim with no curves in check, unlike her mates.
These experiences pulled Bakhar Nabieva to depression. So, she sought every possible means to work on her body physique and found closure with body workouts. Despite that she was quite naive with any physical exercise, she cared less and tried every exercising act she thought of.
Gradually, she self-taught her way into becoming a fitness expert. It is also important to note that Bakhar Nabieva didn't just build on head knowledge and instincts, she also looked out for bodybuilding magazines practicing each exercise routine.
With time, Bakhar Nabieva discovered that she was gaining perfection with her physique and adorned her new looks. She began gaining attention, with many wanting to know her secrets. Currently, Bakhar has full thick muscles, chiseled abs, flat tummy, curvy ass, and of course, a full bust.
Career
It wouldn't be a surprise to know that someone with a killer body like Bakhar Nabieva later got the chance to model for several magazines. The sultry model also took to a bikini competition from which she would drop out. In her opinion, she publicly stated that there was nothing fun about the competition but solely punishments.
Next, Bakhar Nabieva took to social media. She became active on Instagram and Facebook and subsequently began posting most of her work out sessions pictures as well as her modeling videos. Her presence on social media further announced her to the world, so, she earned lots of endorsement deals becoming the model for a few fitness brands. Bakhar has gathered over 2.5 million followers on Instagram and has over 18 thousand faithful subscribers on her YouTube channel.
Other Facts About Bakhar Nabieva
Net Worth
So far, Bakhar Nabieva has amassed a fortune of $250,000 since the inception of her career. Basically, her sources of income have been tied to her modeling gigs as well as her endorsement deals.
Family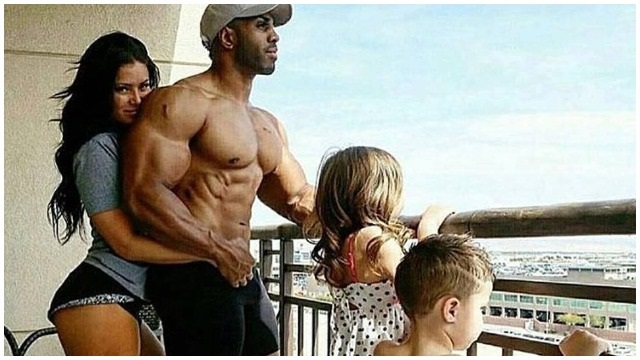 On a fateful day, Bakhar Nabieva threw a big stunt on her fans as she posted a picture of a thick lady, just like her behind a handsome dude and two adorable children; a boy and girl (pictured above). The picture caused a buzz on social media with most of her fans wondering who they were.
Till date, Bakhar is yet to give an explanation of what that picture meant, but we guess it was her way of telling the world that she wanted a family also. Furthermore, she hasn't revealed if she is married, in a relationship or engaged.
Inspiration 
Of a truth, Bakhar Nabieva is no regular model, especially when compared to a few of her peers in the business. She has often spoken about how she draws her inspirations from Brazillian models who are way thicker and not skinny. She idolizes Gracyanne Barbosa for her looks.
Conspiracy
A few naysayers have taken to social media with claims that Bakhar's physique is not real and her pictures are photoshopped. However, Nabieva has publicly stated that until there are certain proves to these claims, she believes that everyone is entitled to their beliefs.
Body Measurements
With a body like hers, it is quite a sure bet that her fans are quite inquisitive with the details of her body measurements. Well, Bakhar's statuesque, athletic looks give her a distinct difference from every other regular model. She has perfectly worked out her weight to be 56.7 Kg and she stands at 5 ft 2 inches tall.
See Also: Helen Willink – Bio, Family, Facts About Jocko Willink's Wife
Are Bakhar Nabieva Eyes Real or Contacts?
Since the creation of eye contacts, many women have taken to disguising their looks with different shades of the eyewear. However, we can't give a total affirmation that the fitness model wears one. But we are quite certain that she has a pair of charming eyes.