Though his name sounds slightly Asian, Barrett Foa is an American actor best known as an integral part of the hit television series, NCIS: Los Angeles, where he portrayed the nerdy character, Eric Beale. Like many of his colleagues, the talented and hazel-eyed actor has dedicatedly worked his way to the top. A true thespian, Foa has been active in the entertainment industry for nearly two decades and has an impressive list of hit Broadway productions and TV appearances to his credit. Find out lesser-known facts about the NCIS: LA star…
Bio
A Manhattan native, Barrett Foa was born on the 18th of September 1977. Barrett's parents Linda and Conrad Foa noticed his theatrical inclinations from a very young age and helped hone his skills. His academic records show he attended The Dalton School and later Interlochen Arts Camp. He is a graduate of Fine Arts in musical theatre performance from the University of Michigan. To further improve his acting skills, Foa attended the Royal Academy of Dramatic Art (RADA) in London for a semester. He also invested time learning acting and plays from various popular theatres, operas, and playhouses.
Before he became known as the nerdy Eric on NCIS: L.A, Barrett Foa was spontaneously engaged in theatre. His official acting credits can be traced back to the year 2001. The actor who began his career on Broadway has an impressive list of hit productions and Shakespearean plays to his credit. Notably, some of his features include the 2001 Broadway production Mamma Mia! where he sang and danced, the lead role Rod in the three-time Tony-nominated Broadway musical Avenue Q, and the 2013 Off-Broadway comedy, Buyer & Cellar, among others.
Besides playing the tech geek character Eric Beale in the police procedural NCIS: Los Angeles (from 2009 to 2014), Foa has other acting credits such as Six Degrees (2007), Numb3rs (2009), Entourage (2009, 2010), The Closer (2009), Submissions Only (2011), and My Synthesized Life (2013).
Is Barrett Foa Married or Gay
The NCIS: Los Angeles star Barrett Foa is known to be very private regarding details of his personal life. Like some of his colleagues, Foa is not one of those celebrities who are presumed gay just because they have not been romantically linked to the opposite sex nor have a dating history.
The blonde-haired actor is openly gay but his romantic status has been quite a mystery to the public since he came into the limelight. The talented thespian is apparently more comfortable keeping his love life under wraps. Moreover, there have been speculations that Foa is secretly and happily married to the love of his life, but such reports remain unconfirmed.
See Also: Channing Tatum Wife, Divorce, Daughter, Net Worth, Age, Is He Gay?
The closest inkling the public has ever had regarding Foa's love life was in 2016 when he posted a teaser on one of his social media platforms. In the Twitter post, Foa shared a photo of himself standing next to a King Triton mannequin whom he called his 'new boyfriend'. Other than that, Foa's relationship status has remained a mystery to many. Nonetheless, it is safe to assert that the actor who is presumed single may possibly be dating or even married secretly.
What is His Relationship With Renée Felice Smith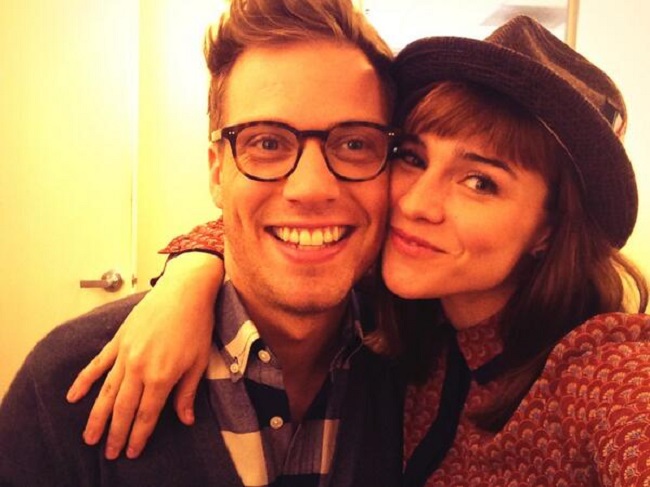 Though Barret Foa's sexual preference is no secret, he and co-star Renée Felice Smith were rumoured to be dating in 2013. But fans of NCIS: LA will understand the root of the rumours better given the onscreen chemistry between Eric Beale (Barrett Foa) and Nell Jones (Renée Felice Smith) in the series. While the duo may have flirted, shared smooches and even kissed onscreen, they certainly have different personalities and sexual tastes.
Another reason why Foa and Renée Felice Smith may have been speculated to be dating is perhaps because the latter is also quite secretive about her love life. But Renée's longtime relationship with her filmmaker boyfriend Christopher Gabriel should be a pointer to the obvious.
Besides the fact that Renée and Gabriel have been long term lovers since grade school as well as the pictures they often post of themselves on Instagram, not much is known about the duo's relationship. Despite the mystery shrouding both Foa and Smith's love lives, the actors' purported chemistry is apparently just onscreen as they both have different love appeals in real life.