Asiwaju Bola Ahmed Tinubu is one of the most recognized faces in Nigeria's political sphere and one of the richest with a net worth of $4 billion.
Popularly called Jagaban by his political allies and followers, the former governor of Lagos State and former national leader of the All Progressive Congress (APC), the ruling political party in Nigeria since 2015, and Presidential candidate of APC, has made a significant part of his wealth through his political career. Tinubu also has businesses and investments across Lagos State and Nigeria that have contributed to his wealth. While this explains the influence he enjoys, some persons think otherwise.
Bola Tinubu Was Succesful In The Private Sector Before Launching His Political Career
Born to Nigerian business magnate Abibatu Mogaji, a one-time Iyaloja of Lagos (Mother of Market), the future political leader had a platform to thrive from birth. He attended St. John's Primary School, Aroloya, Lagos and Children's Home School Ibadan, before proceeding to the United States of America where he started off at Richard J. Daley College Chicago, before making a transfer to Chicago State University where he bagged a Bachelor of Science degree in Accounting in 1979.
A young Tinubu was a very bright student that he remained on the Dean's List throughout his stay at the institution. He later received an Outstanding Student's Award and the Certificate of Merit in Accounting and Finance after graduating with a summa cum laude degree.
After graduation, Bola Tinubu worked for a couple of American companies, including Deloitte, Arthur Andersen, GTE Services Corporation, and Haskins, & Sells. Speaking in an interview about his work at Deloitte and how it changed his financial history, the politician stated that he chose to travel more than 80 percent of his working years there. According to him, if a staff chooses to travel, "he would make more money because he would get travel allowances", he said. Disclosing further, he said his work for an accounting and auditing system for a joint-venture between National Oil and Aramco in Saudi Arabia would later become a game-changer for him financially.
After many years working abroad, Tinubu returned to Nigeria to work for Mobil Oil Nigeria, first, as a senior auditor and then as a teasurer. Tinubu resigned from his position to get fully into politics.
All The Political Offices He Occupied That Contributed To His Huge Net Worth
Bola Tinubu's first shot at active politics was in 1992 when he joined the defunct Social Democratic Party (SDP). In the same year, he was elected as a Senator representing Lagos West Senatorial District and became the Chairman of the Senate Committee on Banking, Finance, Appropriation, and Currency – a foremost committee of the Senate. Tinubu's time in the senate was, however, short-lived as Nigeria's 3rd republic was overthrown by the military, headed by General Sani Abacha.
After the incident, Tinubu became a founding member of a pro-democracy group called the National Democratic Coalition, which saddled itself with the responsibility of mobilizing support for the restoration of democracy in the country. Tinubu, however, had to go into exile, only returning to Nigeria in 1998 after the death of the military dictator. A year later, after participating in the Lagos elections, he was elected the 12th Executive Governor of Lagos State on the platform of the Alliance for Democracy (AD). Bola Tinubu was Lagos State governor for eight years (1999 to 2007).
After leaving office, Tinubu made sure he remained relevant by playing some sort of godfather role to all the politicians in Lagos State. He later succeeded in initiating the merging of fragmented opposition parties from the People's Democratic Party (PDP), the Congress for Progressive Change (CPC), the Action Congress of Nigeria (ACN), the All Nigeria Peoples Party (ANPP), a faction of the All Progressives Grand Alliance (APGA) into a bigger party known as the All Progressive Congress (APC). The APC would later go on to win presidential elections in 2015 to become the ruling political party in Nigeria. Tinubu played a key role in bringing the former military head of state, General Muhammadu Buhari, to power as Nigeria's democratically elected president in 2015 under the flagship of the APC.
How Much Did Tinubu Earn As Governor of Lagos State?
A sitting governor in Nigeria earns a basic salary of N2.223 million, this excludes vehicle allowance, medical allowance, and all other allowances, which when added together totals about N11.540 million monthly. As governor of Lagos State, Bola Tinubu should have earned around the above-stated figure. Calculating it for the 8 solid years he spent in office, Tinubu, as the governor of Lagos, took home over N1 billion.
It is also on record that even after stepping down from power, most of Nigeria's political office holders are paid a pension for having served the country. As a one-time governor, Tinubu is still entitled to some sort of benefits, this excludes other commissions from projects he is said to be enjoying. Thus, in whatever way or form you choose to look at it, it is certain that his political career has directly or indirectly impacted his incredible net worth.
Other Sources Of Bola Tinubu's Wealth
So many businesses across Nigeria are said to be owned by Bola Tinubu. These businesses cut across different economic sectors, including real estate, oil and gas, hospitality, media, agriculture, etc. While the politician has admitted ownership of some of these businesses, he has denied owning others. They include:
Oriental Hotel: This is a 5-star ultra-luxurious hotel situated in Admiralty Way, Victoria Island, Lagos. For many years, this hotel has been linked to Tinubu, however, in 2020, reports emerged that Tinubu was not its owner. Regardless of who the true owner of the hotel is, the cheapest suite here goes for ₦60,000 per night, while the presidential suite is N400,000 for a night. The hotel is valued at N120 billion.
Oando PLC: With equity of over 162 billion Niara, Oando is the largest locally owned oil-producing company in Nigeria and is reportedly owned by the politician and managed by his brother. The company's headquarters is located on Victoria Island Lagos
Tejuoso Ultra Modern Market: Located in Ojuelegba area of Lagos, the ultra-modern market comes with a fire station, a police post, and a parking space that can take about 800 vehicles at a time and shop space not fewer than 4000. The politician is said to also own this market and the market generates millions of revenues yearly.
TVC Television and Radio: With a head office in Lagos and other annexes in Abuja and different parts of the country and Africa, the 24 hours television and radio which began operations in 2012 is said to be one of the many investments of the politician.
The Nations Newspapers: Established in 2006 with headquarters in

 

Mushin, Lagos State, Nigeria.

Ogudu Foreshore Scheme: Located on the foreshore of Ifako-Lagos, along the Oworonshoki-Ogudu axis of the Third Mainland Bridge, the Ogudu Foreshore scheme is a housing scheme initiated by the politician and valued at N15 Billion.
Lekki Concession Company: Lekki Concession Company is a construction company specifically designed to design, finance, rehabilitate, upgrade, operate, and maintain the Lekki Toll Road under a 30-year concession and is said to be the brainchild of the politician.
Ikeja Shopping Mall: Situated in Alausa, Ikeja, the mall which generates billions of Naira annually is also owned by Tinubu.
Real Estate Investments
Lakowe near Abijo at Ibeju-Lekki: This is about 1,000 hectares of land, currently valued at about N80 billion.
Ikoyi Estate Foreshore: This 14-hectare Parkview foreshore land is said to be a land once reclaimed by the Lagos State government and currently owned by Bola Tinubu. We don't have the figure of the current value of the property.
Beach Wood Estate: Beechwood Estate is a serviced residential estate located in Ibeju-Lekki along the Lekki-Epe Expressway. The cheapest property in this estate goes for about N9 million and the highest is between N40 to N50 million.
Fara Park Estate: This is another serviced residential estate owned by the politician located in Sangotedo, along the Lekki-Epe expressway.
His Lavish Lifestyle Reflects His Wealth
For someone with a net worth of $4 billion, you wouldn't be expecting Bola Tinubu to not be living in affluence. The former Lagos State governor resides in choice properties located across the world. His Lagos home, famously called Bourddillon Mansion, is located on Bourddillon Road, Ikoyi, Lagos State, and is worth over N650 million.
Tinubu also has properties in other parts of Nigeria, like his Asokoro, Abuja mansion which is said to have been an annexe of the Lagos State Guest House but was later transferred to him due to the pension plan he signed before leaving the office.
The billionaire also has a home in London. Although we do not know the current worth of the house, we do know that it is located on Grove End Road, one of the places in the city of London with the most expensive properties.
Aside from these real estate properties, Jagaban is a lover of good automobiles and has quite an expensive collection of them. According to sources, his collection of cars is estimated at 30. This includes the ones he personally bought and those that are gifts from friends, family, and associates. In his garage, you would find cars ranging from Lexus, Ford, BMW, Mercedez Benz, and many more. The two topmost in the list of his car collections are:
This is believed to be one of Bola Tinubu's favorite cars. The seven-seater, 2.8L diesel engine car has secured the boss of bosses as he is popularly called by associates from untimely death in time past. Sometime in 2019, the car saved the politician from a bomb that would have claimed his life. Although the car was damaged beyond repairs from the bomb, the car was said to have been replaced with another one by the former governor of Rivers State, Rotimi Amaechi.
In his collection of cars is a Range Rover. This car is a favorite of not just Tinubu but many other wealthy Nigerians. Tinubu's car is, however, bulletproof like the Toyota Prado he is usually seen out and about in.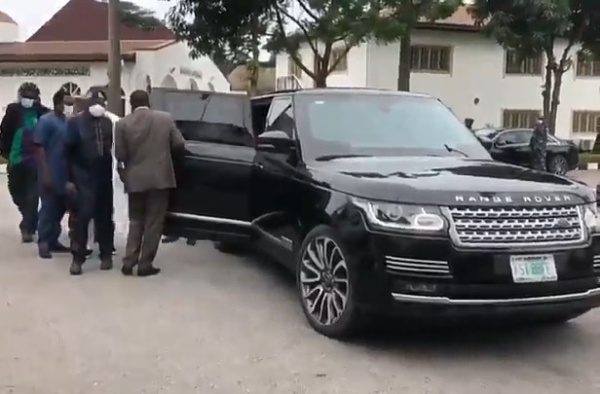 He Owns a Private Jet
With his net worth, it is certainly not coming as a surprise learning that Bola Tinubu has a private jet in his collection. He has a Bombardier Global 6000 Express jet which is estimated to cost about $60 million. The model of the jet is one that flies to long destinations without having to be refuelled once it takes off. In fact, international flights with this model of jet only needs one stop.
Scandals and Controversies That Has Trailed Tinubu's Life and Career
Not many believe Bola Tinubu's source of wealth is genuine and this is understandable; the first reason is that most African politicians and leaders are known to embezzle public funds and enrich themselves so how is he any different they ask. The second reason is that the politician has been trailed with so many scandals and money-related controversies to last him a lifetime. Below are some of them.
1. Bullion Van Scandal
There have been several scandals and corruption allegations against the former Lagos State governor and current leader of the APC. One of such was that of the bullion vans found in his residence at Bourdillon Ikoyi in 2019. Although no one is sure of the content in the vans, rumors making rounds then was that the vans had ballot papers for the 2019 election or a huge amount of money.
Responding to the rumors and allegations of corruption, Bola Tinubu was quoted to have said: "Excuse me, is it my money or government money? I don't work for the government…I am on my own and I am committed to my party. So, even if I have money to spend on my premises, what is your headache? If I don't represent any agency of government and I have money to spend, if I like, I give it to the people free of charge as long as it is not to buy votes".
Several bodies, as well as individuals, have, however, written to the Economic and Financial Crimes Commission to investigate the APC national leader over this and other crimes he had allegedly committed but that is yet to happen.
2. Drug Trafficking / Money Laundering Scandal
In March 2015, Africa Independent Television (AIT), a popular Nigerian television station, released a 60 minutes documentary video that mirrored the life of the politician. Apart from talking about Tinubu's personal and political life, the documentary also depicted him as "Nigeria's biggest landlord", with evidence of his corrupt practices both during and after his tenure as governor of Lagos State.
The video also stated that Tinubu was charged for drug trafficking and money laundering in 1993 by the United States government. According to the video, the allegation would later haunt him when a U.S federal agency linked him to a white heroine ring network in Chicago. In response to the video, Tinubu instituted a 150 billion Naira suit against AIT on defamation of character.
The lawsuit notwithstanding, there is a document backing this allegation. According to an affidavit sworn to by Kevin Moss, the Special Agent with the United States Internal Revenue Service gave a vivid account of how he came to the conclusion that the funds were proceeds of narcotics transactions in violation of the U.S law and came up with a verified complaint about forfeiture of Bola Tinubu's monies held in various bank accounts in the country.
3. Tinubu Certificate Forgery Scandal
In 1999, one Dr. Waliu Balogun wrote a petition against Tinubu that he did not attend Chicago State University as indicated in his INEC form 001 filled when he contested the Lagos State governorship poll and that he also lied in the affidavit he attached to the INEC form, in which he declared that he lost his university degree certificate while he was in exile between 1994 and 1998.
The petition included accusations that Tinubu didn't attend Government College, Ibadan and that he lied about being born in 1952 as against 1954 he filled in the documents at the Chicago University. Tinubu was also accused of not participating in the compulsory one-year NYSC exercise. Generating so much dust, the politician had to present the original copies of his certificates to dismiss the allegations.
It wasn't long after that that human rights activist and lawyer, Gani Fawehinmi, leveled a similar lawsuit against Tinubu compelling the Inspector General of Police to investigate him. Fawehinmi, however, did not live long enough to finish the lawsuit.
4. Lekki Toll Gate Shooting Controversy
After the Lekki toll gate shooting in October 2021, the politician without proof was accused of ordering the killing just to show his loyalty to President Muhammadu Buhari. The Nigeria security forces had opened fire on unarmed protesters at the toll gate after turning off the CCTV and electronic billboard at the gate before the shooting.
The politician denied either ordering the shooting at the gate or deliberating having a hand in the killing. In an interview with Channels TV, Tinubu stated that he has never been part of any carnage. "The use of live ammunition (against the protesters) is condemnable in totality, there is a limitation here, I can only control my person" he had said.
Despite being said to have built the toll gate and collects a percentage of the revenue generated at the gate, the politician denied having any business interest at the Lekki Toll Gate and urged the federal government to "fish out whoever gave the order (for the shooting) and put them on trial".
The electronic billboard which lighted the tool gate is said to be operated by Loatsad Promo media, one of Tinubu's numerous investments managed by his son Seyi. In a statement released afterward, the firm admitted having the screen turned off ahead of the attack but said it was not to aid the shooting. ''We had no idea what was going to happen and we feel the same anguish, pain, and shock at the events that unfolded and our hearts and prayers go out to the victims and families of this ungodly act'', the statement read.
Following the shooting at the toll gate, angry youths began destroying properties linked to the politician. The Nation newspaper and TVC were attacked in Lagos. The management of Oriental Hotel also said to be owned by the politician had to put out a banner at the hotel premises denouncing and denying being owned by the APC leader. The inscription on the banner clearly stated that "Oriental Hotel is not owned by Tinubu rather it is 100 per cent owned by the Tung family. Of course, Nigerians didn't buy that, as angry Nigerians took to Twitter to state the hotel really belongs to Tinubu and that "Tung" means Tinubu.
Was Bola Tinubu Involved in The Covid-19 Palliative Loot?
When Nigerians were asked to remain indoors as the covid 19 pandemic ravaged the world in early 2020, the Federal government was expected to take care of the daily meals of people as many governments across the world did. The story was, however, so much different in the country as many Nigerians lamented that the palliative the government had promised to provide for them either did not get to them or was too small to assuage their sufferings.
As a result, the Ministry of Humanitarian Affairs, Disaster Management, and Social Development led by Hajiya Sadiya Umar Farouq came under serious attacks. Little did Nigerians know that the palliatives that were provided for and meant to be distributed to them were being hoarded away in several warehouses across the country by their dear state governors. As warehouses were discovered across the country where food items were being hoarded, there was massive looting as citizens were seen carting away with several bags and cartons of the food and household items.
With this discovery, state governors came under severe attack for hoarding what was meant to better the lives of their citizens during the pandemic. The governors under the auspices of The Nigeria Governors' Forum (NGF) came out to deny hoarding or deliberately delaying the distribution of the items. According to them, the items were stored to be distributed at a later date before they were looted and warned citizens to desist from spreading unfounded rumours.
Being that the palliative looting was happening at the same time there was chaos in the country over the Lekki Toll Gate shooting, there were two sets of rumours that were making rounds: the first was that the former Lagos state governor had instructed that the items be hoarded so as to be used for and shared during 2023 election campaign while the second was that he must have instigated the looting across the country to distract the attention of Nigerians especially the youths from the toll gate killings.
Bola Ahmed Tinubu said nothing about these allegations. The only time he made a statement about covid 19 and palliative was in March 2020 when he urged the federal government to make cash payments to households through Bank Verification Numbers (BVN) as palliative. According to Tinubu, most families need relief and failure to provide relief to these families would risk hunger and suffering and woes and the use of BVNs would not only be appropriate in achieving this but would also be safer, prevent violence and crime that may be the attendant consequence of physical cash transfers, and on the long run, he was right about this.