Promulgated in 1990 by the passing of the Company and Allied Matters Act (CAMA),
aimed at regulating and supervising the formation, incorporation, and management of companies in Nigeria, CAC an acronym for the Corporate Affairs Commission, is the governmental agency charged with the responsibility of registering companies and business names in Nigeria.
Other functions of the CAC are set up in Section 7 of the Company and Allied Matters Act
(CAMA).
Name Reservation Is One Of The First Steps To Registering A Business In Nigeria
There are several steps involved in registering a business name in Nigeria and one of them is the name reservation process. Thus, CAC name reservation can be said to mean a promise to save up a space for a business name before the registration period. It entails temporarily registering the name of a business with the commission to reserve that name for a business owner.
Names reserved are cannot be the exact names of other businesses or a duplicate of already existing business names this is why the verification step is very important in the steps to register a business/company name. The process has to do with searching the availability of the intended name or company.
Attention, however, is given to confusingly similar names that may infringe existing trademarks.
Why Is CAC Name Reservation Important?
Every day new businesses/companies spring up and new names are formed, thus, CAC name reservations:
Helps in protecting your intended business/company name from being registered by another person.
Reserves your desired business name on the CAC portal to make it authentic.
Ensures you can reserve the name even when you don't intend to finish up the registration right away because it is part of the registration process, it's a step you can finish before completing the entire registration process.
Generally, CAC name reservation is important when you don't plan to form your organization immediately or you presently have some setbacks in starting your business registration process.
Where To Go For CAC Name Reservation
Application for business reservation under Part C (incorporated trustees) of COMPANIES and ALLIED MATTERS ACT (CAMA), LFN 2004 must undergo the process of obtaining the Registrar – General's consent.
An individual can also visit the website of CAC to fill an application form or go to their various branches in the country to reserve their business name.
Procedures For Reserving A Business Name
With the internet, everything is now made easy, instead of visiting CAC offices, individuals/proprietors can register business names, including name reservations online within the comfort of their homes without the services of the legal practitioner, chartered accountant, or chartered secretary. Below are some steps to guide you:
STEP 1: Create an Account with CAC
To register a business name or company on the CAC website, you must first create an account with these three steps
Click on https://pre.cac.gov.ng/register/new to create an account.
Fill in the necessary details on the page and make sure you use your name as it appears on your National I.D card or any Nigeria's government-issued card.
After filling in your details, click on the 'Register' button. Once you do this, a verification link is sent to the email address you had filled out on the previous page, check your email to verify, and log in to your dashboard.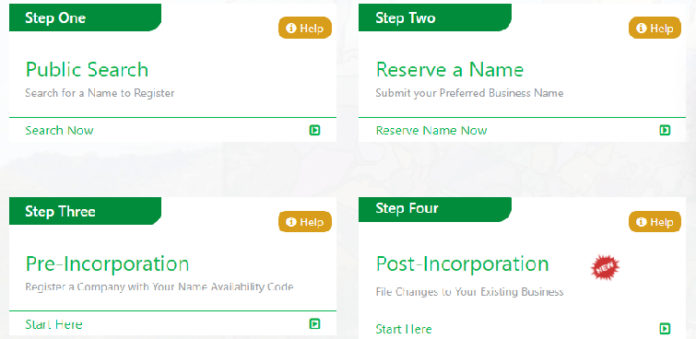 Step 2: Reserve A Name
With an account on the CAC website, you can now go ahead to reserve a name
Log back into your account on the dashboard.
Click on the 'Reserve a Name' option you see on the dashboard and you will be directed to a new page where you will do the reservation.
Fill in the form
Click on the online transaction and then under the E-services click on Name Reservation and the proposed name and an availability code issued.
NB: Please note that before filling the CAC name reservation form, you must have first searched for the availability of the intended business name or company name to avoid rejection. Availability code is requested by the Corporate Affairs Commission to prove that you have successfully reserved your business name and access is granted only when your code has been approved by CAC. For the business name availability search, visit the CAC website @ www.cac.gov.ng.
Ensure your proposed business name is accurate because any error would require an application for correction.
Also, make sure you do proper research on your state's requirements for business entity names to avoid opposition in the future due to the inability to meet up with some of the rules or specifications.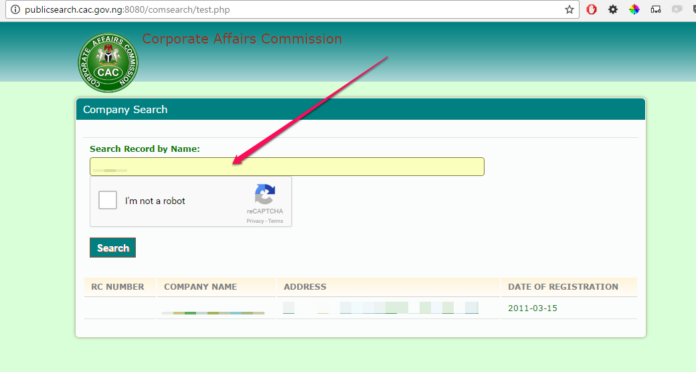 How Much Does It Cost To Reserve A Business Name?
The official fee for CAC Business name reservation is 500 naira only; this however doesn't include transaction fees or bank charges which is around #100 or less, depending on your bank.
Validity Period Of Name Reservation
Name reservation is valid for 60 days, the promoters need to file the incorporation form within that period once the government verifies and approves the name. In some cases, the business name can be reserved for 6 months. Name reservation application takes 2-3 working days, but there can be a delay due to excessive workload.
Although the exact period of time varies, depending on one's state, if an individual needs it to be reserved while you get your affairs in order, availability will take 48 hours, correction of availability 24 hours, while consent for restricted names limited by guarantee and incorporated trustees will be processed within five working days.
Frequently Asked Questions (FAQs) About CAC Name Reservation
Below are some frequently asked questions about CAC Name Reservation:
How long can a name be reserved Before It is made available to the public again?
Once a name is available, it can be reserved for as long as 2 months or as the CAC deems fit before it is made available to the general public again. This reservation period will not be exceeding 60 days as contained by Section 32 of CAMA.
What is the availability code?
Availability code is a special number that will be given to you to complete your business name registration in Nigeria on the CAC website. Without this code, it's almost impossible to fully register a business name.
This stands for the Corporate Affairs Commission – Company Registration Portal.
How can I get CAC-CRP account access?
It is as easy as visiting services.cac.gov.ng and clicking the 'Create Account' button; fill in the form, submit, and your account details would be sent to the email address you entered.
What do I need to submit a successful name availability request?
To submit a name availability request successfully; you would need the following:
The name(s) to search; a maximum of two options
Your CAC-CRP account access (username and password)
N500 only
For other required information about the type of business (Please use an accredited agent if in doubt)