The issue of child soldiers in Africa is on the increase. The official military age (age at which an individual is allowed to become enlisted in the military) for most countries in Africa is 18 years and even 21 in some others but this is not the case especially in countries where there is disrupted peace, unity and marked abuse of human rights.
Today there are many African child soldiers participating in wars and conflicts in various countries. These children are forced to join the military by various groups in different nations across the continent with the aim of providing a dispensable force to the group. There are various ways that the vulnerability of children can be exploited by the recruiters of these child soldiers in Africa, part of which involve:
Taking direct part in hostilities (child soldiers)
Used in various support roles like spies, messengers and lookouts
Children can be used as human shields or in propaganda to achieve political advantage.
Apart from the vulnerabilities of these children towards abuse, a fact that is worth considering is the false power and authority given to these minors when they are standing behind a high-powered AK 47 riffle. Here are 10 shocking facts about child soldiers in Africa.

1. Child Soldiers are Underaged
Thousands of children under the age of eighteen years are made to serve in various armed rebel groups and government forces in the continent. Some children are even below the age of eight when they get recruited into the military. Even though the exact number of child soldiers in Africa is unknown, the estimated number of child soldiers globally is in the range of 200,000 to 300,000 and a larger proportion of these, are in Africa.
2. Forced Labour
Not all the child soldiers take part in active combat, some are recruited to cook, work as suicide bombers, spies, human shield, messengers, couriers, cleaners and girls are forced into sexual slavery but whatever the case may be, they are compelled to go against their wish for wars that they didn't start.
3. Recruited Girls are Raped
Most child soldiers in Africa are boys, but girls make up a substantial minority and constitute about 40% of the population of child soldiers. However, girls are much more vulnerable to abuse and are used mostly used for sexual purposes by male soldiers. In some countries, girls are raped or are taken to military commanders to become their wives. In the last decade, more facts revealed that the vice has spread to almost every conflict region across Africa.
4. Recruited Child Soldiers Lack Basic Needs
Children are mainly recruited to the military because they are easily manipulated. This is because they are very young to understand or resist any command. Child soldiers are preferred mostly because they eat less food compared to adults and they are not paid. The sense of danger in children is not highly developed making it easy to send them to the line of fire. The recruited children are mainly from poor families, they have no access to education and some have separated from their families or are displaced from their homes.
5. Social and Economic Pressure Contribute a lot
Due to social or economic pressure, there are children who are not forced to join the military. Some volunteer to join the military with a feeling that volunteering will satisfy some of their needs such as income, security and food. However, there are those who are abducted or forcibly recruited by rebels. Before the recruitment process, their basic economic and social rights are taken away and are either destroyed by accident in times or war or is part of a deliberate attempt to strip the community of its supplies making them highly vulnerable (a strategy that is commonly used by the recruiters).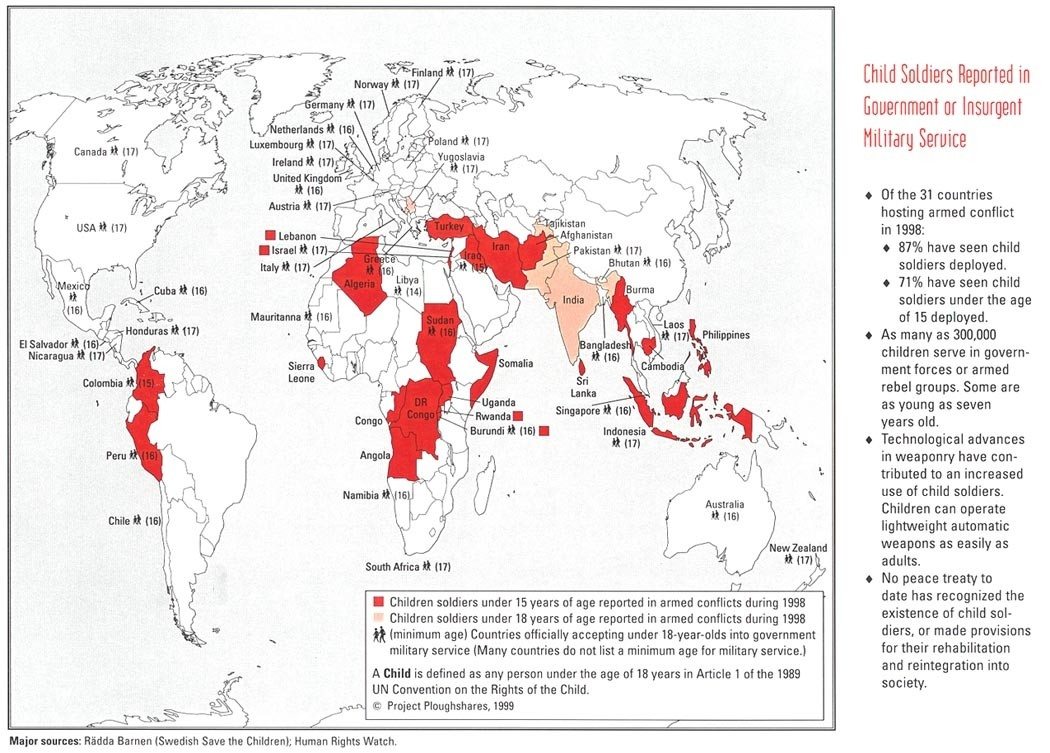 Image credit: filipspagnoli.wordpress.com stats on child soldiers
6. Many Countries in Africa Recruit Children in the Military
Children have been recruited as soldiers in countries such as Sudan, Somalia, South Sudan, Libya, Mali, Chad, Uganda and Central Africa among many other countries.
Sierra Leone: African child soldiers terrorized civilians by cutting off hands and arms
Somalia: War profiteers use child soldiers to continue and prolong fight against the government in order to prevent taxes and curtailing illegal businesses.
Congo: Child soldiers who are mostly males, keep the violence alive at borders beyond government control.
Liberia: Former president, Charles Taylor abducted many child soldiers whom he used in his fight for the presidency in a war that lasted 14 years.
Mozambique and Uganda also used many African child soldiers in their long civil wars.
7. Technology Growth has Contributed a lot
Growth in technology, especially in the development of arms and weapons has also contributed to the recruitment of child soldiers. Today we have small automatic arms that are simple to use, easily accessible and can be used by both adults and children without the need for vigorous training on handling.
8. Forced to Commit Atrocities Against their Relatives.
To ensure that the children are not able to return to their homes or to their communities, the rebels force the children to kill their family members, relatives or even their neighbours. By doing this, a child is stigmatized and unable to go back to his or her community. This is usually done as part of their recruitment.
9. Usually Part of Rebel Groups
In many cases, the groups that use child soldiers are anti-government groups or rebels and are not ready to negotiate since many affected countries in Africa do not have a functioning government. However, since early 1998 over one hundred thousand child soldiers have been reintegrated back to their families after being released from the armed rebels. Non-profit organizations and anti-child soldiers groups like War Child and Child Soldiers International have played a big role in reintegrating the child soldiers into the society across Africa.
10. Lack of Rehabilitation Programs
There are some countries with good progress since many former child soldiers are helped through rehabilitation programs to adopt and live with their families and some even go back to school. However, there are those who have no access to such facilities and therefore have no way to support themselves.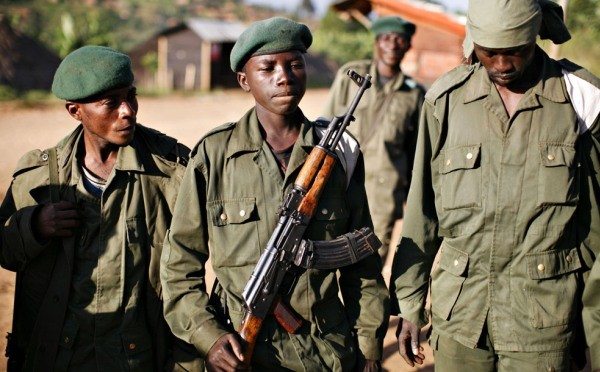 Lack of support poses a risk for the children and may lead to them being recruited back to the military. The problem of girls and boys being recruited to the military is not going away very soon but people are urged to offer their support and take a stand against the use of child soldiers in Africa. This can only be done through making laws that are against recruitment of child soldiers.