Chris Janson's net worth is estimated at $6 million. He is an American country music singer and songwriter who has made most of his money through his music career.
Chris Jason's spontaneous explosiveness and unpredictability on stage are some of the unique qualities that endear him to the hearts of many fans. The American singer, songwriter, and multi-instrumentalist has through his performances, reignited the fading vibrancy in country music; his genre of specialty.
With hit songs like "Buy Me A Boat," "Good Vibes," "Fix A Drink," and "Drunk Girl," Jason has garnered enough wealth to rank among musicians that have something to brag about. But what exactly is Chris Janson's net worth at the moment and how does the singer make money from his songs? Answers to these and more you'd find in the following paragraphs.
Chris Janson Net Worth And How He Makes Money from His Songs
Chris Janson has an estimated net worth of $6 million. Building this worth over the years is Janson's estimated annual revenue of $1 million which mainly comes from his songs. Let's now have a detailed look at how he makes his money.
Born on the 2nd of April, 1986 as Christopher Pierre Janson in Perryville, Missouri, he began his professional music career in 2009 in Nashville, Tennessee. Chris Janson had moved to Nashville on completing his high school education in 2006. He didn't find it quite easy firsthand, as he lived out of his car and survived with tips from street busking. Three weeks after his arrival, he got a gig at Tootsie's Orchid Lounge, where he reportedly earned $4700 from tips on a particular night.
Later in the year, precisely in October 2006, he luckily landed a deal with BNA Records. Janson subsequently released his first single, "Til A Woman Comes Along" in April 2010. The song turned out a moderate success, reaching #56 on Billboard's Hot Country Songs, as well as receiving a five-star rating from Roughstock's Matt Bjorke.
In 2013, Chris released his second single titled, "Better I Don't". By then, he had left BNA and signed with the Bigger Picture Music Group label. The single was also a moderate success as it peaked at #40 on the Country Airplane Chart.
He later released "Cut Me Some Slack" which also witnessed some level of success, peaking at #60 on Country Airplane. Later in the year, he came up with his first extended play titled Chris Janson. He launched the EP in September and it charted at numbers 47 and 27 on US Country and US Heatseekers charts. In February 2014, he released his second EP, Take It To The Bank through Columbia Records.
Chris Janson's Career Breakthrough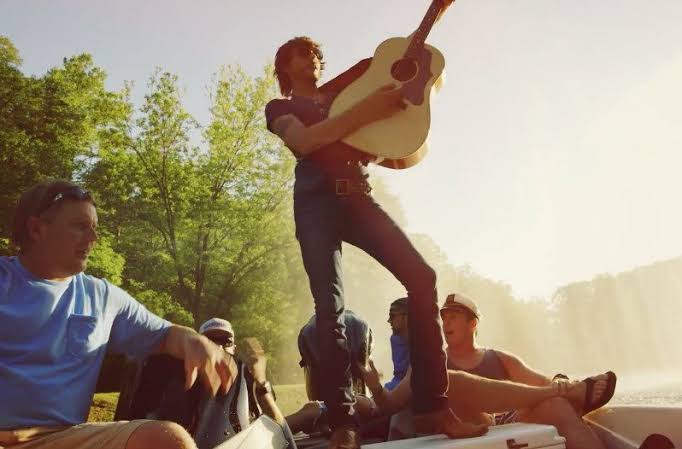 2015 was Chris Janson's breakthrough year. Before this time, Chris was scarcely known outside of Nashville and had no major label to his name as his former recording signer, Bigger Picture had just shut down. He therefore independently released the single, "Buy Me A Boat" early in the year. Despite being self-released, the song became Chris Janson's career-defining project. The song reached #33 on Billboard's Hot Country Songs chart and also received airplay on the popular Bobby Bones Show. Not long after that, he landed a deal with Warner Bros. Records who officially released the song in May.
By August 2015, "Buy Me A Boat" became Janson's first song to rank among the top 5 on three different US music charts, selling over 1 million copies in the country and receiving platinum certification. The single finally peaked at #1 on the Radio/iTunes Chart. Jason subsequently released his first studio album of the same title in September. Other Buy Me A Boat singles that also turned out hits include "Holdin' Her" and "Power of Positive Thinking".
In September 2017, Chris Janson through Warner Bros. Records, released his second studio album, a versatile twelve-track collection titled Everybody. Among the album's singles that turned out hits are "Drunk Girl" and "Fix A Drink". In October 2019, Jason dropped his third full-length album, Real Friends. The album's lead single "Good Vibes" topped Billboard's Country Airplay and two other US charts.
On February 6, 2018, Chris Janson held his first sold-out headlining show at Nashville's Ryman Auditorium. During the star-studded event, famous country musician, Keith Urban invited Janson to join the legendary Grand Ole Opry. In all, Janson has so far sold a total of about 2 million records of his songs and albums, which has contributed to his net worth.
His Earnings from Collaborative Projects
In addition to his solo releases, Janson has worked in a variety of ways with and for several musicians. Prominent among them are Holly Williams, Lee Brice, Tim McGraw, Randy Houser, and LoCash.
Soon after his professional debut in June 2009, Chris composed and recorded two duets with Holly Williams, namely: "A Love I Think Will Last" and "I Hold On" on the latter's album, Here With Me. He went on to co-wrote Tim McGraw's 2012 single titled "Truck Yeah". The money he made from McGraw's song really made a lot of difference to his family life.
He also played the harmonica on Lee Brice's album Hard 2 Love track, "Beer" in 2013. The same year, he wrote the title track to Justin Moore's album, Off the Beaten Path. Two years later, in 2015, Janson co-wrote LoCash's song, "I Love This Life". In 2016, he co-wrote Randy Houser's "Song Number 7". The same year, he performed at the 2016 Republican National Convention. Meanwhile, there are high hopes that Chris Janson's net worth will experience significant progression should he maintain his present success.
Chris Janson's Income Sources