Frank Edwards (Age: 33 Years Old, born: 22 July 1989) is a famous Nigerian gospel artist, singer-songwriter, music producer, and entrepreneur from Enugu State.
Since his interest in music began at age seven, he has grown by leaps and bounds and is currently one of the most accomplished singers on the Nigerian gospel music scene. There is, therefore, no gainsaying that no list of gospel artists in Nigeria will be complete without a mention of Frank Edwards in the top three. He is known for his signature high pitch and ability to keep any Christian gathering spellbound with his ministration songs.
Testament to his success, the singer founded his own record label – Rocktown Records. He set up the label to give young talented gospel singers a platform to better express themselves and be seen by a much larger audience. True to form, Rocktown has worked with artists like David, Dudu, Nkay, King BAS, and Micah Heaven.
Profile Summary of Frank Edwards
Full Name: Frank Ugochukwu Edwards
Date of Birth: 22 July 1989
Age: 33 Years Old
Height: 5 feet 5 inches
State of Origin: Enugu State
Nationality: Nigeria
Ethnicity: Igbo
Marital Status: Single
Occupation: Gospel Singer, Songwriter, Producer, and Entrepreneur
Instruments: Vocals, Piano, Drums, Guitar
Years Active: 2007 – present
Label: Rocktown Records
Net Worth: $600,000
Where Is Frank Edwards From?
The prolific singer was born on the 22nd of July 1989 in Enugu State, the Eastern part of Nigeria. He was named Frank Ugochukwu Edward at birth and grew up in the Enugu metropolis as the third of his parents' five children. Being that Nigerians often bear their tribal names in addition to an English name, it was a bit difficult for his fans to tell exactly what part of Nigeria he came from at the time he first became famous. Since both of his names are English, many simply assumed he came from the southern part of Nigeria, however, the revelation of his full name at the peak of his fame and his penchant for singing in the Igbo language soon made it clear that the singer is an Igbo man.
While his current life is all he had dreamed of, Edwards was born into a poor home and had a very difficult childhood doing basically everything he could to ease the hardship his family experienced. To achieve this, he got engaged in all sorts of odd jobs and hawking goods to raise money. He assisted his mother in cooking the popular local breakfast pudding called Okpa on firewood which reportedly gave him red eyes as he had to rub his eyes constantly because of the smoke. After the rigor of the cooking, he would still go around hawking it on the streets of Enugu just to make ends meet.
Edwards and his family attended Pastor Chris Oyakhilome's church – Christ Embassy, and through the influence of his parents and the church, he got "Born Again" at the young age of 10. This was the time that his pursuits in the Christian faith and music as a whole began. Being that Christ Embassy is well known for its massive support for music ministers in the church, it is not surprising that Frank's father started teaching him to play the guitar in his teenage years. This formed the foundation of his growth in music even though his earlier ambition had always been tilted towards aviation.
How Educated Is The 33 Year Old Singer?
Arguments have been rife about whether Frank Edwards is a graduate and just how educated he is. Although details of the schools he attended are not public knowledge, the general opinion is that the singer is a graduate because he said his earlier ambition before music was to become a pilot. However, considering the family background he was raised in and the fact that he has expressed his desire to still become a certified pilot, speculations are rife that he probably did not have the opportunity to get a university degree.
More so, considering the timeline of when he first released his first album at age 19 in 2008, it is safe to say that he probably left off getting a university education to better focus on his music career. Many also argue that if truly he did not get a university education because his parents could not afford it, it stands to reason that he would have enrolled for it after his rise to fame. But seeing as he is a very private person, there is still a very good chance that he did get a university education but simply chose to keep that detail to himself.
Frank Edwards Parents Still Live In Enugu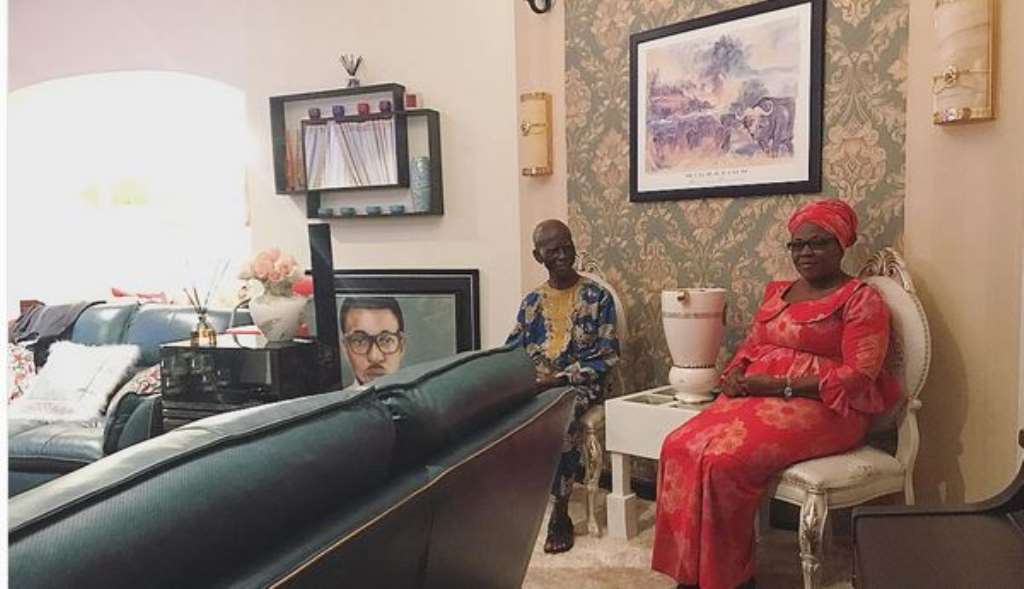 There's not much known about Frank's parents, but from the bits and pieces gathered over time from his constant reference to them in interviews regarding his success, there's no doubt that they played a huge role in his musical journey. His father, whose name is still not known, has been in the church choir long before Frank was born. He started following his father to rehearsals as a child which was his first major contact and inspiration in music. This was also how he developed a love for playing the piano which his father eventually gave him lessons for. From the grooming and encouragements he received from both of his parents, it was clear that Frank's father wanted him to become a gospel artist, successfully groomed him to achieve it.
Even though there are no details on what his father did for a living, Frank Edwards' mother is a businesswoman who used to cook and sell Okpa on the streets of Enugu. This is the major way she saved up funds to get Frank his first set of music equipment after he started writing his songs. From his many revelations in interviews, those instruments helped his growth as a musician.
Although it is known that Frank Edwards has four siblings, he has done his best to keep their identity off the limelight. There is no info about how many brothers or sisters he has or even what they do for a living. His family does, however, still live in the city of Enugu.
Frank Edwards Music Career Started In Church
Frank's musical journey started when he decided to join the choir under the ministry of his pastor, teacher, and mentor Pastor Chris Oyakhilome. Besides the efforts his parents put into grooming him in music at an early age, Edwards was inspired by how Pastor Chris sang and his love for good music. This drove him to put in more effort and work on himself, his voice, and his skills with other instruments besides the guitar. He would later become the church keyboardist and eventually a member of the presidential band for Pastor Chris; this is where he became acquainted with the famous gospel singer Sinach.
Frank often credits his meeting with Sinach as very strategic in making him as relevant as he is currently is on the Nigerian gospel music scene. He found himself playing instruments for and following Sinach to the studio as her Pianist which in turn helped his singing, sharpened his ability to play, and also brightened his job as a music producer.
In 2008, Frank released his debut album titled Definition which contained 14 tracks. Pastor Chris personally announced it on all of his platforms to his millions of followers and church members. This instantly boosted his fame both within Nigeria and abroad. Pastor Chris also followed the adverts of the song up by often inviting Frank for live performances of his songs during Christ Embassy's services, concerts, and other programs. That was all Frank needed to become a household name. So while Edwards had all of the necessary skills and talent to excel as a gospel singer, the influence of Pastor Chris Oyakhilome fast-tracked the process.
The fast-rising singer returned with his second album, Angels on the Runaway in 2010. It was quickly followed the next year by his third album, Unlimited released in 2011. Then came Tagjam in November of the same year. With these first four albums, Frank Edwards solidified his place as one of the best-known gospel artists in Nigeria just on the heels of his senior colleague Sinach. Between his singles, albums, many EPs, and steady live performances, he successfully achieved a massive reach well beyond the shores of Nigeria.
In 2016, his song "Under the Canopy" took Frank to another height of fame when it hit 12 million views on YouTube with massive acceptance by Nigerians. This was by far the highest number of views he has recorded since his career kicked off.
Biggest Collaborations of Frank Edwards Career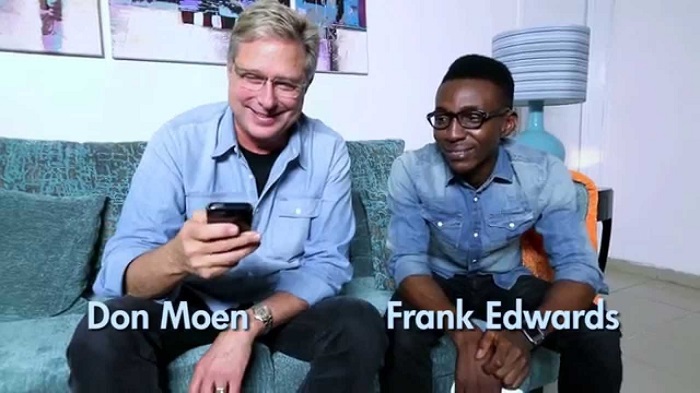 Frank Edwards has worked with a lot of well-respected and famous Gospel artists, both nationally and internationally. His first major collaboration was with Sinach, Nathaniel Bassey, Samsung, and Jeanine Zoe in Nigeria, and the likes of Don Moen, Micah Stampley, etc internationally. His first work with Sinach was in 2013 when he was featured for a brief appearance at her live performance of "I know who I am". Being that she was already far more established than he was at the time, the feature helped his then-rising career greatly.
In 2015, he made headlines again on the gospel scene with the announcement of his collaboration with the famous American gospel singer Don Moen on the album "Grace". The work was produced in Nashville, Tennessee, USA by Blackbird studio and was released in November 2016. When asked how the collaboration was birthed, Frank said it was at one of the programs he was invited for which Don Moen also attended. He had walked up to Don Moen afterward for a photograph and was shocked when the American singer said he was a big fan of Frank's work and would welcome an opportunity to do a song together. Thus, the Grace album was birthed.
This particular collaboration was a dream come true for Edwards who said he idolized Don Moen from his younger years when he used to stand by the roadside while hawking to watch videos of the American singer at CD shops on the streets of Enugu.
List Of Frank Edwards Most Famous Songs
You too dey bless me – 2008
Beautiful – 2010
Oghene Doh – 2011
Okaka ft Victor Ike – 2014
Onye – 2015
I no fit shout – 2015
Grace with Don Moen – 2016
Under the canopy – 2016
Miracle rain – 2017
Miye Ruwe – 2018
Mmamma – 2018
Idi Ebube ft Sinach – 2018
You are God – 2018
If not for you – 2019
Wetin I gain 2019
List Of His Albums So Far
Definition (2008)
Release Singles (2015)
Frankincense (2016)
Birthday EP (2016)
Born in July (2017)
Unlimited – Verse 1 (2017)
I'm Supernatural (2018)
In Love With You (2018)
Unlimited – Verse 2 (2018)
Born in July (2019)
Believers Anthem (2020)
No One Like You (2020)
How Relevant Is Frank Edwards as a Gospel Singer?
At the young age of 33, there is no doubt that Frank Edwards has achieved a measure of fame and success that other gospel singers only dream of. Besides the fact that he started out at a very young age, the singer was able to leverage the platform that Christ Embassy gave him to create a well-standing place for himself among the greatest gospel singers Nigeria has ever seen.
Frank Edwards' relevance as a gospel singer can be measured by several factors, the first of which is the fact that he has had the opportunity to perform live and minister at basically all the major churches in Nigeria. Besides this, he has had the honor of performing at The Experience, Nigeria's number one gospel music concert that sees performances from top Gospel musicians from all over the world.
Edwards has also become a role model to many rising gospel singers because of his many talents with singing and music production. He is the founder and owner of Rocktown Records which he created as a platform to help upcoming gospel artists grow in the industry. From all of his efforts, he has amassed a net worth of about $600,000.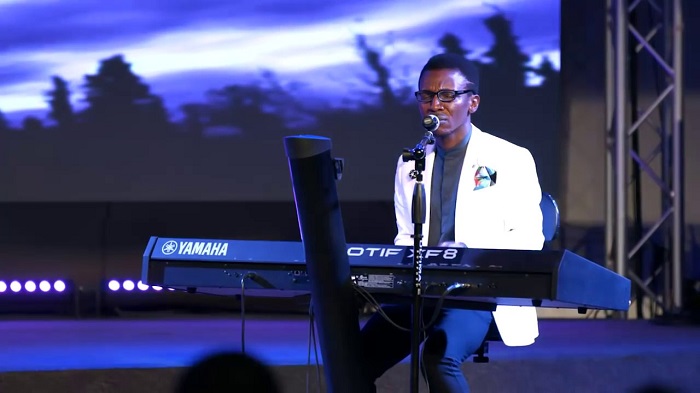 Awards He Has Won

West Africa Best Male Vocalist – Love World Awards {2012}
Best Hit Single – Love World Awards {2012}
Male Artiste of the Year in Africa – Nigeria Gospel Music Awards {2013}
Song of the Year, Nigeria gospel music awards {2013}
Best Male Vocal, Nigeria gospel music awards {2014}
Male Artiste of the Year – Africa Gospel Music Awards {2014}
Gospel Artiste of the Year – Nigerian Entertainment Awards {2015}
Best Male Vocalist – Nigeria Gospel Music Foundation Awards (crystal awards) {2015}
Most Notable Achievement – Nigerian Gospel Music Foundation Awards (crystal awards) {2016}
Best collaboration 'Hail My King' by Obiwon ft Frank Edwards, Eben and Kenny K'ore, Nigeria gospel music foundation awards (crystal awards) {2016}
Gospel Artiste of the Year – City People Music Award {2017}
Gospel Artiste of the Year, Nigeria Entertainment Awards {2017}
Gospel Artiste of the Year – City People Music Award {2018}