AKA's age is one of the highly discussed things about the hip-hop icon and this is not surprising because people have constantly tried to find out how he was able to accomplish so much at a young age.
AKA (Real name: Kiernan Jarryd Forbes) is 35 years old and has become one of the most popular names not just in South Africa but around the African continent and the rest of the world. The reason for this is quite simple; the man behind that name has been hailed as one of the most important figures in the hip-hop scene on the African continent.
Blessed with mindblowing rapping skills, AKA is a South African musician and is regarded as one of the most talented and richest hip-hop stars the country has ever produced. Starting from the bottom, he rose steadily to the top, beginning his exploits with a group before going solo and establishing himself as an icon in the South African entertainment arena.
Having spent more than a decade in the industry, AKA has garnered millions of die-hard fans over the years. He has released several hit songs and has collaborated with some of the biggest names in the African music scene. As expected, he has also won several awards for his body of work which many have claimed to be among the best hip-hop materials by any standard.
Profile Summary Of AKA
Real Name: Kiernan Jarryd Forbes
Nicknames: AKA, Supa Mega, and King Forbes
Date of Birth: 28th January 1988
Age: 35 years old
Place of Birth: Cape Town, Western Cape, South Africa
Nationality: South African
Profession: Rapper, singer, songwriter, entrepreneur, and music producer
Marital Status: Single
Children: 1 daughter
AKA is 35 Years Old and Was Born in Cape Town
AKA was welcomed to the world on January 28, 1988. This makes the rapper 35 years old at the moment. The South African musician was born in Cape Town, the oldest and second-largest city in South Africa and the largest city of the Western Cape province where he spent a part of his childhood.
The rapper did not spend his childhood in one city. Growing up, AKA spent years several living with his grandmother in Mitchells Plain, a township also located in the Western Cape. This was because his mother had him when she was in her first year on campus, so he had to live with his grandmother to ease off the stress on his mother. As a matter of fact, the future rapper actually lived with his grandmother until he was about seven years old. Because of this, he has become very fond of his grandmother and is very close to her.
It is noteworthy that AKA is not an only child of his parents. He actually has a brother called Steffan who is about five years younger than he is. The rapper is really fond of Steffan and has often shared photos of them both together on Instagram showing the kind of strong bond they share. In December 2020, AKA released a really cute childhood picture of himself posing with his father and his brother.
He has also shared other photos of his brother on different occasions with captions that they are supportive of each other. It is not clear exactly what Stefan does for a living at the moment as he is not as visible as his rapper brother. However, we know that he is a very family-oriented person and is often seen in the company of other family members. Apparently, there is a very strong bond between him and the others.
What Is AKA's Real Name?
Even though the rapper has achieved a lot of fame using the name AKA, it is noteworthy that this is not his real name at all. AKA's real birth name is actually Kiernan Jarryd Forbes. He adopted the nickname AKA when he started his music career and was looking for a stage name to use.
Kiernan Jarryd Forbes has since revealed why he chose the name AKA as his stage name when he began his music career. According to him, he chose the name because of the fact that he is very versatile and can do a number of different things with relative ease. He explained that he is a producer a.k.a songwriter a.k.a performer and so on. This is why the name AKA stuck.
Also, AKA is not the only nickname that Kiernan Jarryd Forbes has. He is also fondly referred to as the SupaMega by his many adoring fans who also refer to him as the 'baddest' in recognition of his huge achievements. The rapper is also known as Bhovamania.
Where Did He School?
While he was staying with his grandmother as a child, the future hip-hop star attended a school called the Holy Cross Convent. He attended the school until 1995 when he was about seven years old. At the age of seven, AKA left his grandmother and went to stay with his mother in Johannesburg.
After moving to Johannesburg, Kiernan Jarryd Forbes enrolled in Greenside Primary School. When he was through with the school, he went on to attend St John's College also in Johannesburg. It is not clear exactly when he finished from St John's College but we know that the hip-hop star, who later became obsessed with music-making, went on to study sound engineering at an undisclosed learning institution.
AKA's Parents Are Big Supporters Of His Career
AKA's parents, Lynn and Tony Forbes are his biggest fans. Even though they are currently divorced, this has not stopped either of them from showing their son all the love that he deserves. As a matter of fact, they are both huge supporters of his brand. According to our findings, the ex-lovers fell in love as teenagers and in the process, Lynn got pregnant with AKA while still in school. When Lynn eventually gave birth, their son had to go stay with his grandmother for some time as Lynn had to continue schooling and figuring her way out in life.
Eventually, Lynn and Tony Forbes finally got married and stayed together for about 20 long years before they parted ways through a divorce. It is not exactly clear why they decided to get a divorce but Tony Forbes has since found love again and has even remarried and has a daughter from his second marriage. However, Lynn Forbes has remained single concentrating on building her brand and supporting her son's career. Her efforts have paved off and she is now a source of inspiration for many women.
What Lynn Forbes Does
AKA's mother, Lynn is a very outspoken and strong woman who knows her onions and has been doing what she can to make society quite a better place for women. The woman is currently a blogger and motivational speaker who uses her platform to challenge all the stigmas that surround childhood abuse and trauma. Lynn Forbes runs a personal blog called According to Glammy. The blog has become quite popular over the years.
Lynn has also become a lifestyle influencer and is respected in South Africa for her fashion sense. Her social media pages are filled with images of her dressed up in flamboyant clothes proving her high taste. At the moment, she has her own foundation called the Lynn Forbes Foundation which she created to serve as a platform for abuse survivors to tell their stories. Lynn also credits her son for her success. According to her, if her son was not so successful, she may not have found it easy to be as big as she is now. She explained that her son being successful in music created a platform for her to elevate herself. Lynn is very close to her son today.
Who Is Tony Forbes?
AKA's father, Tony Forbes is a more quiet person and has managed to keep his affairs out of the public eye. Not much is known about what he does for a living but it is clear that he lives really fine judging from his Instagram posts. He is also very close to his sons and has been spotted in different photos posing with both AKA and Steffan.
Tony Forbes has also been very supportive of his son's career and occasionally speaks out in his son's support when the rapper runs into trouble. In 2021, when AKA's fiance Anele "Nelli" Tembe died after apparently falling from the 10th floor of a hotel in Cape Town, there were several attacks on the rapper, and calls to #MuteAKA trended online. However, Tony Forbes stood up for his son and slammed people attacking him. He asked people to show more support for his rapper son and wait for investigations.
Today, AKA's family is a closely-knit one and everyone in it, from the rapper to his brother and their parents, is known to be in close contact with everyone else.
AKA Began His Music Journey As A Member Of A Group
AKA kickstarted his music career in 2002 while he was still in high school when he came across two friends called Vice Versa and Greyhound who were also rap enthusiasts. The three friends realized that they shared the same passion for making rap music so they got together and started writing songs and performing them for small groups of people. AKA was about 14 years old at the time. Because they were so young, they stunned people with how good their writing and rapping skills were. Two years later in 2004, the three friends decided to create a rap group called Entity. AKA was just about 16 years old at the time the group was formed.
After forming their group, the three friends soon started recording songs and promptly got the attention of the hip-hop listening public with their releases. In 2005, the group recorded and released their first and only album titled Royal School of hip hop. The album was executively produced by Slikour. The album did very well and the young rappers caught serious public attention at the time. In fact, they did so well that they were actually nominated for the "Best African Hip Hop" at the KORA Awards in 2005. They also performed during the event. This was the highlight of the group's ingenuity.
However, their success was short-lived because even though they were doing so well, the group broke up in 2006 and the group members went their separate ways. The exact reason for the group's disbandment remains a mystery to the public.
He Studied Sound Engineering and Formed A Production Outfit
After Entity broke up, AKA decided to up his game a little by studying sound engineering. It is not clear where exactly he studied this but he got so good at sound engineering that he decided to form his own production outfit with a group of friends. AKA got together with his friends called Buks and Kamza to form the production collective called The I.V. League in 2007 when he was about 19 years old.
The I.V. League hit the ground running and went on to produce for different top musicians like Khuli Chana, ProKid, JR, Jub Jub, Loyiso, PRO, Tear Gas, Tuks Senganga, and others. During this period, AKA got in touch with many musicians and learned a lot about how the industry works. He would later admit that this period of his life opened doors for him that later helped him become who he is today.
AKA Went Solo At The Age Of 21
After making productions for different musicians through his production outfit, AKA decided to go solo and make his own music. He eventually went solo in 2009 when he was about 21 years old. The same year, he released three songs; "In My Walk", "I Do" and "Mistakes". The rapper started making some buzz almost immediately with his singles because of how unique his sound and style were.
The next year, in 2010, he put out three singles that were meant to herald his debut album. The songs were "I Want It All", which was the lead single from the debut studio album, "All I Know" and "Victory Lap". The singles did very well especially "Victory Lap" which achieved so much success that it topped South African local radio charts.
Altar Ego Put His Name On Peoples Lips
The rapper finally released his debut album titled Alter Ego on 23 August 2011 when he was about 23 years old. It was a highly anticipated album and it did very well upon release. In fact, the album was certified gold by the Recording Industry of South Africa (RiSA) for its awesome commercial success the same year of its release. It was later certified platinum by RiSA, meaning it sold out more than 50,000 copies.
As expected, Altar Ego also bagged many accolades, emerging the winner of the 2011 Metro FM Awards for Best Hip Hop Album, and the 2012 South African Music Awards for Best Male Artist of the Year. AKA hit the ground running and was not ready to back down at all. He quickly became the talk of the town and some rap critics declared him the next big thing in South African hip-hop.
His Second Album Came At Age 25
In 2014, when he was about 25 years old, AKA, who was banking on the huge success of his first album, released his second album titled Levels. The album was released on the 30th of June 2014 and was preceded by four singles; "Kontrol" (featuring Da L.E.S), "Jealousy", "Congratulate", and "Run Jozi (Godly)". These singles did very well and heightened anticipation for the album's release. At this time, AKA's fame was spreading like wildfire around South Africa and beyond.
When the album was eventually released, it caught so much attention and consequently earned huge commercial success. In fact, the album was certified platinum by RiSA shortly after its release in 2014. But it didn't stop there; the album went on to be certified double platinum for 2018 by RiSA. The album also bagged awards. It won the Best Male, Video of the Year for "Congratulate", and Best Collaboration for "Run Jozi (Godly)" at the 2014 South African Hip Hop Awards. It also bagged the Male Artist of the Year at the 21st South African Music Awards. At the moment, the album has already been certified 10x Platinum by RiSA, meaning it has sold more than 500,000 copies. It remains one of AKA's most successful bodies of work ever.
The Collaborative Album With Anatii
In 2017, AKA got in touch with Anatii, a South African rapper, singer, songwriter, and record producer to produce a collaborative album titled Be Careful What You Wish For. This surprised the public because AKA and Anatii had not been best of friends and had publicly fallen out with each other before this time. However, AKA explained that they had squashed their beef and were proving this by working together on the album.
The two music acts released three singles; "10 Fingers", "Don't Forget To Pray" and "Holy Mountain" to herald the album and got people excited with waiting. The singles were well received by fans. Eventually, the album, Be Careful What You Wish For was released on 28 July 2017. Because several people were already waiting for the album's release, it did very well and got several positive responses from critics. Be Careful What You Wish was considered one of the hottest albums of 2017 in South Africa.
'Touch My Blood' Solidified His Relevance
In 2018, when he was 30 years old, AKA released his third album called Touch My Blood. The album was preceded by some supporting singles, including "Caiphus Song", "Star Signs" (featuring Stogie T), and "Sweet Fire". Touch My Blood was released on 15 June 2018 to an expectant fanbase and quickly found success upon release. In fact, the album was certified platinum the same year by RiSA and was later certified double platinum by RiSA in 2019.
Many songs from the album became very popular around the African continent, including the sixth single "Fela in Versace" featuring Nigerian recording producer, songwriter, and artist, Kiddominant. The song received higher commercial success compared to the other singles. AKA also featured other top artists on the album, including stars like Stogie T, L-Tido, Yanga Chief, Kwesta, Okmalumkoolkat, and others.
The album solidified AKA's relevance because it proved he was not going away just yet even though he had been around on the music scene for more than a decade.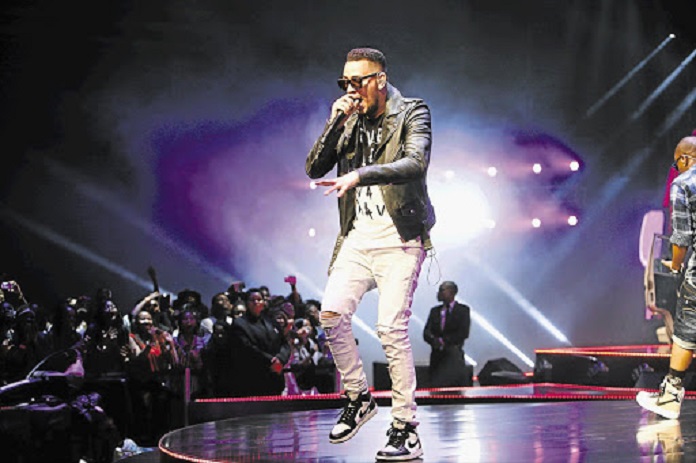 The EP Titled 'Bhovamania'
AKA put out an extended play (EP) called Bhovamania in 2021. This followed calls by some fans for the rapper to release a new album for their consumption. The EP was released on November 6, 2021, and was well-received by fans who were already full of anticipation for the EP's release.
Before he released the EP, AKA put out four supporting singles to herald its arrival. The singles included "Energy", "Python", "Monuments" and "Cross My Heart" which were all streamed massively on the internet. There is no doubt at all that AKA has the complete attention of South African music lovers with his craft.
Some AKA's Best Songs
Over the years, AKA has put out some massive hits, solidifying himself as one of the most successful and addictive rap stars in Africa. Some of his most successful songs so far include:
Victory Lap released in 2010
I Want It All released in 2010
All I Know released in 2010
All Eyes On Me released in 2014
Jealousy released in 2014
Kontrol (featuring Da L.E.S) released in 2014
Congratulate released in 2014
Run Jozi (Godly) released in 2014
Baddest released in 2015
The World is Yours released in 2016
10 Fingers released in 2017
Don't Forget To Pray released in 2017
Holy Mountain released in 2017
Caiphus Song released in 2018
Star Signs (featuring Stogie T) released in 2018
Sweet Fire released in 2018
Fela in Versace featuring Kiddominant released in 2018, and many others.
The Rapper Is The Recipient Of Many Awards
Since he started his career, AKA has won several awards for his work. This is expected, considering the insanely awesome success he has achieved as a hip-hop star. The many awards and accolades the rapper has bagged include the following:
The rapper won the South African Music Awards for Best Male Artist in 2012
He was the recipient of the African Muzik Magazine Awards for Best Male Southern Africa in 2015
He bagged the African Muzik Magazine Awards for Best Collaboration in 2015
He won the MTV Africa Music Awards for Best Collaboration in 2015
He received the 21st South African Music Awards for Best Male Artist in 2015
He bagged the South African Hip Hop Awards for Best Collaboration in 2015
He won the South African Hip Hop Awards for Most Valuable Artist in 2015
He was awarded the South African Hip Hop Awards for Song of the Year also in 2015
AKA won the Metro FM Music Awards for Best Collaboration in 2016
He also won the Metro FM Music Awards for Best Hit Single in 2016
He won the Kids' Choice Award for Favourite South African Star in 2019
AKA bagged the Namibia Annual Music Awards for Pan African Artist of the Year in 2019
He won the South African Music Awards for Music Video of the Year in 2020
The singer has also bagged lots of nominations.
He was nominated for the Channel O Africa Music Video Awards for Most Gifted Hip Hop in 2013
In 2014, he was nominated for the MTV Africa Music Awards for Best Hip Hop
AKA bagged a Kora Awards nomination for Best African Hip Hop in 2015
He was nominated for a BET Award for Best International Act (Africa) in 2015
He bagged an MTV Europe Music Awards nomination for Best African Act in 2015
He also bagged a M.O.B.O. Awards nomination for Best International Act (Africa) in 2015, among many others